The Las Vegas finals for Monster Energy AMA Supercross an FIM World Championship ended fittingly, with a double-class route for team Red Bull KTM. Ryan Dungey and Marvin Musquin swept the 450 and 250 classes, respectively, just like they have done seemingly every week during the second half of the season. In the end, the ending was the same as all of those races, except maybe the end of the ending, as there's a chance Dungey and Musquin actually allow themselves to split from their typical training sessions to enjoy a season well done.
But there's a chance they won't, because another season of Lucas Oil Pro Motocross is coming in just two weeks, and the duo would like to match these results there. We believe they're into this, though--such success as this deserves a celebration.
Read below for the play-by-play action from Las Vegas.
450 Main
The fans got some action at the start of this one. Ryan Dungey and Justin Brayton charged into Sam Boyd Stadium first, but soon Eli Tomac sliced underneath Brayton to get to second, and then tripled off a dragon back to get to Dungey. They battled side by side through Monster Alley outside the stadium and the crowd went nuts! After two passes, Dungey got the lead back, but Tomac looked to be settling in for a long twenty-lap battle. Until he washed the front end. That was it, Dungey was off to the win.
A big battle raged for third, Weston Peick had it for awhile but he crashed, then Cole Seely got around Chad Reed to take fourth. Seely then jacked up a rhythm lane, and Reed passed him back. Reed was all over Peick for awhile, but Peick pulled back away to take third. Reed appeared to have bike problems late and fell off the pace, Seely and Josh Grant went past to finish up the top five.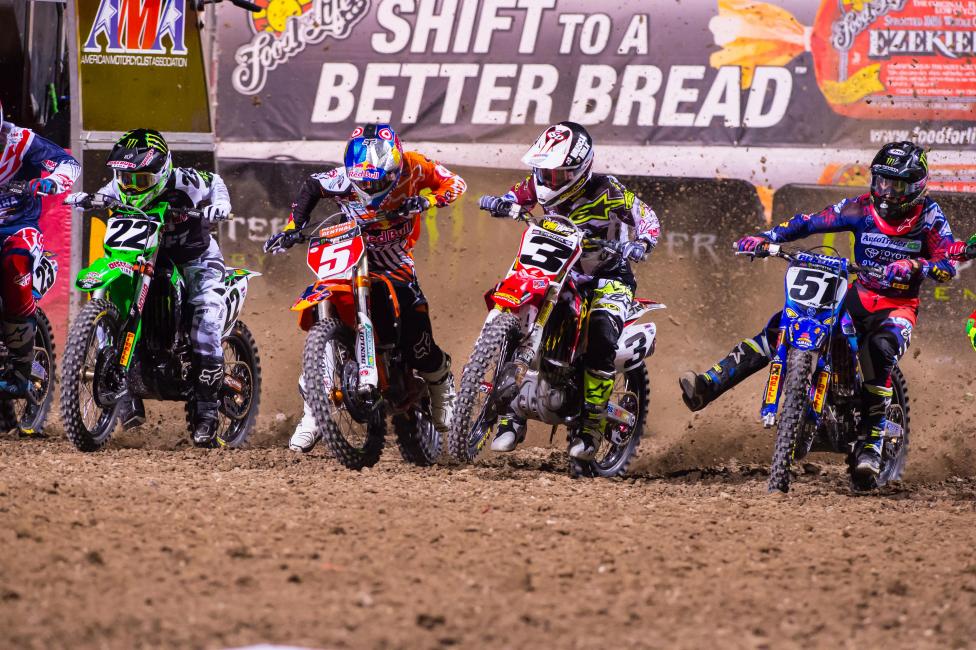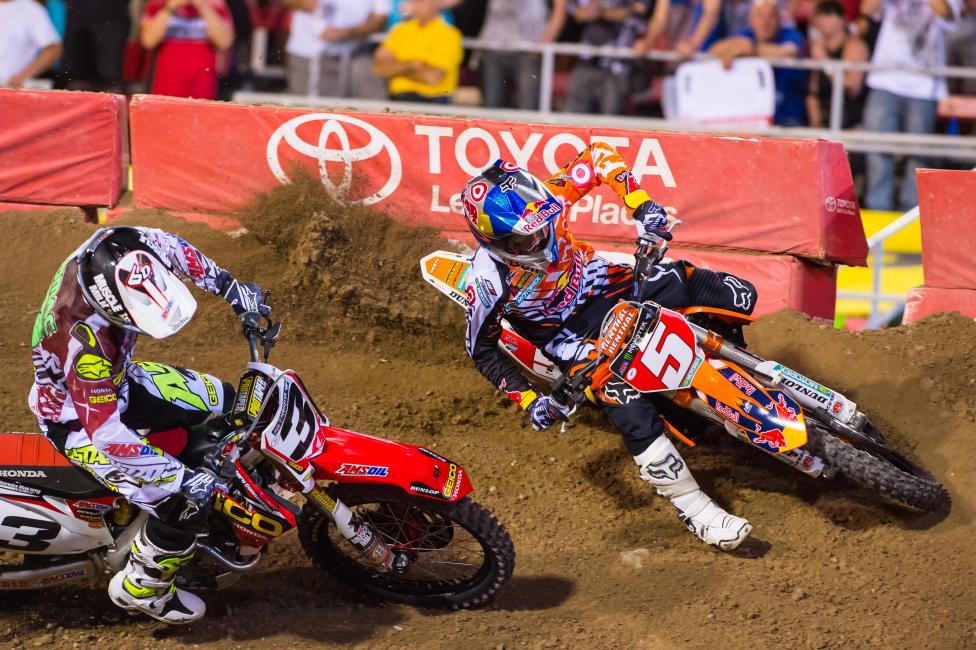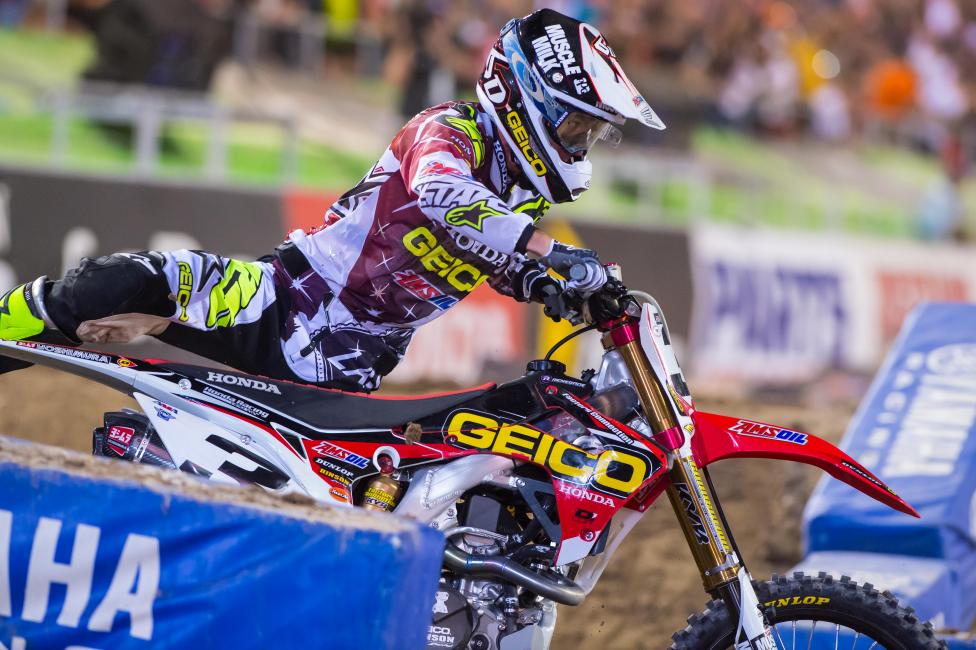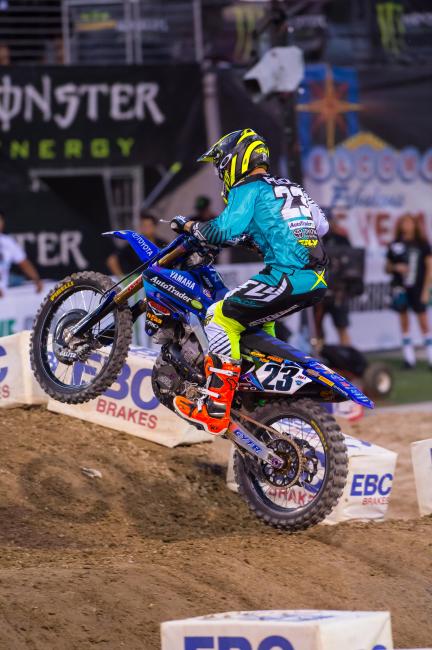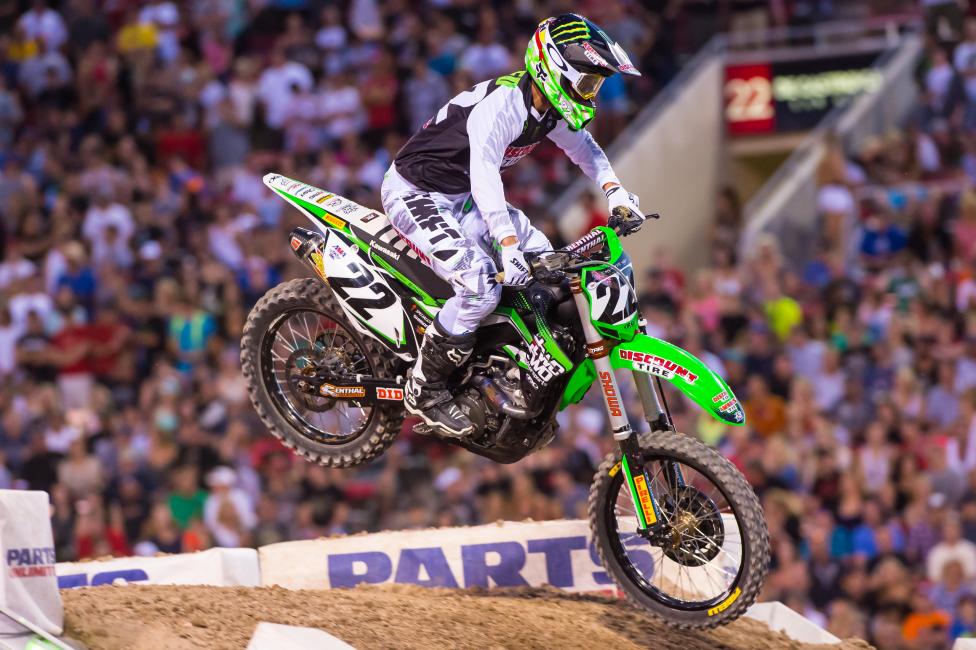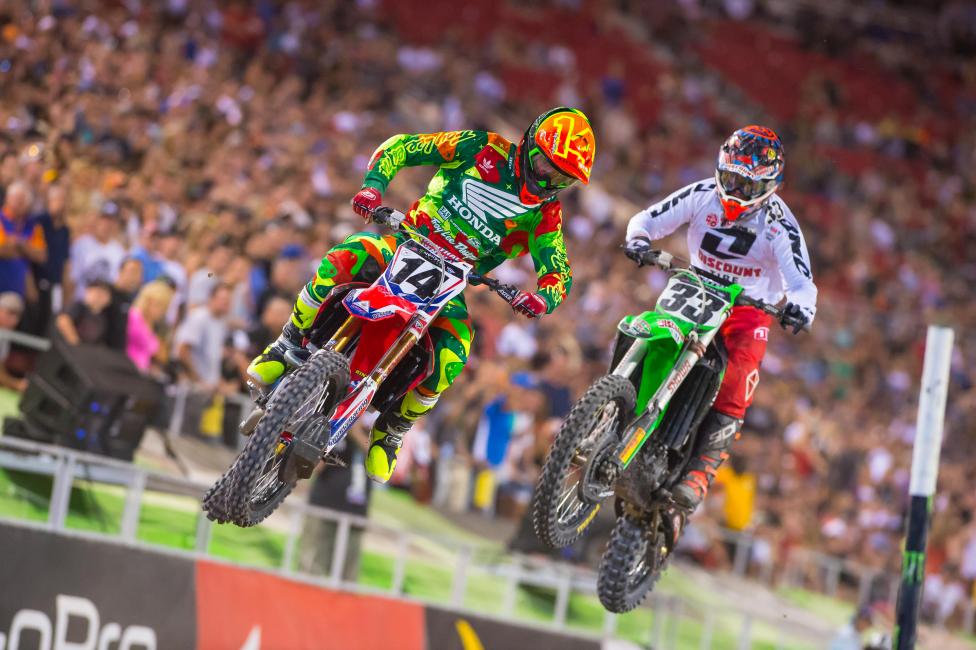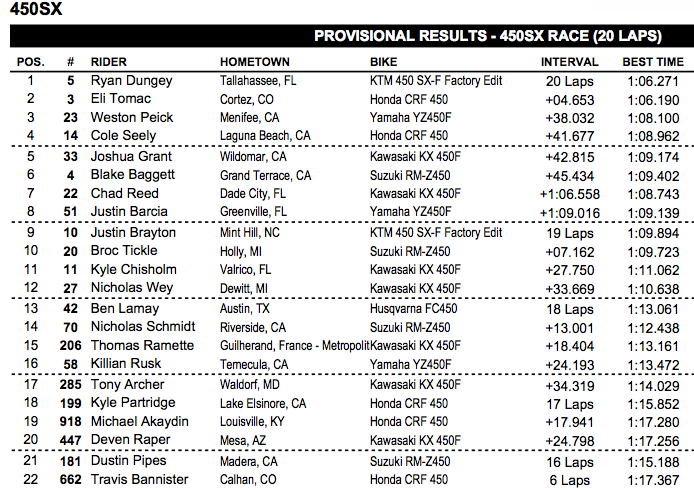 250 Shootout
Well, with Cooper Webb knocked out of action via an ankle injury in practice, there wasn't much of a chance that Marvin Musquin wouldn't dominate this one. Or maybe there was no chance, because he did indeed dominate. Once the Frenchman entered the stadium in the lead, everyone knew this one was over except Malcolm Stewart, who gave him a good run for a few laps. Then Marvin pulled away and this one was over. Chalk it up for the East side. Like really East. France.
Malcolm was second, leading a train of GEICO Honda riders, with RJ Hampshire and Matt Bisceglia third and fourth. Aaron Plessinger worked his way through the pack to challenge them, and then Bisceglia put a block pass on Hampshire, which slowed Hampshire up. Plessinger snuck past, but couldn't make a run on Bisceglia. That left Musquin, Stewart and Bisceglia as the top three.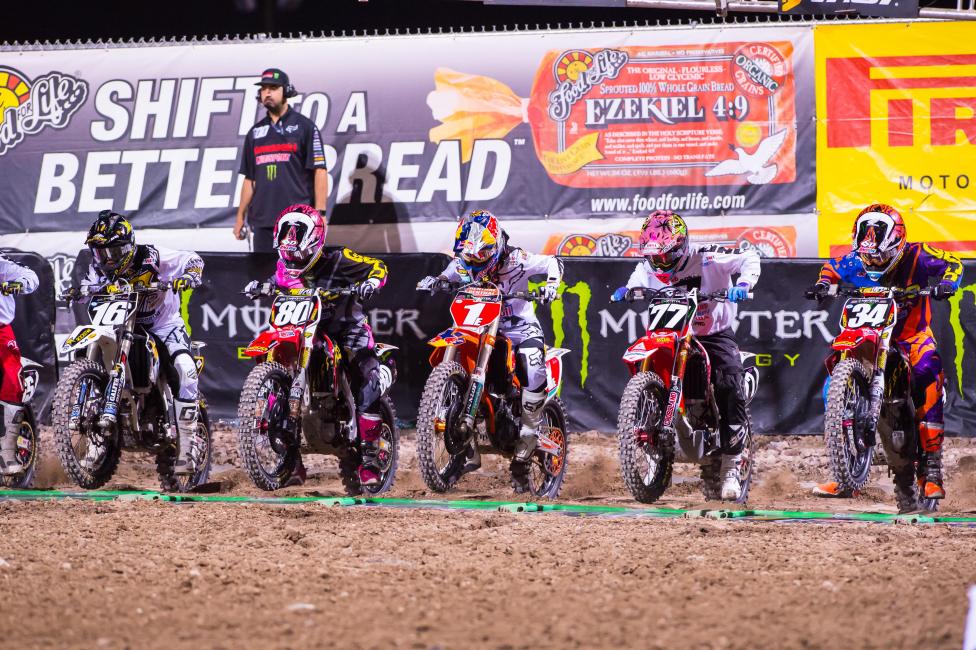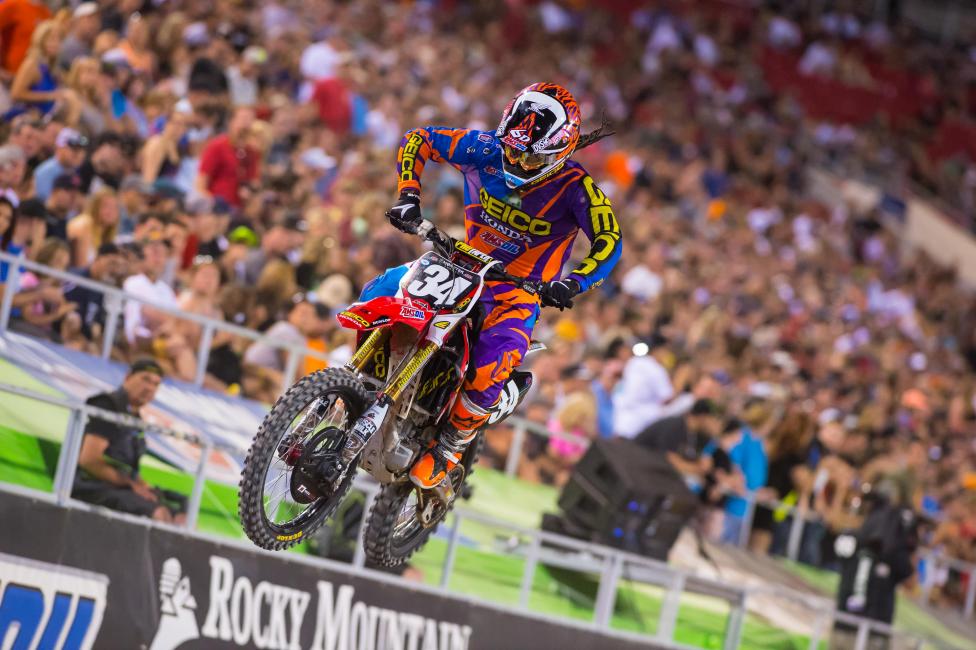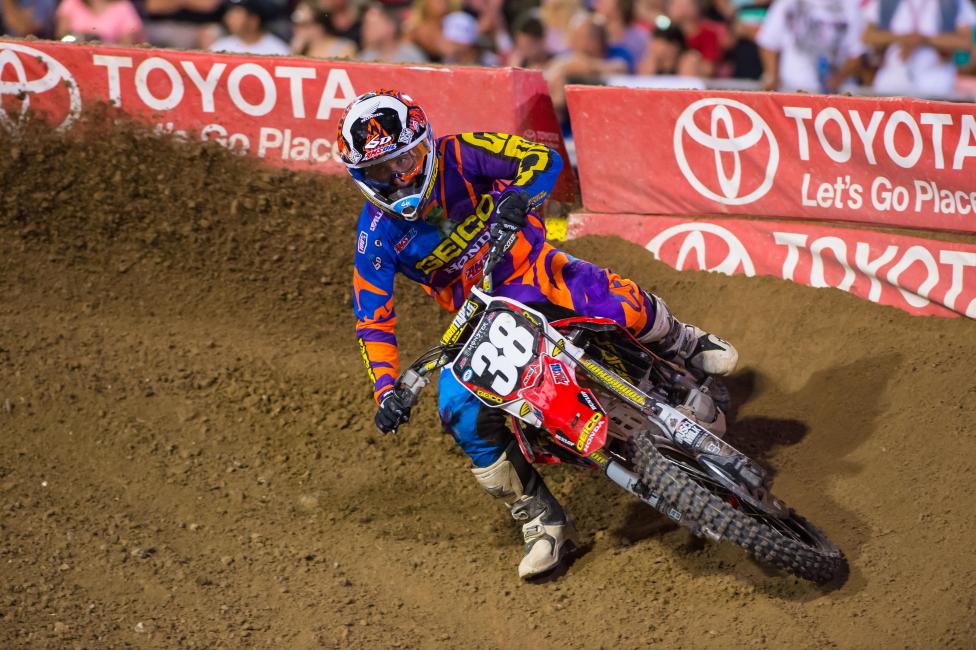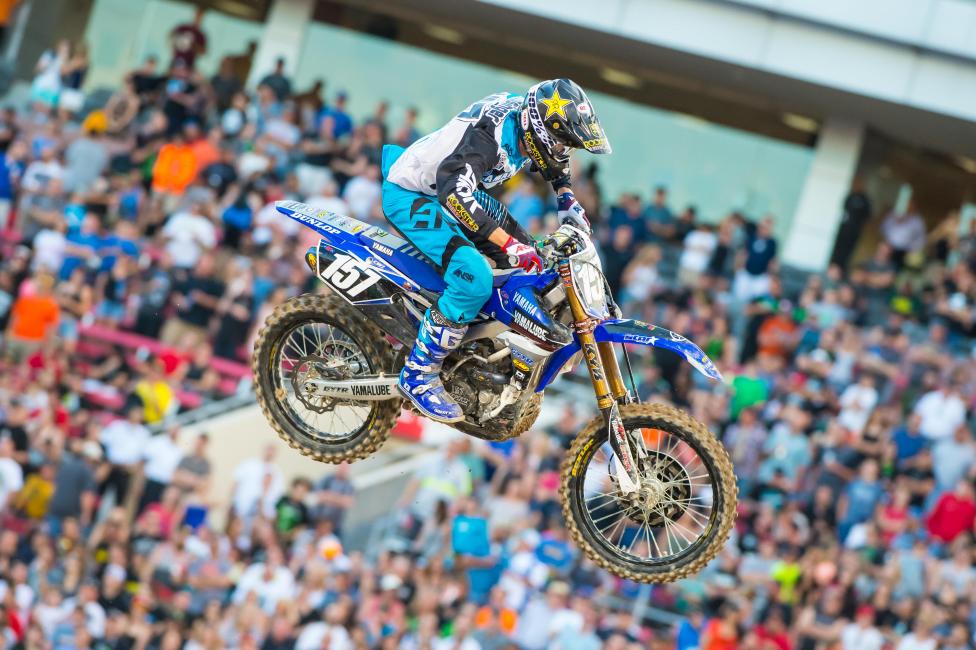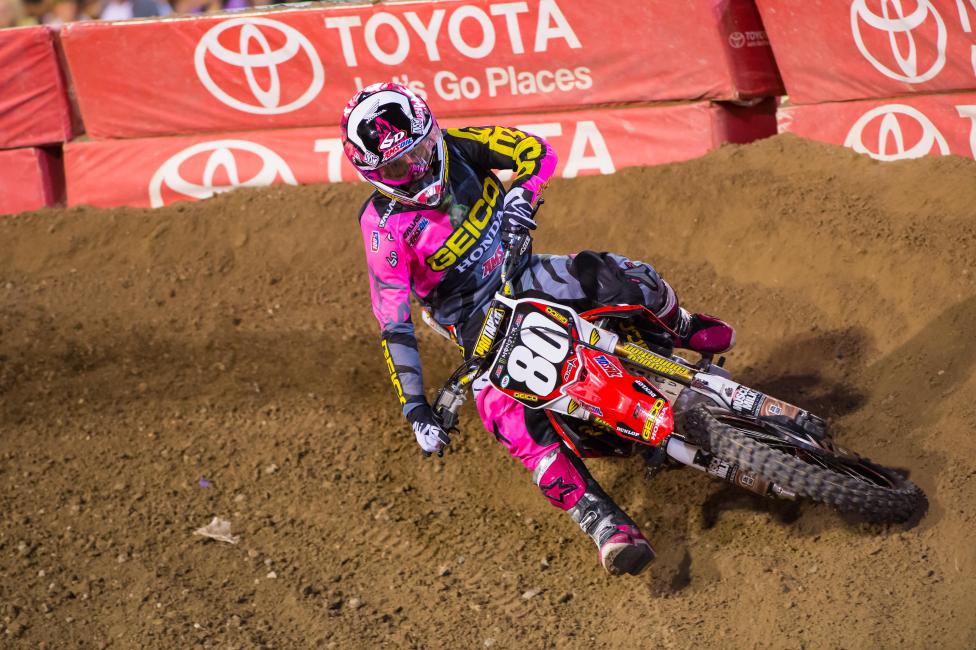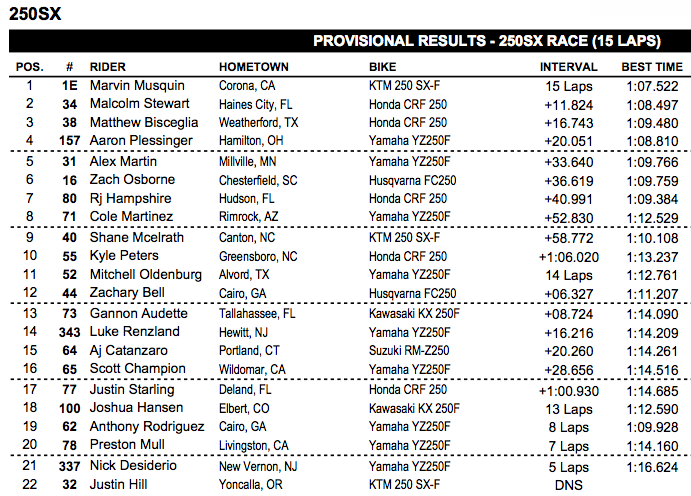 Semis and Last Chance Qualifier
It could be the last race ever for Nick Wey tonight--although he won't say it--and he's going out with a semi win. Kyle Chisholm ran Wey hard all the way, but could't get the veteran. In the other Semi, Justin Brayton holeshot and left the field behind.
In the LCQ, Tony Archer led from wire to wire, Alex Ray appeared headed for the main in second place until he crashed in the whoops. Devin Raper and Mike Akaydin took the final transfer spots (of the year!)
Heat Races
In the 250 West heat, Zach Osborne got off to a good start but came into contact with a few riders, and one of them, Matt Bisceglia, went down. Osborne stayed up but came under fire from Malcolm Stewart, who then took the lead and took off. Osborne had a battle with Zach Bell, and Bell made the pass, then Osborne got him back.
Justin Starling grabbed the holeshot in the 250 East heat, but to no surprise Marvin Musquin was quickly around and gone. RJ Hampshire followed Musquin through. Then Musquin went down, and Hampshire made a bid for the lead, but then bobbled badly and let Musquin get back away.
Eli Tomac got the start (!) in the first 450 heat and Kily Rusk (!) tried to get inside of him on the first lap. He couldn't, and then Chad Reed and Weston Peick went by. Broc Tickle rounded out the top four.
Ryan Dungey got out front early in heat two ahead of Cole Seely. Seely made a little run on the first lap to get close, but Dungey soon slipped away. Justin Barcia was third and Justin Brayton fourth, then Brayton bobbled and missed a triple, allowing Blake Baggett to get back around. This pushed Brayton to fifth.
Second Practices
FIrst, the official word from Star Yamaha Team Manager Steve Lamson is that Cooper Webb is out for tonight. Webb posted this on his Instagram:
Beyond bummed right now. Lost the front end in the slowest corner of the track in free practice and twisted my ankle. Ended up with a high ankle sprain and ligament damage. The team, Drs, and fam suggested not to race tonight and focus on getting healthy for outdoors and to go for a championship in that series. Gutted to not be able to go and show what I can do... May be down for tonight but I can promise you I won't be down for the next battle. Until then I'll be cheering on my @starracingyamaha @yamahamotorusa teammates @aaronplessinger157 and @anthonymx62 tonight. That #1W looked damn good too. See you guys at Hangtown
This makes Marvin Musquin the odds-on favorite for tonight's Shootout, especially with his east challengers like Justin Bogle and Jeremy Martin also out. But Vegas loves an upset, and perhaps it could come from Malcolm Stewart, who was fastest of the West qualifying and closest to Marvin on times. His lap with three tenths off. If something crazy happens, maybe Mookie? Maybe McElrath? Hill? Yeah, remember he was super fast here at the Monster Energy Cup. Maybe Savatgy from the east?
Also, some history made here already as Vicky Golden was 35th and has qualified for the night show. We believe that's the first female racer every to do so. There were 41 total riders in qualifying so it's not like she just lucked into it, she outpaced six riders to make it happen.
In 450s, well, you know Ryan Dungey and Eli Tomac will be quick, and they were. Could be a nice showdown between them tonight, we'll see.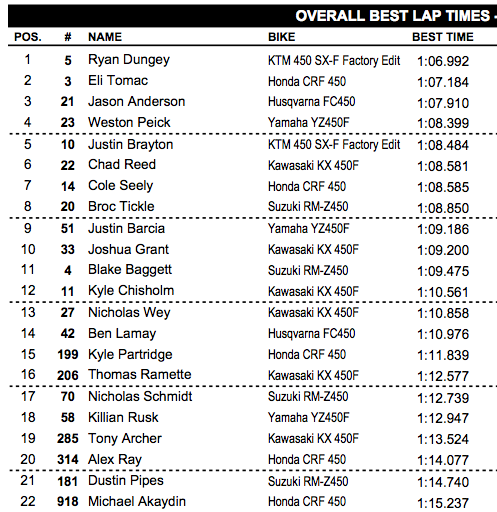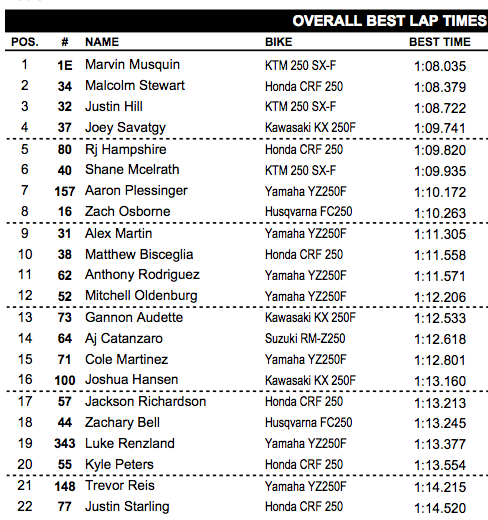 First Practices
The first untimed session--which is actually timed but doesn't count for qualifying--proved this extra long track was actually too extra long. The fastest riders were clocking 1:14 lap times, and that will make for a very long TV show tonight when you consider that's a good 25 seconds longer than most SX tracks. So before the timed sessions began, a corner was eliminated, and that cut the times down to the 1:10 area, which will save a lot of time when you multiply it to the amount of laps they'll run tonight. We know, we know, you want longer laps and more racing, but we don't think you'll miss four seconds a lap, or the one little corner they took out.
But you will miss Cooper Webb, who ironically crashed in the corner they later removed. He didn't return for the timed sessions, and we believe the 1W is now out for the night. Ouch, the Shootout just lost a lot of luster.
Malcolm Stewart might be the one to carry the flag for the West now, he was fastest in that group and looked darned good--early in the day he was one of the first to triple out of a corner (everyone is doing it now). In the East, well, it's the Marv Attack.
For most of the timed 450 session, Jason Anderson's early quick lap sat at the top. Only on the final lap did the standard players, Eli Tomac and Ryan Dungey, steal the top two spots.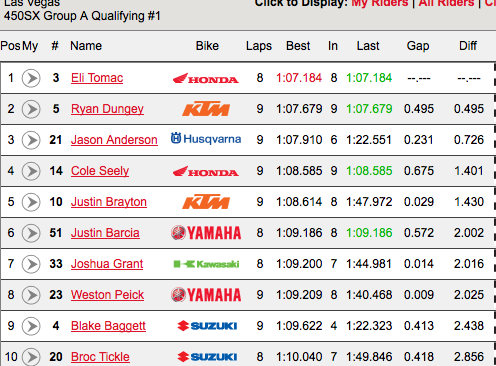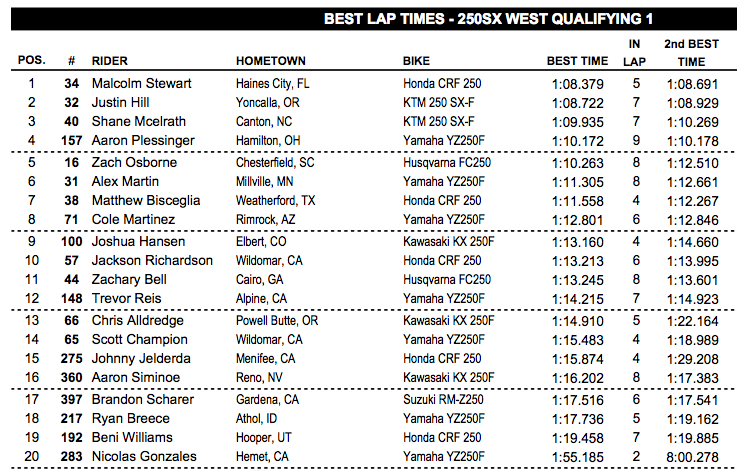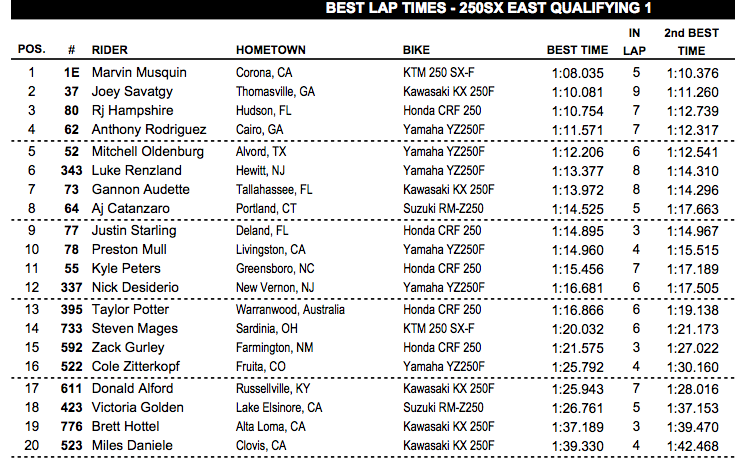 Morning Report
After last night's dramatic AMSOIL Arenacross final, where Jacob Hayes and Kyle Regal were tied for the points lead and saw the season decided on the mother of all block passes, the mood is notably tamer here for the Monster Energy Supercross finals at Sam Boyd Stadium. All the titles are locked up, with Ryan Dungey claiming the big crown on his Red Bull KTM, and Cooper Webb (Yamalube/Star Racing Yamaha) and Marvin Musquin (Red Bull KTM) claiming the West and East 250SX Titles, respectively.
But we're okay here even without the championship drama, because the Vegas race is as much a party and celebration of the season as it is just another race. The pits here are much larger and more opulent than any other race, and there's even an entire section devoted to activities like car drifting, freestyle and whatever other shenanigans Monster Energy found while going back down to the lab.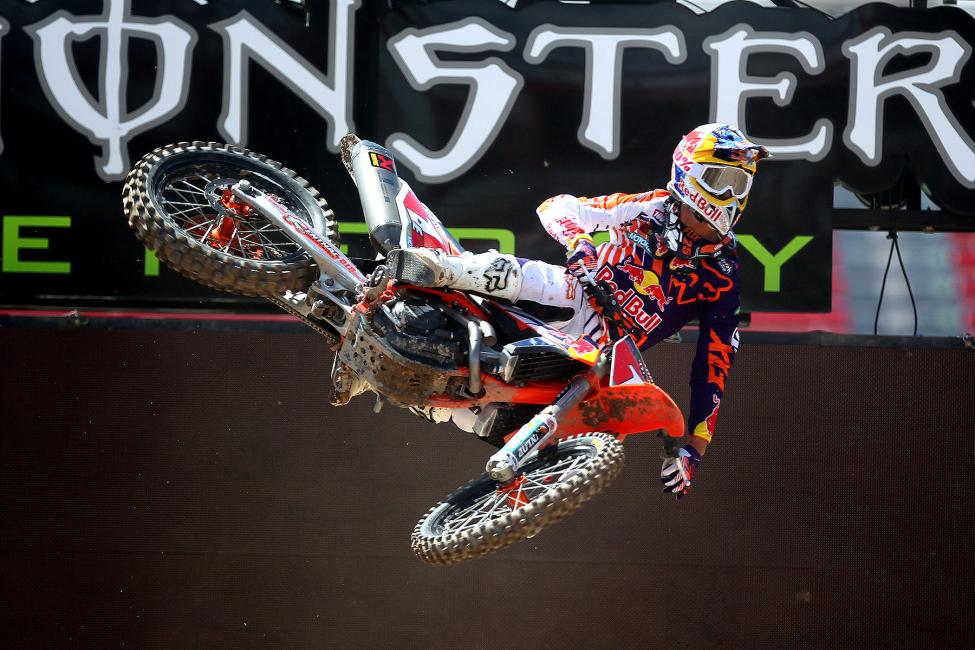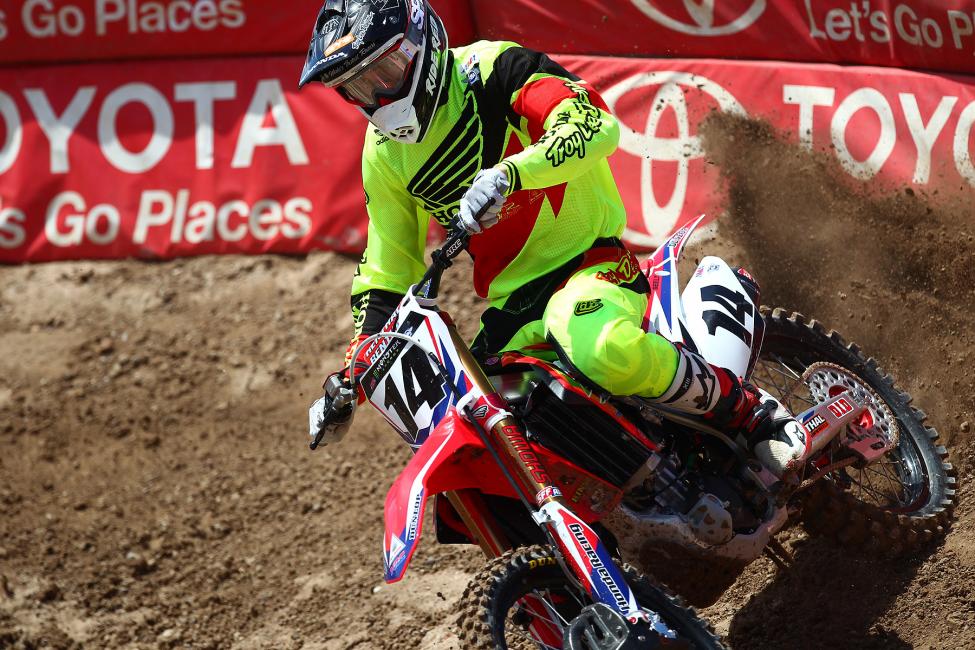 And don't forget tonight's Dave Coombs Sr. East/West Shootout, where Webb, Musquin and the rest of the top 250 riders will square off.
The track is bigger and crazier, too, lap times are well over a minute because the track, as always, winds its way outside the stadium in the high speed Monster Alley. Also, the Vegas track is always over watered, too, because the hot (very, very hot) sun will bake it all day. So in practice right now, it's super sloppy and dudes are casing jumps all over the place. We also saw Cooper Webb go down in the first 250 West practice and get up slowly--we'll check on his status as the first timed practices begin.
More to come from here. Stay tuned.