Holy Baseball to the Face, Batman
Arizona Diamondbacks rookie pitcher Archie Bradley had a scary moment last night after taking a line drive off the bat of Carlos Gonzalez. He left the game under his own power, and according to Deadspin, "will go on the fifteen-day DL with some slight damage to his sinus cavity, but that's about it." He even tweeted out a photo last night of the baseball, which is apparently still lodged in his cheek.
A Quest to Get Drunk Early
Have you ever noticed it's hard to get drunk before noon? No, I'm not talking about tailgating or cracking open a Milwaukee Best Light with your breakfast. I'm talking about hitting local establishments and drinking with other people. It's not really an option anymore to drink some whiskey and enjoy breakfast while reading the local paper. Aaron Goldfarb of Esquire made it his quest to drink before noon. How do I get this job is my only question.
I arrived on a quiet, cobblestone street in the South Seaport at 7:45, wanting to see what actually happens when the legendary Jeremy's Ale House first opens. I imagined a Black Friday-like stampede of drunks, eager to get their morning's first fix of Wild Turkey the second the doors unlocked. Unfortunately, that Norman Rockwellian vision of alcoholism no longer existed. Jeremy's front door was already open and no customers were inside.
An employee mopping the floor gave me a weird look as I entered, probably thinking I was some fanny-packing tourist looking for coffee. I asked if I could get a beer. He checked his watch and shrugged, setting his mop in the bucket to walk around the bar.
Jeremy's famously serves beer in 32-ounce Styrofoam cups which are humiliating enough for a thirty-five-year-old to be slugging in the evening, much less the ass crack of dawn. I had planned on ordering breakfast with my beer to make it feel less weird, but unfortunately Jeremy's menu consists solely of fried fish. Though their calamari was "voted best in NY" (no citation), I passed. I nursed my Killian's for a half-hour, but, unfortunately, not another patron entered. It was too bad, because with discarded bras lining the ceiling, Jeremy's is quite fun at a more reasonable hour.
Read more of his quest here.
Snowboarding and Strange Animals

Vice Sports sent a crew to Alaska to hang out with snowboarder Lucas Debari, some strange guy, and some strange animals. It's all pretty strange.
NFL No Longer Nonprofit
Since 1942, the NFL has been a tax-exempt, nonprofit entity. Because of this—nonprofit entities must disclose how much their top-earning employees make—we know that commissioner Roger Goodell made a cool $35 million in 2013. That's what we like to call F-You money. To hide this "little" known fact, Goodell and the NFL announced this week that they will no longer be a nonprofit entity. Basically, they don't want you to know how much they pay Goodell to hide their dirty secrets—and players. From Esquire:
The most obvious perk to shedding its nonprofit status is that the NFL no longer has to disclose a lot of its financial data, including the salaries of its top executives, including Goodell. As stated above, the most recent figure for Goodell's annual earnings is the $35 million he took home in 2013. This is a number that has been thrown in the league's face repeatedly since it was released, especially as Goodell bumbled his way through the Ray Rice scandal. There is no question that the NFL would rather keep these numbers in-house.
Read more here.
Video Game Hall of Fame

In the "who knew?" news of the week: there is a new World Video Game Hall of Fame and it's named fifteen finalists for the inaugural class. According to Rolling Stone the initial finalists are: Pong, Tetris, Super Mario Bros., FIFA Soccer, Angry Birds, Minecraft, The Legend of Zelda, Oregon Trail, Pac-Man, Pokémon, Sonic the Hedgehog, The Sims, Doom, Space Invaders, and World of Warcraft. Some I get. Some I have no idea what they are rather less played them. But, how is MX vs. ATV not in there! I'm outraged! Also, how in the name of football is neither Tecmo Bowl or Madden not listed. This list sucks.
"The 15 finalists for the World Video Game Hall of Fame span decades, gaming platforms and geographies," said Jon-Paul Dyson, director of the Strong's International Center for the History of Electronic Games. "Whether it's the groundbreaking game Pong or a more recent viral sensation like Minecraft, all of these games have helped shape the way that people across the globe play and relate to one another."
The Strong's electronic games center already boasts a whopping 55,000-piece collection that includes video games and other related artifacts such as personal papers and corporate records that chronicle the history of video games.
Read more about the shame list here.
NBA and Social

The NBA is winning social media. They were the first Association to allow teams to post video directly on their social networks rather than having to link it from the team's official website, allowing their teams to have a strong social presence. While most of the team accounts read like PR drivel, the Atlanta Hawks and Philadelphia 76ers have left there accounts in the hands of 20-somethings and it's paid off. Complex ran an in-depth profile on some of the stars of NBA social media.
Put in broad strokes, the NBA is a league where old people (owners, coaches, C-level suits) make billions off of the efforts of young people (the players). Today, there is a new group of young people poised to help flood their revenue streams. By social media professionals boosting the league's popularity and profile, sales of tickets, merchandise, ads, and even television broadcasting rights may all increase.
"It's a missed opportunity for anyone who doesn't take social media seriously," says Wilson. "Social media is a powerful marketing tool that can reach a lot of people [with] a little budget."
Check out the entire piece here.
And then you have what the Rockets' social media sent out last night. While funny, you can't tweet something like this out from a team social account. More than likely it was a young person, with little experience, quickly hitting send, not thinking of the ramifications. The Rockets quickly deleted the tweet and issued an apology. This stuff happens and will blow over, but blog sites eat this stuff up. Be careful, youngins.
Social Stats
Whew! After sixteen races over seventeen weeks, Monster Energy Supercross will come to a merciful close Saturday night in Vegas. With all three championships on ice, there isn't much to look forward to other than the East and West Regions squaring off. The guys at Hookit have tracked supercross athletes from January 1 until April 27 across Twitter, Instagram, and Facebook, and Ken Roczen came out on top. The German superstar, with worldwide appeal, had 4.4 milliion intereactions during that time. Ryan Dungey, 450SX champ, was a distant second with 1.7 million. Malcolm Stewart was third with 1.6 million. The rider that impressed us? Dean Wilson, who barely got to race this year and still held onto the top five. Check out the rest of the top ten below.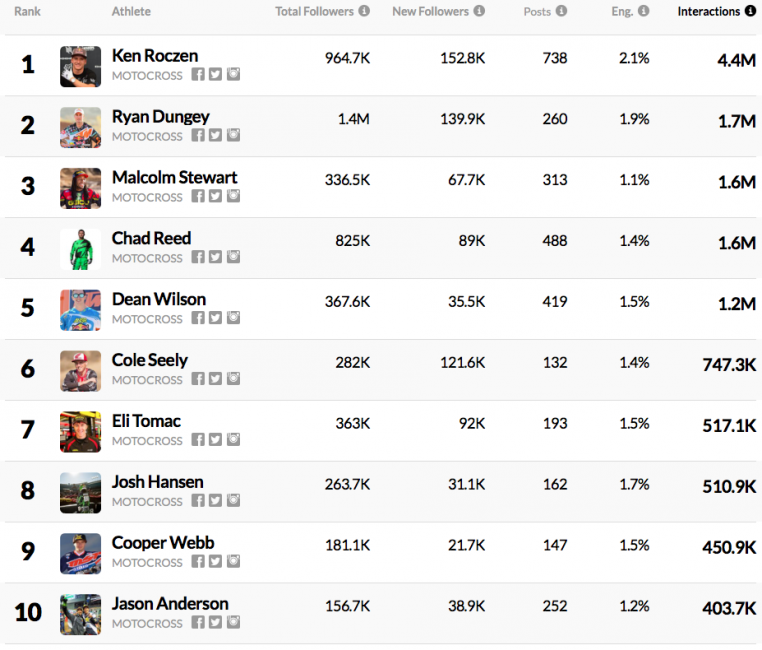 Role of Media
Since the dawn of the printing press, media (hacks like us) and the people they cover have never really gotten along. It's understandable. People don't like when they feel slighted by the media or have their dirty laundry exposed. Recently, Cincinnati Reds manager Bryan Price berated a Cincinnati Enquirer beat reporter in F-word laden tirade. Why? Basically for doing his job. In an age of team websites and fan boys, the lines of what reporters jobs are can get skewed. Christopher Gasper of the Boston Globe put it perfectly:
The job of a traditional media member is not to root, root, root for the home team, or aid its quest for victory. It is also not to intentionally undermine it. It is to report the news or provide insight or commentary. We strive for Swiss neutrality. But in an era of league-owned television networks, fawning team websites, and partisan fan blogs, it's easy to see the lines between journalism and boosterism getting blurred and folks such as Price getting confused.
Read his entire column here.
Pandora to Increase Pay to Artists

Music streaming sites such as Pandora and Spotify notoriously undermine the talent they make their money off. Nothing is free, right? According to Motherboard, they will now pay artists a little more. Pandora will now pay "$0.0014 per stream for its standard service, up from $.0013 in 2014; and $0.0024 per stream on its premium, ad-free service, up from $0.0023 in 2014." This is all good and well, but what's alarming is this:
The increase in per-stream rates comes as musicians are continually more vocal about the low rates offered by streaming services like Pandora and Spotify. In November, artist Aloe Blacc wrote in an opinion piece for Wired noting that "Wake Me Up!", a song he co-wrote and sang that was streamed 168 million times on Pandora in the US, yielded him only $4,000. Last year, Taylor Swift pulled all of her albums from Spotify, saying she didn't think the company fairly compensated the creators of the music it streams. Jay Z said he would usher in "a whole new era" for the music industry with his new streaming service Tidal, which launched in March and offered artists higher returns for their work.
Read more on Motherboard.
Apple Backs Up Money Truck
Apple makes a lot of money. Like, a lot of money. Mashable reports that Apple revenue "rose to $58 billion for the March quarter." That's "B" as in "BILLION." Check out some more numbers from Mashable:
Apple's profit for the first three months of 2015: $13.6 billion
Facebook's total revenue for all of 2014: $12.5 billion
Total amount of cash and marketable securities on hand: $194 billion
Total amount of cash and marketable securities on hand one year ago: $150 billion
Total number of companies Apple bought in the previous 6 quarters: 27
Sum of cash Apple previously said it would return to shareholders by December 2015: $130 billion
There is more on Mashable here.
Double Ski Backflip
Hey, you know what sounds like a great idea? Jump into a pair of skis with your buddy and pull a backflip. AND IT WORKED!!! These guys rule.
[h/t: For the Win]
Triple Backflip

In more backflip news: Josh Sheehan landed the first-ever triple backflip yesterday at Pastranaland. We're not worthy! We're not worthy!
Comcast Time Warner
The expected merger between cable giants Comcast and Time Warner has died. The Atlantic says the deal was hurt after the FCC told Comcast the merger would "not help consumers." In short: they are right. Comcast would have moved into more markets, basically eliminating the little competition that exists now. The Atlantic has more:
Detractors of the merger, however, argued that this focus on individual markets obscured the fact that on the national level, it would create a real lack of competition. The merger also drew opposition from another concerned party: content producers. A super-sized Comcast would gain leverage in negotiations over companies like Netflix and Disney, whose television shows, movies, and live sporting events have national reach. Customers could benefit from faster connection speeds, but suffer from fewer options for what to watch.
Merger or not, Comcast's position as the nation's largest cable and broadband provider will not change. But the demise of its deal with TWC is only the latest setback for the company in 2015. In February, the FCC's classification of broadband Internet as a utility and affirmation of net neutrality attracted vehement opposition from the company.
Check out more here.
Stadium Fight in Minnesota
Billionaires are fighting other billionaires in Minneapolis. The city, which was granted a franchise by Major League Soccer (MLS), still doesn't have a detailed plan in place for a new stadium. They've been given a deadline of July by MLS. Not exactly a long time. How it got to this point is the kicker. From Vice Sports:
Flash forward two years. On November 22, 2014, Major League Soccer officials, including Garber, visited Minneapolis to gauge local interest in an expansion franchise. At the time, other cities, such as Las Vegas and Sacramento, were also trying to land a franchise. Minneapolis Mayor Betsy Hodges personally toured the still-in-construction Vikings Stadium with Garber. Local press got wind and soon asked her office for comment. Her official statement was pro-Minneapolis and vanilla, but in emails I obtained via public information requests, one staff member, John Stiles, tells another, Kate Brickman, that "the short answer is that we're in favor of it going to the Vikings stadium." That short answer, at least in that form, did not get sent out to eager journalists.
Meanwhile, as Mayor Hodges gently nudged Garber towards the Wilf family bid, another Vikings buddy appeared: State Senator Tom Bakk entered the fray. Allegedly, he called Major League Soccer to tell them the Minnesota Legislature would not approve funding for a soccer-specific stadium. MLS refused to comment on the alleged call, but Bakk's office admitted the call happened and stated that "in the Senate there was no appetite for additional public financing for stadium funding."
Still, political favors were not enough: the Wilfs knew they had to at least appear to have grassroots support. Thus, they hired a PR firm, One Simple Plan, to touch base with the Dark Clouds. Dark Clouds members had conversations in person and via telephone with various members of the Vikings PR machine, including Executive VP Lester Bagley and Executive Director of Communications Jeff Anderson. While the Vikings were "intelligent" and "had a sincere belief that the new Vikings stadium would offer a great soccer fan experience", their tactic was to subtly plant the seeds of distrust in Minneapolis soccer fans and stakeholders.
Read the full piece here.
Yahoo To Launch Daily Fantasy
Daily fantasy sites, such as DraftKings and FanDuel, have becoming immensely popular as of late. So much so that Mickey and his friends at ESPN dumped $250 million into DraftKings. Now, Yahoo is launching it's own daily fantasy site. From Awful Announcing:
This seems to be a pretty obvious move for Yahoo to make. They already have much of the fantasy infrastructure, and much more importantly, a built-in customer base. Instead of going to DraftKings or FanDuel, a Yahoo Fantasy Sports player could just keep all their daily and season-long fantasy under one roof.
The marketplace is definitely getting crowded in daily fantasy, but it appears that the industry is still decisively on the upswing. If Yahoo is going to get involved and make their claim for the top daily fantasy sports outlet, now is the time to enter the race.
Check out more here.
Oreo Trick Shot
I'm really glad this guy has a lot of time on his hands.
[h/t: The Big Lead]
Matthes Makes the Cut
Steve literally sent this in moments before we went to press. Luckily we work on the internet and deadlines can be changed. He's back with some squirrel stuff and a classic pod. Take it away, Steve.
Wally the squirrel is back and hiding more acorns in the fur of Jax! Oh, I can't get enough of these. One day I'd like to get Wally to see if he could hide a 12mm Snap-On inside of Justin Barcia's mechanic's beard.
CLASSIC POD
The Doctor is in the house…as in Dr. D Doug Dubach, bro. Dubach's a great guy with a real cool story on how he rose from local SoCal privateer to a factory Yamaha racer who won a supercross and was a very fast consistent top ten dude forever. And now he's the owner of a pipe company, and guess what, he's still wearing O'Neal and Scott goggles, and racing all the time. Listen in to Doug's unique and cool story HERE.