Sam Boyd Stadium
Las Vegas

,

NV
Race Center: Las Vegas
Monster Energy AMA Supercross Championship
By Chase Stallo, Steve Matthes, and Jason Thomas
1. Who will win the Dave Coombs Sr. East/West Shootout?
Chase Stallo: On the surface, Marvin Musquin and Cooper Webb are the favorites. Each won six main events en route to their respective championships. To pick one of those would be, for lack of a better word, lame. Plus, this is Vegas, baby, where it's fun to roll the dice. Jeremy Martin won here a year ago and will likely be in the mix. But… My pick is Joey Savatgy. He ended the season with three consecutive podiums and has been on the cusp of his first career win all season. We don't know how much effort each rider will put in, but Savatgy, who has been itching for a win, is coming out guns blazing.
Steve Matthes: Let's get something out of the way right now: I don't know who's going to win the shootout. I'm not some sort of weirdo psychic, bro. But I do know that the "new" format with no East or West main events should help the shootout. I liked having both main events at the final round, but man, did it ever take away the enthusiasm for the shootout, which used to be pretty cool.
So the mains are gone and the riders can now let loose, relax, and give it their all in the shootout. The problem is there isn't any great incentive to win the thing like their used to be, with a Toyota truck. Yeah, get to what you think Matthes. Well, in a shocking move, I'm going to predict either Cooper Webb or Marvin Musquin will win the shootout because both guys have been so dominant this year. Having no Tyler Bowers and no Jessy Nelson doesn't hurt either, as I think both of those riders are equal to Justin Bogle on the East. Chase's pick of Savatgy is brave but foolish. He hasn't won a race all year, and he's not as fast as Bogle or Musquin on the East, never mind the dudes on the West. I was going to pick Bogle for an upset, but since he's out, let's go with Shane McElrath. But you're crazy to seriously pick anyone not named Marvin or Cooper.
Jason Thomas: Well, according to Chase, I'm lame because I have to go with one of the champs. Listen, they've been clearly better than everyone else. On top of that, the best of the rest are out. Tyler Bowers, Jessy Nelson, and Justin Bogle will miss Sin City. To bet on anyone other than Webb or Musquin with those other riders missing is crazy talk. I said crazy talk! I really want to pick Webb because I think he's the fastest of any 250 rider, but his starts are suspect this season. He won't be able to catch Musquin if Marv gets the holeshot and pulls a gap. That's the difference between racing the riders in his region and racing a two-time world champ and newly crowned East Coast champ. If he's with Musquin at the start, then I like Webb. If he is mid-pack on the start like we've seen quite a bit this season, I like Musquin.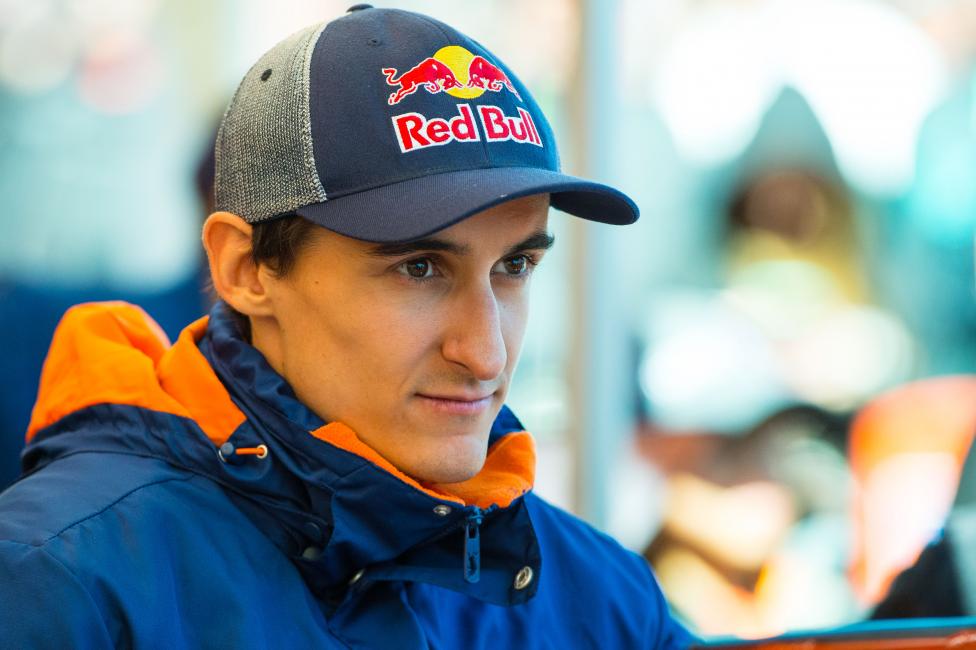 2. Marvin Musquin is now locked in with Red Bull KTM for a 450 deal through 2017. How will he do?
Stallo: We don't have to look much further than this year to see how Musquin will do. He will tow the same line as Blake Baggett, Jason Anderson, and Cole Seely: He'll be in the mix for podiums, and eventually wins, but not a title threat. Look, it's hard to win in your first year of 450SX. Ask Ken Roczen. Ask Eli Tomac. Ask Trey Canard. Ask Ryan Villopoto. See where I'm going here? KTM was smart to tag Musquin before Honda, Kawasaki, or even Yamaha came calling. He will have success in the 450 ranks, but as history indicates, it may take a few years.
Matthes: I see a Cole Seely-type of year for Musquin next year. Maybe if there's a rash of injuries again, he can get a win like Cole, but I do believe he can podium and be solidly inside the top ten. He's very technical and very precise, and his weakness of not hanging it out there is actually a strength since he doesn't throw it away. The bike is going to be good, he's a great rider, and, win or lose, he'll be very nice afterwards.
JT: I think Marvin will do well. His style is very good for a 450, much like Ken Roczen. He doesn't rev the bike like, say, Justin Barcia. He is much smoother and significantly lower in the RPM range, allowing the suspension to work properly. The long season might be tough in the first year, as we have seen from the recent crop of rookie riders, but it will be a designated learning year anyway. KTM has their leader, Ryan Dungey, to carry the burden and expectations. Marvin can ride pressure-free and build for 2017. Having said all of that, I do think he will be a podium contender next season, albeit with some inconsistency.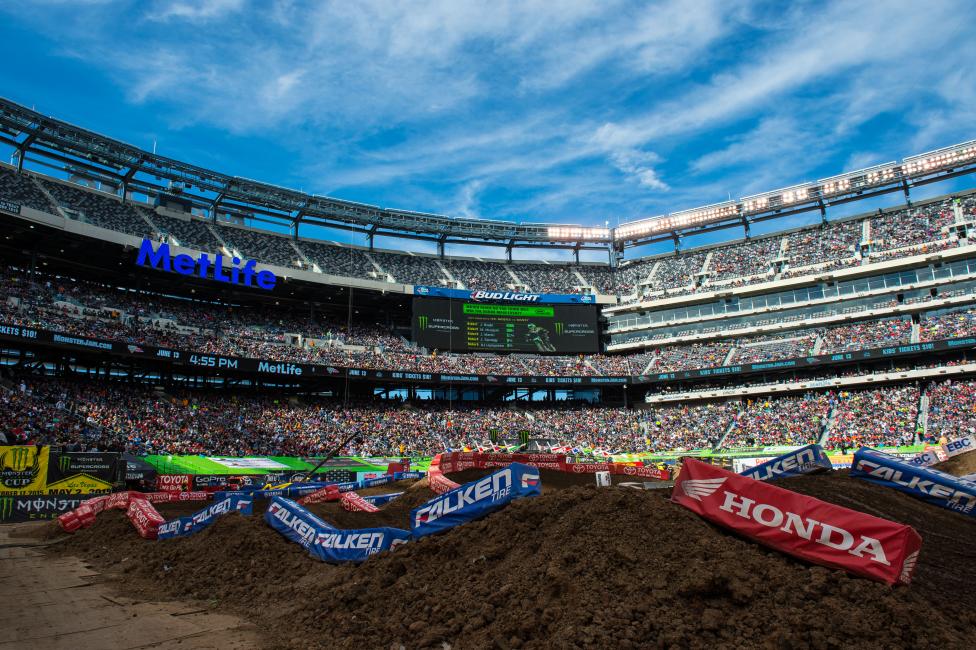 3. What did you think of the daytime supercross?
Stallo: We harp all the time about how the powers to be in racing are afraid to take risks, afraid to disrupt what has "worked" for so long. When they do finally pull the trigger on something, they deserve praise. The day race was a tremendous success. The Party in the Pits was bigger than last year. The crowd was huge and eventful. Hell, they were even the main story on SnapChat. That's what we call making it. Seriously, I thought everything was great—except the part of waking up at 6:30 after a night in New York.
Matthes: Eeeeehhhh, whatever. There were plenty of good things about it and also some things I didn't like. The opening ceremonies were a bit muted and didn't seem as "amped" as usual, the atmosphere was a bit subdued, and it was really hard to get up balls-early to head to the stadium when you stayed in the city. On the other hand, one less practice was nice (everyone seemed to like this), it was great to be over early, and it's a good thing anytime you can get on FOX Network, not FOX Sports, the FOX Network. With almost half the races starting at 10 p.m. on the East Coast, maybe this will be the wave of the future to get some more eyeballs on our sport.
JT: Personally, I thought it was awesome. I do agree with Matthes that the opening ceremonies suffered, but if it was inside a dome, that dark effect could be replicated. The 7:30 a.m. track walk was a bit tough, especially in thirty-eight-degree weather, but the dome could also alleviate this. The biggest upside was being finished at 6 p.m. It allowed for riders, fans, and miscellaneous personnel to enjoy the city at a reasonable hour. In 2014, I was still at MetLife Stadium past midnight, so leaving at 7 p.m. this year was a nice change. I don't think it would be better overall for the whole season, but for a few rounds, this is a cool idea to implement. Kudos to Feld for taking a chance and also securing the FOX Network broadcast.