Russell Wins Fifth Straight at Limestone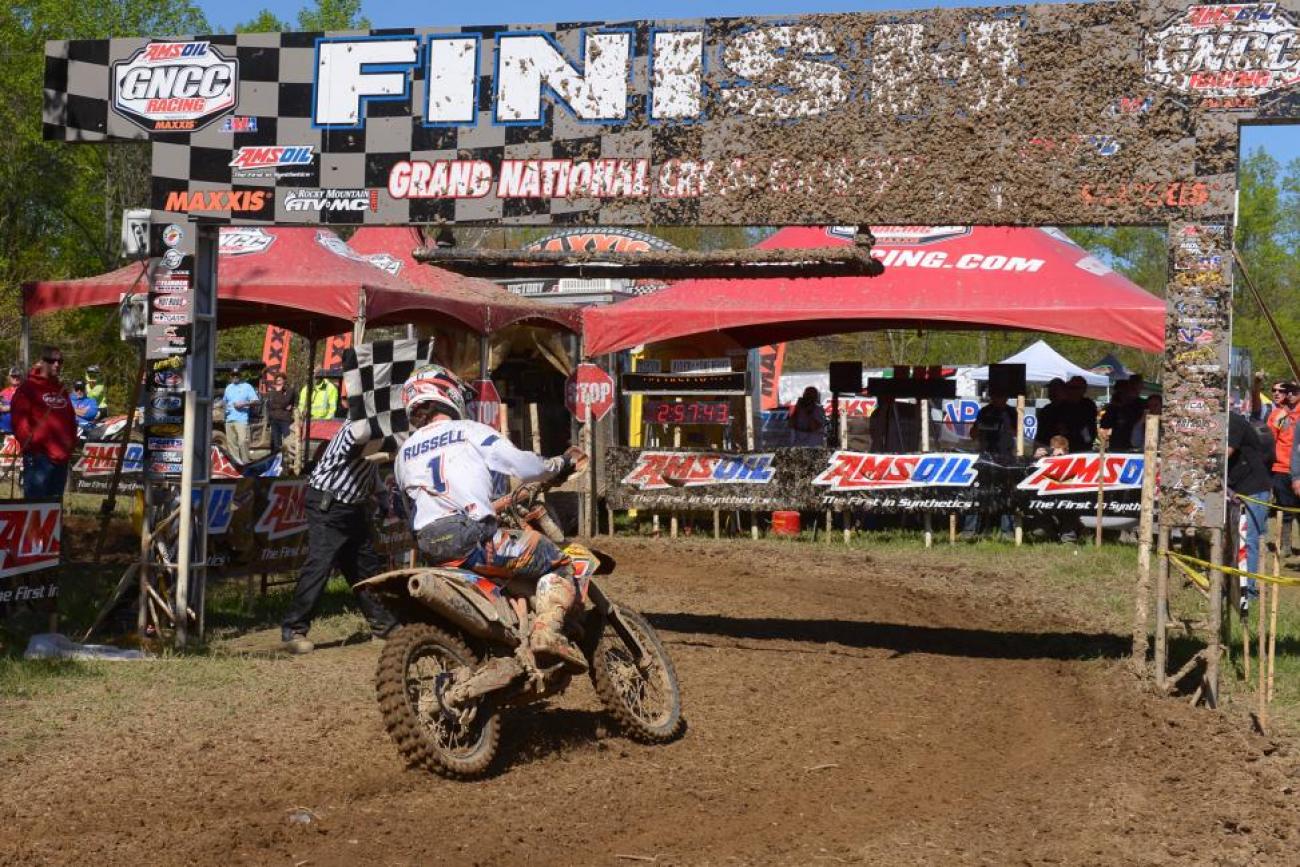 Springville, IN - Factory FMF/KTM's Kailub Russell extended his win-streak to five-in-a-row on Sunday at round five of the 2015 AMSOIL Grand National Cross Country presented by Maxxis, an AMA National Championship, in Springville, Indiana. Russell now sits third on the All-Time Bike Wins list in GNCC Racing after his 27th career win today, surpassing Ed Lojak, who claimed 26 wins through his storied career.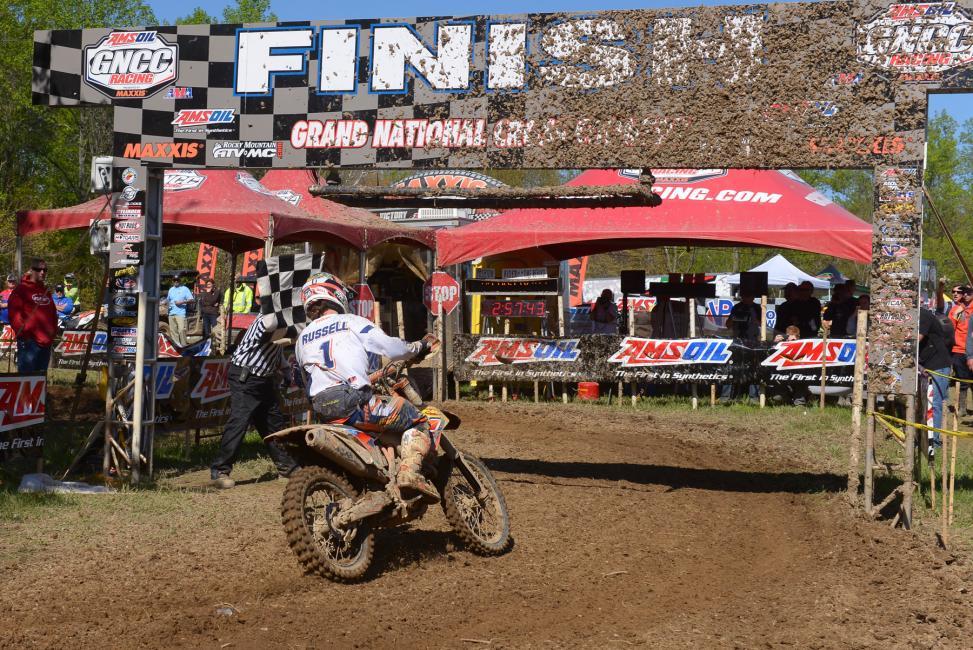 N-Fab AmPro Yamaha's Jordan Ashburn took the $250 All Balls Racing Holeshot Award with N-Fab AmPro Yamaha's Grant Baylor and Rockstar Energy Husqvarna's Josh Strang tailing behind. Rocky Mountain ATV*MC KR4/FAR Race Team's Thad DuVall quickly made his way into the lead from his mid-pack start on lap one.
Meanwhile, Russell had to work his way through the pack to take over the lead after crashing in the second turn. Russell managed to take over the lead on lap four, but would continue to battle wheel-to-wheel with Grant Baylor throughout the entire three hour race.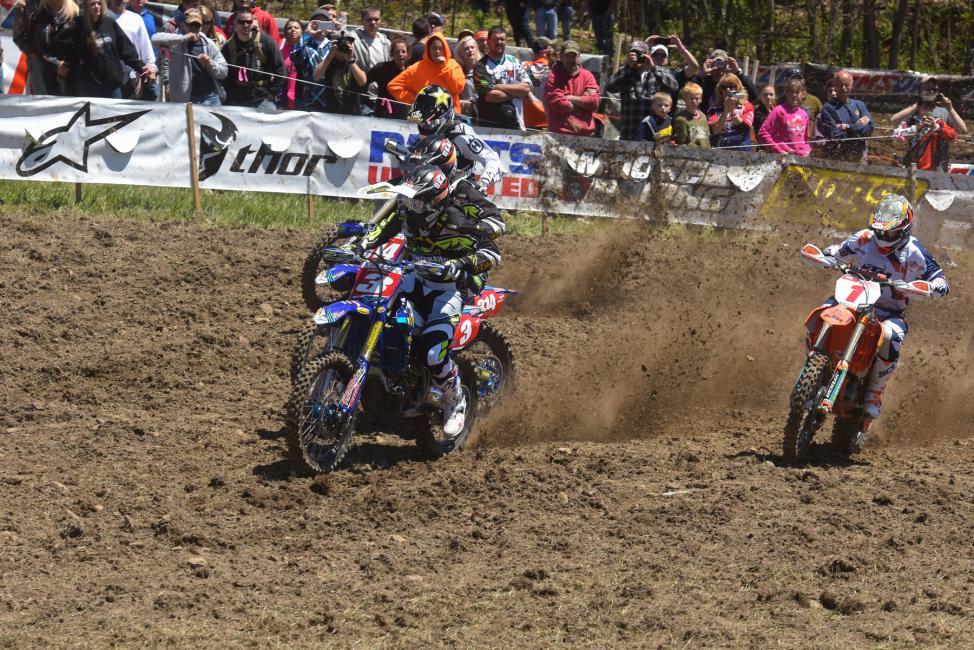 Ashburn, along with AirGroup/Rockstar Energy/Husqvarna's Ryan Sipes, JCR Honda's Chris Bach, and Rockstar Energy Husqvarna's Andrew DeLong all challenged the lead pack through the early portions of the race before falling behind, leaving them in a four-way battle amongst themselves.
Strang would be challenged by the rough and rutted terrain to come away with a fourth place finish ahead of Ashburn who would round out the top five. After a long day of swapping positions, Sipes would come away with sixth place ahead of Bach and DeLong who finished seventh and eighth, respectively.
It was a tough day for HR Motorsports/Honda-backed Takeshi Koikeda, who experienced a mechanical issue early in the race. Koikeda was able to return to the race and complete eight out of nine laps. MotoTech/KTM's Steward Baylor experienced clutch issues that ended his day after completing two laps. N-Fab AmPro Yamaha's Daniel Milner would also experience a mechanical issue on lap four, which ultimately ended his day.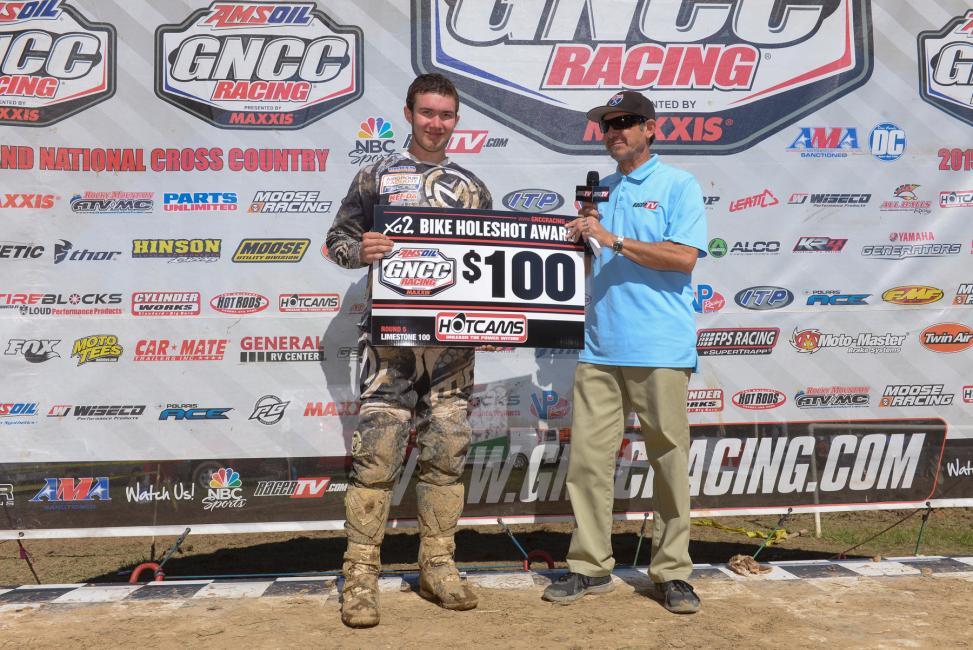 Ryder Lafferty would come away with the $100 Hot Cams XC2 Pro Lites Holeshot Award. Raines Riding University/Atlas Yamaha/OffRoadViking.com's Ricky Russell headed into the woods in second place followed by Husqvarna Support Rider Craig DeLong and Rocky Mountain ATV*MC KR4/FAR's Nick Davis.
MotoTech/KTM's Trevor Bollinger quickly worked his way into the lead on lap one with DirtWise/Maxxis/KLIM-backed rider Jason Thomas close in tow. Thomas was able to make his way through the pack after a bad start, and take the lead on lap four.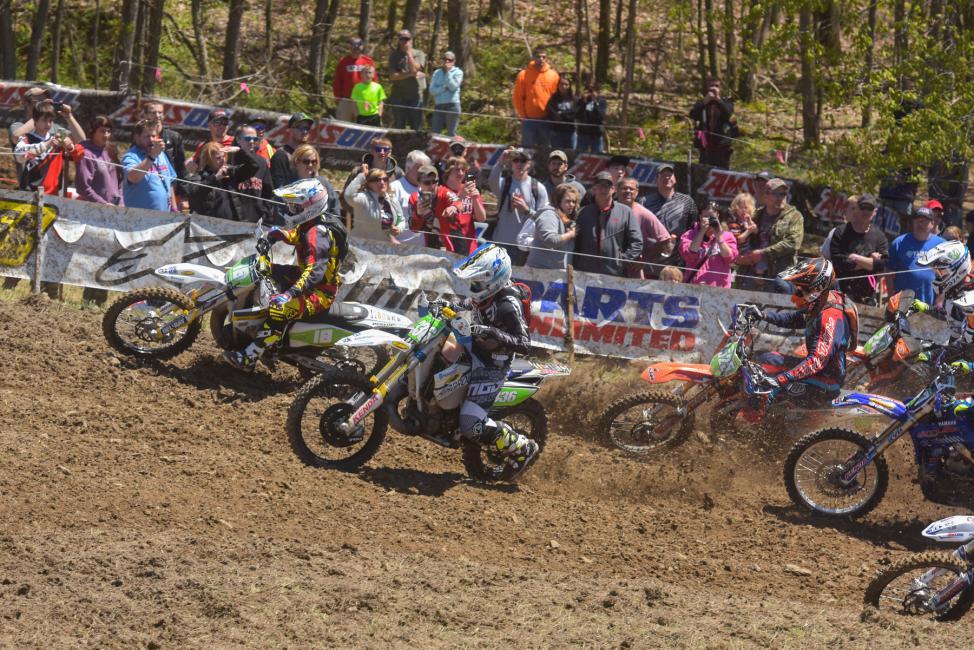 Davis made his way into second place on the first lap, where he battled with Bollinger and DeLong as the top three were wheel-to-wheel until Davis did not emerged from the woods. Ultimately Davis would be towed back into his pit as a result of not only running out of gas, but also suffering some mechanical issues.
Jason Thomas maintains the XC2 Pro Lites points lead after five rounds followed by XC2 class rookie, Craig DeLong, AMSOIL/RideMPS.com's Layne Michael, Trevor Bollinger and Ricky Russell.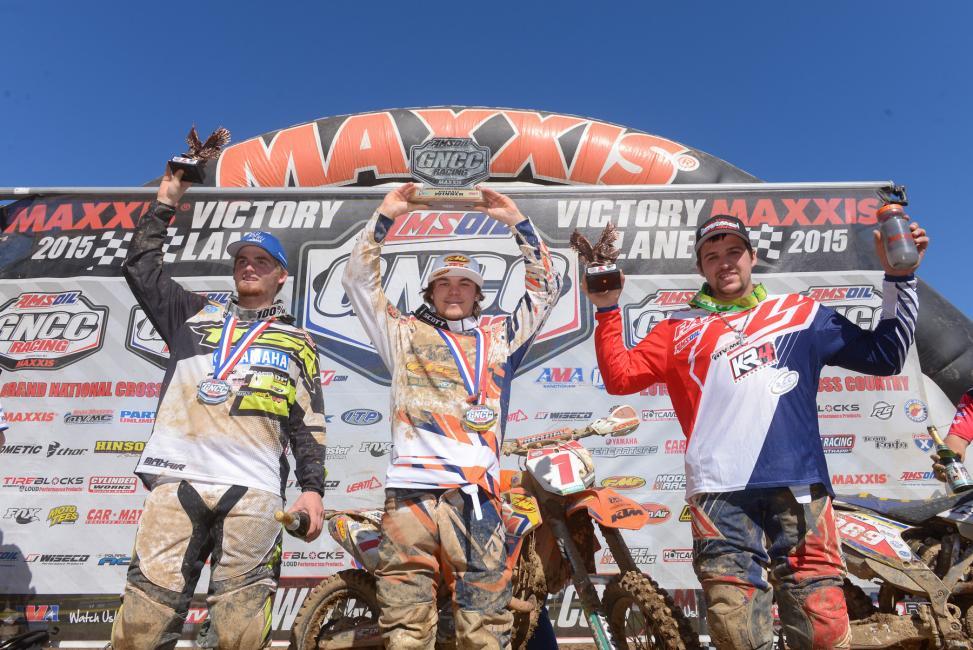 The 1 p.m. race was broadcast LIVE in its entirety on RacerTV.com and can be viewed as an archived video now online by visiting the GNCC LIVE page on RacerTV.com.
The 2015 AMSOIL Grand National Cross Country Series resumes May 9 and 10 with the Dunlop Tomahawk GNCC in Odessa, New York. For more information on the series, visit www.gnccracing.com.
Stay up-to-date with exclusive content from the AMSOIL GNCC Series by following the series Facebook, Twitter and Instagram.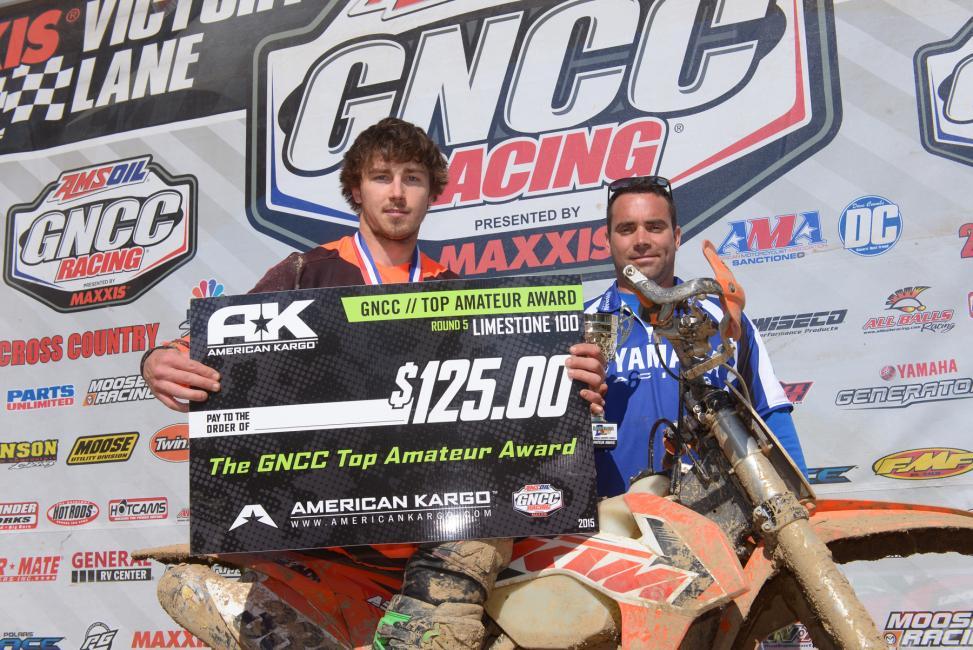 Limestone 100 GNCC
Springville, IN
Round 5 of 13
Sunday, April 26
XC1 Event Results:
Kailub Russell (KTM)
Grant Baylor (YAM)
Thad DuVall (HSQ)
Josh Strang (HSQ)
Jordan Ashburn (YAM)
Ryan Sipes (HSQ)
Chris Bach (HON)
Andrew DeLong (HSQ)
Chris Douglas (KTM)
Adam Bonneur (KTM)
*Overall National Championship Standings:
Kailub Russell (150)
Josh Strang (118)
Grant Baylor (90)
Thad DuVall (81)
Chris Bach (69)
Jordan Ashburn (60)
Ryan Sipes (51)
Jason Thomas (50)
Craig DeLong (47)
Trevor Bollinger (42)
*Indicates that the Overall National Championship Standings will determine the 2015 National Champion.
XC2 Event Results:
Jason Thomas (KTM)
Craig DeLong (HSQ)
Ricky Russell (YAM)
Trevor Bollinger (KTM)
Tegan Temple (KTM)
Austin Lee (YAM)
Cory Buttrick (BET)
Jesse Groemm (BET)
Ryder Lafferty (HSQ)
Philippe Chaine (KTM)
XC2 Series Standings:
Jason Thomas (119)
Craig Delong (95)
Layne Michael (91)
Trevor Bollinger (83)
Ricky Russell (76)
Cory Buttrick (69)
Nick Davis (57)
Austin Lee (51)
Scott Grills (50)
Callan May (46)