Metlife Stadium
East Rutherford

,

NJ
Race Center: East Rutherford
Monster Energy AMA Supercross Championship
By Jason Weigandt and Jordan Roberts
Ryan Dungey, Red Bull KTM, Second in 450SX
Ryan Dungey: Every race is important. The start definitely wasn't the greatest. We had to come through the pack, which I was really happy about. We made some good passes right away and got ourselves up there, found ourselves into third, and then we were into second. When Eli [Tomac] got in the lead about five laps to go that's when he really kind of started finding a good rhythm. Honestly I just settled in [to second]. We don't ride these rutted conditions very much, so they were very tough and technical, not easy by any means. So the last five we just chilled out and rode smart and got through. Second is not too bad. I was really happy with the race, up until about lap fifteen. But overall it's some good practice. When I looked at my lap times, compared to how I felt on the track, I'm like, "Gosh, I'm not even going to be on the board," and then I'm sitting second. Eli was really riding exceptionally good today. But aside from him, I think all of us were just trying to figure it out a little bit more than he was. It's one of those days. You don't always click. The track was so spongy and rutted. There wasn't a smooth line on the track by the end. – Jason Weigandt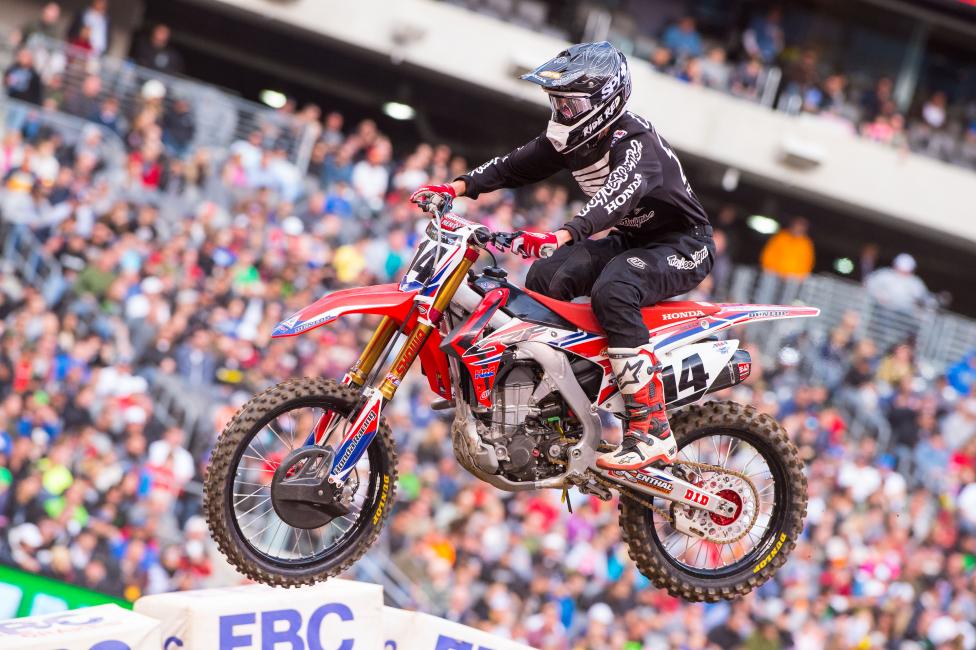 Cole Seely, Team Honda HRC, Third in 450SX
Cole Seely: First few laps were good. I'm not going to lie, I got tired. Track was really tough and it took it out of me, just so rutted and soft. I knew I had quite the gap back to fourth, so I just tried to ride a smart race and finish third. I locked down third in the points today and third on the night. It's been a good year and I really can't complain.
Talk about this track.
Super soft and lines were changing every lap. Bike setup was key tonight, and I felt like I did set up my bike pretty good, but I just ran out of energy there at the end and just locked down third. It was really tough. When I was leading, it was hard to focus ahead with those guys behind me. Really just hit my marks when the track's so soft.
Are you happy, though? You held on for ten laps. At the beginning of the year, if someone told you you'd be able to hold off Dungey and Tomac for ten, you'd be good.
To be on the podium I'm stoked. Rookie season, I didn't have any expectations. To be third in points and be the highest-placing rookie and have a win, all these plusses. When you get third it's definitely not a negative. I'm just really stoked and happy with the way the season's gone.
Take me through that on-off section. You had a dragon back onto the table. It looked scary for everybody all day, all night.
It was tough. Just having to nail the rut off the dragon's back and then the top of the table was so soft to where it wanted to just pull the bike out from underneath you going off the thing. The triple after it, it was like you hit it every other lap, really. It was probably the toughest section on the track today I'd say, even tougher than the whoops. – Weigandt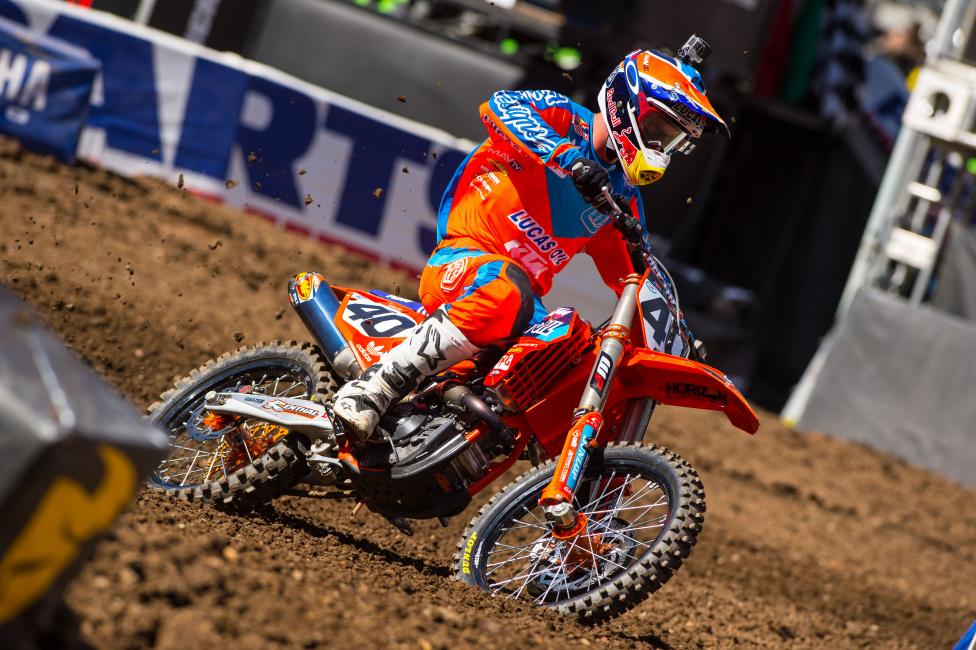 Shane McElrath, Lucas Oil/Troy Lee Designs KTM, Eleventh in 450SX
Racer X: Is that 450 an arm pump machine? How was it?
Shane McElrath: It definitely was in the first two practices and even a little bit in the heat race. It's a really fast bike and [I had] a little bit of nerves today, and having to adapt to the track quick since there was no free practice. It took a little bit today, but I started feeling really good in the LCQ. That was a big confidence booster.
How much time did you get on that bike before you guys headed out here?
I spent about two-and-a-half weeks total on it. When I first got back to supercross, that's what I was riding. Then I went back to the 250 for Houston, and then I just rode it this week.
Any talks about trying to moonlight on a 450 in the other region in the future? What was the reason for coming out here today?
We had to come to this race anyway because it was a big race for KTM, and now that Marvin [Musquin] wrapped up the championship too, so uh, TK [Tyler Keefe, team manager] asked me if I wanted to race and I said yeah. Thanks to Dean Wilson, because that's his race bike. But, yeah, it just kind of worked out and I was wanting to do some races over the break, but it was good to get this one in.
Aside from not having the free practice to get some extra track time with a different group of riders, what was the rest of the day like?
It almost seemed slower. For 250s, it's like, I always feel like I'm rushing. With 450s, after track walk and listening to Chappy's sermon, I took my time gearing up and warming up. It felt a little more laid-back, so it was a lot of fun.
Do you like getting on a supercross track earlier in the day like today, or are you more of a night guy?
It was definitely different racing during the day, but we all train in the morning. It's pretty much like a training day, but it didn't really matter.
I saw the track crew watering the track before the heat races, which isn't something you see at most supercross races. Aside from the dirt being fairly soft today, did the day race affect the conditions much?
The track was really soft today. What it reminded me of was a race I went to in Sweden. They prepped the track every time we'd come off it, but the same lines would come right back because the base was so soft. Even with the topcoat being a little drier today, it kind of broke down because there wasn't anything to hold it. It was definitely different, but it was actually pretty good for what it was.
What are your overall thoughts on today's 450 ride?
I had a lot of fun. Everything was really laid back and I had no pressure on myself, though I struggled a lot. I didn't have any expectations for myself, so I just went out to do twenty laps and be mistake free. For the most part, it was really good. –Jordan Roberts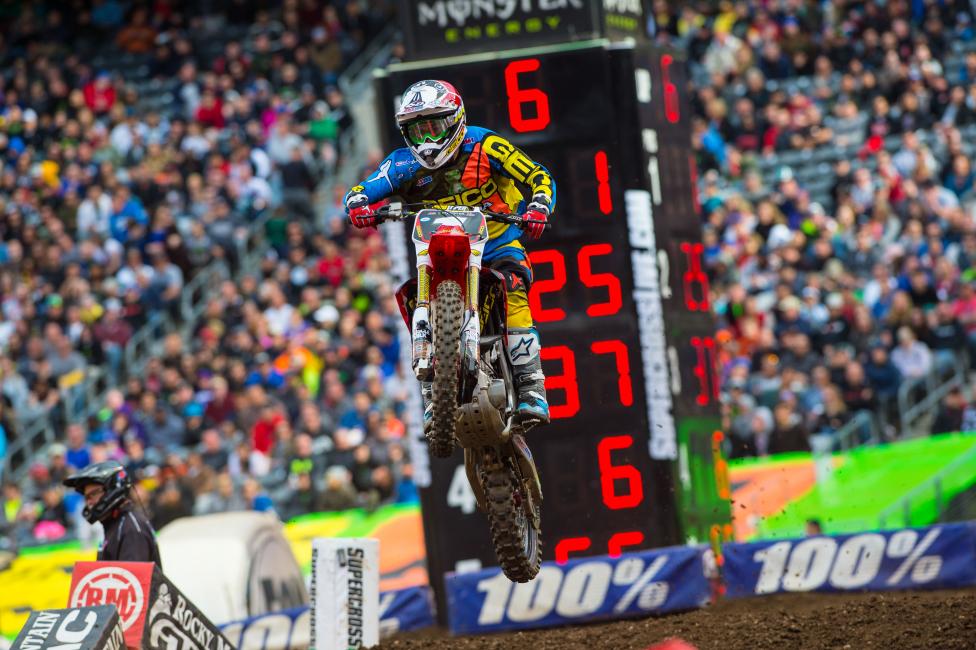 Justin Bogle, GEICO Honda, Second in 250SX
Racer X: How'd it go? The first half was good.
Justin Bogle: Yeah, I had a great heat race. I had a horrible practice. I didn't do myself any favors with that, but that's part of it. It happens. I need a gate drop, I think is my problem. I got a gate drop, then a great heat race. I got another holeshot for the main event, which was awesome. Ten solid laps and then I started getting into the lappers. It's all on me. I just didn't make it happen. Got into lappers, tightened up a little bit, started making some mistakes. Unfortunately Marvin's [Musquin] been extremely good this year. I can say that someone celebrating the title you won last year is the worst feeling in the world. It's just going to fuel the fire. I'm going to come into outdoors and be a contender for that championship. Doesn't feel good for sure. Never good getting beat like that or losing a championship.
Do you feel like if you had ridden the last five laps like you did the first ten, you had it? It looked like you had him covered and you were going fast enough.
I fully believe that, but shoulda, coulda, wouldas don't really matter. It's all good. I ended up second tonight, second in the championship. Not what we want at all, but you can't really complain about that. I'm blessed to be out here doing what I love for a living. At the end of the day it ain't all bad.
I know you don't want to make excuses, but now that it's over can you admit where you fully 100 percent physically ready when the season began?
Of course not, but that's not why I lost the championship. But of course not. To me, if I'm on the gate, I'm healthy enough to be battling for it. Obviously I only had a couple of weeks to get ready again. It's never ideal, but it's just the situation that we were in. Make the most of it and obviously I'm going to fight to the end always and not going to give it to anybody. Marvin had to take it, and he definitely was very good this year.
On the track, that dragon back to on-off section was sketchy for everybody. What was that like?
First practice my boy Jimmy D went down in it. I saw him. I came around and I did the same exact thing, and we're sitting there looking at each other like, uh… we were just over there like, man. That's not what we're supposed to be doing out here! That was a rough one. But, put it together for the races and stuff and it was good. I actually feel like I got through it pretty good all night after practice. But during practice I was a bit rough through there. – Weigandt