Metlife Stadium
East Rutherford

,

NJ
Race Center: East Rutherford
Monster Energy AMA Supercross Championship
GEICO Honda's Eli Tomac has the skills, of this there's no doubt. We knew it from his amateur days, through his 250 days, and now he's confirmed it with a couple of dynamite performances on a 450 this year, racing to three very impressive wins. Mistakes, bad starts, crashes, and other issues have prevented him from winning more and really having any shot at the title. But that doesn't mean the season is a loss.
We found Eli in his motorhome after the race, hanging with his family. The NJSX trophy was sitting on the counter. And he was happy.
Racer X: This was your first trip to New York City?
Eli Tomac: Into the city itself, yes. I raced here last year but didn't get to go into the city. It was cool. Got to check things out.
How different is it than every other city? Were you like, wow, this is totally different?
Yeah, it's completely different. Just driving itself is nearly impossible. Parking itself, you have to be extremely angry when you drive and you have to lay on your horn at all costs, even if they're not doing anything wrong. Other than that, it's cool. The views are awesome. The buildings are big.
I've done my time driving there. Did you notice that the lanes are just suggestions? Like, when you're driving people, just go from side to side, passing all over, whatever it takes.
Just go and just lay on your horn and you're good.
This track seemed pretty gnarly, because it was so soft.
It was gnarly. I would put it just a tick below Seattle for ruts. It wasn't quite as bad as Seattle. We were still getting some big rhythm combos, like the 3-3-3, the one two lanes, after the start itself—that's the one I'm talking about. And then the only jump that you couldn't do consistently was the triple after the dragon back. That was the one jump that you couldn't do because of the ruts consistently, or at least I couldn't and probably no one else could. It was rutted enough to throw guys off for sure.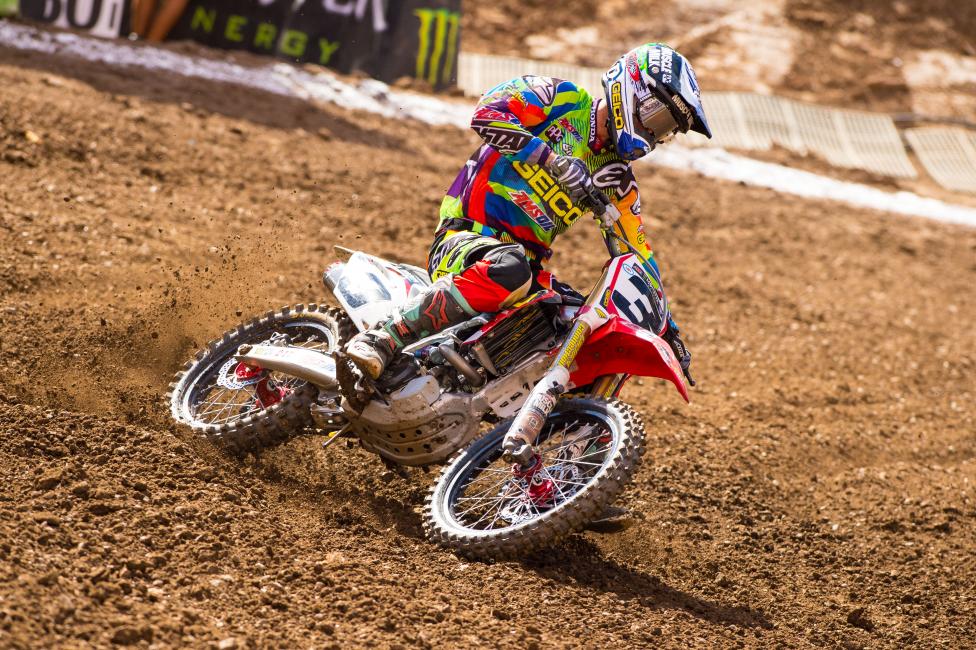 And that dragon back onto the table right before that triple. I didn't see too many bad moments from you, but it was pretty scary to watch most of the guys.
Super technical. I was pretty safe in there all day. I think there was just a couple sticky pockets to where if you did drop in there you were just done.
I've noticed a pattern here. It seems like these gnarly, rutted races over the last year or so, you seem to do well. Did you always think of that as like a specialty of yours, or is this something that's coming around?
I think it's always kind of been there. I always used to like the big, rutty tracks in the amateur events. But it seems like it is a trend in supercross for me is, when it's sticky and nasty, for some reason I do well. I'm a pinner so I like to just grab a handful and not lose my rear end, so maybe that sticky dirt is good for me. But at the same time I am a technical rider though, too, to where I can do a bigger rhythm lane sometimes than other guys don't. That's when the ruts separate guys too.
Well, that lane on the far side, you mentioned that 3-3-3, that had to be rutted.
It was good to jump it because it was getting off rhythm from the way everyone else was jumping it, and that lane had a lot of ruts—that was a plus. But it was still spongy. Somewhere around lap six, I had a big moment where I pulled way right almost into the hay bales but survived. It was still spongy, but at least with the 3-3-3 you get out of the big peg draggers.
Seely had a pretty good lead at one point. Did you think the whole time this is manageable, or did you think you maybe were too far back?
No, I never really lost hope. I looked up once at lap eight, and I was actually surprised we weren't farther into it. I was like, okay, I got plenty of time now. Then I finally got to him somewhere around ten or eleven, and then he made the mistake maybe around twelve or something and I got by him on the triple after the finish. So, that was the spot.
After you won the second race this year in Phoenix, and it was impressive, we were like, "Okay, Tomac's back in the points, but he definitely could still win this title." It didn't happen. But when you look back now, are you happy the way the season's gone?
Huge improvement compared to last year. Now we're competitive for wins. Now maybe next year it's just about not having those twentieth-places and crashing and those couple of hiccups we had in the middle of the season. The twentieth-places and the seventeenth-place or whatever it was in the Anaheim 1, that's the stuff you can't do if I you want to win a championship.
So this year was not championship or bust? You're able to take positives out of this?
For sure, because I came into this year without even having a win under my belt, so a win was the first goal. I guess the goal after that is to get a championship, but you can only expect so much.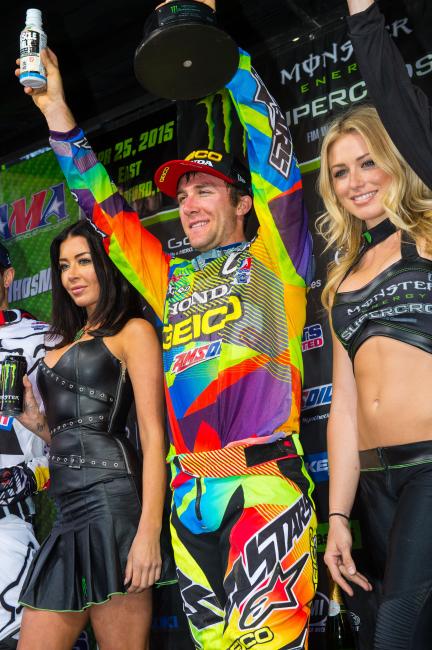 Outdoors is coming up. Do you have any feel for that yet? Have you done much riding, testing? Do you have any idea how that's going to go?
We've done some tests already, but you just don't know until the first race. We're going out to Glen Helen next week. I'm sure everyone's going to be out there of course, and the week after if the guys are out there, but I'm only going out there one week. You just don't know until the first round. I kind of think I'm in a pretty good spot right now, but you can't say anything until you go out there and race.
You won in New York; is that extra special? Does that mean something cool?
Yeah, it's pretty cool, but the people being rude in the city put off the vibe for me. I'm trying to run away home with my tail between my legs because there were some jerks.
That didn't fire you up?
No, it turned it off. Just get my trophy and run. They were mean.
C'mon, you're tough in your own way. Your opening ceremonies video has you shooting a fire arrow and making an explosion!
Yeah, I have my own things, but I'm not hard enough for some of these people, I guess!