Levi's Stadium
Santa Clara

,

CA
Race Center: Santa Clara
Monster Energy AMA Supercross Championship
There's a really cool story in the making under the Autotrader.com/Toyota/JGR Yamaha tent with Weston Peick. After years of toiling as a privateer, Peick's speed and results have gotten him a couple of high-profiles rides with RCH Suzuki—last summer—and this year with JGR. Peick's a rare bird; he's gotten better and better over the course of his career, and now he has his first podium ever in the 450SX Class.
Over at the CycleTrader.com/Rock River Yamaha team, there's another nice story developing with Alex Martin on the Yamaha YZ250F. Turning pro at the end of 2008, Martin's been in the trenches for a long time, and for many years he only made headlines when he did well at the Millville National, the track his family has owned for years.
That's changing now, though. Martin grabbed his second podium of the year this past weekend in Santa Clara with a smart and fast ride. Earlier this year he got a third in Oakland for his first-ever 250SX podium, and like Peick, as he's aged, he's gotten better.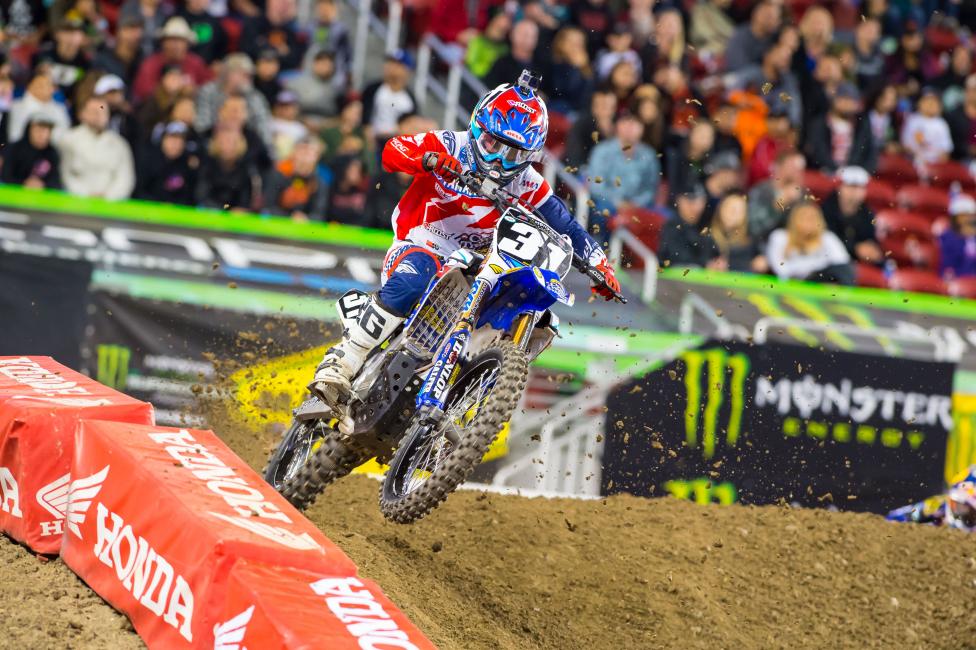 "I'm starting to think this is my town!" Martin told me after the race about his success in the Bay Area. "It was good. Really happy to back up [after] the one I got in Oakland. And, also, it's just been kind of a dream season to where I've been in the past couples seasons to have this success is huge. I'm really happy with the team and everyone. It's just been so supportive and really a big part in the success we had this year."
The key to Martin's resurgence is his new, solid program. The start of Martin's career saw him ride for teams that were underfunded and couldn't provide him with competitive equipment. When his team—Eleven 10 Mods—folded in 2013, the Rock River team picked him up, and his results got better immediately.
Christina Denney, the Rock River Yamaha team manager, has had a much more stable program the last couple of years and is appreciative of having a veteran professional rider like Martin on the squad.
"When Alex came on with us, it wasn't expected by any means, but we both needed each other. He needed a team with structure and I needed a structured rider," Denney tells us. "This kid—yes, at 25 years old I can still call him a kid—was the most dedicated rider I had ever met. His training on and off the bike was certainly top notch. What I liked immediately about Alex was his dedication to his program. We make a great team, and I feel this year has certainly proved it. He can concentrate on what he needs to do and let us do the rest."
The improved YZ250F has also certainly helped. It's become one of the better bikes in the pits, but for years…it, uhhhh, wasn't. With GYTR motors and Enzo KYB suspension, Alex is happy with his motorcycle, and without the worries of his bike, or his team, he's able to work on himself.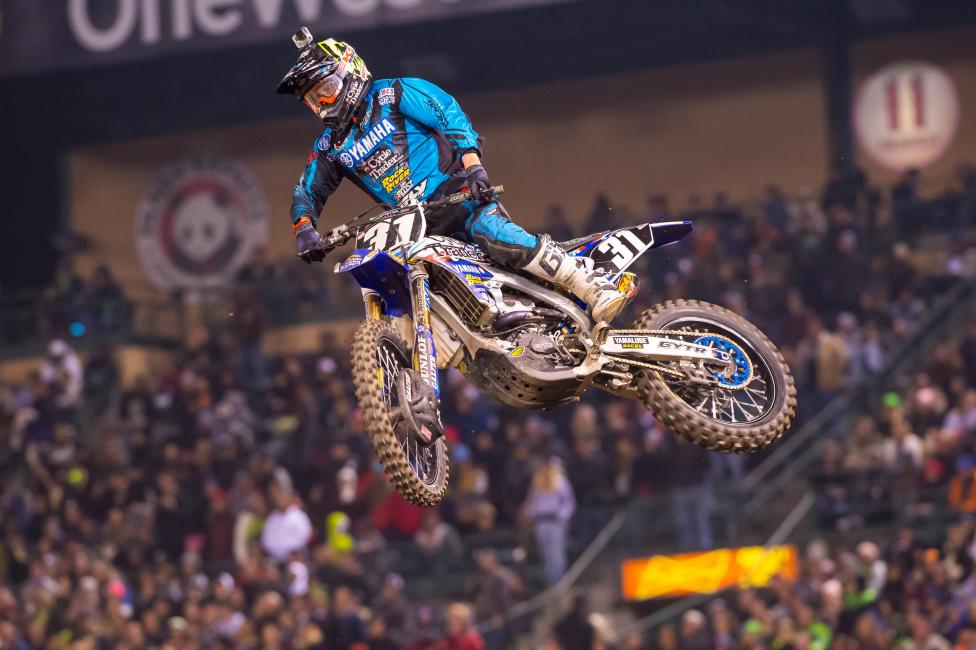 Of course you know his brother Jeremy Martin of the Yamalube/Star Racing Yamaha team. He's the current 250 Motocross National Champion, and that's also been a help to Alex. Riding and racing with his younger brother during the week down at Ricky Carmichael's Farm has allowed A-Mart to get better. Jeremy recently hired Johnny O'Mara to train him, and Alex has told me that he's tagged along on some training rides and O'Mara has no problem sharing some knowledge. Martin's short in stature but long on fitness. Don't believe me? Follow him on Strava.
There's a running joke amongst us here at Racer X about hopefully getting an Alex Martin interview after the races. It's a joke because one of us always talks to him because he's always there! Good result or bad, Martin is there to talk to whomever comes up and he always hangs out with his team. And his sense of humor is sharp, and when his buddy Phil Nicoletti is there, they both tell each other that they should retire because they're so terrible. I've often said that they should take their act on the road as some sort of comedy duo team. Guys with the personality of Alex Martin are all-too rare in the pro pits.
Martin is a solid outdoor rider, so you can expect more strong results throughout the rest of the year. With his contract up at the end of this year, and with his improved performances, his 2016 deal should be his best yet. We thought we knew what Alex Martin was going to be, but looks like he's going to keep raising the bar on us.