Levi's Stadium
Santa Clara

,

CA
Race Center: Santa Clara
Monster Energy AMA Supercross Championship
With both championships wrapped up last week in Houston, you might think Santa Clara would be simply a matter of going through the motions for the riders of Monster Energy Supercross, an FIM World Championship. But just because the titles are already locked securely in the trophy rooms of Ryan Dungey and Cooper Webb doesn't mean everyone has suddenly lost their will to compete. Racers still want to win, bonuses are still there for the taking, and there's still battles to be had within the points. So how did it all play out? Let's dive into Saturday Night Live from Santa Clara to find out.
By now you already know that Red Bull KTM's Ryan Dungey already won the race. One of the questions coming into Santa Clara was whether or not he'd back it down a notch and play it safe until Houston. Well, he didn't, and afterward he told us that's not the game plan at all. After wrapping up the title he decided he wanted to try to beat the number of wins (6) he had when he won the championship in 2010, which he did tonight by taking his seventh win of the season. Dungey says he wants to get that number as high as he can before the end of the season, and we're willing to say nobody bets against that number climbing to eight or nine in the next two races.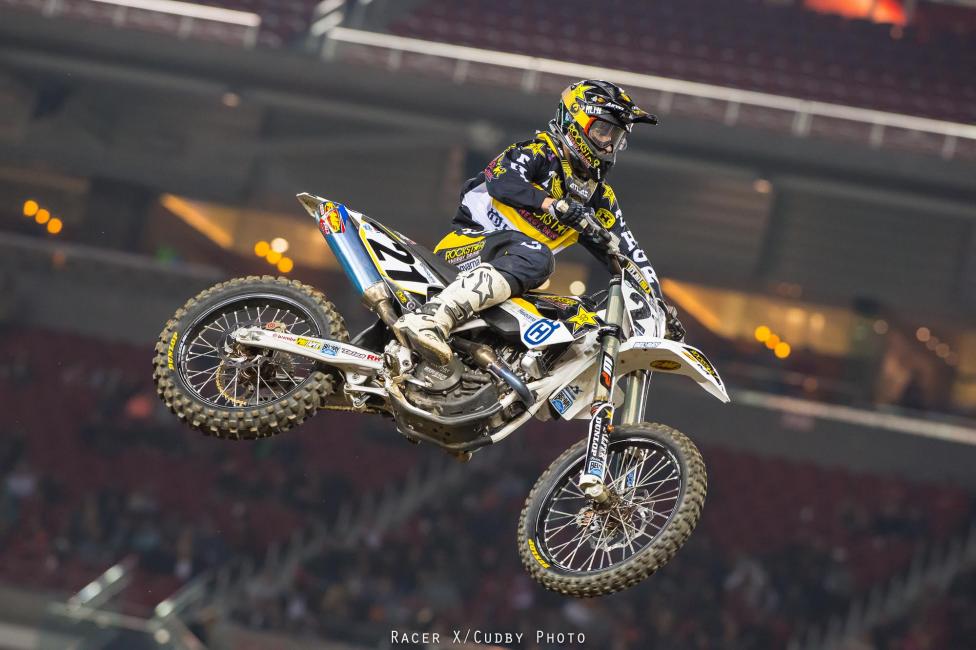 Eli Tomac had another good race, but yet another mediocre start killed his chances at taking a win away from Dungey. Tomac was the day's fastest qualifier, and once he got into second place he was taking small chunks of time out of Dungey's lead, but he wasn't able to cut into it fast enough. Had he started with Dungey it probably would have been a much different race.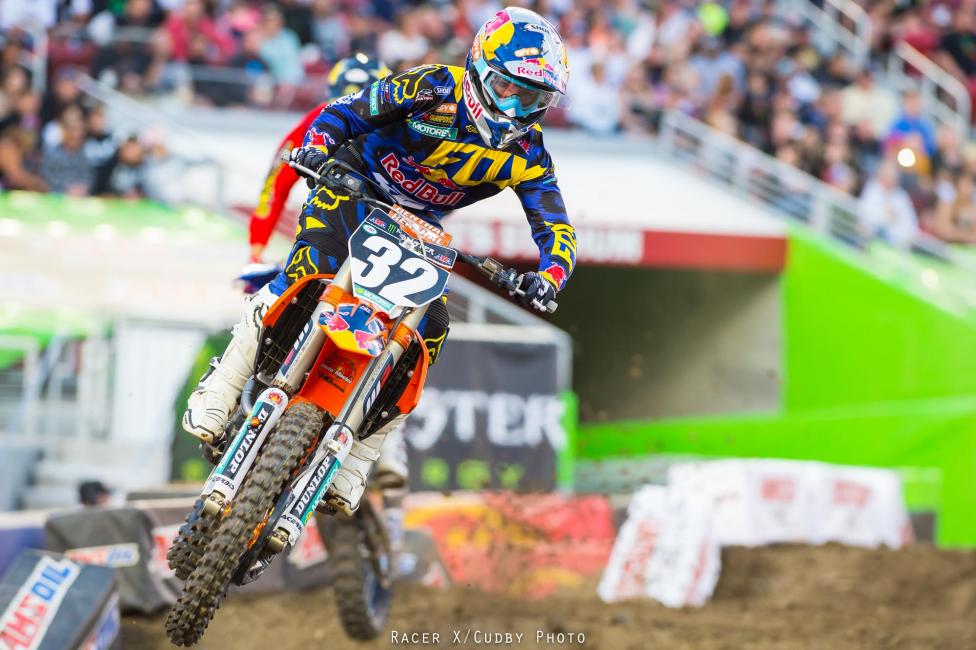 You know it was coming sooner or later, and tonight Weston Peick finally broke through for the first podium of his entire career. Peick looked great all day—he was fast in qualifying, nearly won his heat race over Dungey, and came through several guys, including teammate Justin Barcia, to get this podium. We'll see if he backs it up, or even betters his result, in the next two rounds.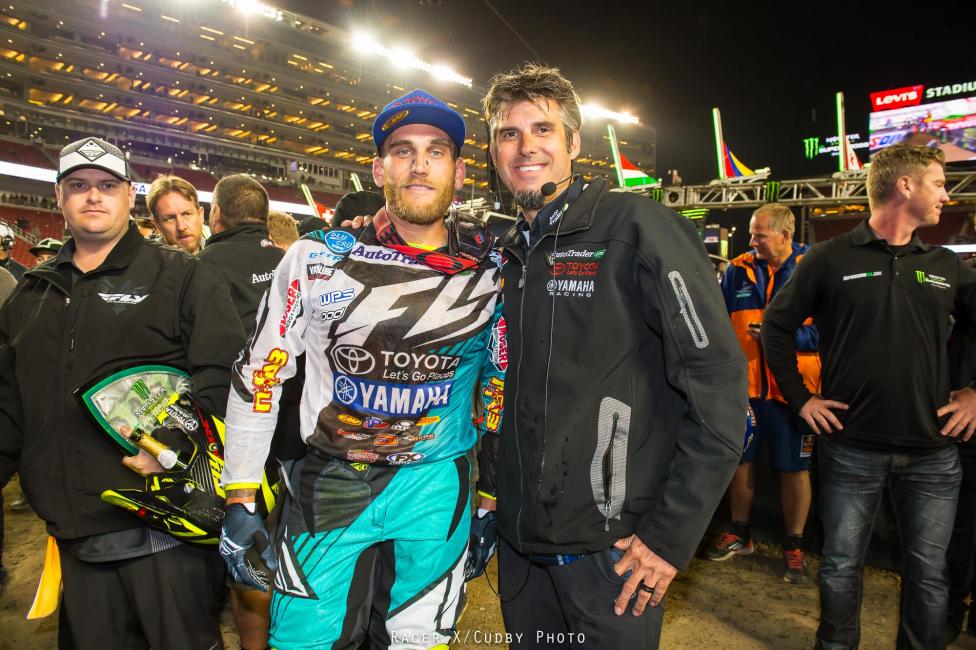 Speaking of Barcia, not the best race for the AutoTrader.com JGR Toyota Yamaha rider. Sure, he's not 100 percent after that bad crash he had early in the season, but nobody likes getting the holeshot and spending the entire race sliding backward, having problems, and finally ending up in sixteenth. Things are bound to turn around for Barcia at some point, but he's probably not liking what's happening right now.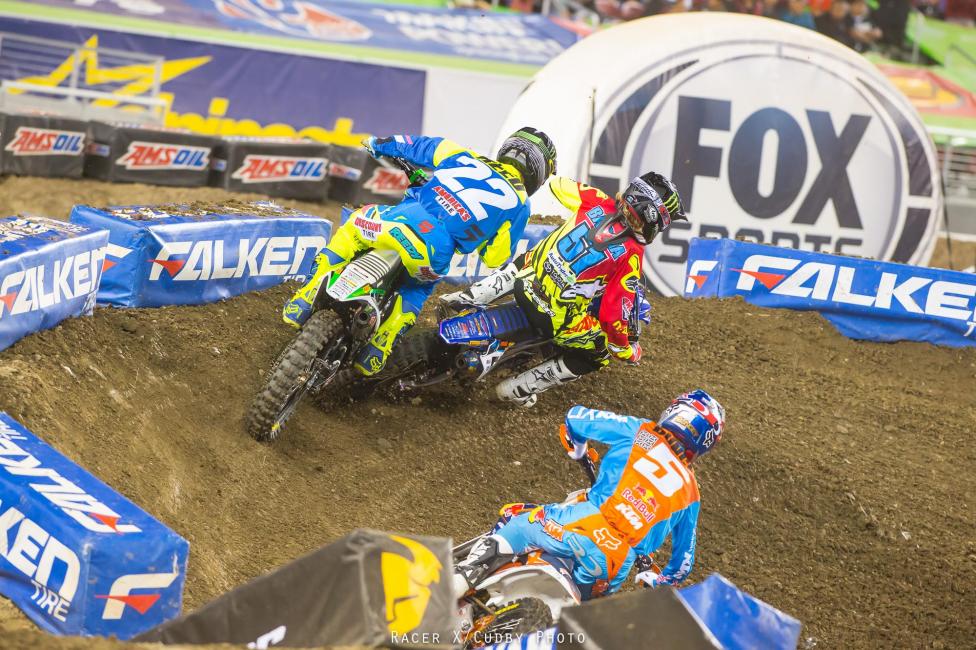 The bad luck of the night award goes to Cole Seely, who had certain victory in his heat race snatched away from him. Teddy Parks had gone down and when they were taking his bike off the track Seely came over a blind jump and T-boned it. Afterward Seely told us there were no flags, just one track worker standing guard in front of Parks directing traffic to either side. Seely happened to pick the wrong side and was unable to avoid going down. Afterward he was understandably livid, and he let the FIM's John Gallagher know about it. Seely told us it wasn't not winning that made him angry, it was losing his great gate pic. "A start is 50 percent of the race, so to lose that gate pic really hurt," Seely said.
Chad Reed got a great start and had a good race going early until he came up short on a jump in a rhythm lane and went down. He was looking good for a podium, and could have maybe even battled for the win had the incident not happened. Reed's hit the dirt a lot more than normal this year. Hopefully he's just getting it out of his system before the Nationals start.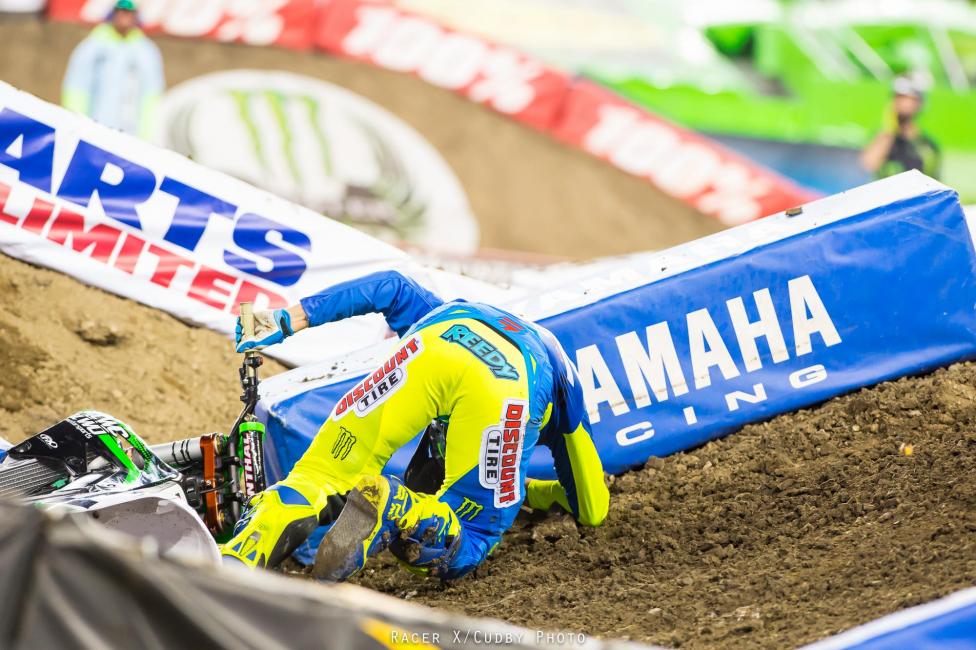 Bummer day for Adam Enticknap, who got cross-rutted in a rhythm lane and broke his wrist in several places when he went down. He was surprisingly upbeat and positive when we went to check on him after his crash, and told us he'll have surgery and come back as soon as he can. "Hey, we're riding dirt bikes, it happens!" Enticknap said.
Hey, look at Nick Wey everyone! Only two more races left in Wey's career but he was looking frisky tonight. He had his best finish of the year (10th) tonight, holeshot his semi, and even went on to win it over a charging Barcia. Nice!
The start of the 250 race had one of the biggest pileups in recent memory. In fact, so many riders went down it was almost surprising there wasn't a restart! Amazingly, everyone got up almost immediately and got rolling right away. The only riders who had to pack it in for the night were Zach Osborne, Chris Alldredge, and Chris Howell. It was especially costly for Osborne, who lost second in points to Shane McElrath.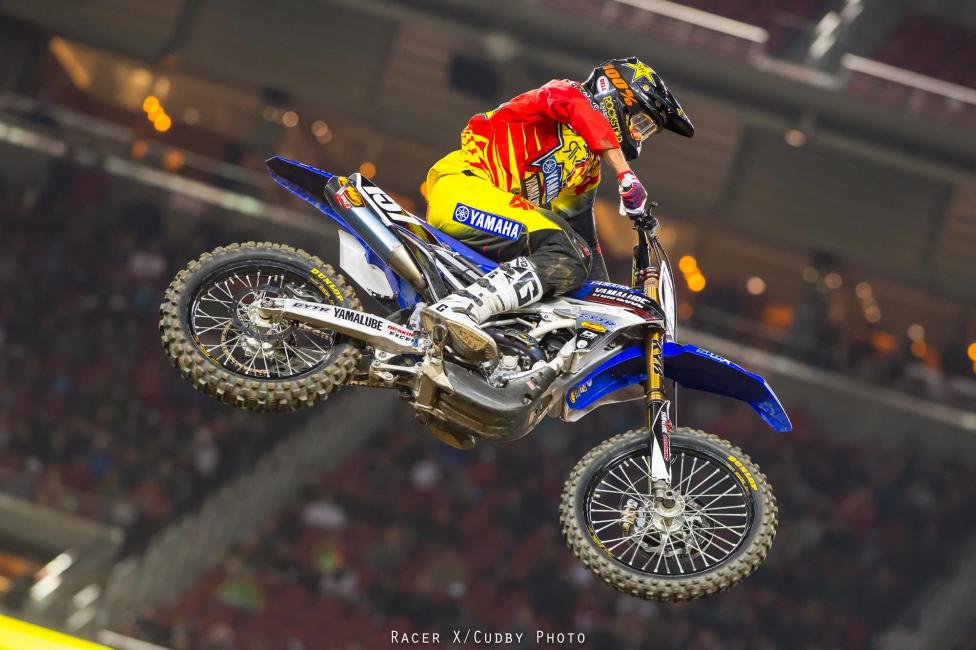 Is it just us or is Cooper Webb invincible right now? Even getting caught up in a gnarly pileup couldn't keep Webb out of the winner's circle! He's just killing it right now, and it's going to be fun to see how hard he comes out of the gate for the Nationals.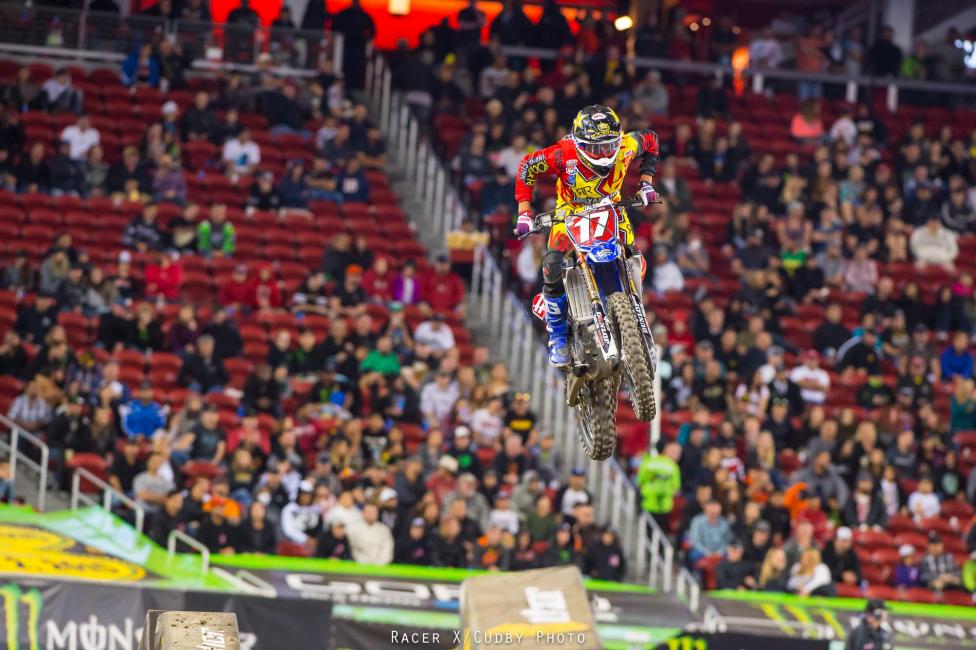 Bummer night for Josh Hansen, who got through the first turn unscathed and emerged with a big lead. It was a shot for him to finally score a podium, but he ended up pulling off the track while running second with what looked like a mechanical problem.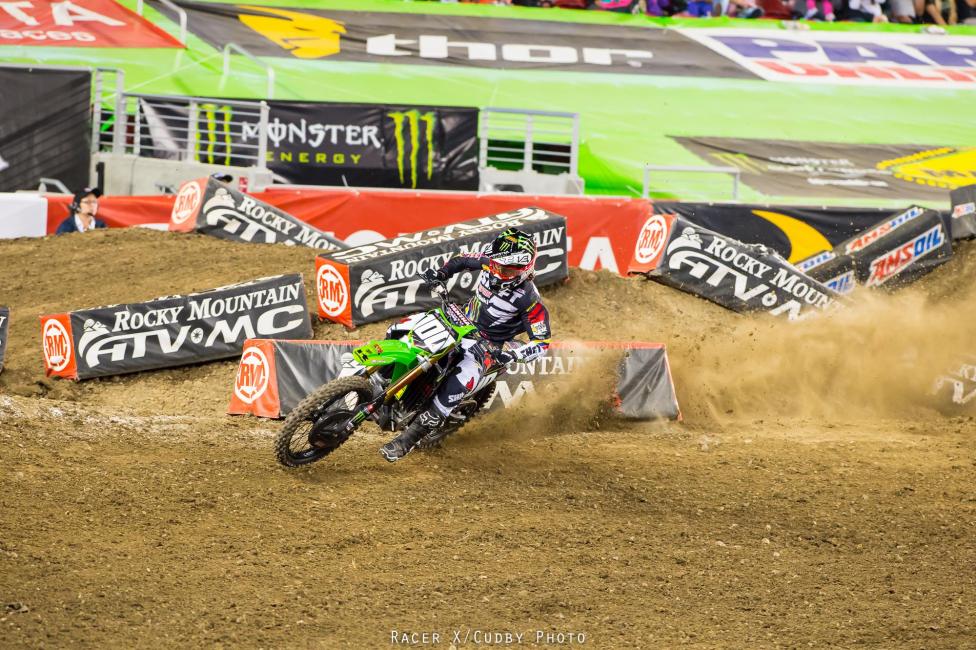 Aaron Plessinger's night was a mixed bag. He got into the lead, lead a few laps, and was even pulling away from everyone before he pushed the front in a corner and lost a few spots. Later he'd go down again in a rhythm lane and lose even more time. He was able to salvage a seventh, which isn't too bad all things considered, but that's probably not much consolation considering he had a legitimate shot at a win!
Another podium for CycleTrader.com/Rock River Yamaha and Alex Martin. That's his second of the year, and his career. It's also the second podium in the history of the team.