Hayes Draws Closer to Regal in Tacoma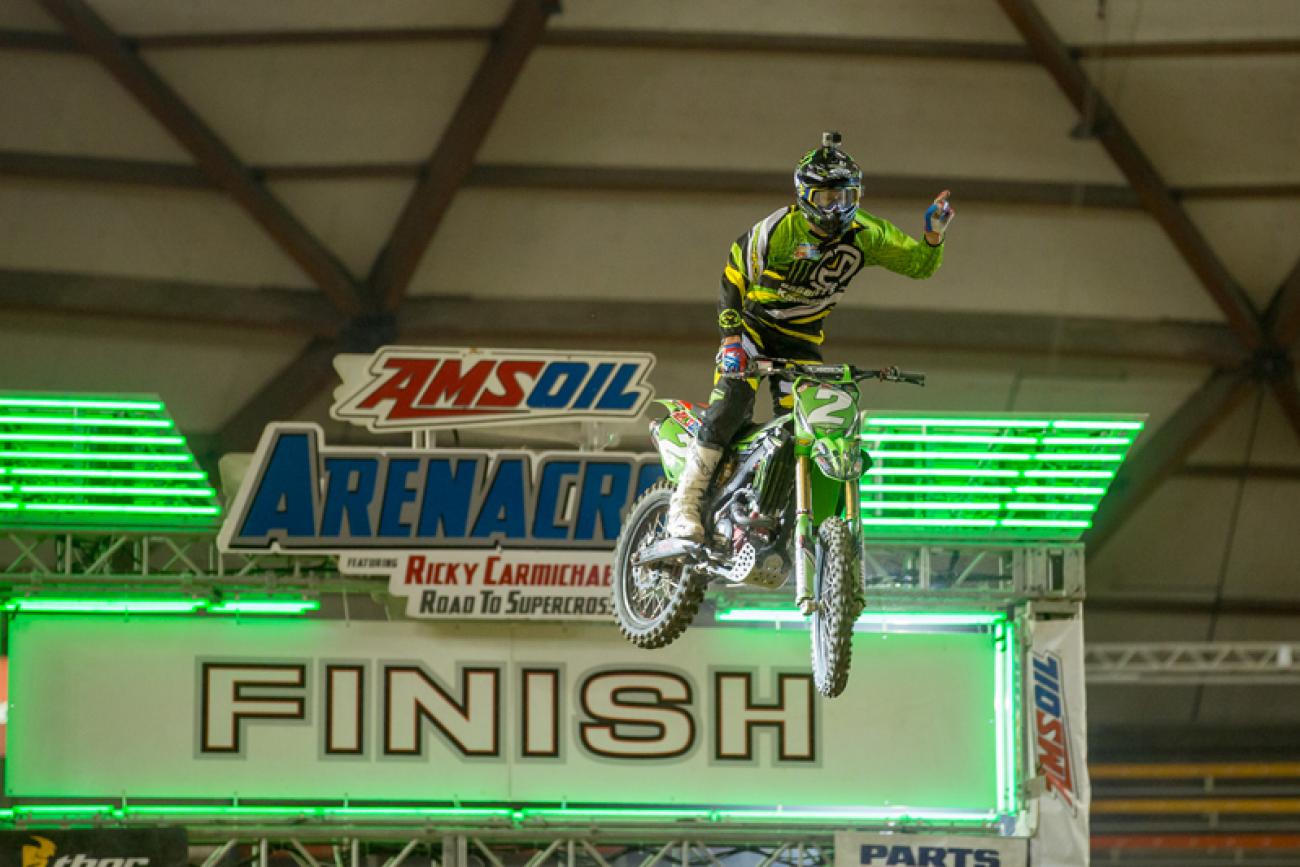 The fourth round of the playoff inspired Race to the Championship in Amsoil Arenacross took place in Tacoma, WA last night. In the Arenacross Class, North Carolina's Jacob Hayes sweep the two main events over teammate Matt Goerke and points leader Kyle Regal. With his wins, Hayes moved to within eight points of Regal for the championship. Goerke is currently third, eleven back of Regal.
In West Region Lites, Steve Mages took the win over Ricky Carmichael Road to Supercross competitor Mark Worth. Dave Giniolif finished third overall.
Arenacross Class Results - Main Event 1
1. Jacob Hayes, Liberty, N.C., Kawasaki
2. Matt Goerke, Temecula, Calif., Kawasaki
3. Gared Steinke, Temecula, Calif., KTM
4. Cory Green, Nowata, Okla., Suzuki
5. Kyle Regal, Grand Prairie, Texas, Husqvarna
6. Travis Sewell, Westville, Ind., KTM
7. Gavin Faith, Fort Dodge, Iowa, Husqvarna
8. Steven Mages, Sardinia, Ohio, KTM
9. Bobby Kiniry, Holland Patent, N.Y., Yamaha
10. Chris Blose, Phoenix, Ariz., Kawasaki
Arenacross Class Results - Main Event 2
1. Jacob Hayes, Liberty, N.C., Kawasaki
2. Matt Goerke, Temecula, Calif., Kawasaki
3. Kyle Regal, Grand Prairie, Texas, Husqvarna
4. Travis Sewell, Westville, Ind., KTM
5. Gavin Faith, Fort Dodge, Iowa, Husqvarna
6. Cory Green, Nowata, Okla., Suzuki
7. Steven Mages, Sardinia, Ohio, KTM
8. Chris Blose, Phoenix, Ariz., Kawasaki
9. Gared Steinke, Temecula, Calif., KTM
10. Dave Ginolfi, Boston, N.J., KTM
Arenacross Class Results - Overall (Main Event Finishes)
1. Jacob Hayes, Liberty, N.C., Kawasaki (1-1)
2. Matt Goerke, Temecula, Calif., Kawasaki (2-2)
3. Kyle Regal, Grand Prairie, Texas, Husqvarna (5-3)
4. Travis Sewell, Westville, Ind., KTM (6-4)
5. Cory Green, Nowata, Okla., Suzuki (4-6)
6. Gavin Faith, Fort Dodge, Iowa, Husqvarna (7-5)
7. Gared Steinke, Temecula, Calif., KTM (3-9)
8. Steven Mages, Sardinia, Ohio, KTM (8-7)
9. Chris Blose, Phoenix, Ariz., Kawasaki (10-8)
10. Dave Ginolfi, Boston, N.J., KTM (11-10)
RMATV/MC Head 2 Head Challenge Results
1. Travis Sewell, Westville, Ind., KTM (2 points)

2. Gavin Faith, Fort Dodge, Iowa, Husqvarna (1 point)
3. Jacob Hayes, Liberty, N.C., Kawasaki (1 point)
4. Gared Steinke, Temecula, Calif., KTM (1 point)
5. Matt Goerke, Temecula, Calif., Kawasaki (1 point)
6. Bobby Kiniry, Holland Patent, Pa., Yamaha (1 point)
7. Cory Green, Nowata, Okla., Suzuki (1 point)
8. Chris Blose, Phoenix, Ariz., Kawasaki (1 point)
Western Regional Arenacross Lites Class Results
1. Steven Mages, Sardinia, Ohio, KTM
2. Mark Worth, Queen Creek, Ariz., Kawasaki
3. Dave Ginolfi, Boston, N.J., KTM
4. Daniel Blair, Lodi, Calif., KTM
5. Gregory Crater, Renton, Wash., Honda
6. Collin Jurin, Monroe, Wash., Kawasaki
7. RJ Wageman, Newhall, Calif., Yamaha
8. Mason Wharton, Brush Prairie, Wash., Kawasaki
9. Jake Locks, Dixon, Calif., KTM
10. Mitch Keezer, Arlington, Wash., Yamaha
Race to the Championship Standings (Race 4 of 6) (R2C Main Even Wins)
1. Kyle Regal, Grand Prairie, Texas, Husqvarna - 117 (1)

2. Jacob Hayes, Liberty, N.C., Kawasaki - 109 (2)
3. Matt Goerke, Temecula, Calif., Kawasaki - 106 (1)
4. Chris Blose, Phoenix, Ariz., Kawasaki - 102 (3)
5. Gavin Faith, Fort Dodge, Iowa, Husqvarna - 102
6. Cory Green, Nowata, Okla., Suzuki - 97
7. Travis Sewell, Westville, Ind., KTM - 92
8. Gared Steinke, Temecula, Calif., KTM - 86 (1)
9. Bobby Kiniry, Holland Patent, N.Y., Yamaha - 83
10. Steven Mages, Sardinia, Ohio, KTM - 72
Arenacross Class Points (Race 18 of 20)
11. Dave Ginolfi, Boston, N.J., KTM - 185
12. Willy Browning, Pleasantville, Ohio, KTM - 175
13. Daniel Herrlein, Bethesda, Ohio, Honda - 110
14. Cody VanBuskirk, Harvard, Ill., KTM - 104
15. Brandon Glenn, Mesquite, Texas, KTM - 76
Western Regional Arenacross Lites Class Points (After Race 8 of 10) (Main Event wins)
1. Daniel Blair, Lodi, Calif., KTM - 112 (3)

2. Jake Locks, Dixon, Calif., KTM - 56
3. Cody VanBuskirk, Harvard, Ill., KTM - 51
4. Brandon Glenn, Mesquite, Texas, KTM - 48
5. Jason McConnell, Canonsburg, Pa., KTM - 38
6. Clay Elliott, Buford, Ga., KTM - 34
7. Josh Struebig, Crown Point, Ind., KTM - 34
8. Mason Wharton, Brush Prairie, Wash., Kawasaki - 33
9. Jonah Locks, Dixon, Calif., KTM - 27
10. RJ Wageman, Newhall, Calif., Yamaha - 22