You first really noticed Mitchell Oldenburg last summer at the Indiana National, when, running no graphics on his #62 CRF450R, he stayed in the top ten for a few laps before his bike blew up. That was it for Oldenburg; as a privateer he didn't have a spare motor and his day was done. Jimmy Albertson, another privateer, had taken notice of Mitchell over the year, and when Albertson was putting together his own team with support from ARMA Energy Drinks, he tabbed Mitch for the second spot on the team for the 250 class and both riders would be on Yamahas.
Through the Monster Energy AMA Supercross, an FIM World Championship, 250SX East Region this year Oldenburg hasn't had the greatest run, as he sits just fourteenth with one round remaining—in the first seven rounds, he's had a DNF and a DNQ—but the one thing he's proven is that you can't just work harder and get speed. With raw, nasty speed in practice and in the occasional mains, Oldenburg has shown that he can twist the throttle. He's been up front in timed practice more than a few times, but he's also had some hellacious crashes.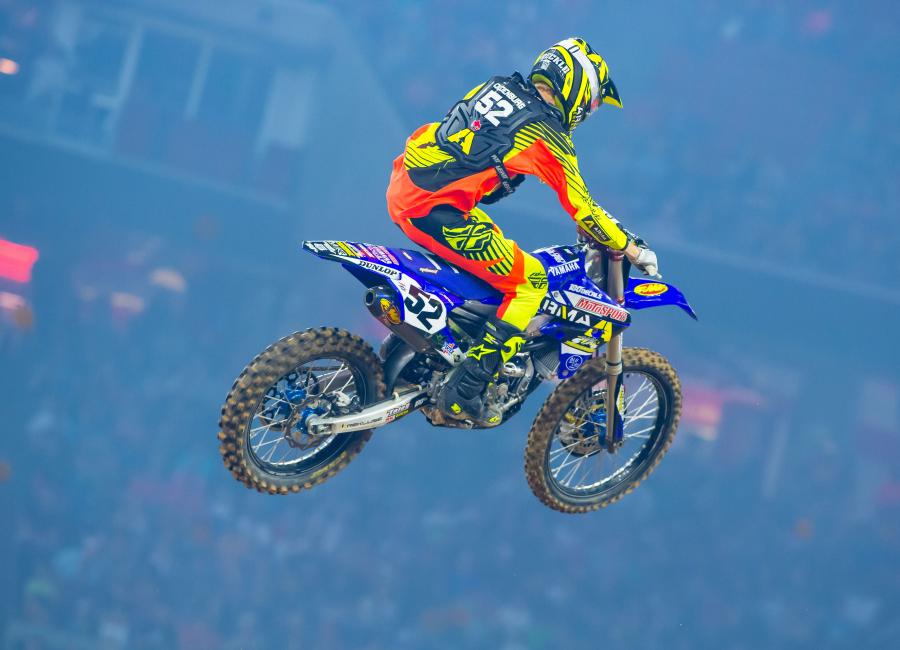 Disaster struck for the team when Albertson went down in Indianapolis, injuring his shoulder. Two years prior, he had injured the opposite shoulder, and he decided to go under the knife to have them both repaired. Top Jimmy's season was over and the ARMA Yamaha team needed Oldenburg to carry the flag.
And, in Houston, riding his 250F, that's exactly what happened.
For a number of years the AMA has allowed riders to ride in the 450 class on a 250, and over the years, a few riders have taken them up on the offer. But, to our knowledge, none of them had made a main event until this past Saturday when Oldenburg made it happen.
As far as the decision to race the big class in Houston, Albertson says it was Oldenburg's call. "I was excited to hear that he wanted to ride Houston in the first place much less after it was all said and done, qualifying on the 250F and getting his finish. The whole team was very proud of him," said Albertson. "He's finally, to me, coming back to form after his concussion in Atlanta. It's been a tough season for Mitchell, with having big crashes and not being healthy enough to ride during the week."
Riding in the unseeded practice, Oldenburg was among the leaders of that group all day long (also riding their 250s were Gannon Audette and AJ Catanzaro, although neither qualified), and put it into the top twenty overall.
Easily qualifying for the main event by getting second in the 450 LCQ, Oldenburg rode hard to get a fourteenth in the main. It was a very good ride and one that left him and his team pumped on life.
"Yeah, had a lot of fun today. I kind of came here with no expectations. I'm not expected to make the main; I'm on a 250F and I knew that coming here," said Oldenburg after the race. "No pressure on my part, just went out there and rode like I know how to from start to finish all day today. Had a lot of fun racing against the 450 guys and being on the track every 20–30 minutes rather than getting into the heat in the 250 class and sitting out all the rest of the night until the main."
Obviously there are disadvantages to being 200cc down to the rest of the field, and it was noticeable all night long how Mitchell had to fight from the back off the starts.
"We worked on some start techniques and some start maps and stuff the last two weeks, ever since probably Detroit. It was a good test," said Oldenburg. "I feel like my jumps are good, and then we get out in the straightaway and they obviously pull me, but we knew we were at a disadvantage coming in. No excuses—this is racing. We just did it to learn and keep moving forward. We're trying to be the best we can be. You can never stop learning."
There was a quad out there that a few of the elite 250 riders were doing, but Oldenburg stayed away from that and says his poor starts due to the bike probably helped him out a bit.
"Obviously I got a bad start, but it kind of seemed more relaxed back there in the pack because it kind of felt like they had five more laps to do," said Mitchell. "I've been struggling with my wrist lately. I jammed it in Detroit. Haven't done any motos or anything since Indy. So, I was pretty happy with how my fitness was, not knowing if the extra laps of the 450 class would affect me. I haven't done more than six laps since Indy. Pretty happy with where I was at tonight."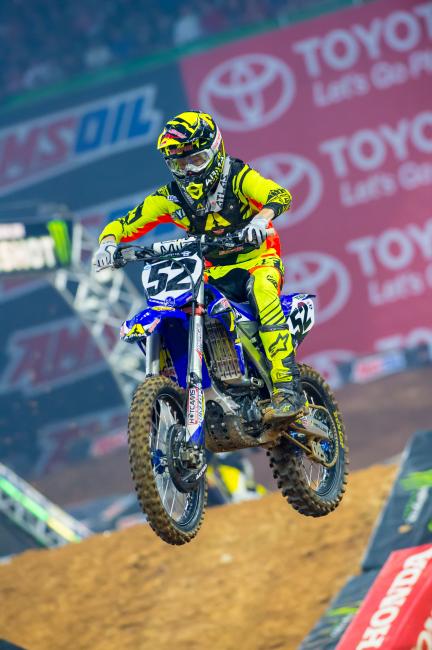 The team's not going to Santa Clara this weekend, but Oldenburg will be back in his primary class for the last two races, and then with Albertson out, he'll be on Jimmy's 450 in the 450 Class for the Lucas Oil Pro Motocross Championship. Many times this year, people have asked who that #52 is on the top-five "beast" practice board, and now hopefully many of you know.
Look for more great rides from the kid that won't give up no matter what. "Freckle," as they call him, is not scared to hang it out.
"We are all excited for New Jersey and Vegas, and couldn't be happier with the heart and desire that he has displayed this season," said Albertson. "We hired him because he doesn't care about the name and number on the back of the jersey, and we look forward to hopefully working with him for years to come."