As you leaf through moto media in print or scroll through it digitally, you're bound to see ads for stuff that can make you faster. Better training, better riding, or a better bike.
But, what if you don't only measure yourself by speed on the track? What if you just want to be cool? Sprinkling some motocross knowledge into the convo at your next social outing might help a bit, but you can do better. And we can help.
Read the Word On... You'll sound really cool when the next small-talk session breaks out.
Concussion Testing

Concussions are a very scary part of sports. According the Vice Sports, "the Centers for Disease Control and Prevention reported in 2006 that there are an estimated 1.6 million to 3.8 million sports and recreation-related concussions each year." Unlike broken bones, for example, concussions are much harder to diagnose. Every brain reacts differently and some concussions are sustained over a period of time, not just one hit. Red Bull recently invited neuroscientist David Putrino to study surfers in Mexico. Putrino is introducing an eye-tracking technology to better track and study concussions. From Vice Sports:
Athletes take the King-Devick test before the season starts, for baseline measurements, then repeat the test after a hit. Studies show that athletes sometimes intentionally botch the baseline measurements by reading slowly, so that there isn't as much of a difference in function after a hit.
It's nearly impossible to fake electronic eye-tracking tests, because a highly sensitive electronic device reads the results, rather than a coach, parent, or physician. The question is how to make electronic eye-tracking systems both portable and affordable enough to be available on the sidelines. Putrino's team toyed with several options before he left for Mexico. Eventually, they decided to try mounting eye-tracking technology from SensoMotoric Instruments (SMI)—a medical and commercial research company—onto an Oculus Rift virtual reality headset.
Taking the test is simple: wearing the headset, athletes track a small dot across the screen. As their eyes move, the SMI technology reads how their pupils respond to light and the speed of the movement. They're also shown a series of dots, and the SMI tracks how quickly they are able to focus on them. Baseline results are compared to post-hit results, and any change indicates a concussion or pre-concussion symptoms.
I recommend reading the entire article.
Digital Dashboards in NASCAR
After years of rooning motorcross, Jason Weigandt has made his way to another sport to roon—NASCAR [Editor's note: Whatever. I'm still in as TV host of the nationals and still running this sad sack website. NBC is smart enough to only give me a bit part in NASCAR – Weege]. Other than allowing Weege to bring down the sport, NASCAR made another big change at the Kentucky Speedway this week: experimenting with a new digital dashboard. According to SB Nation, the dashboard will be "featuring readings for lap times, fluid temperatures, tire pressure, RPMS, and other data; the radically redesigned dashboard is more technologically advanced than the gauges drivers currently use." More from SB Nation:
NASCAR executive vice president Steve O'Donnell explained the impetus for the change in an interview with SiriusXM Radio Monday.
"That is the ultimate goal, is to get as much information as we can -- first and foremost to the drivers and crew chiefs that they can see and react to -- but ultimately to the fans," O'Donnell said. "So if you're sitting at the race track, and you're on your device, we want you to essentially be in Denny Hamlin's car and be able to see what he is seeing and react to it.
"It's evolving, and it's something that we think can be a real game changer for the sport in terms of us showcasing technology. There's also some proprietary information. We want to make sure we keep that with the teams from a competitive standpoint, but some really cool stuff potentially coming for '16 and I think the fans will ultimately enjoy what they see."
Teams can start using the technology in races on August 5, says SB Nation. Check out the details here.
Are Former NFL Players Broke?
In 2009, Sports Illustrated wrote a feature on former NFL players going broke. Behind a host of sources, they wrote: "By the time they have been retired for two years, 78% of former NFL players have gone bankrupt or are under financial stress because of joblessness or divorce." According to Slate, a paper released by the National Bureau of Economic Research is challenging that number, at least somewhat. Unlike SI, the paper focuses just on pros that have filed for bankruptcy, not "any former athlete who wound up unemployed or experienced a divorce would be lumped into the 78 percent total, regardless of how well his finances survived the experience," as SI did. It's a little complicated, but according to Slate, the National Bureau of Economic Research found: " Using data on all 2,016 players drafted between 1996 and 2003, it finds that after two years off the field, just 1.9 percent of former NFL pros have filed for bankruptcy. A dozen years into retirement, 15.7 percent have filed for bankruptcy." More from Slate:
People also shouldn't lose sight of the big picture on this issue. Ultimately, the new paper does find some evidence suggesting that NFL stars might really file bankruptcy more often than other similarly aged adults. (The authors say they're planning to explore that issue further in the future.) Beyond that, we also should be careful about concluding that NFL players are faring all right financially just because they aren't filing Chapter 7 cases left and right. High-profile bankruptcies like Warren Sapp's andVince Young's might be memorable cautionary tales. But it's entirely possible to end up penniless but not bankrupt, assuming you don't have much in the way of debt. And, of course, one can fetter away plenty of money without ending up in serious financial peril. A University of Michigan study found that about half of retired players said at one point they'd experienced a major loss in a business or financial investment. For a real-life example, just consider Dan Marino, who according to some reports lost millions on the company that gave us the Tupac hologram, of all things.
Read more here:
Layin the SmackDown
This is awesome—and incredibly stupid. But awesome. Some bros in England decided to take to the ring during a WWE SmackDown episode and start laying some Rock Bottoms on each other. This is great—and stupid—in some many different ways.
Chess Cheater
Oh, boy, this is not a good look. For a guy so smart, this is one of the dumbest things I've ever seen. Georgian chess champion and grandmaster Gaioz Nigalidze was tossed from a chess tournament in Qatar last week for cheating. But, wait… this is how he got caught:
The two-time national champion was exposed when his opponent lodged a complaint when he grew suspicious about his frequent trips to the lavatory.
Tournament organisers found Nigalidze had stored a mobile phone in a cubicle, covered in toilet paper.
They announced their decision to expel Nigalidze on Sunday morning on their Facebook page.
The complaint was made by Nigalidze's opponent in their sixth-round match in the tournament, Armenia's Tigran Petrosian.
He said: 'Nigalidze would promptly reply to my moves and then literally run to the toilet."
What???? This is a terrible way to cheat. More from the Daily Mail.
Kentucky Derby Takes Stand Against Selfie Sticks; Everyone Wins!!!
I've you read this column regularly; you know my thoughts on selfie sticks. This is just one example of why I hate them: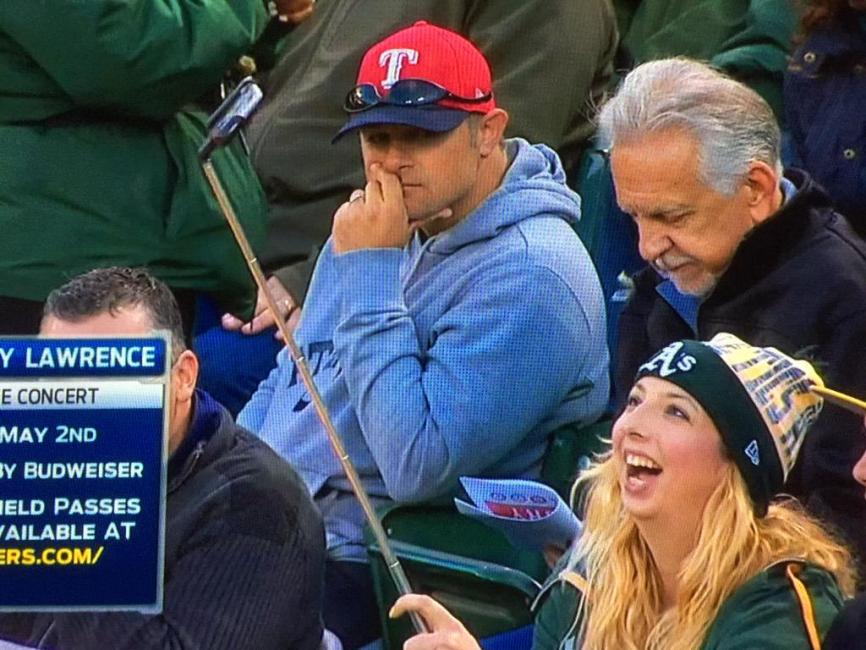 This is why I love the Kentucky Derby. Churchill Downs announced last week they have banned selfie sticks from the Kentucky Derby this year. They just stuck it to millennials everywhere. Take your selfie stick back to Starbucks, bro.
[Credit: Awful Announcing]
Cyclists Try to Outrun Train

You know what's probably not a great idea? Trying to outrun a FING train. Recently at the Paris-Roubaix race, some very bright cyclists tried to maneuver across the tracks before a train ran them down. Good job, bro!
Taco Gets Hit by Car
This seems like a great way of cheap advertising: Send a skating taco through the streets with a sign. It's great, until said taco gets smashed by a car. Deadspin says the taco is fine.
The Death of Print?
Since college, I've heard about the demise of newspapers, and print in general. That was about six years ago, and while print hasn't gone anywhere, the rise of mobile readership has skyrocketed. No one knows when print will eventually die, but most think it will happen sooner than later. I love print, so I would hate to see it happen. But, I also probably read more on my phone than anywhere else. The NY Times recently ran a cool email exchange on the future of print. From the NY Times:
Mr. Shirky wrote:
I'd like to offer a considerably darker narrative: I think the pattern of print revenue decay will be fast, slow, fast.
The original, fast decline was 2007-9, where two overlapping events — the Great Recession and the sudden shift to mobile consumption — created a vicious cycle, where your most adventurous readers and least committed advertisers both moved rapidly to digital-only, amid a period of general contraction in ad revenues. These were the years of double-digit decline in revenues.
By 2010, most of the early abandoners had left and the economy recovered, leaving you with only secular decline in readership (down 5-6 percent a year) and only proportional decreases in advertising revenue. This is the slow period of print decay.
The people you quote — Baquet, Caputo — seem to be betting that the current dynamics of slow decline form the predictable future for your paper. I doubt this, and the alternate story I'd like to suggest is that print declines will become fast again by the end of the decade, bringing about the end of print (by which I mean a New York Times that does not produce a print product seven days a week) sooner than Baquet's 40-year horizon, and possibly sooner than Caputo's 10-year one. (Public editor note: Mr. Baquet said "no one thinks there will be a lot of print around in 40 years." Mr. Caputo predicted that a printed Times would be around in 10 years, but did not specify seven-day-a-week production.)
It's worth checking out the entire article here.
Tebow Tweets
This is…um, kind of, nay, really, really, really ridiculous.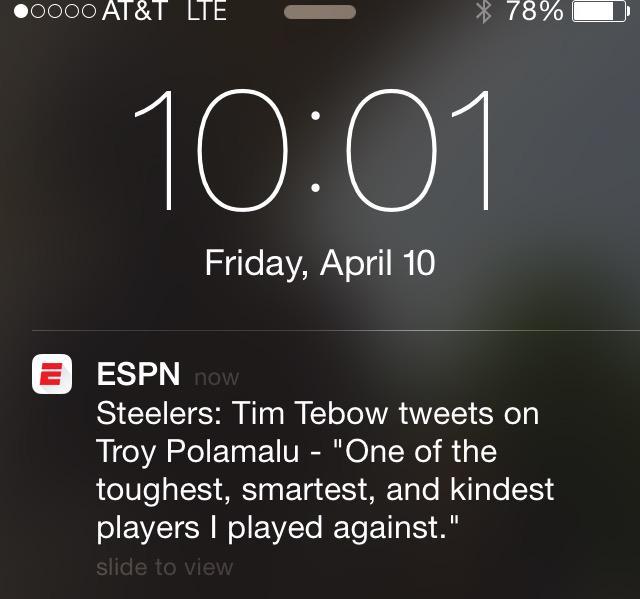 [Credit: Awful Announcing]
Man Crosses Track at Chinese Grand Prix
Bro, what are you thinking?
Jeopardy Fail
Jeopardy has been keeping old people happy since forever. Recently, even host Alex Trebek, the man behind the greatest mustache ever, was thrown off by this very strange answer. Just watch.
Couch Burning
West Virginians love to burn couches. Since I moved to Morgantown five years ago, I've definitely heard about my fair share of folks torching stuff. It's not limited to couches, though. If it's not tied down, there's a good chance it will get burned. The couch burning typically follows a big West Virginia sporting event. (No, they don't just burn couches for no good reason. Football is typically the reason.) Anyway, the Morgantown city council Tuesday unanimously passed a law "that would ban people living in city limits from having upholstered furniture in their yards or unenclosed porches," says CollegeFootballTalk.com.
"Over the last 10 years, we've had over 3,000 street fires because of the quick ability to bring furniture from porches and put it into the streets and put them on fire," Morgantown City Manager Jeff Mikorski said in a sentence that might startle some around the country but is just another day at the office for God's Country denizens.
The rest of the article goes on to troll the state, which is a common ploy for sites that need page clicks.
Facebook Is Still Cool Among Teens
When you ask any young family member what's cool now-a-days, the typical response is Snapchat or some other social media site you're old a** has never heard off. When Facebook is mentioned, it's quickly followed by a "Yeah, that's not cool anymore. No one uses it." And that's a lie according to a new study by the Pew Research Center. According to Motherboard, "Pew surveyed a sample of 1,060 US kids between the ages of 13 and 17 and found that more teens (41 percent) reported they used Facebook most often compared to other social media sites. Instagram came in second with 20 percent and Snapchat fell in third at 11 percent." So, there's that.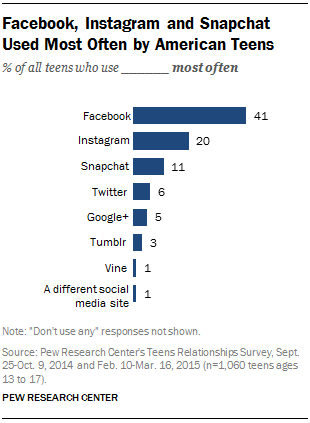 Rocket Launch!!!!!
The title explains it all. Enjoy!
Taco Bell Will Deliver
Arguably the grossest fast food chain will now deliver. Taco Bell, which, let's be honest, is disgusting anytime before 3:00 a.m. at which point it becomes THE BEST THING EVER, is expected to start delivering in 2015. Score one for the drunks. Slate has more:
"Even though it's the No. 1 request from consumers, we have to make sure we can give them an experience that's consistent with Taco Bell, and that's what we're working through," Niccol told NRN. "We have to figure it out, and I can tell you right now we don't have it figured out." So, basically no details yet, but who cares? NOM NOM NOM NOM.
The concept of fast-food delivery might seem odd to some, but in a post-GrubHub society, in which Starbucks is planning to deliver your pumpkin spice latte in select cities and TaskRabbit allows you to pay people to perform your every tedious obligation, it's no longer shocking. And with Amazon making moves to deliver by drone, a fast-food chain delivering a few cheap tacos sounds pretty quaint.
Consistent with the experience of Taco Bell? Is that good? Hopefully they don't use that skating taco idea we saw above. Read more here.