Remember Kevin Windham, the GEICO Honda rider who also raced Yamahas and Suzukis, won a lot of races, and finished second in 843 title fights? You do? Good. The Raging Cajun has been enjoying retired life since suddenly hanging his boots up last year after practice at Anaheim 2. KW has filled his time up by doing some work for the Feld Motorsports guys in supercross, working on his personal businesses, and as you'll read about, turning himself into a rancher. Windham's also got something exciting going on for his fans with his annual Party in the Pasture. Let's get to this, shall we?
Racer X: First of all, what's been going on? What have you been doing? What's new in the life of Kevin Windham?
Kevin Windham: A lot of fair-type races. Just got back from the Hahn brothers' race up there in Great Bend, Kansas. Unfortunately, the last fair race I went to before this one was one where our industry felt the tragedy of Mr. Chris Blankenship [of Dirt Wurx] passing away….
But just stuff like that. It's just been fun to go and do some of those races that generally you don't get to do as a professional, more grass-roots style racing, and now ultimately planning for a benefit to support Chris's family and doing all of that. Then before you know it, it will be Monster Energy Cup and then off to supercross again.
So you've actually been putting some practice laps in.
Yeah, I was riding a little bit to do the fair race there in Missouri. I haven't rode since then. I'm looking forward to getting back on the bike here really soon. Other than that, just chasing these kids around, getting them back in the swing of school, and we've still got the Planet Fitness thing going too [Windham has opened several Planet Fitness gyms], so a full plate for me.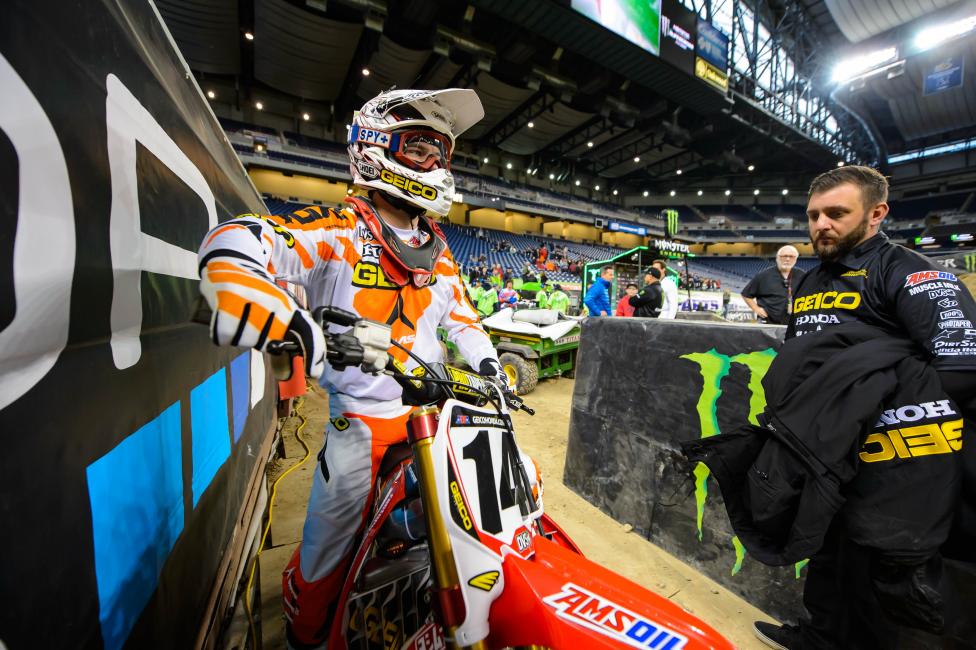 Your annual Party in the Pasture is coming up, and it's going to help raise some money for Chris Blankenship's family and everything. It sounds like you're going bigger than ever with this thing you got going on. Talk a little bit about that.
Everything around Party in the Pasture has increased. Craig Morgan will be back again. We also just hired another guy by the name of Keith Anderson who has some play on country radio. So I'm excited about being able to bump up the bands a little bit and excited about bumping up the freestyle. Adam Jones is coming as is Mike Mason and some other guys. Kenny Bartram will be back. This thing hit so close to home, and now we're also doing a ride day out there on my personal outdoor track. A lot of the professional riders, guys that have raced on tracks Chris has built, are coming to support us. So it's nice to have more involvement from the industry. It's just unfortunate the reason for it.
For people who don't know, Chris worked for Dirt Wurx for forever with Rich Winkler, and he was obviously a good friend of yours. Just talk a little bit about the guy he was.
He was a guy that had a very infectious smile. Everybody that met him liked him. He gave his heart to our sport. He was very dedicated in trying to not only build good tracks for us to race on but also what we said to him it meant a lot in trying to make for better tracks in the future. Things have changed, and the four-strokes have come along and the evolution of that whole deal. There's a lot of thought that goes into those tracks. It's a lot more than just piling up a pile of dirt and going racing. It hit close to home, like I said, because he was just one of those guys that the second you knew him you felt like you had a friend, and in that situation we all felt like we lost someone that was very close to us and a friend to what we all do and we all love. He definitely had that bond that us motorcycle guys had.
You going to be in the TV booth again this year?
I'm hoping to. I actually just spoke to some of the guys at Feld about that, and you'll be seeing me around races this year as well. But I'm thinking, and this is probably going to come as a shocker to a lot of people, I don't ride as much as I used to and the transfers are getting a little bit dangerous so I'm going to pull back on that. There [are] probably going to be a lot of people bummed with that. I had to give up my number this year to Cole Seely, so maybe he can start doing transfers or somebody else that's just crazy enough to do it! So I'm passing it off to somebody because I had enough sense to get out of racing before I got hurt. I think I need enough sense to get out of transferring before I get hurt as well!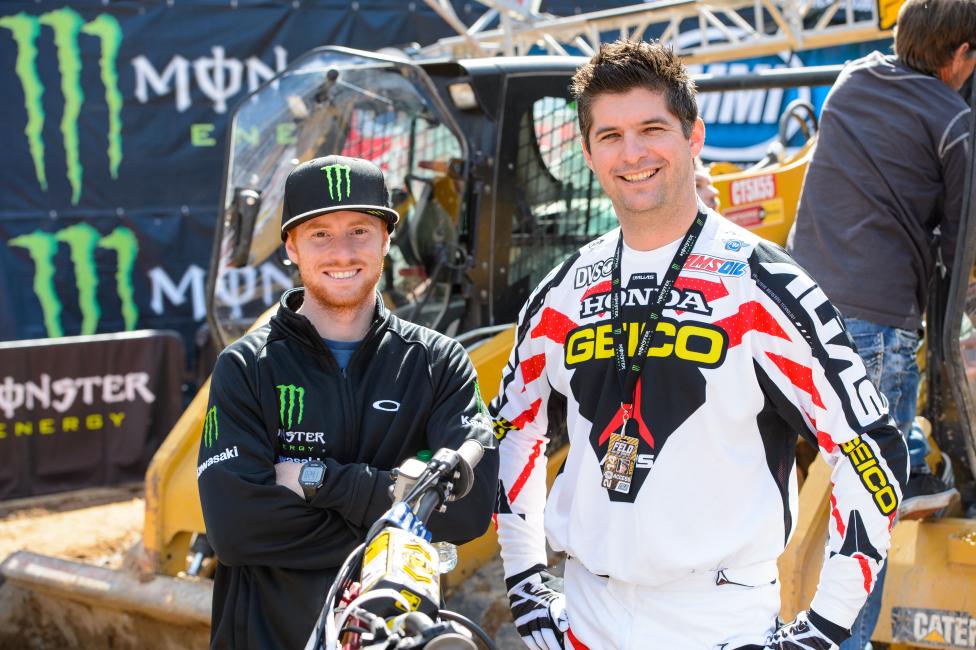 The one you went down on, that was no joke. So Seely called you to get your blessing for taking the 14? How hard was that to actually realize that you're not 14 anymore?
Yeah, I've got to be honest with you; I kind of put on my big boy pants and made the quote on social media that I was happy for him. It's not my number; it's the AMA's number. It's time to move on. As for the transfer where I crashed, I sent it like a man and as soon as I sent it, I'm like, "Damn, this sucks!" [Laughs] I'm just joking. I wish Seely well with my number. It's like [Jeremy] McGrath and everybody else. I will tell all of my fans and anyone that enjoys to watch me ride in the future, I will not ride a dirt bike without the 14 on it for the rest of my life, but it's time for it to move on. They held it for the time, and the AMA opened it back up. It's time. It's the progression of the sport. But it does hurt. I had that thing on there for a long time. It was cool for Seely to reach out to me. It was available for him, he wanted to take it, and at least reached out for a blessing for me to pass it on.
He's on a Honda, and he rides a little bit like you too, very technical, very precise rider. It's a good guy to have it, if it worked out to be anybody to take it.
Yeah, I'm good with it.
Motocross of Nations is coming up. Thoughts on that?
I think it's going to be exciting. It should be good, should be tough. I thought about going, but you know how I am about flying; as soon as I found out where it was I was like... I'm a wuss and I'm out. We actually had to pack up the one year right after September 11 [2001, Windham was part of the team, which elected not to travel to the race]. I like our chances. I think we'll go over there, hopefully get our job done. It's always nice when the USA wins, although we're getting the increasing competition over here from Europeans. [Kenny] Roczen came over and rode this year and all those other guys. It should be an exciting race, but I think we still have what it takes to bring it back home.
The Red Bull Straight Rhythm is right after MXoN, and I think that's something that you would actually probably be pretty good in your prime.
I think it's a fantastic idea and I believe it was solely Jeremy Mallot's [of Red Bull] idea. I may be mistaken on that, or Red Bull's idea. I think that's great and I think it's awesome. I do think that it's funny that people actually think I might still be good at that because believe it or not I can get tired in sixty seconds right now! I really haven't done a thing. I don't even know that my eyes can really grasp and take down the information that they'd need to in order to make that happen. I might go do it, but I'm not going to race it. But it's a fantastic idea. I think it's going to be in an area this year with actually bleachers and down a full drag strip. So if they do that, I think the viewing will be good. I think it's exciting.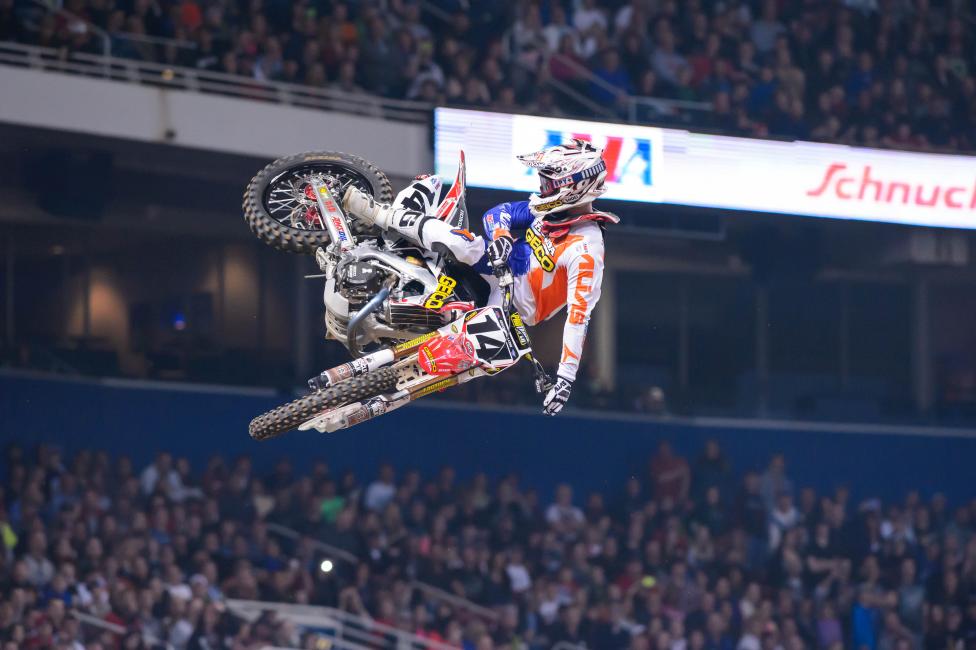 Did we cover everything?
I think we're pretty good. I've been working cows. You haven't asked anything about the cows or anything like that.
I didn't know you were a rancher now.
I left ranching out when you asked me what I've been doing. I got to herd the cows off of the Party in the Pasture field so we can actually go there and have a party here in about a month or so.
Are you all full up for the Pasture ride?
We're right around the 250 range right now. But they're slowly trickling in. I think a lot of people are trying to make the plan, the drive. Everybody in our local area signed up. Logistically we're putting that into place. Pretty rare to get an opportunity to ride on my track with the level of guys that will be attending. It should be a really cool event.
Is there somewhere for people to go to sign up?
Right now you can follow me on my Facebook page. It's just the fan page and it's got posters of the Party in the Pasture field and things like that. Road to Recovery is taking all of the sign-up and you pay the fee to them and we'll mail out all your credentials and stuff before the ride, so you'll be all set when you show up. That way we'll have a guaranteed spot and know how many people are coming so I don't overload myself. It'll be a fun day, fun track and I hope to see everybody out here in Centerville, Mississippi on November 8.