Hello, everyone, and welcome to the Rev Up. I'm switching it up this week and going with an interview with a young up-and-coming talent that I personally believe is going to be one of the next superstars. Missouri's Austin Forkner has been lighting it up in the Supermini class for three years, including two consecutive Monster Energy Cup victories and most recently a dominating performance at Loretta Lynn's in his swan song effort on mini bikes. Austin recently switched to the 250F machines and signed up to compete in the highly competitive Amateur All-Star division at Monster Energy Cup.
As a former amateur team coordinator for Fox Racing, I've prided myself on having a pretty keen eye for talent, and I've had my sights on young Forkner for a few years now. His riding style, particularly in supercross, is beyond his years, and he is a very well-spoken and good-looking young man. It's a tricky period for the up-and-comer, as the move from mini bikes to big bikes can be a slippery slope. Minicycle dominance doesn't always transfer into the men's divisions, but there is something about Forkner that suggests he is going to really thrive. The 15-year-old has a lot of cool things going on, as he just picked up his learner's permit to drive. I was able to get him on the phone this week, and we talked a little about jumping on a 250F and his preparation for the Monster Energy Cup.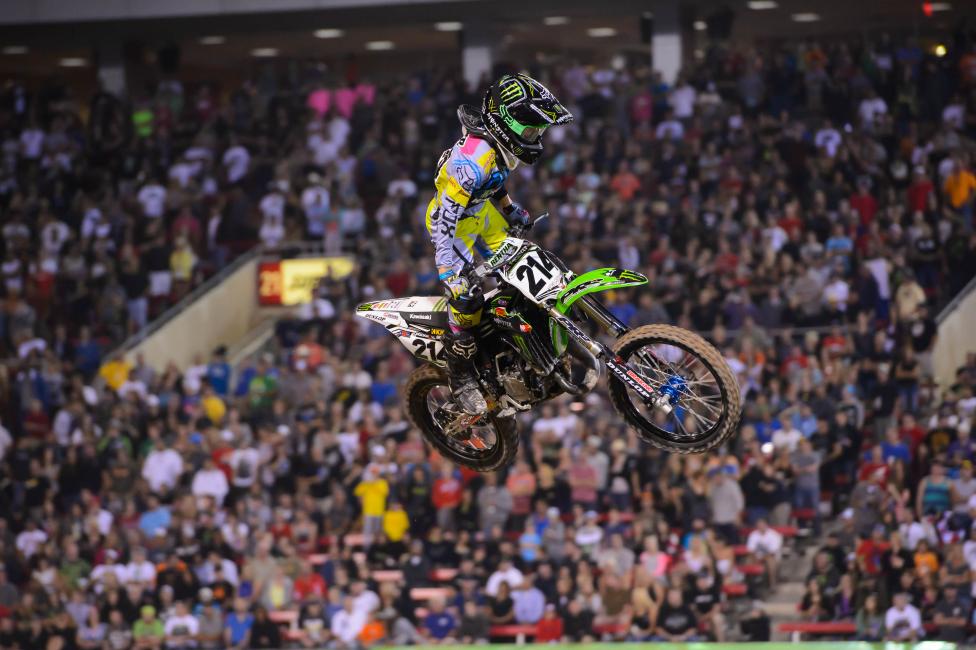 Racer X: How long have you been riding the big bike?
Austin Forkner: A month permanently, but I rode one a little before Loretta's. I feel really good on it; we're just trying to get the suspension dialed in. I actually hurt my shoulder a little last week, so I can't ride right now, so that is a bummer. It's nothing bad; just going to do some rehab on it and take a week off then get ready for Monster Cup.
There is a big difference between a stock 250F and a race motor. Have you gotten a taste of one of Mitch Payton's monsters yet?
Well, first I rode the stock one, and to be honest with you, it has more than enough power for me. I only weigh 122 pounds, so it pulls me just fine for sure. Now I have one of their (Monster Energy/Pro Circuit Kawasaki's) practice motors from the race shop. It's not a full race engine, but it's fast. It's funny, at first even the stocker was too much, but now I like the mod motor. The power isn't a priority for me, though; we really just want to try to get the suspension to work for me. I'm 5'5" and I'm getting taller, but still don't weigh that much.
You're a two-time winner at Monster Energy Cup. In fact, you have really dominated and made it look easy. Other than the Mini Olympics, you guys don't really race supercross at all. What is it about that course that you like so much?
I've always been a good jumper, I guess. I learned how to scrub, do rhythm sections, and keep the front end low, and it just came natural. The race doesn't have any whoops, and in fact I've used outdoor suspension when I raced there. That's one thing that might be tough for me are whoops.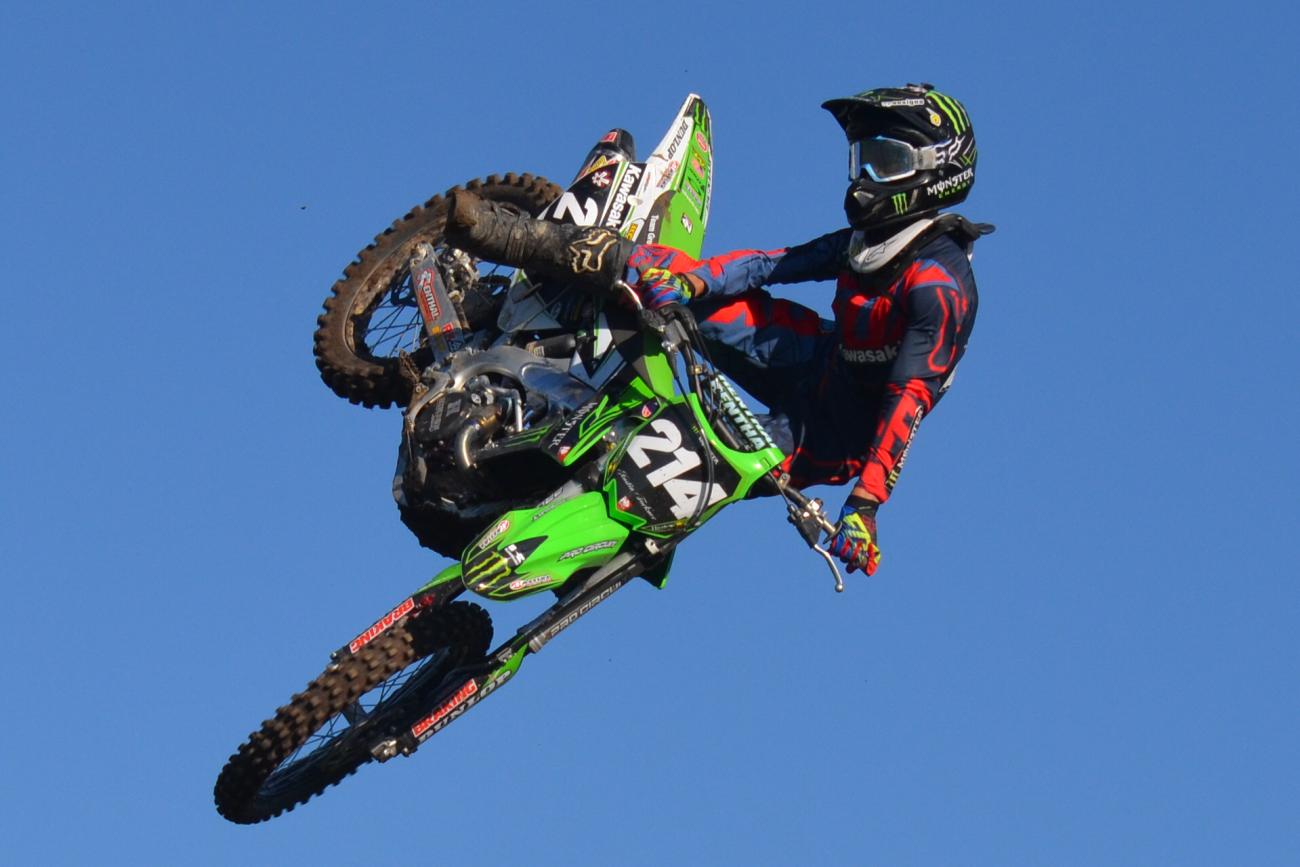 You're going up against a stacked class of Amateur All-Stars. What are your expectations, and who do you think is going to be fast?
Yes, the class is made up of A and B riders, and I know it is going to be tough. There are guys like Aaron Plessinger, who are A guys that are fast, then B riders like Alexander Frye and myself that will be good. I'd like to get podiums in my races. It's going really well on the big bike, and I'm starting to get more in control. I want to ride right now, but I have to heal up my shoulder a bit. I'm focusing on outdoors, though, getting comfortable going fast on an outdoor track first. Then, there are some tracks around here, and I'm going to go ride with Trey Canard and Robbie Reynard on their tracks. We're supposed to get to go to California to test suspension before Monster Cup, so I'm looking forward to that.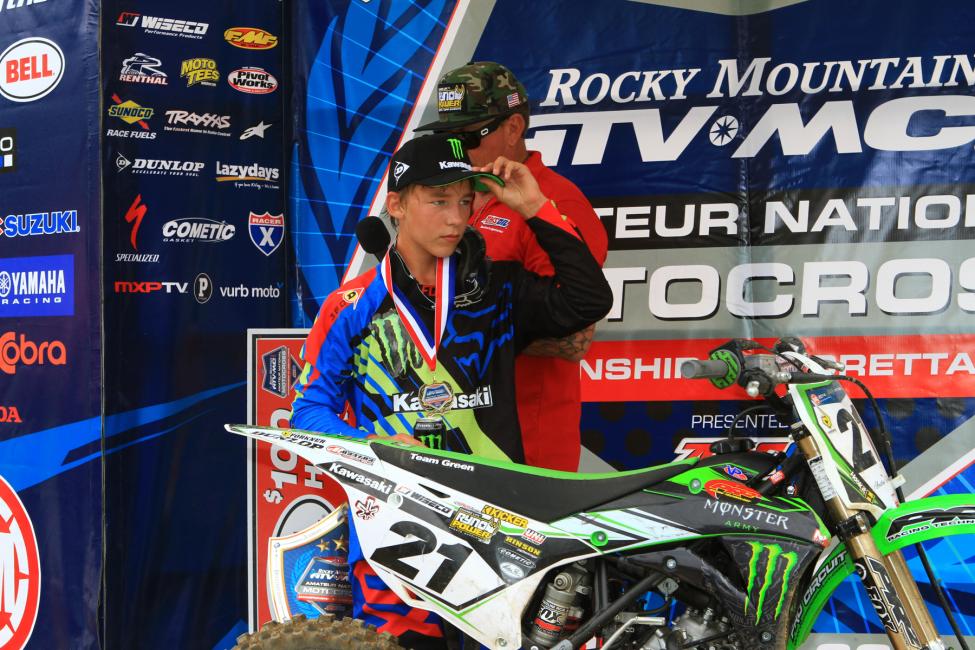 This is an exciting situation for me as a race fan. I think this kid has the right stuff. If he is able to get enough seat time in before the event, he is going to surprise some folks. It seems like we always want to know who the next guy is going to be, but recently there really hasn't been "The guy." There is so much competition and parity from the top of the professional ranks down to the pee-wee classes! Every once in a while, a young racer comes along that simply "has it." It's been about twenty years since a young aspiring racer from the Midwest came along and took the sport by storm. He was also a minicycle superstar and hailed from Missouri. Does the name Jeff Emig ring a bell? It will be interesting to see if the talented Forkner can fill those shoes. I think he is up to the task.
Thanks for reading, see you next week.