2014 has been a season of adversity for Red Bull KTM's Tony Cairoli. First there was the wake-up call at the season-opening Qatar Grand Prix, when he was beaten by Gautier Paulin; then came a sudden and shocking family loss that affected some of his races (notably France). Mistakes followed in Spain and the Czech Republic, costing victories and renewing threats from Rockstar Energy Suzuki's Clement Desalle and Yamaha Factory Racing's Jeremy Van Horebeek. It's been a bumpy ride at times for Grand Prix racing's modern icon of versatility and star power. But the rack of thirteen podiums (nine of which were wins) and unbeatable consistency were bookended when he confirmed his eighth title in Brazil yesterday. Cairoli has ruled the premier class of the FIM Motocross World Championship since 2009, on that distinctive KTM 350SX-F.
At the new Trindade facility—with typical crimson hard-pack and a wide collection of jumps and off-cambers—Cairoli was again overcoming the odds. A popped lens on Saturday left the 28-year-old Sicilian nursing a partially closed left eye and meant he had to ease his way to a 5-3 scorecard for third overall to get the job done. He was helped by some misfortune to closest threat Van Horebeek, who suffered his own drama on Saturday. The Belgian crashed heavily, and an initial suspected broken ankle was later diluted to a bad and painful sprain. Van Horebeek earned second position in the championship by scoring 8 points in the first moto. Cairoli, who was 81 points ahead, was able to relax in the first race, and 'number eight' was celebrated with three motos to run this year.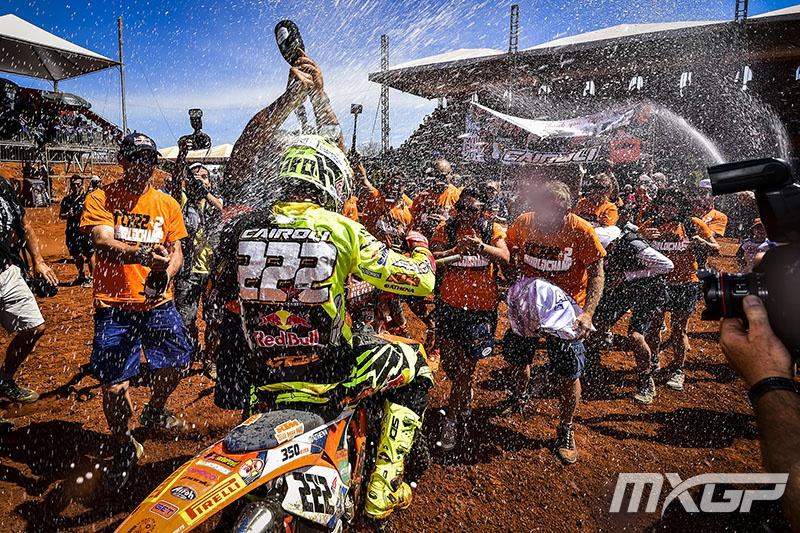 Cairoli was the toast of Trindade, cheered on by a sun-sheltering legion of passionate Brazilian fans (who even put Europeans to shame through their outright enthusiasm and thirst for action), but it was Honda World Motocross' Max Nagl who was the dominant performer. The German benefitted from the lengthy four-week break in the GP calendar (caused by the cancellation of the Ukrainian round) to get some recuperation from injury and testing done with the vast HRC set-up. Nagl was perfect thanks to this. He was quick to Pole on Saturday and then lead and escape in both motos from the opening laps on his nimble CRF450RW. Behind the red blur, Monster Energy Kawasaki's Gautier Paulin showed his aerial acumen and elevated from two fourth positions in the previous two Grands Prix to capture second overall.
Perhaps teammate Steven Frossard should have joined Paulin on the podium. The Frenchman was quick to second in the first moto but hit a patch of watered soil on the first lap of the second sprint and went down, collecting the unfortunate Rockstar Suzuki's Kevin Strijbos. Frossard flew back to seventh and Strijbos would end the day sixth overall behind a much better performance from Monster Energy CLS Kawasaki's Tommy Searle (a season-best with fourth in the second moto). For Strijbos the points were sufficient for top three in the world for 2014, and the 28-year-old veteran still has plenty to offer MXGP. He will be on the works RM-Z450 again next to Clement Desalle (absent with a broken scaphoid) in 2015.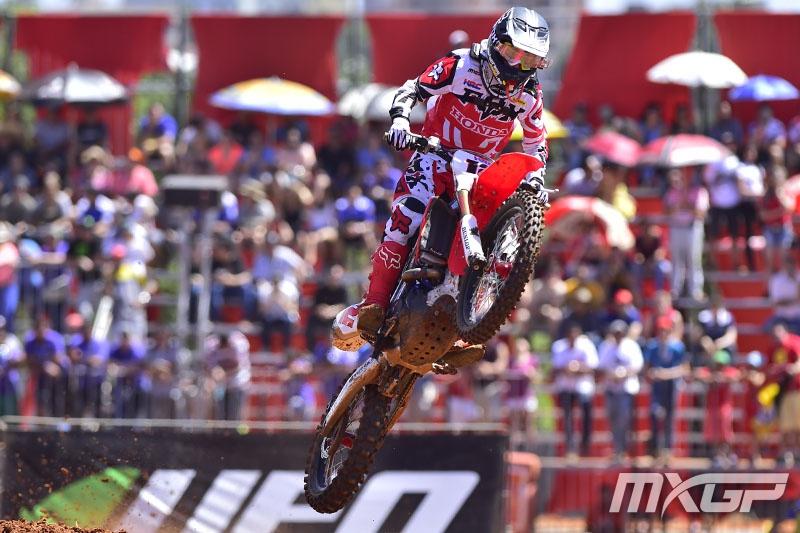 Frossard is currently embroiled in the last significant battle this season. He leads outstanding privateer Shaun Simpson by 10 points in the tussle for fifth place in the standings. Simpson came to Brazil sitting in the top five after taking his first podium of the season in the Belgian sand at Lommel. He was third in qualification on Saturday and fastest in warm-up on the Hitachi KTM. He crashed during the first race while trying to deprive Red Bull IceOne Husqvarna's Dean Ferris of fourth place and briefly dislocated his shoulder. The Scot actually used a technique explained by MX2 Husqvarna team boss Jacky Martens of custom cutting an inner tube to add extra strapping strength to the joint and went out for the second moto. Sixth place was an outstanding achievement. Now Frossard and Simpson will go to the wire for a meaningful result in the final Grand Prix at Leon.
Simpson was able to compete in the face of injury, but Ferris was not so lucky. He fell in the second moto while in third and being chased by Cairoli. He landed and rolled awkwardly, and after eventually being taken away by ambulance, was diagnosed with a broken right femur. The entry list for the Goias Grand Prix—so named for this particular state of Brazil that elected to host the fixture—had already been hit by absenteeism. Injuries, budgets, and contract dissolutions were to blame, and there had already been a degree of scepticism beforehand in scheduling the final two races so far from the European hub. With Ferris out and possibly Van Horebeek also heading back to Belgium, the numbers for Mexico will appear even slighter.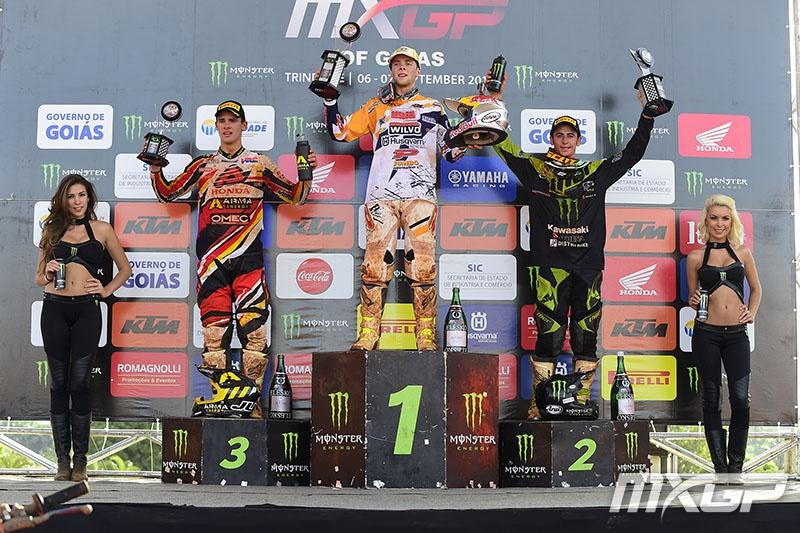 The Trindade layout was set at 1,600 meters but it seemed a lot longer, and the sheer amount of obstacles forged a two-minute lap time. The track was sparse at times with barely twenty runners in each class, but it didn't seem to matter in MX2 where up to six riders engaged in warfare for top-three positions in each moto.
Nestaan Husqvarna's Romain Febvre was the victor of the day, creating several milestones. Not only was it the Frenchman's overdue first Grand Prix (and moto) win but also for Husky in the principal class this century. He managed the feat in spite of illness and a feisty Dylan Ferrandis, who threw his CLS KX250F around the Brazilian bumps in wild abandon after two mediocre starts. The other standout in MX2 was HRC's Tim Gajser, who took off with the second moto for his maiden GP checkered flag and fifth podium of 2014. The 17-year-old was the first for his country to ever win in MX2/MXGP. Standing Construct KTM duo Valentin Guillod and Julien Lieber (the Belgian's first outing since splitting with Suzuki) were part of the gaggle, and Rockstar Energy Suzuki rookie Jeremy Seewer also caught the eye by running as high as second place for five of the seventeen laps in the second moto.
The real story of MX2, though, lies in the dispute for the title between Red Bull KTM riders Jeffrey Herlings and Jordi Tixier. Herlings was deemed unfit to travel to Brazil on Tuesday, and a stomach infection had hindered his recovery from a broken femur. Tixier wasn't overly pleased with his riding at Trindade to score fourth overall, but he hacked Herlings' lead in the standings down from 57 to 23 points with just 50 remaining. If Herlings does not make the plane for Mexico (and he lacks training and riding time and will struggle to make any serious impact), then Tixier still has some work to do to seize the 2014 crown that Herlings has been spinning on his finger since round one.
And on to Mexico. Memories of the debacle in 2012 at Guadalajara, when the poor state of the track caused consternation in the paddock, could be quickly forgotten by the prospect of a new venue and an experienced organising body at Leon. There are still a few stories left in the FIM Motocross World Championship this year even if the Orange haze remains firmly placed.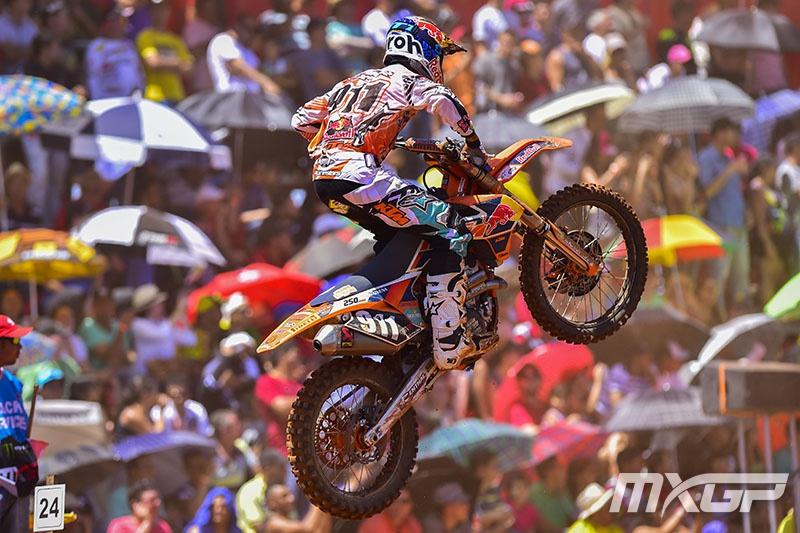 MXGP Moto One
1. Maximilian Nagl (GER, Honda), 35:17.310;
2. Steven Frossard (FRA, Kawasaki), +0:10.116;
3. Kevin Strijbos (BEL, Suzuki), +0:14.667;
4. Gautier Paulin (FRA, Kawasaki), +0:17.619;
5. Antonio Cairoli (ITA, KTM), +0:22.261;
6. Dean Ferris (AUS, Husqvarna), +0:25.973;
7. Tommy Searle (GBR, Kawasaki), +0:52.568;
8. David Philippaerts (ITA, Yamaha), +0:56.271;
9. Rui Goncalves (POR, Yamaha), +1:00.048;
10. Milko Potisek (FRA, Yamaha), +1:04.374;
MXGP Moto Two
1. Maximilian Nagl (GER, Honda), 35:57.355;
2. Gautier Paulin (FRA, Kawasaki), +0:13.227;
3. Antonio Cairoli (ITA, KTM), +0:29.125;
4. Tommy Searle (GBR, Kawasaki), +0:37.228;
5. Davide Guarneri (ITA, TM), +0:41.043;
6. Shaun Simpson (GBR, KTM), +0:41.586;
7. Steven Frossard (FRA, Kawasaki), +0:56.529;
8. Milko Potisek (FRA, Yamaha), +0:59.244;
9. Kevin Strijbos (BEL, Suzuki), +1:01.221;
10. David Philippaerts (ITA, Yamaha), +1:09.221;
MXGP Overall Results
1. Maximilian Nagl (GER, HON), 50 points;
2. Gautier Paulin (FRA, KAW), 40 p.;
3. Antonio Cairoli (ITA, KTM), 36 p.;
4. Steven Frossard (FRA, KAW), 36 p.;
5. Tommy Searle (GBR, KAW), 32 p.;
6. Kevin Strijbos (BEL, SUZ), 32 p.;
7. Davide Guarneri (ITA, TM), 25 p.;
8. Milko Potisek (FRA, YAM), 24 p.;
9. David Philippaerts (ITA, YAM), 24 p.;
10. Matiss Karro (LAT, KTM), 20 p.;
MXGP World Championship Standings After Sixteen of Seventeen Rounds
1. Antonio Cairoli (ITA, KTM), 705 points;
2. Jeremy Van Horebeek (BEL, YAM), 596 p.;
3. Kevin Strijbos (BEL, SUZ), 530 p.;
4. Clement Desalle (BEL, SUZ), 484 p.;
5. Steven Frossard (FRA, KAW), 392 p.;
6. Shaun Simpson (GBR, KTM), 382 p.;
7. Maximilian Nagl (GER, HON), 357 p.;
8. Gautier Paulin (FRA, KAW), 315 p.;
9. Davide Guarneri (ITA, TM), 270 p.;
10. David Philippaerts (ITA, YAM), 258 p.;
MX2 Moto One
1. Romain Febvre (FRA, Husqvarna), 35:34.479;
2. Dylan Ferrandis (FRA, Kawasaki), +0:02.137;
3. Arnaud Tonus (SUI, Kawasaki), +0:02.639;
4. Valentin Guillod (SUI, KTM), +0:13.881;
5. Jordi Tixier (FRA, KTM), +0:14.553;
6. Julien Lieber (BEL, KTM), +0:15.809;
7. Tim Gajser (SLO, Honda), +0:16.274;
8. Christophe Charlier (FRA, Yamaha), +0:20.578;
9. Aleksandr Tonkov (RUS, Husqvarna), +0:23.075;
10. Jeremy Seewer (SUI, Suzuki), +0:28.319;
MX2 Moto Two
1. Tim Gajser (SLO, Honda), 36:03.755;
2. Dylan Ferrandis (FRA, Kawasaki), +0:06.015;
3. Romain Febvre (FRA, Husqvarna), +0:09.099;
4. Jordi Tixier (FRA, KTM), +0:10.731;
5. Jeremy Seewer (SUI, Suzuki), +0:16.660;
6. Valentin Guillod (SUI, KTM), +0:18.557;
7. Christophe Charlier (FRA, Yamaha), +0:19.338;
8. Arnaud Tonus (SUI, Kawasaki), +0:19.840;
9. Max Anstie (GBR, Yamaha), +0:24.029;
10. Glenn Coldenhoff (NED, Suzuki), +0:31.721;
MX2 Overall Results
1. Romain Febvre (FRA, HUS), 45 points;
2. Dylan Ferrandis (FRA, KAW), 44 p.;
3. Tim Gajser (SLO, HON), 39 p.;
4. Jordi Tixier (FRA, KTM), 34 p.;
5. Valentin Guillod (SUI, KTM), 33 p.;
6. Arnaud Tonus (SUI, KAW), 33 p.;
7. Jeremy Seewer (SUI, SUZ), 27 p.;
8. Christophe Charlier (FRA, YAM), 27 p.;
9. Julien Lieber (BEL, KTM), 25 p.;
10. Max Anstie (GBR, YAM), 21 p.;
MX2 World Championship Standings After Sixteen of Seventeen rounds
1. Jeffrey Herlings (NED, KTM), 594 points;
2. Jordi Tixier (FRA, KTM), 571 p.;
3. Romain Febvre (FRA, HUS), 534 p.;
4. Dylan Ferrandis (FRA, KAW), 511 p.;
5. Tim Gajser (SLO, HON), 487 p.;
6. Arnaud Tonus (SUI, KAW), 422 p.;
7. Valentin Guillod (SUI, KTM), 412 p.;
8. Aleksandr Tonkov (RUS, HUS), 384 p.;
9. Jose Butron (ESP, KTM), 345 p.;
10. Jeremy Seewer (SUI, SUZ), 328 p.;