"I've just been so busy!" laughed Dean Wilson over the weekend. He is normally the very first rider to take time out of his schedule to talk with us, but this past week was understandably a bit more challenging for the affable Scotsman. Wilson has been busy testing his Monster Energy/Pro Circuit Kawasaki KX450F for the imminent Motocross of Nations, as well as being poised to make the move to another factory team [Editor's note: Racer X has it on good authority that it will be a spot on Red Bull KTM] for the 2015 season.
2014 was a wild affair for the former AMA National Champion. A self-appointed move back to the 250cc classification for both supercross and motocross saw flashes of mercurial speed and maturity, while a few mistakes and aggravating injuries led to a couple of well documented setbacks. With all these comings and goings of the said Dean Wilson, we caught the young man on Sunday afternoon, made him stand stationary for a half-hour, and commenced to pelting him with questions.
Racer X: Dean, so what's been keeping you so busy?
Dean Wilson: Just testing and getting ready for the des Nations and going back-and-forth to Florida and California. I've been busy with all that and with organizing things for next year. It's been pretty busy.
I'm assuming that the Motocross of Nations is what you're primarily focused on right now.
Yep. I'm pretty focused on that, and I'm working hard for it. Yeah, I'm just excited for it, really. I haven't gotten to do it in a long time. I'm looking forward to it.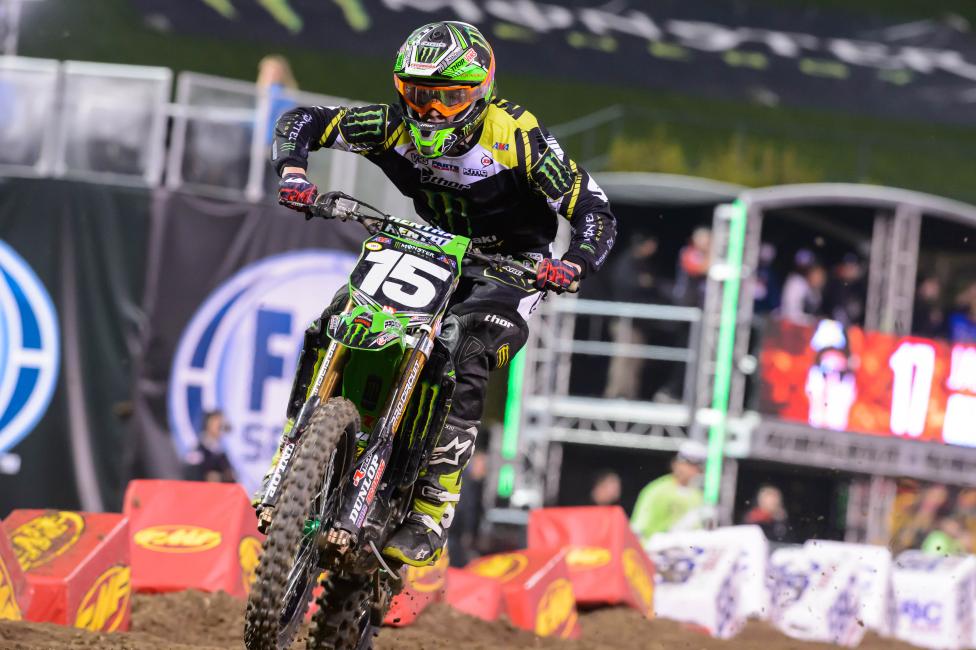 When was the last time you did it?
It was 2011 in France. I had a broken wrist at it, but that was the last time, so I'm pretty happy to be back at it.
In keeping with that theme, what do you think about the forthcoming Motocross of Nations, and how do you feel about your team and what type of chances you guys may have?
I'm feeling really good about it. I think we have a pretty solid team with me, Shaun Simpson, and Tommy Searle. Yeah, I think it's going to be solid. I'm feeling pretty good on the 450 and Tommy is going to ride the 250 and Shaun is going to ride the 450. I think we have a chance to get on the box, so I'm hoping that's our goal and we're going to do our best to make it happen.
Not only the podium, but you guys can race for the win, as well.
I don't want to shoot our goals too high and then fall short. I don't want to get too excited too soon. I just want to go in and have all three of us ride our best and do our best, and however it comes out at the end is how it will be. I really think that with the team we have we're definetley capable of being on the box.
You ever been to Latvia?
No. I've never been so it'll be a new experience, for sure.
For all intents and purposes, your 250 career is now complete. How do you feel about that?
I'm pretty happy to be done it, honestly. I don't know. It's been kind of an up-and-down season, and after my crash at Glen Helen, it kind of just took the wind out of my sails. I just wanted to be healthy all season and when that happened it was tough to come back. I don't know. I felt really out-powered outdoors on my 250. I don't know. It's just time to be on the 450. I'm definitely ready to take that next step and be a full-time 450 guy for next year.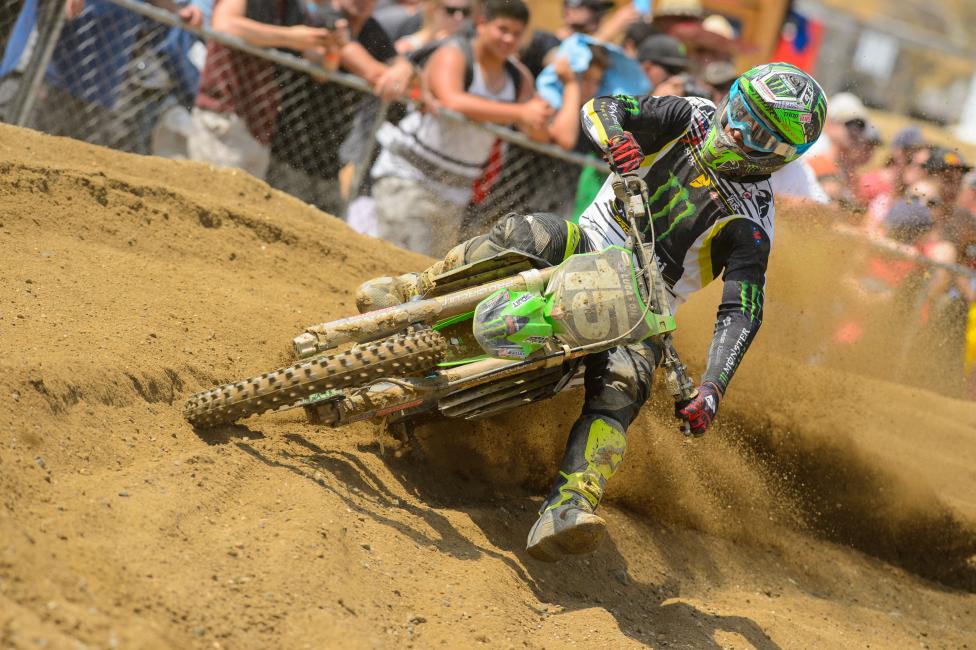 You're a bigger guy, and on the smaller 250cc bike, you have to be at something of a disadvantage, correct?
In supercross I feel that you can get away with it. But I'm 6'1" and I weigh about 175 pounds, and all the other guys are about 140 pounds or so, so coming out of turns and on the starts I was really out powered. It was tough, but I'm just pumped to have the power beneath me now and I'm just having a blast on the 450. You know, I'm not going to have any breaks during the off-season. I'm just going to work hard all off-season and try to get back up there. There will be a few new things happening with me for next year that will be a nice fresh change for me. It's going to be a good, fresh year for me next year.
You having said that, you're not really going to be thrown into the deep end next year as you had a very promising run on the injured Chad Reed's #22 450. How do you feel about the 450 Class looking back on that four-race run you had last winter?
It was a good learning experience. I know I have the speed to run with the guys. I always had good practice times and I won a heat race; I almost won two heat races. It was good for me. The only thing I really struggled with was arm pump. That's what kind of killed me in the races. I feel like I should have second at Daytona, but I couldn't even hold on to my handlebars as I was just getting the worst arm pump ever. I definitely had some good times and showed some flashes of brilliance, so I'm hoping to work hard this whole off-season and to have a solid year next year.
As far as getting arm pump on the bigger and more powerful 450, to your way of seeing—or feeling—things, what causes that?
I mean, I got a couple of weeks on the bike and then I raced on it. I didn't really get too much time on the bike before I raced it. I enjoyed it. It was nice to race all those guys and to get that experience for next year. It will be good to have a full off-season on the 450 and I'll be on a fresh new team and I'm really looking forward to it. It's a new chapter of my life that I'm really excited.
Technically speaking, why are you looking so forward to racing the 450?
I feel better on the 450 because it has more power. And on the Kawasaki, the frames are actually different from the 450 to the 250. I think the 450 frame is a little bit bigger because my legs don't feel as cramped on the 450. It's just more comfortable and has more power. It's just a bigger bike.
Monster Energy Cup is a month away. Do you have designs on doing that race?
Yeah, the plan is to do Monster Cup. I'm not going to have much time on my new bike before that, but I'm pretty sure I'll be doing it if I'm ready and I feel good enough to race it.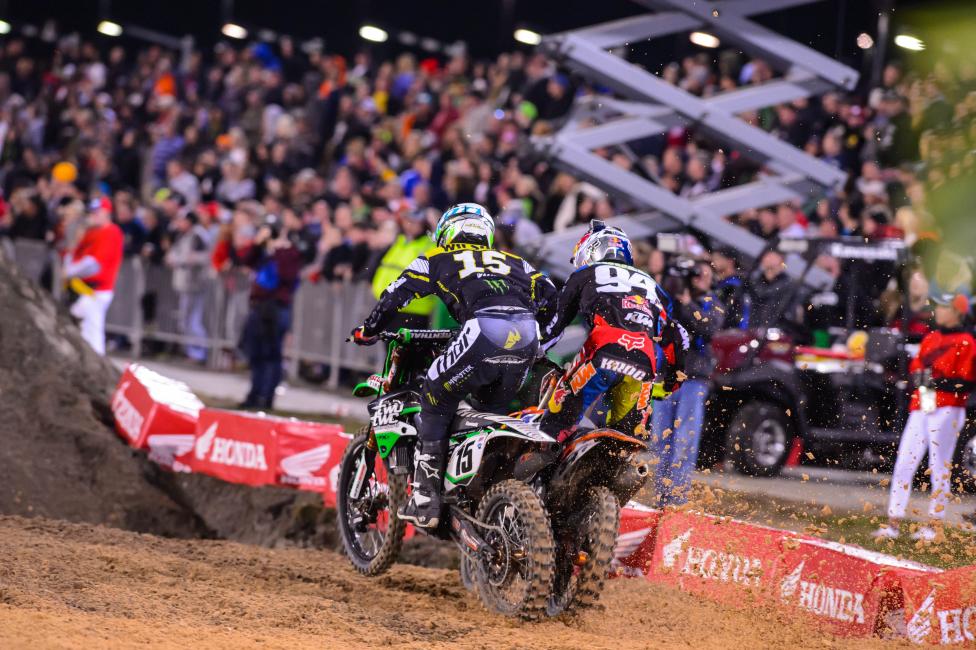 Speaking of the new bike, when exactly will you be on it?
I'll be on the new bike straight after the des Nations. That's' when I'll start testing on the new bike.
You've been with the green brand for a long period of time. Any mixed emotions about moving on?
Yeah, for sure. I've been with Kawasaki since 2006. I've had a long and good relationship with them, but it's time for a fresh change and I'm looking forward to it.
Sort of the collective thought amongst the industry right now is that the standard guard of, say, Ryan Villopoto, James Stewart, Chad Reed, Ryan Dungey might give way to this newer wave of riders in 2015. On this wave would be riders such as Ken Roczen, Justin Barcia, Eli Tomac, and yourself. How do you see this?
Um, I think it's going to be awesome next year. I think the racing is going to be really good. I think that there is a new crop of 450 boys coming up. It's pretty much like when I first got into the Lites class in 2010—my rookie year. Canard was there and so were Tomac and Roczen. And you can never forget James and Chad and all that. There are so many fast guys now that it's just going to be awesome. It's going to be such good racing for the fans, and I'm looking forward to it, as well.
How about Ryan Dungey? What's your take on him?
Dungey is such a solid racer and gets the job done. Dungey is a respected person, as well.
I know it's a little bit early, but what are you gunning for on that 450 come 2015?
I definitely want to be a consistent top-five guy. I definitely want to be on the podium, as well. I just want to run up front. I got to learn this year, and I have a year under my belt. I just want to run up front as much as I can and see where it takes me.
Okay, my friend. One last question: who will you be racing for come the drop of the gate in 2015?
[Laughter] You'll know October 1. I'll tell you then!