Hello, everyone, and welcome to the Rev Up. It's hard to believe the 2014 season has come to pass and the summer is over. However, this was a really great season and one we will remember for a long time. We say it at the end of each season, but this year in particular stood up and delivered big! I wanted to use this week's column to touch on some wow moments that had us all yelling at our televisions, pressed up against the fences and on the edge of our seats.
We didn't have to go very far into the 2014 Monster Energy Supercross Championship before our jaws hit the floor. In the very first heat race of the year, Jake Weimer and Eli Tomac blasted each other and effectively dashed their supercross hopes. In fact, Weimer never really recovered. Conversely, Tomac would come back to ride some supercross, but he looked behind the curve,. He finally got the job done at Millville in the Lucas Oil Pro Motocross Championship.
Later that same night, we witnessed perhaps the biggest moment of the year, as James Stewart closed to the rear tire of Ken Roczen. If you are a student of Stewart like I am, you could almost feel something coming. Then, BOOM! He yard sales it in the whoops. Earlier that night Jason Anderson pulled off a clutch last-corner pass for the win! That would become a trend for three straight weeks! Just crazy.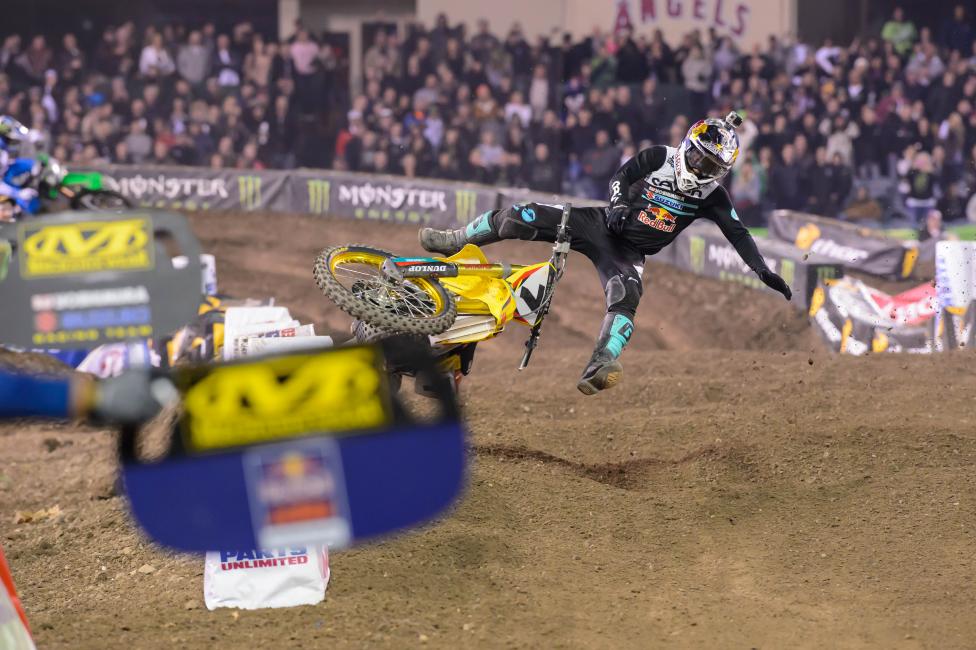 Of course, all loved Chad Reed's wins, especially the first one, when he methodically came through everyone to score the biggest win of the entire season. Trey Canard's win in Utah is a close second, but everyone felt Canard was ready to get an overall win. Meanwhile, almost everyone, myself included, thought Reed was D.O.N.E. Chad Reed will never be done as long as he in throwing a leg over and pushing to the line. Obviously, and unfortunately, that the next wow moment was when he drilled himself into that whoop section and exploded his shoulder. That sucked.
As the series made its way to Dallas, we saw Jeremy Martin miss the main event. I did an interview with him the week before and chose him as my title favorite. I shook my head through practice, his heat race, and the LCQ.
After that, the Atlanta Supercross was crazy good, with Broc Tickle getting the t-bone of the year by Mike Alessi, and then Ken Roczen somehow taking advantage of soon-to-be-four-time supercross champion Ryan Villopoto missing a triple and stealing his second victory of the series. Thinking RV had it, I had just walked from the press box to make my way to my car and stopped to see a monitor by the door; I couldn't believe it.
From there supercross kind of fizzled a bit. Stew got hot, then RV went on the warpath to shut down anyone's hopes. But in the 250 Class it was intense between Cole Seeley and Jason Anderson in the West Region, then Justin Bogle versus the entire Monster Energy/Pro Circuit Kawasaki squad in the East. Adam Cianciarulo was an early beast and looked to be a lock for the title until he blasted his shoulder. He'll be back. Next, it was Martin Davalos' turn to capture the title, but he got hurt. In the end, Bogle paid enough dues of his own coming into the season off a broken back, and proved to be a deserving champion.
Last week I reviewed the nationals and soaked up most of the wow moments, but there was just so much action in the 2014 Lucas Oil Pro Motocross Championship! Talking about crashes is kind of an ominous subject, but I'd say the yard sale of 2014 award goes to Jason Anderson for eating a ton of crap at Washougal. Those high-speed high-sides are gnarly and he was lucky to have tucked and rolled as well as he did. I'd say the winner here should be Jake Weimer, after the pictures of his back, which looked like Barry Bonds had beaten him with a baseball bat during the steroids era. The only footage of it comes from Malcolm Stewart's GoPro, which only gives us last-second glance of the impact, but the results were mega burly.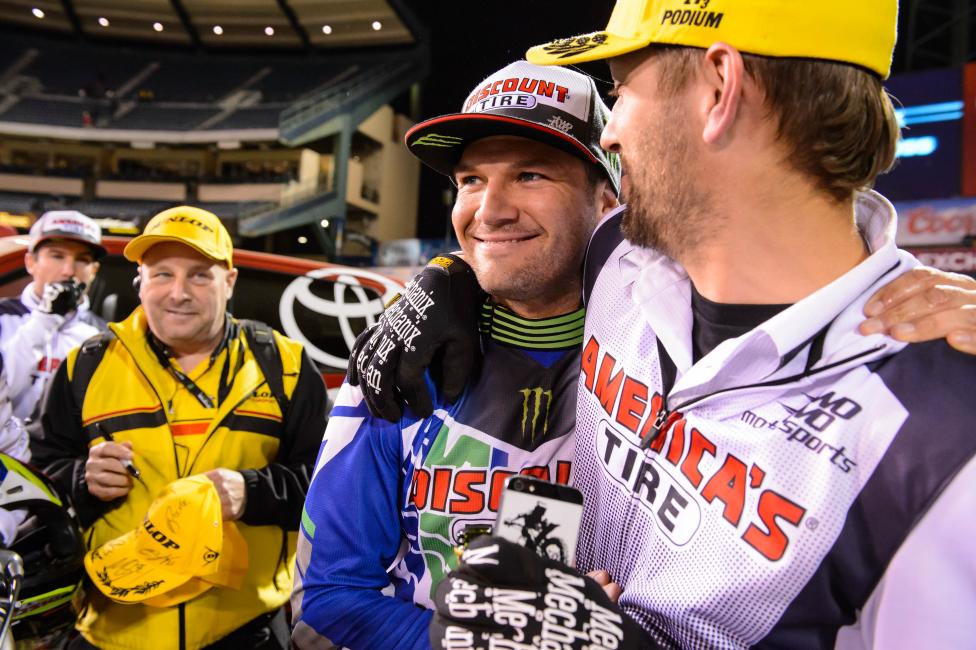 Then, the last crash of the year showed up by way of a pile up in the first forty feet of the second moto in Utah. Chad Reed, Fredrik Noren (who came back to score a top ten), and a couple other guys got tangled, and Reed's KX450F dealt him a blow. What an awesome but rough year for the #22. He's already thinking Anaheim 1.
Hell, we're all thinking Anaheim 1. Ah, but there is a very big race coming up next month for $1 million. The Monster Energy Cup will be here before we know it, and while it's hard to mark whether it is the first race of the year,or the last race of the year, it has quickly become one of the biggest races of the year. I'll be dropping some interviews on it in this column in the next couple weeks. Until then, let's enjoy the off-season. Wait. What off-season?
Thanks for reading, see you next week.