Among the many things Ricky Carmichael learned to master later in his career—supercross, mud, four-strokes, Suzukis—the media was one of them. Burned and booed in his early days at the top, Carmichael and his supporting cast turned the ship around, got ahead of every story, and spun all arguments in their direction.
His final seasons were still pre social media, so RC utilized the supercross press conferences as his toolbox. The audio from those pressers aired live as part of the Supercross Live! Webcasts. Most all of the motocross media actually attended, because in the days before podcasts and web video, reporters didn't have to go back to the pits for exclusives. If RC had something to get off his chest, he did it at the presser and everyone listened.
I hosted these press conferences, and it was my job to ask the questions, but if RC had something on his mind, he'd blast through them and get right to his point. At Houston in 2005, he clinched his fourth AMA Supercross Championship. My first question was more of a simple congratulations and the standard "How does it feel?" fodder. RC fended that off and went where he wanted to go:
"When I look around this room I know none of you picked me to win this title," he said. He was right. Chad Reed had beaten RC in the final six supercross races of 2003, then Carmichael missed the entire 2004 SX season with a torn ACL, and Reed took the championship. Carmichael switched from powerhouse Honda to sad-sack Suzuki, which hadn't won a single SX main in half a decade. Plus, James Stewart was coming. Ricky was right: we all counted him out. But he won it and deserved the right to say it his way.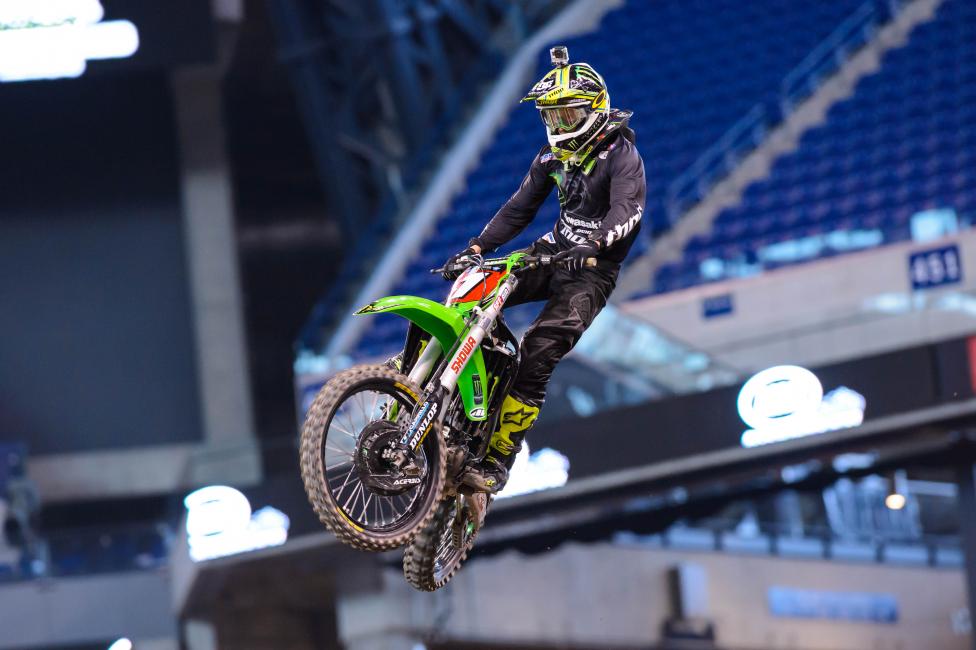 Ricky was constantly framing the conversation. His biggest play was in Atlanta in 2006. That morning the AMA announced results from a fuel test from earlier in the season, and Carmichael's sample failed. He was thus docked 25 points. RC's camp said they would not have anything to say about this until after the race. He of course went out and won the main event, then settled into the post-race presser. I tried to ask something about the race, but he went straight to the bull's eye:
"Well, since I've already been docked 25 points, this championship is basically over. I might as well just park it and say see you guys in May for the outdoors."
You could have heard a pin drop after that. After a few weeks of negotiations between Suzuki, the FIM, and the AMA, Carmichael got his points back. His words from that press conference carried real weight.
He was a master at the craft. He announced he was switching to NASCAR racing for 2008, and the world wondered if he knew anything about setting a car up. He spent the 2007 conferences gushing deep thoughts on bike setup and handling, just so everyone knew the guy had technical knowledge and a feel for things.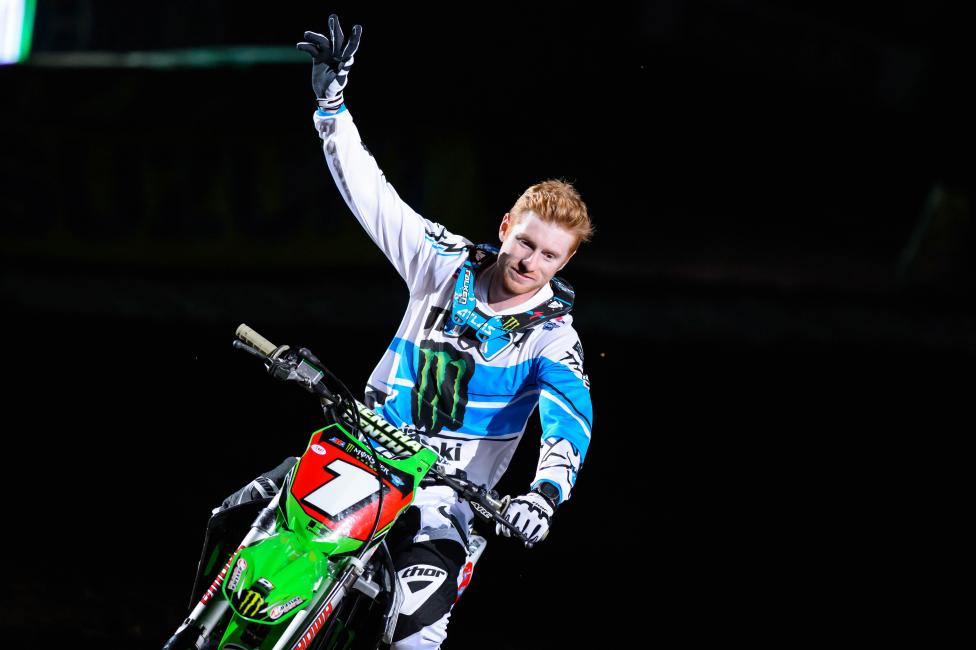 His greatest coup came prior to the Las Vegas SX finale in 2006. That race was already mega-hyped with Carmichael, Reed, and Stewart separated by just 5 points. Then RC raised the stakes. Steve "The Factory Spectator" Bruhn, the pre-eminent Internet news/photo/gossip hound in the sport at the time, was already briefed on what was coming, so he teed up RC with, "When this race is over, what's your future?"
That's when Carmichael announced, stunningly, that this very 2006 season would be his last as a full-time racer, and he'd compete in just half of the races in 2007. He got out front of the news again. RC would take his chances on beating Reed the next night, but he knew he didn't have to beat a fast-closing Stewart, who was five points back. He finished right between them and emerged with his fifth AMA Supercross title. And he'd never be beaten for a supercross title again—because he wasn't going to race for another one.
This took all the pressure off for 2007. He wasn't the typical defending champion—he was just a living legend on a victory tour. If Stewart or Reed or anyone else beat him in '07 at a race, it would mean nothing. Carmichael's legend was sealed and the fans were just glad he was there. And if he did win another race or two? Bonus time. Good times.
It's almost impossible to script a career, but RC nearly did it. He'd get to race one more season, get paid, get cheered, and win races, yet not deal with any pressure. The half season was a superb plan, and it worked even better than expected because he won two supercross races and all six of the nationals that he entered. Stewart also took it to him at a bunch of supercross races, but no one cared because Carmichael had already sealed his legacy in a box in 2006, and he wasn't battling Stewart for points. Nothing that happened in 2007 could change anything. In fact, he literally said that when he finished third at Anaheim 1, a race he somehow never won, "Not winning here doesn't change my legacy or my career." How many athletes get to tell you what their legacy will be?
Where am I going with all this? Time for a modest proposal.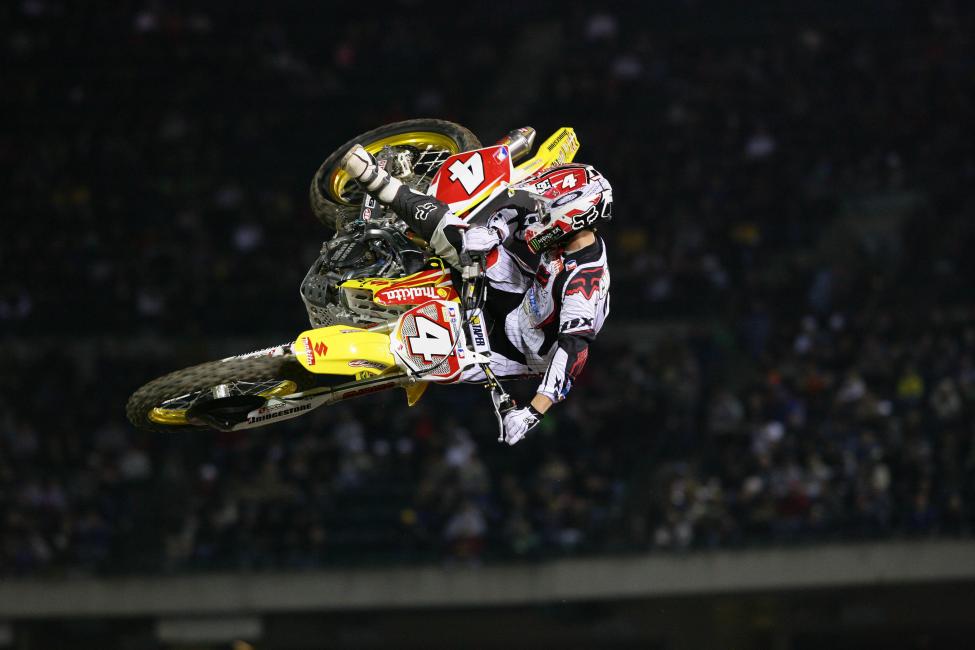 Last time we saw Ryan Villopoto in public was at Loretta Lynn's last month, when he was signing autographs for Kawasaki and actually helping us in the announcer's booth. He described just how nasty his latest knee injury was (significantly worse than his previous ACL tears, because he tore the meniscus from the bone, and, well, because a third ACL surgery is always worse than a first or second). After he explained how long he'd need for rehab and recovery, we realized he might not even be back on a bike until November. The gears started grinding. Yes, we know RV might not want to come back and race Monster Energy Supercross in 2015. He might retire. He might go to Europe. But, if he can't get on a bike until November, even if he wanted to race Anaheim 1, would he even be 100 percent ready?
When Villopoto won his fourth-straight supercross championship back in April, he didn't seem happy. I've written before that once you hit his heights, you're racing more to not (finally) lose than you are to win. Another title is just a relief, a "they didn't get me this time." And Ryan kept alluding to such things. He'd mention over and over how in this sport you're only as good as your last race, and how as soon as someone beats you they forget everything you've accomplished previously. It's clear that the pressure to keep this thing going has had a massive impact on RV. If he wins another title or race, it doesn't mean as much to the press and fans because he's supposed to. Yet, if he loses, it's catastrophic.
Of course the GP rumors keep picking up steam, and that seems to be the most likely option right now. For fans and press this would be cool and fun to follow. We haven't seen someone make a move like that in thirty years, so it certainly will be exciting. But as cool as it will be for we outsiders, it's certainly going to pack some pressure for RV. You know Tony Cairoli and the rest will be chomping at the bit to prove themselves, as will all fans on both sides. RV in Europe will equate to USA versus the World, a virtual Motocross of Nations every weekend. I think RV would have relished this challenge at one point in his career, but it's certainly not a pressure-free environment for a guy who seems burned out on being "only as good as your last race."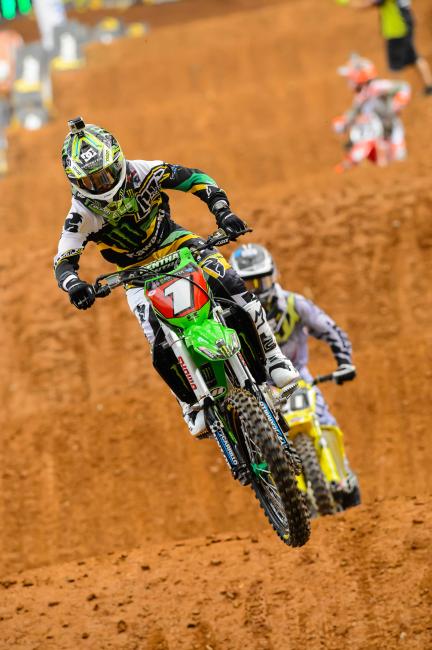 Back to the proposal. Let's say he's not 100 percent for Anaheim 1 and bows out of his supercross title defense…but offers to return to supercross at mid season when he's ready. He also announces this season will be his last. Suddenly, he's pulled a Carmichael in 2007. The pressure to win the title is over, and any results (or wins) he does get are just gravy. Fans who were tired of watching him win and had entered "anyone but RV" mode would now be thrilled to just see him one more time, and watch him play the spoiler role. All bonus, all fun, no pressure. And when you don't have pressure to win, you don't have to work quite as hard during the week, right? Heck, if there was a way to structure a contract as such, maybe he could even race just a handful of GPs or nationals, but just avoid a full season anywhere, so as not to get into the championship mode. It worked wonders for Carmichael, and fans everywhere would love to see it again.
We know that Villopoto isn't nearly as concerned with records or legacy as others that have reached his heights, but it's still nice to script your own ending. Like Carmichael, when you end your career with the half season, you frame the argument and lock in your legacy based on what you did the previous year. No more, "Only as good as your last race."
Sure is a nice way to release the pressure. You know, to be able to say after Anaheim 1 "Not winning here doesn't change my legacy or my career." How many athletes get to tell you what their legacy will be?