Jason Weigandt: This is the real inspirational story that aspiring pros and their parents should study. Seely has no business being in this position if you go by his amateur years and early days as a pro. But his rise to factory 450 status—the most elite level in this business—just goes to show you can still make it if you're not the fastest 13-year-old minicycle pilot in the world. Seely, in fact, grew to dislike the pressure of the amateur scene so much that he even quit the sport for a bit, and he told me recently that he only turned pro just to see what it was like. He planned on racing a year of supercross and then heading to college, because he never thought he'd make it. But he grew and improved year after year, and his results absolutely justify this ride.
I often hear people say at Loretta's that parents should just let kids be kids, but it's getting harder and harder to make that argument when the kids who get to be regular kids are getting beat by the ones who train and ride full-time at a facility somewhere. Seely proves you can still grow up like a normal person and succeed in this sport, which is exceedingly rare and very refreshing.
David Pingree: This move has been common knowledge for at least a couple of months, but it's good to finally see it posted officially. Cole Seely is incredibly talented on a motorcycle, but the hard work he and his team have put in the past few years is what earned him this ride. When Jeff Ward came to the Troy Lee Designs team at the end of 2009 and asked us to have a look at Seely, we were not sure if he would be the best choice. He was on our radar after showing a flash of speed in Seattle and leading a heat race for the Fun Bike Center Suzuki team, but past that his results weren't that great. Wardy insisted that he had the stuff, and that was all TLD needed to hear. In his first year with the TLD team Seely was like a sponge, learning from Wil Hahn, Ben Townley, and occasionally his team manager (me). He earned his first podium finish that year with a second overall at the San Diego round. We all knew it was just a matter of time before he won one. The following year in Los Angeles he made it happen and put himself in contention for the West Region title. He did that this year as well, and after five 250 supercross wins, an outdoor podium, and a podium in 450 supercross as a fill-in rider, he has absolutely earned his place at Factory Honda.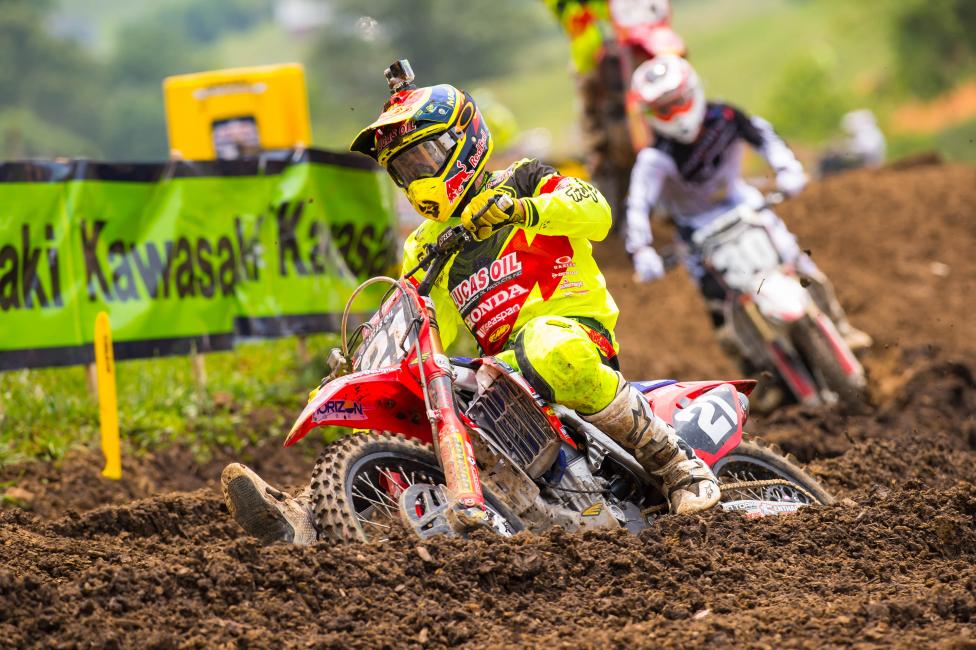 Seely is in a great place. With Canard and Tomac leading the Honda charge Seely will fly under the radar coming into the 2015 season. With little pressure and expectation he could stun people at the opening round in January. Cole has plenty of speed under the hood, and with a full off-season to get a 450 dialed in, Seely should be a front-runner. I know the 450 is a different animal, but at many of the West Region supercross races this year, Seely posted the quickest main event lap of the night… in both classes. I'm just saying.
Jason Thomas: Cole Seely is a perfect Honda fit. He has the clean-cut image that Honda is known for and looks for. He has done really well in his limited fill-in roles with the factory Honda squad, going back to last season. As we all know, supercross is very important to teams and sponsors, and he definitely seems to excel inside. He even landed on the podium at the Indianapolis round this year, which speaks volumes about his adaptability to the bigger bike. I expect Seely to make some noise at a few rounds next year. He gets great starts on the 450, and his skill set is among the highest I've seen. The question mark will be if he can maintain that for seventeen rounds in his first year.
As Matthes has pointed out before, Seely has struggled in the Lucas Oil Pro Motocross Championship, but he did get on the podium this summer, so that is something to build on for 2015. With Eli Tomac and Trey Canard both on Hondas, he won't be expected to contend for a championship, which will give him time to learn and improve. Learning, gaining experience, and being ready to seriously battle in 2016 is what I expect from Seely.