Miller Motorsports Park
Tooele

,

UT
Race Center: Utah National
Lucas Oil AMA Pro Motocross Championship
Well, that's a wrap. After twenty-four grueling motos, the American motocross world gets to take a breather, recuperate, and enjoy a few well-deserved weeks off. The final round of the Lucas Oil Pro Motocross Championship took place last weekend in Tooele, Utah, and it was a much-improved second go-around. Going into the weekend, everyone remembered the tough weather conditions at the Utah National last year and hoped for better circumstances in 2014. As I sat in the pouring rain on Friday afternoon staring at the track, I was doubtful we would get the awesome event conditions we all wanted. Fortunately, our series has a great organizing group and track crew that worked all night to make sure the track would be picture perfect for the day's racing action… And action we would see. Trey Canard won his first ever 450 outdoor overall in dominating fashion. It was a flawless day for the #41 Honda, posting a perfect score.
For Canard this win has been in the works for a few weeks now. In fact, for those not paying attention, he won four of the last six motos! What was the difference, you ask? At Unadilla (also the beginning of his winning) Canard debuted his new KYB suspension. This was a fairly big move for Honda, as they have been synonymous with Showa in the pro racing world. Many were curious as to how this would shake out with the team and if it would make any difference at all. That led to this question: If it does help, is it an actual mechanical improvement? Or, if mentally he would be more confident and thus faster. Well, the results are in and he has definitely been better. Much better.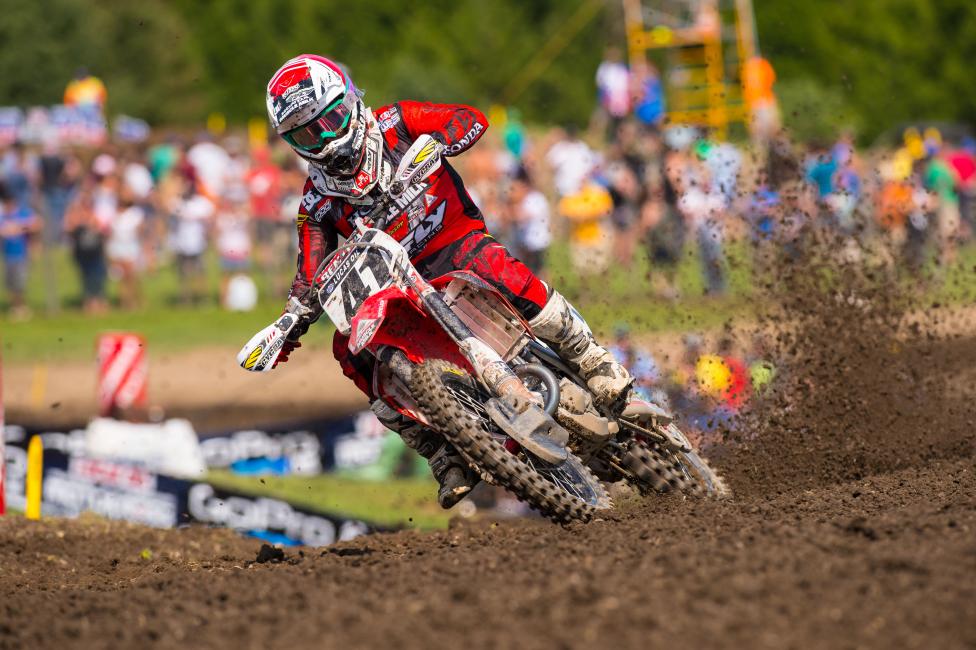 Over the first nine races his average moto finish was 4.05. Not bad, sure, but not good enough to contend for a title against the likes of ultra-consistent Ryan Dungey and wunderkind Ken Roczen. In the last three races, however, he dropped that average finish down to a 1.83. That, my friends, is how championships are won. I know, I know, it was at the end of the season and the damage was done by then. But looking forward, if this suspension change has unlocked Pandora's box, we may have a new face in the title chase. Canard was a totally different rider in those last three races. He was faster in timed qualifying (performance edge), his starts were better (mental edge), and accordingly, his results were better.
So, which is it? Is it that much of an improvement, or is it the mental boost in confidence?
Riders find solace in all sorts of weird places. I absolutely had to have my goggles resting on my handlebars a certain way before the race and a certain pair of knee brace socks that I couldn't leave home without. The mental confidence I drew from such silly rituals can't be overstated and can sometimes carry over into real changes like this suspension change. For Canard, I believe it was a bit of both. I think he truly does feel more comfortable on the new suspension, but the mental edge he gained was even more substantial. He is happy with his setup, and whether the improvement is based in data or perception, the resulting speed increase is undeniable. As we move into supercross testing and October's Monster Energy Cup, Canard will get another chance to prove that he will be a real threat at the crown in 2015. Until then I bet that all of the teams will re-examine their own ideas and methods. As Canard proved, one seemingly insignificant change can mean the difference in winning and losing, and as many will tell you: winning isn't everything, it's the only thing.