In The Mag, On The Web is an online feature where we take a behind-the-scenes look at one of the print features in Racer X Illustrated. Check out some more information on "Second Act" by Eric Johnson
On the eve of the 2001 AMA Supercross Series, I received two phone calls in what was then the Racer X West Coast office in Torrance, California. Firstly, FELD, organizers of the series, told me we were all collectively on deadline to finish the 2001 souvenir program that evening. The second call came from KTM. Still a ways away from the world dominance we now see in 2014, the Austro/Ohio firm wanted to make sure that we made it out to Elsinore that same evening to shoot program images of their new 125cc World Champion. Straight from LAX and out of the box van, that was the moment I first met Grant Langston. Congenial, sincere, and forthright, we became instant friends.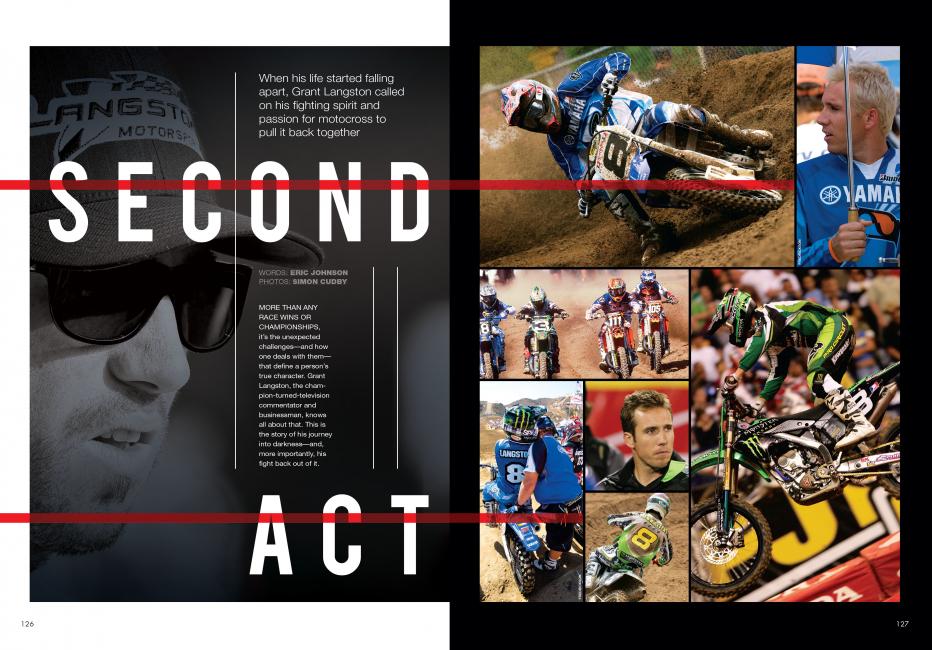 For the next decade, and through some very radical ups-and-downs, I followed and, I guess, documented the South African's career. There were the best of times (national and supercross championships) and the worst of times (coming down with eye cancer, being forced to leave the sport, dealing with demons that come from tough times, and just plain being bummed out—we both had experience with the demons topic). We were always able to relate to each other very well, thus, when the time for Racer X to catch up with GL and sketch out an overview/fly-by of his past, present, and future career, I got the call. And I was very happy to begin the process.
And with that, I'll end this introduction with a quote from my all-time favorite racing journalist Nigel Roebuck. "Through my life in racing journalism I have reviewed countless folk in the sport. Some erudite, some self-obsessed, some fascinating, some modest and some emphatically not, and on and on. Life is life, and you get all types in racing, as in any activity." Right on, Nigel. And right on, GL!
Read the entire "Second Act" feature in the October 2014 issue of Racer X right now or look for the cover below on newsstands to pick up the issue in person.