Unadilla Motocross
New Berlin

,

NY
Race Center: Unadilla
Lucas Oil AMA Pro Motocross Championship
Common conversation in the sport has always centered on how exactly to bring in more outside sponsors and provide maximum exposure for those sponsors. Founded by John Slater, Slater Skins has, for years, been marketing full body panels to help better spotlight sponsors. At this past weekends Red Bull Unadilla National, Slater Skins, along with sponsor The Blue Buffalo Co, a family owned premium natural dog/cat food and treats company, and North Carolina privateer Ryan Zimmer, debuted the skins. We caught up with the always-quotable Zimmer earlier this week to get his thoughts on the product.
Racer X: I think you were the talk of the pits this weekend with your bike. How did you get hooked up with Slater Skins and The Blue Buffalo Co.?
Ryan Zimmer: I was doing supercross and I got a phone call from Tyler King and he was like, "Hey, I want to get you in touch with this guy named John at Slater Skins." We were actually going to do something for New Jersey SX, but I broke my back at St. Louis. We stayed in touch off and on since I've been hurt, and probably two weeks before Unadilla and they asked my dad if I would be ready to race, and my dad was like, "Ryan hasn't rode since he broke his back." But they had Blue Buffalo stepping in, and they really wanted us to use the Slater Skins. And my dad was like, "I'm sure he'll race it if you want him to." I wanted to race, but we didn't have a bike together and I haven't ridden and I'm out of shape. But we managed to get a bike from a friend, and they lent us a 2012 Honda 450. We put a Yoshimura pipe on it and my Excel Rims I had from supercross, and we were ready to rip. That's pretty much all she wrote.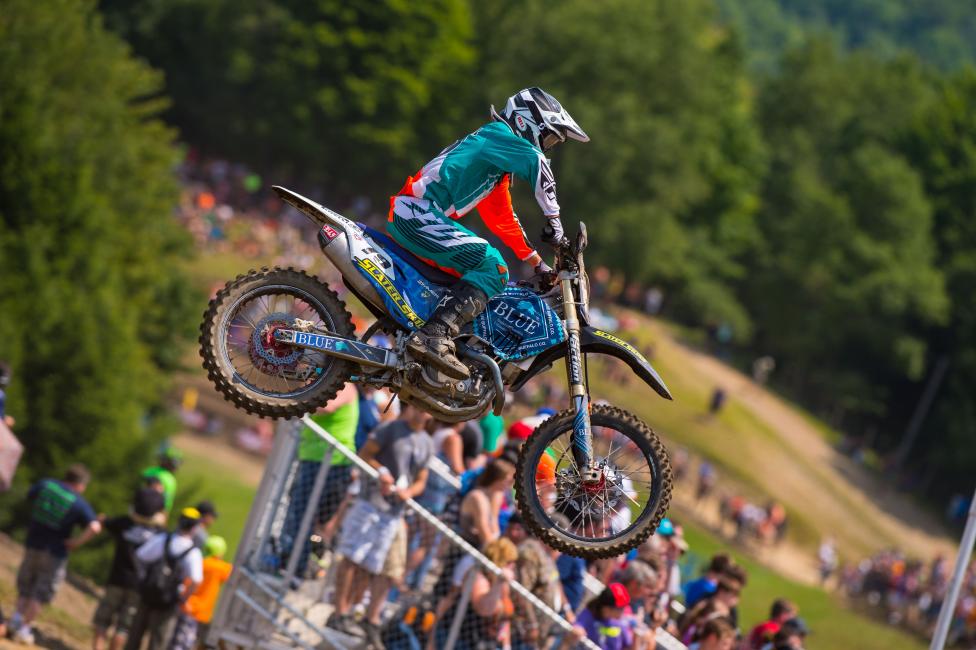 I think the biggest question everyone has is: Is it uncomfortable riding with the Slater Skins?
That picture on Racer X [last week], that was just a guy's bike that they put my plastics on. That wasn't the bike I raced. I actually thought it looked pretty cool in person. Everyone was like, "You're going to die on that thing." But I couldn't tell one bit of difference. The shrouds, I couldn't tell a difference. The only thing I could tell a difference on was the shield thing [on the handlebars], and that's only because I could visually see it. But I couldn't see the shrouds. So, I loved it. I didn't think there was one bad thing about it. Everyone was complaining that I was going to overheat my bike and all that stuff, but I didn't have one bike problem. The only thing that got overheated was me [Laughs]. My bike didn't have any issues.
How much time did you have to practice with the shrouds on?
I actually rode the 450 one day with the shield on it. I have a practice 250F that is slow as crap, and I did one moto on it with the shrouds, and I didn't have any issues or anything. So, we said let's put it on the 250 and we'll be ready to go, and that's pretty much what we did.
You were definitely sticking out from the crowd, which I think is there objective.
Exactly. If people saw me, they knew I was riding for Blue Buffalo. That's John's whole point to get across is for the marketing aspect, and if an outside sponsor steps and wants to give us money, they want to get something in return. Just having a little sticker on the bike doesn't really get them much advertising. But if they can see it, and like you said, it was definitely visual, and that was the goal. I think our sport definitely needs some more outside sponsors coming in. It just really seems the same sponsors are going around and around in a loophole in motocross. Pretty much, it's just the energy drink sponsors, and we need some more outside sponsors coming in to make it even better. In motocross, we have way more fast riders then we have teams. I think back in the day we had way more teams than we had fast riders, so I think it would be good if we can bring more outside sponsors into the sport.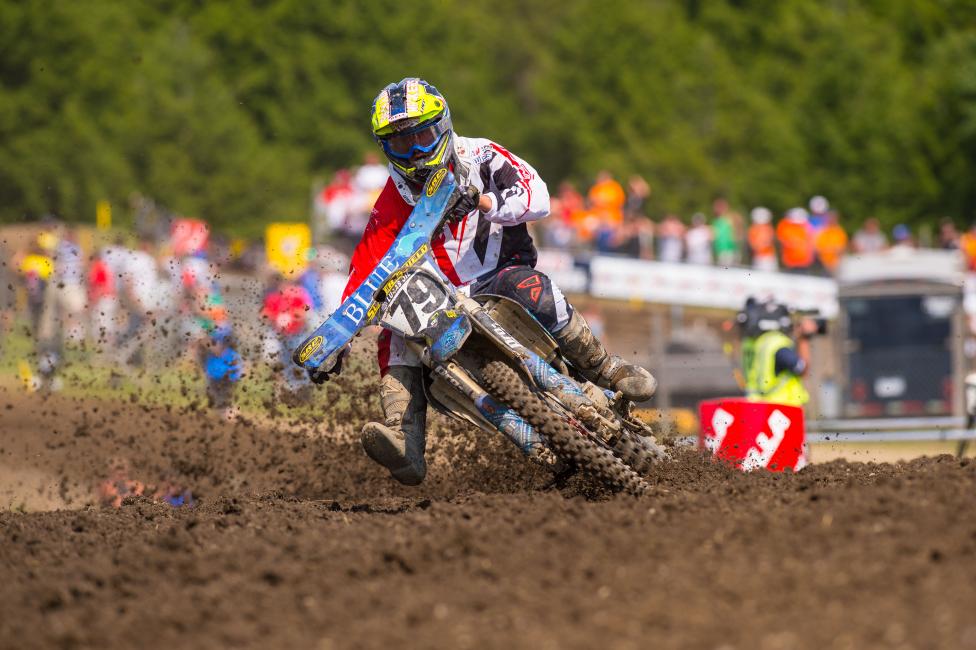 Have you heard anything from Blue Buffalo? Were they pretty pumped on the effort?
Yeah, I think they were really pumped. We're working on some stuff right now, trying to get something lined up for 2015. They are wanting us to maybe do Monster Cup. So, we may go and do that. We've also met some new people—Bill, from 3-D Racing, he let us use his rig—he may be part of this thing as well. We have some big things coming for the future, so hopefully everything works out.
This was your first race back since breaking your back in supercross. Fitness probably wasn't where you wanted it to be, but overall are you happy with how things went?
Definitely. Since I broke my back, I've just been training kids and haven't ridden a bike at all. I've been teaching kids how to ride, but I haven't been riding! I've been telling kids what to do in the gym, and I haven't really been in the gy! So I was really out of shape. I think if I was in shape I would have been able to get top-twenty at Unadilla. I was more than happy with my results. I was just disappointed in how out of shape I was. I didn't think I was going to be that out of shape [Laughs]. This was my first time on a 450, so it was pretty tough. I got blisters all over my hands, because my hands turned into little girl hands. They were all bloody and blue. My dad knew I was tired, and I would come by the mechanics area, and he would have a smiley face on the pit board, which made me laugh. I was like, "Oh, God, how many more laps?" Then he saw I was about to get lapped and he put up, "Are you ready for water?" But I had a blast, and it was just fun being back on the bike and racing again.
You're working as a trainer down at South of the Border. How different is it having to tell people how to do something instead of doing it yourself?
To be honest, that's one thing I really love to do. I have a big passion for it. When I see a kid on the bike and he does exactly what I tell him to do and rips a corner and comes back and is smiling, it makes me feel like I was on the bike with him and we railed the corner together. It's been great.
I got meet your dad this weekend and he's been helping you since the amateur ranks. Tell us about your relationship and how motocross has brought you two closer.
I can't say anything bad about my dad—he's been great. We probably have one of the best relationships that I know of. Motocross has made me and my dad's relationship so much better. We've had our ups and downs, but he's stuck with me through thick and thin. He knew going into supercross that I was out of shape and we weren't ready to go racing, but when we went to Atlanta and made the main he was crying; I was crying. After we got back we were laughing saying, "I can't believe we just made the main." It's just been great, and I couldn't ask for anything better. He's the man.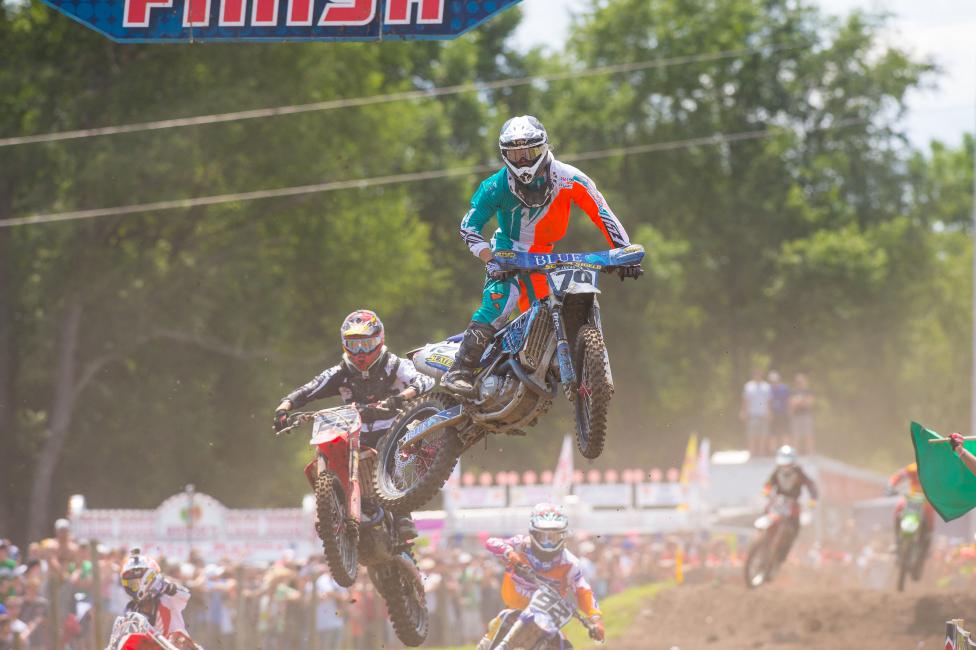 When will we see you next?
I'll definitely be riding supercross. I had to give my bike back this week, so I won't be racing any more outdoors.
Thanks, Ryan. Who would you like to thank for helping you?
Blue Buffalo, Slater Skins, 3D Racing, Todd and Tracy Brown, Carl and Buddy for letting me use their bike, VPE, Cliff Fegert for letting us use his trailer, Doc for letting me borrow his Yoshi pipe, Tyler King, ICW, Fly, Scott Goggles, Bell Helmets, Triangle Cycles, Liquid Performance, Hog Heaven, South of the Border, Pirelli, Moto 95, Pro Action, my girlfriend Samantha Witt, and of course my stepmom and dad.