Unadilla Motocross
New Berlin

,

NY
Race Center: Unadilla
Lucas Oil AMA Pro Motocross Championship
Some riders showed up to Unadilla to race dirt bikes with absolutely no worries at all. Their bike—built by a mechanic—were waiting for them under a truck that someone else drove to the race. Their gear—that someone else brought for them— was waiting in the same semi. All they had to worry about was getting dressed on time and making the start of their motos.
Kyle Chisholm was not one of those riders.
The Floridian was unable to secure a ride full time in the U.S. this year, and before supercross even started, Chisholm inked a deal with Rockstar Energy Yamaha, which sounds awesome, right? Well, not if you're American, because that team is actually located in Canada. That's right, Chisholm was heading north to race the CMRC Canadian Motocross Nationals instead of staying down here to race the Lucas Oil Pro Motocross Championship.
Chisholm still showed up at the races that didn't conflict with the Canadian schedule, and at Glen Helen, Muddy Creek, and RedBud he did pretty well as a total privateer. Remember what we were saying about racing the U.S. Nationals that "didn't conflict"? Well, the two series' DID conflict this past weekend, as there was a Canadian National on Sunday in Ulverton, Quebec, and a Lucas Oil Pro Motocross race in upstate New York at Unadilla. Just because there was a race in Canada on Sunday wasn't going to stop Chisholm from showing up and racing Unadilla on Saturday.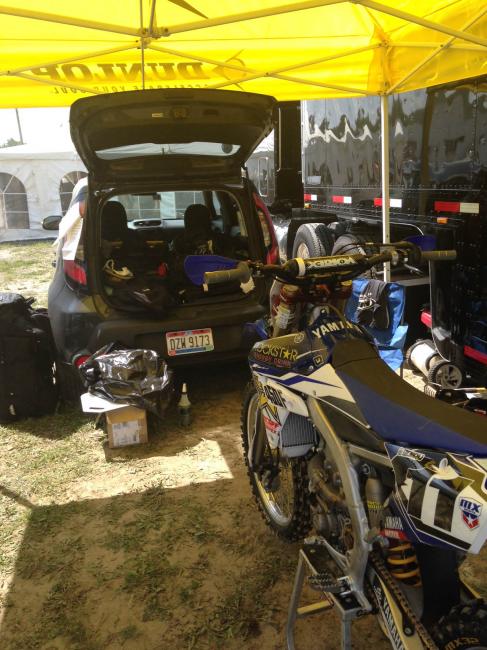 The iron-man effort has been done before by Chisholm's Canadian teammate, Bobby Kiniry, and I've done it as a spectator a couple of times (does that mean I'm an ironman?).
Unfortunately, Chisholm's Unadilla, unlike his other U.S. Nationals he's raced, didn't go well for him after a crash-filled first moto left him seventeenth.
"It [the first moto] wasn't good by any means, but considering all the crashes and all that, it was fine," Chisholm said. "I was just going to try and top-ten the next moto. After a bad start I worked my way up to like thirteenth after a few laps. Then after Screw-U, there's that little tabletop. I drug my pegs up it and went over the bars pretty good and had a really big crash there. Knocked the wind out of myself. I also kind of hurt my wrist and my back a little bit, and my shoulder."
That was it for Chiz, as he and his mechanic/buddy Ricky Renner decided to call it a day.
"Laying there on the ground and knowing I had a six and a half hour to drive to go, and also knowing that Canada is where I get paid to race and is the first priority, I packed it in," Chisholm said about his disappointing day in New York.
"We should have been at our hotel in Quebec around 12:30 a.m.," Chisholm said about the six-hour drive. "But the lineup at the border was ridiculous, and it took us about an hour and twenty minutes to get through there. All in all, we got to bed at 2 a.m., and had to get up at 6:15 a.m. to head to the track."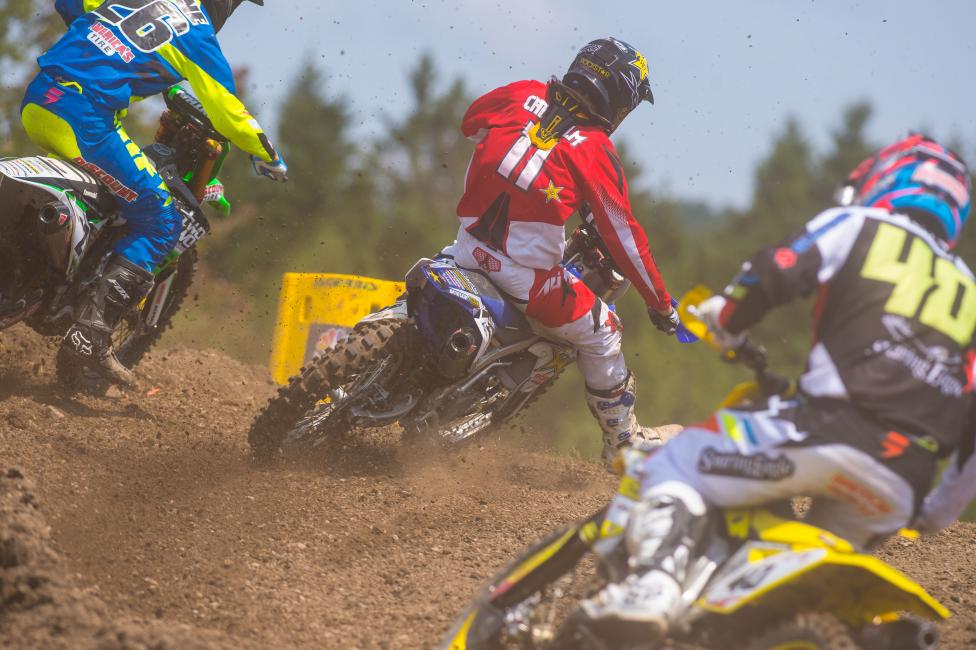 Yeah that's right—HE HAD TO HEAD TO THE TRACK FOR HIS SECOND NATIONAL IN TWO DAYS. (Just thought I would put that in caps for you people.)
Was racing at Unadilla a bad idea?
"I can't lie. That thought definitely crossed my mind the first practice when I felt like I could just fall asleep sitting there," Chisholm said. "Honestly, throughout the day I could be sitting in the rig and I'd be sitting in a chair, and I feel like I could just fall asleep at any time. I was tired!" [Laughs]
It's been an up-and-down season for The Chiz in Canada. There have been some good races (Gopher Dunes and Regina), but he's also had some bike problems and probably hasn't ridden as well as he would've liked to at other times.
"We're all riding really good," he said. "It's not that it's a terrible season, but I would like to have been contending for the championship, whether I beat guys like Mike [Alessi] or not, I definitely would have liked to have been at least top three and contending."
In Canada, Chisholm's day seemed destined to end up as disappointing as his day in New York when he was forced to stop in moto one because he couldn't turn his bike. Thinking at first that it was a flat front tire, Chisholm checked it out and saw that the tire was fine. After dropping back to fifth after the pit stop, Chisholm worked his way back to third, and the team figured out it was the ignition output module that had broken away and was getting caught in the forks preventing the steering from going all the way to one side. Considering the stop and the lack of turning, a third was pretty good.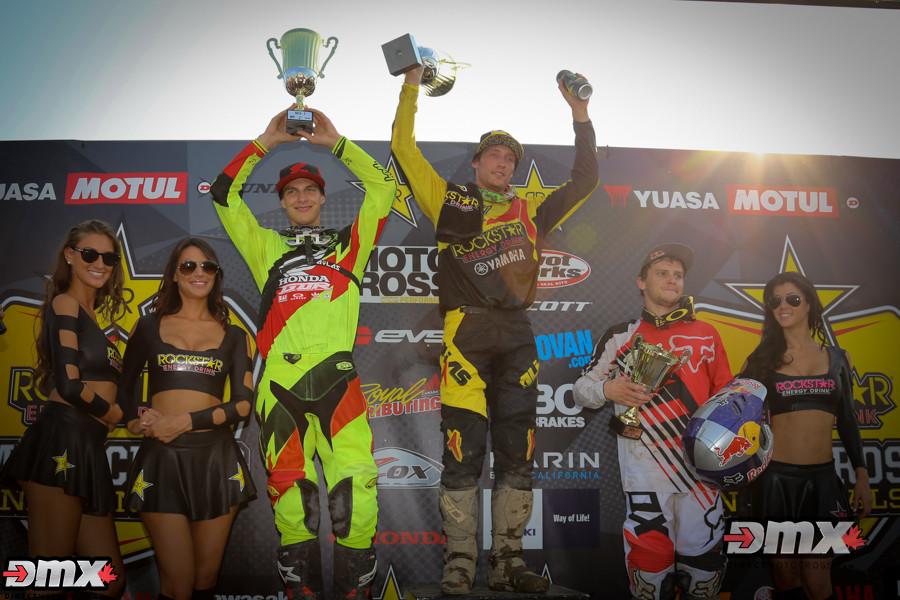 "In the second moto I got a good start again, but I rode terrible the first couple laps and went back to sixth. I regrouped and actually got in behind Alessi for a few laps. I was like, 'Okay, just stick with him. He's going to go to the front.' I think we were maybe fourth or so," Chisholm said of his second moto. "So I was riding behind Mike for a few laps, and I'm like, 'I feel like he's holding me up almost. We should be up there.' Mike's been a little better than me throughout the year, but I was like, 'I need to just go by him.' So I made a pass on Mike, which I was happy about."
After making a bit of a run on the leader Tyler Medaglia, Chisholm ended up second, and his 3-2 moto scores gave him the overall win in the MX1 Class. It was vindication for Chisholm after Unadilla. Sometimes the motocross gods work in mysterious fashion.
"I literally got I think one or two days of testing with the team before the first race. The actual first time I really got to ride the bike was pretty much at the first race. It was definitely a little bit of a struggle all around," Chisholm said about his Canadian season. "We kind of went into a big hole after the first four races; we were in a pretty big hole for the championship, which was kind of a bummer. Since then I feel like I've gotten better. I've had a couple bad motos here and there, but for the most part it's been good."
Florida to New York to Quebec and back, Chisholm had an eventful weekend in two countries at two different national tracks. It wasn't easy, but the working-man motocrosser has to make the best of what he's got.
It's exactly what Kyle Chisholm's been doing all year.