Billy Rainford got his start in the industry with Racer X Canada back in 2002. From there he moved over to Directmotocross.com in 2010 and has been there since. The London, Ontario native covers the CMRC Canadian Motocross Nationals with a watchful eye and has been witness to the heightened drama this season. Things seemed to boil over last weekend between Kaven Benoit and Vince Friese, with reports that fans were throwing rocks at Friese.
To get more insight into what is going on with our friends up north we chatted with Rainford earlier this week. For more on the Canadian Nationals, make sure to check out Directmotocross.com.
Racer X: Let's start with this past weekend. I saw a lot of tweets from you guys saying that this past weekend was probably one of the craziest in Canadian motocross history. Can you give us a little wrap-up of what exactly went down?
Billy Rainford: It just seems to keep happening over and over with a couple of the guys up at the pointy end of the whole motos—obviously we're talking about Kaven Benoit and Vince Friese. I have my own theory of how this happened. So Friese comes up to Canada. His reputation came ahead of him. I don't want to use the word aggressive, but let's say he's not afraid to mix it up out there on the track. So the way I see it happening is we're Canadians, we're known to be polite, we're known to be "no, no, after you," apologizing for everything. And for someone to come up and be a little more aggressive, maybe forcing issues, showing a wheel, pushing guys around a little bit, not taking any crap, even maybe talking out loud about some stuff at the line or in the pits or on the stage, that's just so foreign to us. We're just very low-key up here. So I think what's happened is Vince has been doing his thing, and the Canadians were kind of like, "Well, what is going on?" We're just so not used to that. So Kaven has put up with as much as he could in his mind and now he is retaliating. He's gone from being mild-mannered Kaven Benoit, he's just such a nice guy, but I think because we're not used to this kind of bar-banging and aggressiveness that he all of a sudden kind of hit the breaking point and now he snapped. So he's retaliating too. That's just kind of the way I really watched it. If you listen to our podcast we actually spoke to both those guys yesterday and when you speak to Vince he thinks Kaven's the problem. If you speak to Kaven, he thinks Vince is the problem. So it's just escalating, and they're starting to make fun of each other. Kaven now won't even speak to him. He only speaks to him in French now, because Vince made fun of his accent.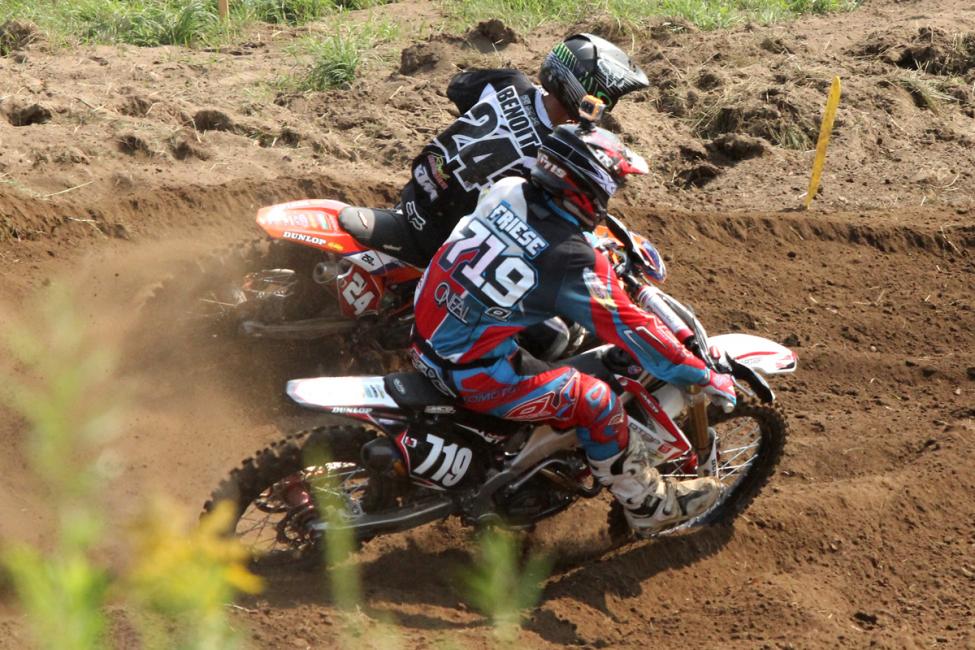 I heard reports that fans were throwing rocks at Vince. Can you confirm that?
I didn't see it. I actually asked Vince point blank that yesterday in the podcast we did; he said, "Yeah, people were throwing rocks at me, and they were throwing water into my goggles trying to screw up my vision." And I even saw a guy who was jumping out on the track in front of him, yelling at him. They didn't actually touch him but they were jumping into his line.
So it's gotten a little crazy. Do you think it's crossed the line?
Absolutely, but it's one of those things. We knew coming up to this, we kept saying… It's like you're in Europe, it's like you're watching the Tour de France. They line the track. It's almost like anarchy. There are no fences. Fans, if they wanted to, could put an arm out and grab his shirt. They're that close. There was no fence. So when they see stuff like that, obviously they're going to be… Part of it is the Canadian and the French guy of course, a Quebec rider, and apparently in the sight lap Vince kind of came over and was roosting Kaven on purpose, and then he tried to line up beside him, so Kaven was trying to avoid… Go over a couple of gates. Well, of course the gate drops and Vince cut over. And we've got pictures of Kaven doing that to Vince at Deschambault, so it's just going back and forth.
Mike Alessi, he's been fast, but he's also had his mechanicals and ran out of gas at a race. Briefly, how would you wrap up his overall season?
I would say if this was anywhere but Canada he would be beating Colton Facciotti. Like you said, he's had problems. When he gets out there… It's a two-man show. It's Colton—I don't want to disrespect any of our other Canadian riders, but if Mike Alessi wasn't there, Colton would be miles ahead of the rest of the guys. The fact that those two guys are there, it's between those two guys. And I asked Mike that specifically too, and he said, "Yeah, Colton's fast." He admits he's fast. And like you say, he ran out of gas, then his header pipe fell off yesterday, so he had to pull in for a pit stop. He keeps trying to afterwards shake Colton's hand, and there's tension between those two guys. So Colton kind of ignores him. I have seen them shake hands or bump fists and stuff, but there's tension between those two guys because they're usually the class of the MX1 field. But I think these fast guys come up here, and then they are blown away at how fast Colton goes on Canadian soil and how fast Kaven Benoit and some of the other top Canadian guys go here in Canada.
If any American, European, or so on has paid attention to Canada, Colton Facciotti is fast. Were you surprised that he's actually been able to beat Alessi pretty much straight up a couple times?
No, to be honest we did a podcast before the season, and I said Mike's probably on paper the faster guy, but this is Canada and it's Mike's first time here. I still picked Colton to win the series. I've honestly seen other past years, unless [Matt] Goerke was here, unless [Brett] Metcalfe was here, Colton could win some motos by like 40 seconds. He's been the fastest Canadian we've seen in a heck of a long time, so I'm not surprised at all. I think Mike probably has more raw speed. Mike's just faster, but the way things go here in Canada, it's Colton's to lose it seems every year.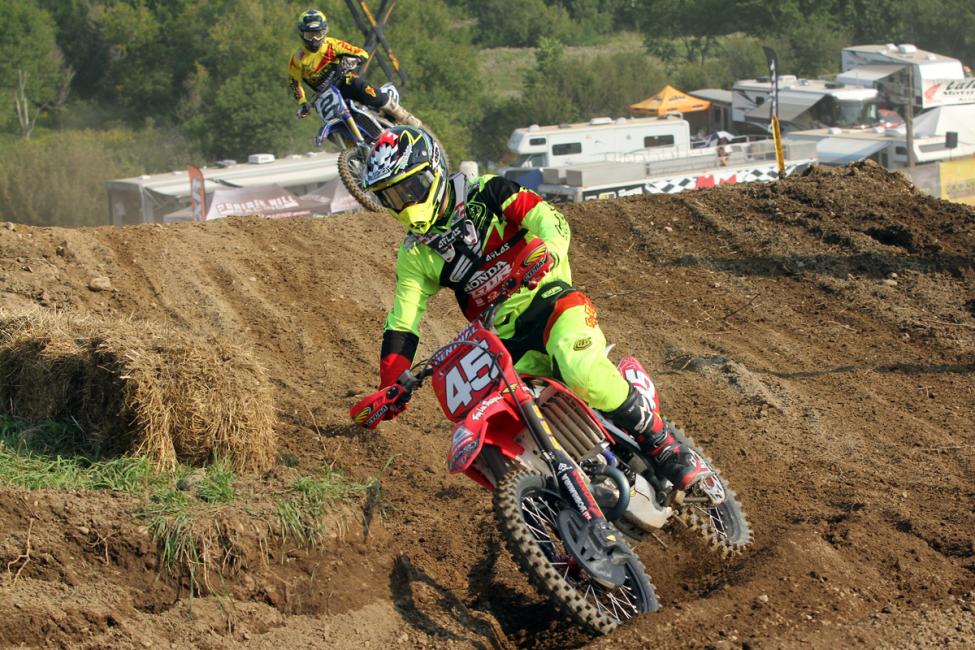 For those who don't really know Colton or anything about him, how would you describe him?
He's definitely a quiet guy. It takes a bit to get to know him. He's super sarcastic. He's a funny dude. He's a good, natural athlete—very good golfer. He rides with his elbows in style—people have always kind of bugged him about it—but it works for him. He never looks like he's trying hard. He just looks so smooth. You know the Kevin Windham smooth? He's a different style of smooth. You just watch him and he doesn't look like he's going that fast, but he just is.
Tell us about Kaven Benoit. Are you surprised he's been this good this year?
No, if you listen to the podcast I picked him for the win too. He's also doing that interesting thing where on the harder packed tracks out West he went with the four-stroke KTM, and now on the East on some of the sandier ones he's gone to the 250 two-stroke. So I think that plan has been working out for him. As you know up here you can ride a 250 two-stroke in the 250 Class, the MX2 Class. He's a super polite guy, very mild-mannered. You'd have to really, really push him to get him angry. He probably would have had some other championships too if he hadn't had some bad luck as well.
We had a real iron-man effort from Kyle Chisholm this weekend. Rode Unadilla, took the five-to-six-hour drive into Canada and won his first overall this year. How impressive was that?
It was super impressive. It was not easy, man. He was in bar to bar battles both motos. That second moto it was [Bobby] Kiniry and Chisholm and Alessi. Facciotti was leading but he went down and dropped back to fifth. So it was up to [Jeremy] Medaglia, Kiniry, and Chisholm. Chisholm got around Kiniry, and those guys were putting on a big battle. But the top three guys were wheel to wheel that whole moto, right to the finish.
Kind of a late replacement for Metcalfe this year was Josh Hill. What have your thoughts and impressions been of Josh so far?
Everywhere you go people love Josh Hill. He's got tons of speed. He goes out there with great style. In the MX1 you can tell where Hill was because of the crowd going nuts for him. He's going out in great style, super fast—he's been aggressive. He went to Metallica Saturday night. I'm not saying he did anything wrong; he's just a fun-loving guy and people really appreciate it. Whenever I speak with the guy he's just such an easy guy to talk to. The crowd loves him, and he really, really appreciates it.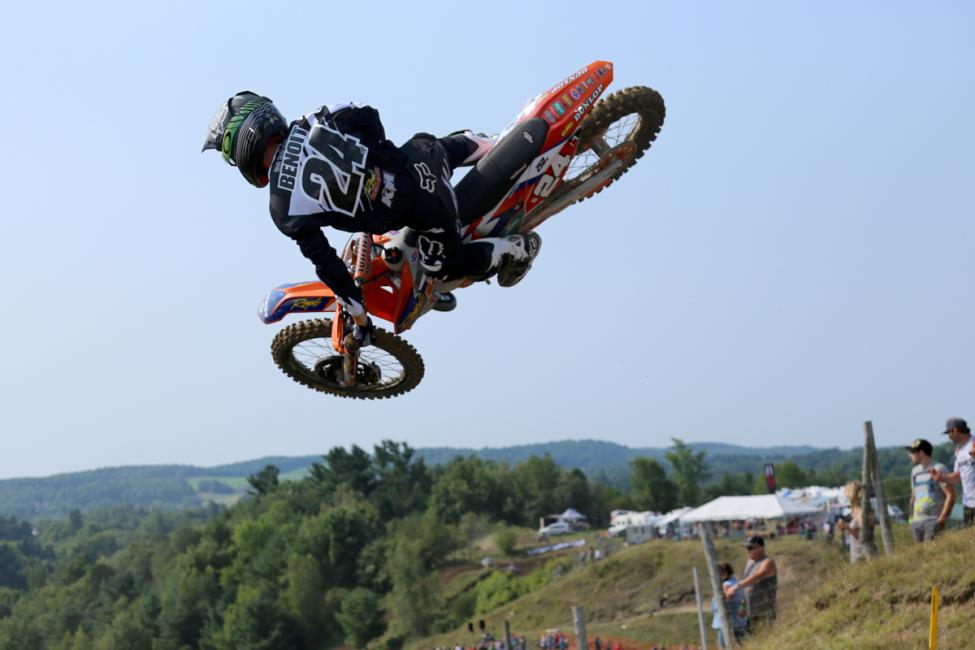 There are actually quite a few Americans this year in MX1 and MX2. From a fan's perspective and from an industry perspective, what has been the thought of a lot of Americans coming up there and maybe taking good rides from Canadian riders?
That's obviously the argument up here. You talk to riders who are kind of next tier; they're like, well, great, we do all our amateur stuff, we work and work and work, get our way up here, turn pro, and all of a sudden there are no rides because we've got the fast Americans that come up. So there's only a limited amount of seats up here to be taken, so that's their side. Then obviously from the industry side we want to get fans out to the tracks, so when we get guys like Josh Hill, Mike Alessi, guys that come up and some Americans that we've pretty much adopted up here as Canadians. It has to be from a Canadian racing development side; there's even two sides to that. They have to get better if they want those things, but it's tough for them to get that fast. Not as many people can go south and ride twelve months of the year and everything. Most of our guys have nine-to-five, five-days-a-week jobs as well. Only the top few guys aren't doing that. I think probably for the fans and the media it's amazing. Who doesn't like to see Mike Alessi, Josh Hill, and all these guys up here? It's amazing. It brings the people out to the races too.
Just talk about the series in general this year. It really seems to be getting a lot more exposure, and maybe it's because the Americans are there. There's also been a heightened sense of drama this year. Recap the series and how not only on the track but the industry, is it getting bigger?
We had a new title sponsor change this year. With that came a lot of expectations, hopes, and all this kind of stuff. They did the party things sometimes on a Saturday event—normally our events are on Sundays. So a couple of them we've had concerts and freestyle shows on the Saturdays. Well, unfortunately they haven't gone over as well as we would have hoped. The people aren't staying around. They're either racing or leaving, and sometimes these bands are playing in front of thirty people. So some of the stuff they've tried—it's awesome that they tried them—but I don't think they got the results they were hoping for at times. From an outside perspective if somebody showed up and I think the only change has been from green to yellow for a sponsor, we're in a tough spot in the industry, I think. We all want to be growing more and have more and more people come out, but I don't know if the numbers are any better fan-wise. The ones that are always popular are popular again this year. The ones that have struggled a little bit seem to still be struggling. All I have to do in my photo reports is put Mike Alessi's name in and we get way more views. So that helps that. We're getting more eyes from the south pointed at us. But I don't know about coming through the turnstile if it's changed anything too drastically.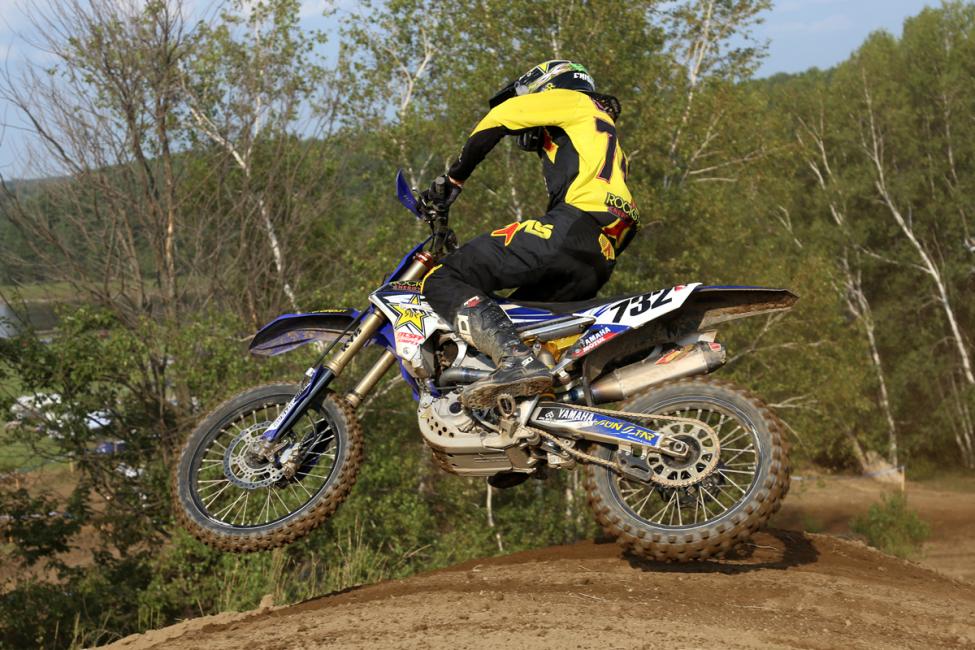 You've been around for quite a while. Are there things that they can change or that you think they can do better?
We got our amateur race up here this week, and what they did, because they went down to Loretta Lynn's, took that formula and brought it up here. Our amateur championships are going to be amazing all week because we've taken that blueprint and put it up here. And I know sometimes these guys that are organizing it to go down to some of the American nationals, and that's the pinnacle of our sport of course. There are some things like… Again, it just needs to maybe look nicer. Maybe some of the facilities. People always complain that there are six outhouses, and there's line-ups for people to go to the washroom, and there's no toilet paper, terrible food… Sometimes the programs on TV don't look as nice as we would expect, but we're on a limited budget. Little things like that I think might help. You [America] get 25,000 people at your races, or more, at the outdoor ones. Up here we've only got 10 percent of your population, so if we get 2,500 people at some of our races, we call that a success. Sure, we'd like to have way more than that, but realistically it's not hockey, so I don't think it's going to happen.
Maybe if they put a rink in the middle of the track.
[Laughs] If you grab at the opening ceremonies or something, maybe that would help.
Do you foresee Americans continuing to come up there and race and try to make some money?
Yeah, I do actually. In fact I was surprised to hear Mike Alessi say in the podcast we did that he's coming back next year.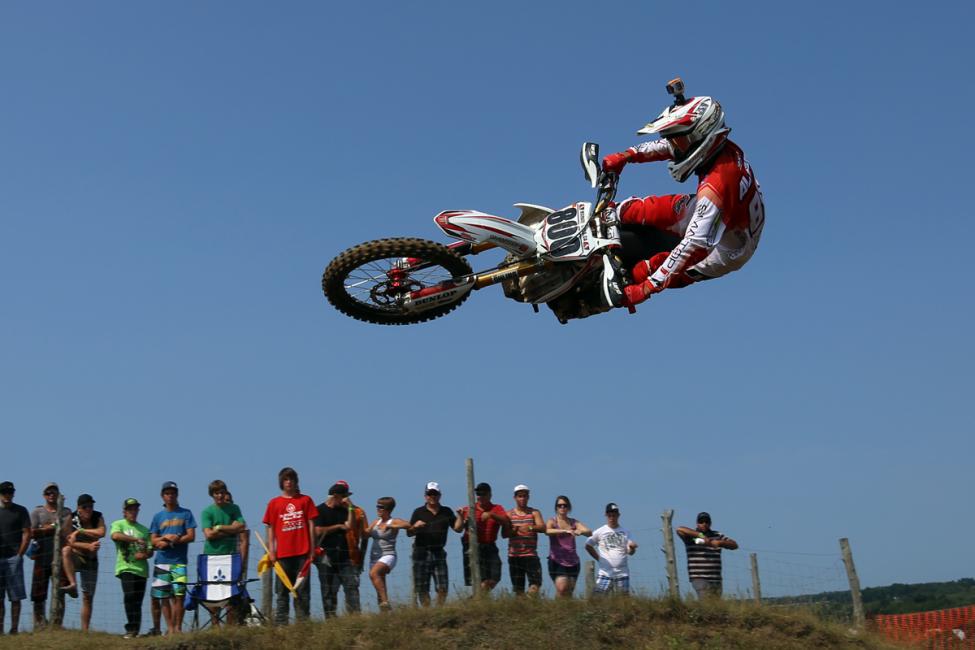 Oh wow, he's coming back?
Yeah, he said right there. I said, "Are you saying right now that you're coming back next year?" He said, "Yeah, I'm coming back." Every week we've got way more Americans up here. Guys coming up from New York, guys coming up from the New England states, and stuff like that—Michigan, we've got all kinds of new guys come up. Unfortunately some of them are coming up with—I don't want to call it a pipe dream—but one guy said "I was told that I just have to come up here and do pretty well and I can grab a ride." I'm like, whoa, there are not too many rides up here. They're a little bit disillusioned.
I think all Americans are familiar with Facciotti, Benoit, the Medaglia brothers. What's next for Canadian motocross?
We have two really fast guys that you may have seen at Loretta's and all the amateur national championships down south. First year pro guys like … Dylan Wright for sure. He's got the speed to be up there. We've got Westen Wrozyna, he's been to all the American amateur nationals and stuff like that. He's Colton Facciotti's teammate. And you got Jess Petis. So those are kind of the three fastest young guys that are coming up. We've also got young kids on 65s like Jacob Piccolo and kids like that, and Jake Trico. We do have some fast kids in the works. Again, there aren't that many. It's obviously not as deep as down south, but we've got some kids that are up here in the top.