Unadilla Motocross
New Berlin

,

NY
Race Center: Unadilla
Lucas Oil AMA Pro Motocross Championship
After returning from a terrible run of injuries from 2011 and 2012, Team Honda Muscle Milk's Trey Canard has been so close, so many times, to victory, but has yet to cross the stripe in first place… until Saturday at the Red Bull Unadilla National, when he won the second moto. His 4-1 scores were only good enough for second overall, but no doubt, the moto win felt good.
Earlier in the day, there was some buzz about Canard switching from Showa to KYB suspension on his factory Honda, and while he wouldn't specifically talk about that change in the post-race press conference, you can tell things are moving in the right direction for him.
Racer X: Second overall sounds good, but the big thing is the moto scores were 4-1. A moto victory for Trey Canard, first moto victory ever I believe in the 450 Class here in motocross—and your first moto win since the 250 Class in 2010. I know it's second overall, but how does it feel to get that moto win? It's got to be pretty awesome.
Trey Canard: It was awesome! I haven't won anything since my return from my big injuries. It felt really good. There's a lot of doubt that builds up, and you kind of start to wonder if you still are able to finish up front. Those last two laps were pretty tough. I got pretty nervous. But it felt so good. I was so grateful to come across that finish line.
You were also fastest in qualifying today and won that Oakley Bomb Award, so it seemed like you were feeling it all day long.
Yeah, I came into this weekend with a lot better attitude, and I was a lot more comfortable on my bike today. That helped so much. It felt a lot better I guess you could say. But it was fun. I had a good time, and that was the difference, to come here and have a good time.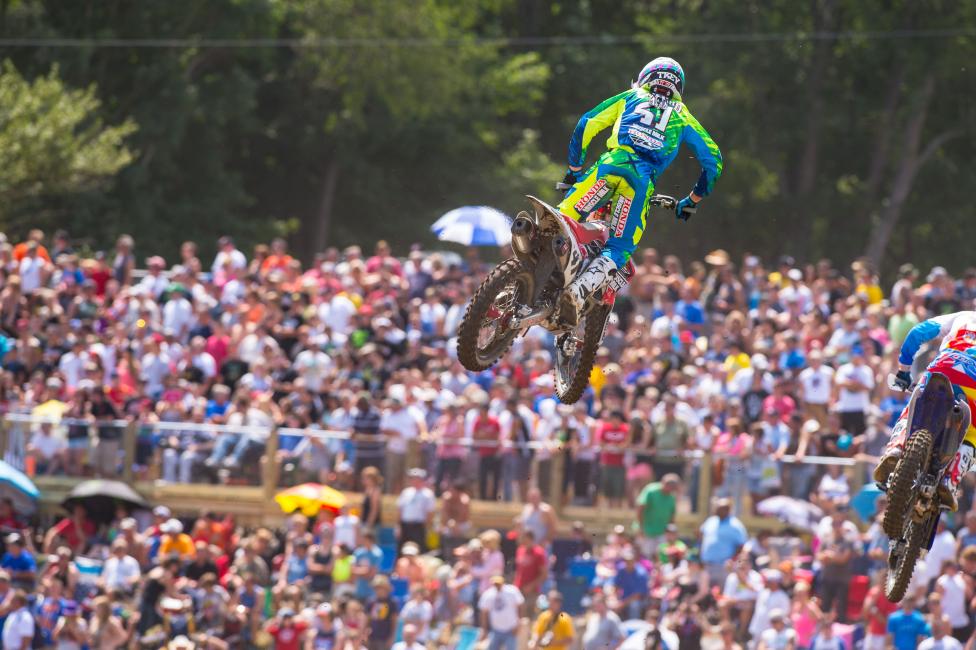 When you got that qualifying award, you said in the interview that Honda's pulling out all the stops. You guys make big changes?
We made big changes this weekend for sure. I don't know how much I can talk about it, but we definitely made big changes.
But the changes you made, was it just for today, or do you think this is a real breakthrough and maybe you can start getting more wins because of what happened today?
I think it gives us a lot better shot. If anything it just helps our program to have different things to look at. We're searching right now. We know that maybe our bike hasn't been the best in the past, and we want it to be right up there with everyone else's. I think today was the best it felt all year.
Talk about the relationship you have with the team. You guys are working together to fix this. They've invested back in you; you've invested with them. You signed up for a few more years.
The qualifier for me is they've stuck with me through thick and thin. Every one of those guys works their tail off. With any other team it's the same deal. Everyone's there past the hours they should and put in a lot of hard work. It's hard for me when those guys put in that much work and I'm not able to perform for them. I think they're just really trying right now. Japan has been more involved than they have been in forever. Honda just wants us to do well. They want to try to win. It's cool to be a part of it.
First moto, you had so much speed in practice, we were like, "Man, he could win today." But the start did you in. What happened there?
I don't know. I kind of got together with [Chad] Reed. This start's pretty hairy, right at the end here. I just ended up like fifteenth across the stripe, and it was just hard to make moves. The ruts were tricky. By the time I got into fourth those guys were long gone. So I was kind of in no man's land. But the good start second moto definitely helped.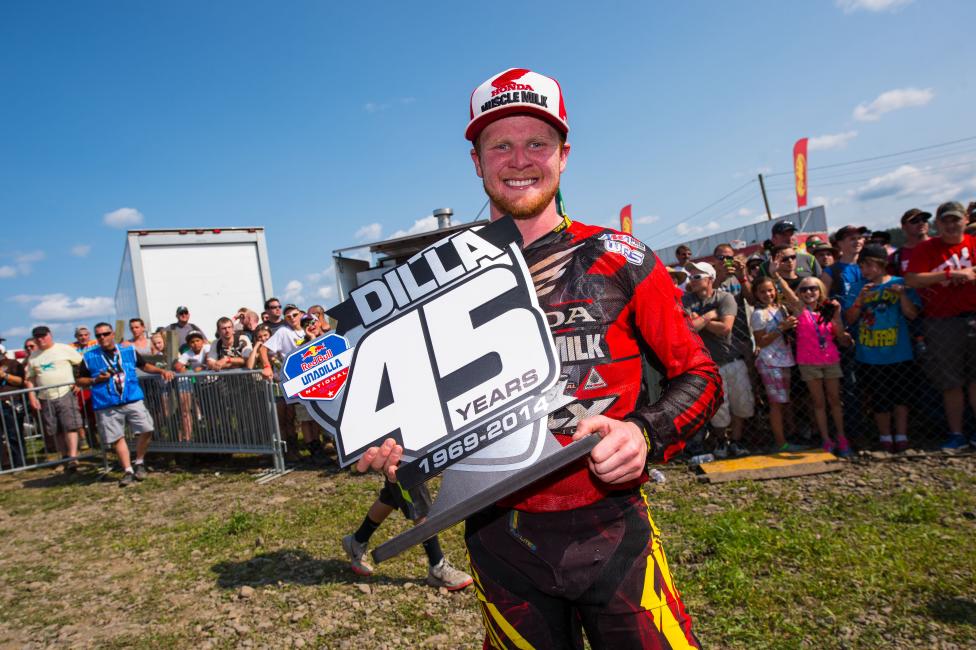 Talk about that pass in the second moto. Watching you and Eli drag racing down in front of the mechanics' area was pretty wild.
I actually got him at the bottom of Screw U, but he got me... I messed up on that little step-up, and he kind of got me back. But it was one of those things. I just wanted to try to make it happen right there because I knew that Ryan [Dungey] and Ken [Roczen] were probably coming. So I wanted to just try to make the move. It's definitely difficult because I'm not used to really battling for the lead. It was cool.
Is this normally a track that goes that well for you? Or do you feel like this is going to be every week?
I don't know. Like I said, I just had a lot better attitude about racing and had a lot more fun. I think I was jiving with the bike a lot better. Hopefully that continues to the next couple and we can continue to have good races.
Motocross of Nations, you did not get the nod. Did you want to go? What's your reaction to that?
I wanted to go, but I'm not sure if my wife wanted to go! The whole Russia/Ukraine—all that kind of stuff—she's a little nervous about. But any time I can go be a part of that team I'd love to do it. I totally understood how Eli [Tomac] and Ryan are clearly the better picks. I wish them well. I hope they can bring the trophy this year. I think it's time.
I kind of noticed that some of the lines you were taking were farther outside, maybe smoother or faster. Talk a little about line selection on this track.
There was about 4 billion of them [lines], that's for sure. There were a lot of ruts. It was crazy. I think Eli said this was the roughest Unadilla he's ridden. I kind of agree. There were so many ruts, every straightaway, every turn, there were several. I was just trying to pick the best ones that suited me. I kind of just closed my eyes… I'm just kidding.