Unadilla Motocross
New Berlin

,

NY
Race Center: Unadilla
Lucas Oil AMA Pro Motocross Championship
Hometown races have the appearance of being the best of both worlds for riders. You get to sleep in your own bed, and family and friends show up in droves for support. While most will tell you it's their favorite race of the year, it also comes with more responsibility and added pressure.
Michael Stryker is a veteran of pro motocross. The New York native grew up racing Unadilla, and has been racing professionally here since 2009. We caught up with him at press day to talk about what it means to race at home and just how many tickets he had to buy.
Racer X: We got the hometown guy here at press day. What's it like coming here to race? It has to make you feel more comfortable.
Michael Stryker: Definitely. Coming back home to similar soil and growing up with the rocks—a lot of people aren't used to riding on the slick stuff—it's something I'm comfortable with. I'm able to push a little harder because I'm more comfortable and you know how the bike will react underneath you.
You've been coming here since 2009. Does the track change much, or are you used to it by now?
Yeah, I'm pretty used to it. It's not like a local track—we don't get to ride it all the time or anything. I really only get to race if for the national, but it's pretty similar. There are a few track changes—they peak out the jumps a little—but overall it's pretty similar.
I was talking with Phil Nicoletti and he said he came here a lot growing up but only raced the amateur track. Are you able to draw any comparisons between the two tracks? Does it really help you being from here?
I mean, the good guys are the good guys, and they are going to adapt well. The pack of guys I'm riding with I might have a slight advantage because I used to the soil, and being from the East Coast, I'm used to riding the ruts and stuff and the track usually gets pretty rutty. The amateur track isn't quite as wide, but it's still pretty good.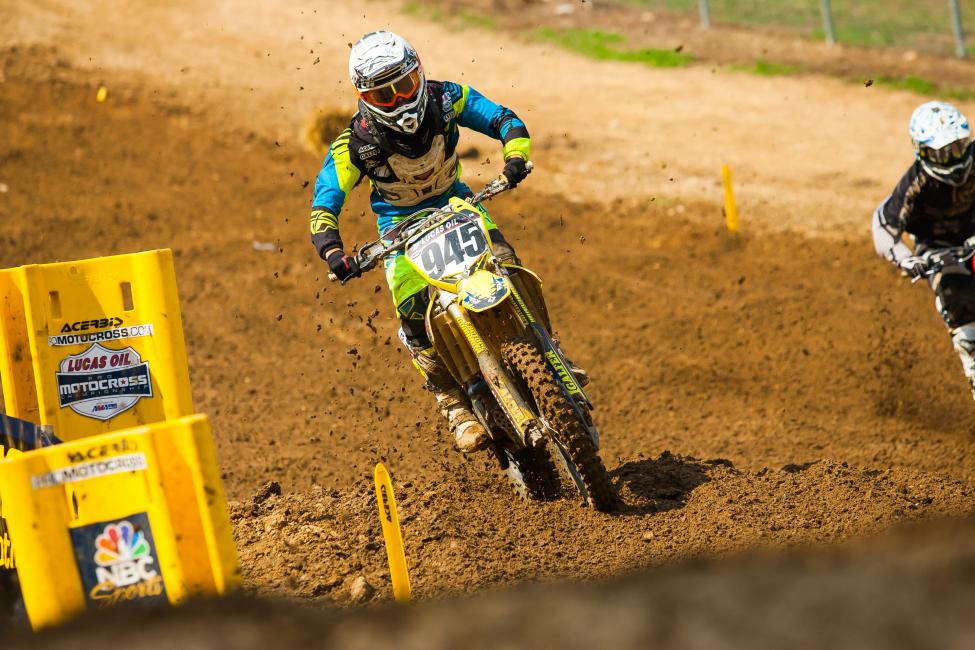 How many family members and friends do you have in for the race?
The phone has been ringing since last weekend—people asking for tickets and stuff. We're going to have quite a few people here. It's always nice.
How many tickets did you have to get?
I think we ended up getting around sixty something.
So the Stryker fan base is out in full effect?
[Laughs] Yeah, the Stryker clan is out in full force.
Was your first time coming here as a pro a little overwhelming?
The first time I went out there, and it felt like my first race ever. You get so nervous being around all the big guys you've looked up to your whole life. I didn't end up making the motos, but it was close. I went from there to Budds Creek and qualified there and ended up scoring points. It was my first national ever made. Getting the first one out of the way and getting the bugs worked out was great. It was an experience I'll never forget.
Thanks, Michael. Who would you like to thank?
I want to thank Fly, Scott, CTI, WMR, Nihlo, Ted Parks, and the Privateer Journey. Without Ted I wouldn't be able to go racing. He always steps up and gets us all the products we need. I want to thank everyone on that program—those guys are great. Mom and dad, as always. My fiancé Molly. Luke Renzland and everyone at Dreamland for taking me under there and really putting a great facility together for me to train and ride every week. Just the entire family there. They are kind of like a second family. His brother Cody trained me this year and got where I am today and I really can't thank him and all those guys enough.