There might not be a busier person in this industry than KTM Motorsports Marketing Manager Christy LaCurelle, who seems to either be at races or in the KTM office 24/7/365. From pro motocross to off-road to amateur MX, to marketing events that fall outside of racing, Christy seemingly does it all for the brand. This year she took the Team Manager role for KTM's Orange Brigade amateur moto program. That meant she was working with a lot of riders and families down at Loretta's last week. Where does Orange Brigade stack up against powerhouse programs like Team Green and the recent success of the Factory Connection/GEICO Honda and Star Racing Yamaha squads? We asked her about the development of the program for this week's Between the Motos.
Racer X: You are recovering from Loretta's right now. You must have been crazy busy. I can't even tell the difference between who's just riding KTMs down there, who's on a team, who's support. It's just like a mad rush of orange bikes at that race now. And I guess you got a hand on a lot of that, don't you?
Christy LaCurelle: There's a lot of people that have a hand in it, for sure. We have a great team at KTM that's specific to amateur motocross. The last four years we've really been trying to build something with the Orange Brigade, and we're finally seeing the payoff. This wasn't our best year as far as the overall championships, but it was by far our best year for KTMs in the top ten, and just KTM in general at the event. I remember days when I would show up, and if someone was on a KTM, I for sure knew them and probably both of their parents' first names as well. Now it's all new people, and they're pumped to ride the bikes. The product development has been great in the past year with the amateur racing scene, our program, our trackside support—everything has just developed and escalated to a whole new level.
Just explain this Orange Brigade situation. If you're on a KTM, are you automatically part of the Orange Brigade? Is that an elite team that gets special support? How does that program work?
It's both. When we first came up for the name, the idea was just to create a name for anybody that's racing a KTM. And it didn't necessarily have to be motocross-related, either. Our off-road team was part of the Orange Brigade. Chris Fillmore on the Superbike was part of the Orange Brigade. Basically, if you rode a KTM and you raced, you were part of the Orange Brigade. We kind of have an Orange Brigade army, so there's generals and there's lieutenants. The riders that ride under me are called the Orange Brigade KTM General Riders. Then James Coy's team, which has Alexander Frye, many people saw that at Loretta's—that's the Orange Brigade FMF team—so FMF is the title sponsor of that. So there are divisions within it that are Orange Brigade specific teams, but basically if you race a KTM we refer to you as an Orange Brigade rider. On our social media presence and everything like that, you'll see a lot of different riders, lots of those sponsored riders that we focus on there to kind of give recognition to everybody that loves the KTM brand, bleeds orange.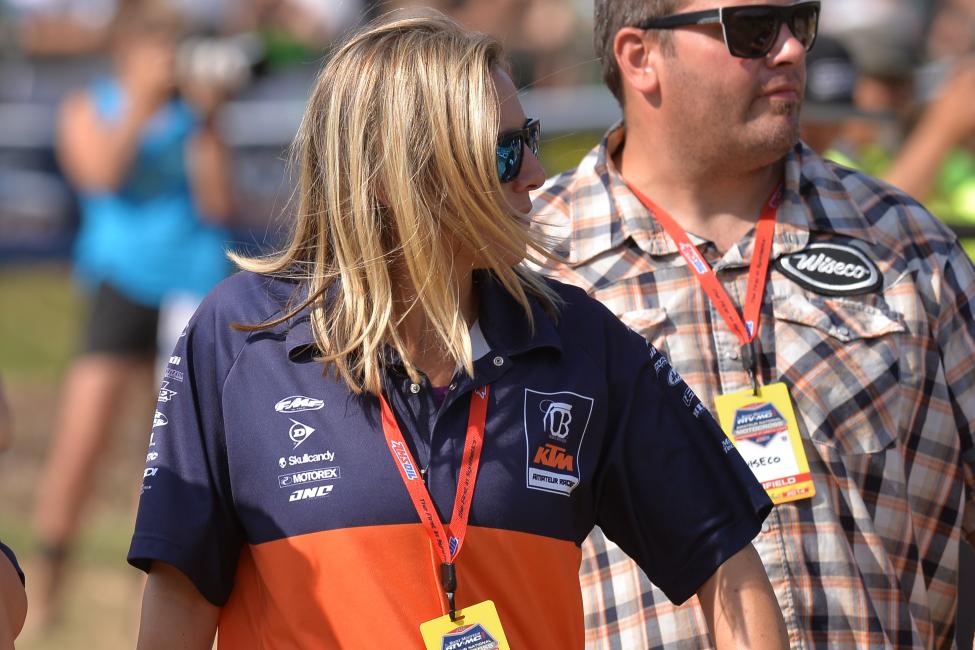 For example, the 65 Class, I'm looking at results right now and there were 42 bikes and there were 38 KTMs. So are some of those riders you have picked out and you work with a little more closely than others, or does just everyone likes that bike so they just race it?
We have two General Riders in the 65 Class that we sponsor, which were Hunter Yoder and Matt Leblanc. And actually the first moto the 65 (7-9) Class was amazing moto for both of them because they ended up going first and second. Hunter led the entire race, and Matt passed him on the final lap. When they came off they were both so excited that they high-fived each other! Hunter was crying, and at first people looked at him like, "Don't be sad; you rode so good." He's like, "I'm not sad, I'm happy!" It was a real emotional moment for everybody that was there in the impound area he was just so happy that he led ninety-five percent of the moto, and he and his teammate went 1-2.
Going to the 85s, the same thing. There's a ton of 85 KTMs out there nowadays, but there are certain riders that are at a different level there? Are they Generals, Lieutenants; how does that work?
Both. In all divisions we have General and Lieutenant riders. The General ones are sponsored directly from KTM through the factory. The Lieutenants are have support rides through KTM dealerships. There's quite a few of those. The 85 Class was stacked heavy with a lot of our sponsored riders, and then a lot of riders have purchased a KTM over the last two years, after seeing how the product performs and talking to the other riders.
How is it possible that KTM has all these different bikes? The other manufacturers maybe dabble in one or two of these classes. Cobra pretty much only does mini-cycles; they do have a 65 and that's about it. Kawi has a 65. How is KTM able to have bikes that can compete in every 50 class pretty much, 65 classes, 85, 105, and the big bikes? That's something that no other manufacturer seems able to do.
The important thing to remember is that KTM's motto is "Ready to race," so that the core of everything we do; it's ready to race. That's pretty much why we have a bike in every single class because the first bike that we built from a 50 mini is going to be something that's competitive in its class all the way up to our big bikes. Every time we start to evaluate the market and we see if we're struggling in one class or another, we just find a way to revive that bike and push it out again. We had three of our R and D team at Loretta's specific to the minicycle side of our product line, just watching those races and seeing how the KTM was performing to the other brands, and talking to all families, not just our sponsored athletes, but anyone that was there on a competitive bike and our bike, and trying to figure out where that we need to improve, and what classes are we lacking in. All of that just goes back with them, and in the next two or three years you'll see even better products again just because of that feedback.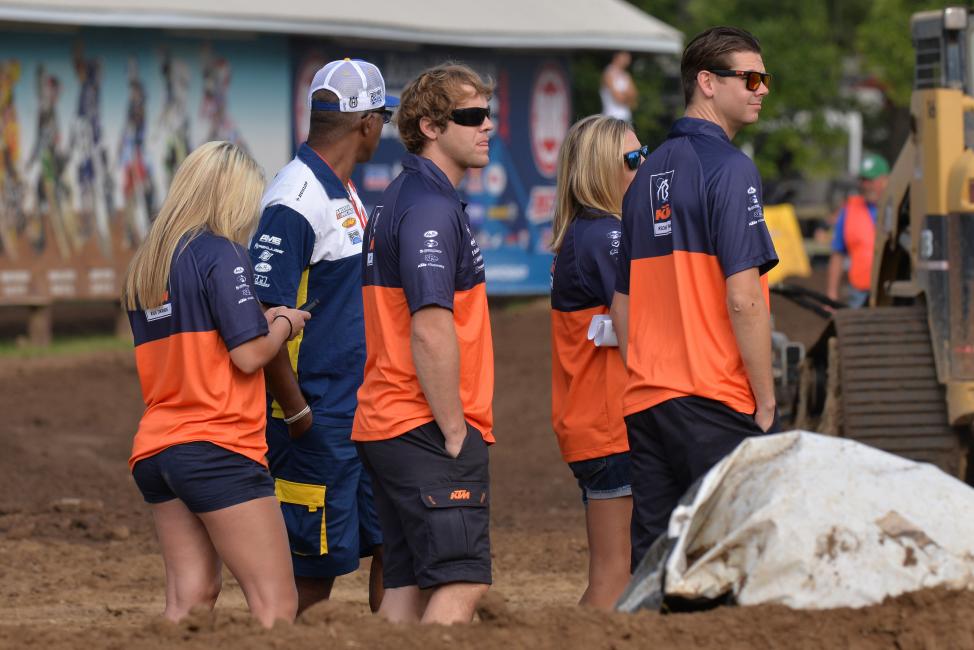 Three R and D people, and that's just for the mini classes!
Yes! And then our big bikes, of course, they look into that too, but the majority of that feedback comes from Roger DeCoster and our Red Bull KTM team, and a lot of the testing and development that they do with Ryan Dungey, Ken Roczen, Marvin Musquin. All those guys continue to give feedback every year and that trickles into that factory edition model, which then goes into the production model the following year.
Did I also see a Husqvarna out there in the 85s?
Yes, Husqvarna just released the 85 this past year. They have two sponsored athletes in the amateur motocross scene, and they're going to continue to hopefully grow that program in the next year. Minicycles are very new to them, so it's definitely in the beginning stages.
I know at Loretta's most of the brands say to come on over to the support truck if you have a bike problem or you have questions. With so many kids on your bikes, is there a fear that you're going to have 250 riders show up at one time asking for help?
[Laughs] No, our bikes are really reliable at this point in the game, so you don't have too many crazy issues that come up that stop you like that. Typically, if people are under our tent at one of these races, they already came pretty prepared for the event, and most of the issues they come to there for are brake issues or a clutch issue, something where maybe just they're just a little worried they might not do the maintenance correctly themselves and they want their kid to be safe when they go out there. So, that's the majority of what we do, and very rarely do you have a big issue at this point in the game.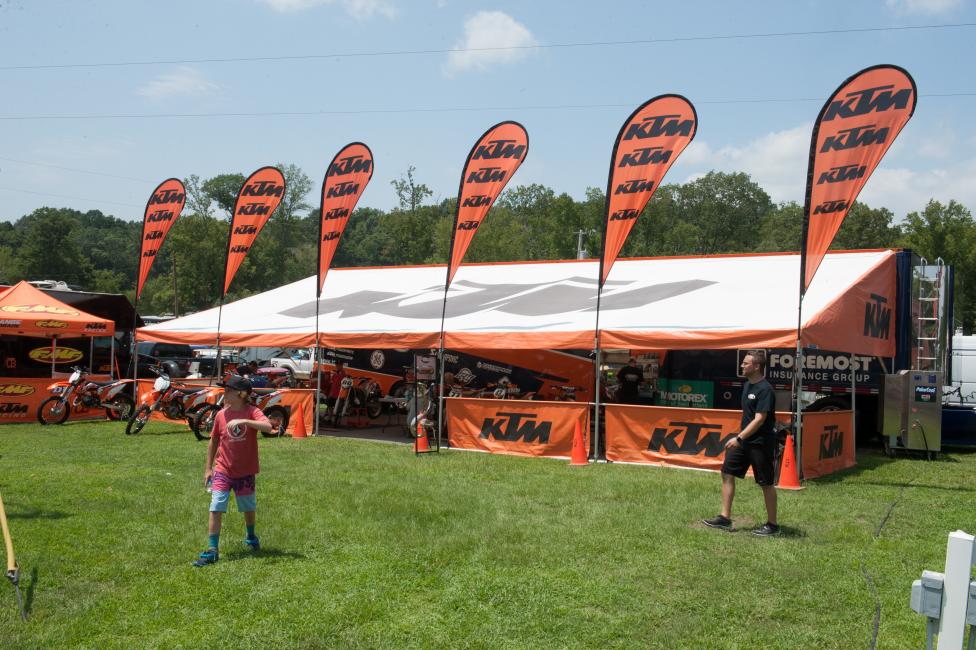 Not that the bike's unreliable, but you just when you have so many riders out there. There's literally over 100 KTM riders just between these 65 and 85 classes.
There's a ton of riders. We for sure have increased our trackside crew over the last couple years just to make sure we can accommodate anything. Typically, you have a lot of people come to you on the practice day, maybe after the first race, and then it kind of dies down after that unless they have a major crash or something. But, typically, it's just them coming up at practice and going, what would you recommend for jetting or suspension settings.
A lot of KTM's new success seems to be top down. You get Roger DeCoster, you get Ryan Dungey, you get Ken Roczen. Is there a plan to have some real home-grown talent come through from the amateur ranks and get to that level?
That's the idea. That's the one thing that we've lacked over the last few years is a program that really had a stepping stone into the professional ranks for any of our amateur motocross kids. We've struggled to keep kids on the brand when they got to the top level because of that. We finally have a program that's working in that direction. Alex Frye is actually our first rider that has come through as a real amateur as a couple years in our Orange Brigade program, and we just signed a contract with him at Loretta's this year actually to take him all the way through his first year of professional.
[Laughs] Yeah that got some buzz, and I've heard some questions about that. Do you know exactly what KTM team he will end up being on when he's a professional? Is that known yet?
[Laughs] It is not known yet.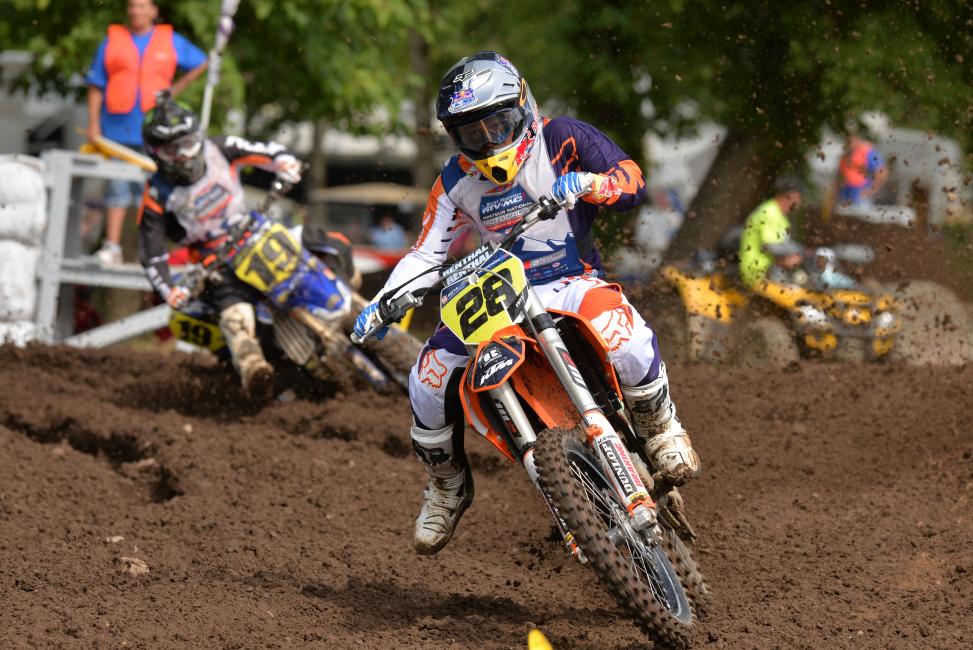 So he'll be on a KTM somewhere down the road when he turns pro?
He will be on a professional KTM team, yes. And we have done some development with this program in the past. Joey Savatgy was with the FMF Orange Brigade team last year, and Dakota Alix was an amateur A rider for us and then turned pro this year, but he's had some issues with his knee, and then Joey had an injury the year before. So some other riders have just unfortunately gotten injured prior to making their really big debut. We're really hoping that in the next year and a half with Alex Frye that it finally comes together and people see everything that we've been working to build. We have a lot of confidence in him.
This is not your only gig—I know you're doing a ton across the board with KTM, some outside of amateur motocross. So how do you handle all of it?
We all definitely wear a lot of hats at KTM, but because I've been there for eleven years now, it's pretty easy to kind of jump between departments and figure out a lot of what's going on. That makes it easy coming into the role of the team manager of the Orange Brigade program this January because I just have a lot of experience with it, going back through how I started with KTM. The people we have involved with James Coy on his side with that team and now Nathan Ramsey as a trainer/coach—I just feel like I have the best people around me which just aids the program that much more.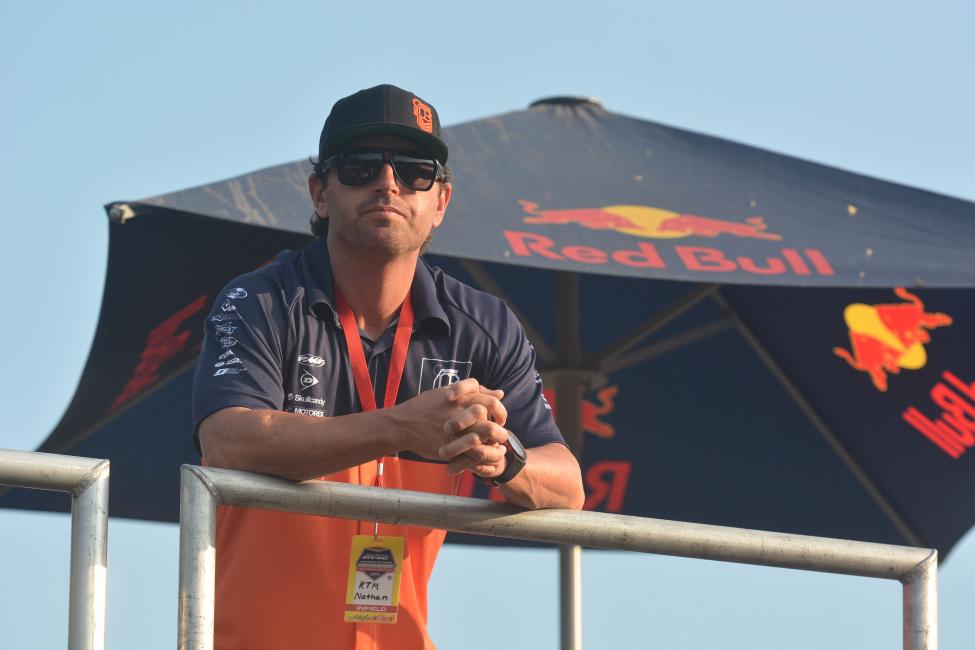 So you're not the only person there with a clipboard and cracking the whip on these riders? Or are you doing that?
For sure not. I think you really do have to have a team where it comes to something like this, and of course with my schedule and a lot of the marketing duties I have, I can't be at these events full-time, so I definitely need to have a big crew there kind of watching the riders and helping out on that front too, and giving me feedback and their input for the future.
On a personal level, do you ever get tired of going to these races? I think I go to a wide variety of stuff, but you're always there also. Are you ever not happy being at a race? It seems like you take it all in stride.
You and I do cross paths a lot! It's something I've always enjoyed since I was little. My dad raced and my grandpa and my uncle. I've just grown up going to races. I think that's why I'm the happiest with my job. Honestly, even if I was still doing something in regards to motorcycles, I don't think I would enjoy it that much if I didn't get to go to the races. Every time you kind of get that jittery feeling. Especially with amateur racing, you develop new friendships with a lot of the riders, and you really want to see them succeed. It's really great to be a person that can help someone get to that next step. Even at the professional ranks, being able to see them and help them in any small way in their career is very rewarding to me. It makes it all worth it.