Loretta Lynn Ranch
Hurricane Mills

,

TN
Rocky Mountain ATV/MC AMA Amateur National Motocross Championship (Loretta Lynn's)
Amateur National Motocross Championship
Tristan Charboneau had a breakout week at Loretta's, winning the 250 and 450 B titles and becoming the first recipient of the AMA Motocross Amateur Rider Award—new for 2014—which is presented to the most outstanding non-A-class rider. We caught up with Charboneau after the awards ceremony on Saturday.
Racer X: It was a big week for you. Two titles.
Tristan Charboneau: It was a great week. Started off the first moto, 250 B. Back brakes went out in the second corner. Didn't think I was going to come out very well, but came around, finished second in the first moto. Then went 2-1-2 for the championship in 250 B, and rode it out in the 450 B and went 1-1-1. The week just went amazing. Got the award. It just feels great.
You're actually the first recipient of the award. What's it mean? Forever you'll always have your name first above anybody else. That's got to be pretty cool.
It feels amazing. Everybody's going to look back on it; I'm going to look back on it someday, and be like, "Man, I did that." I won my first championships at Loretta's in both my classes. It just feels great.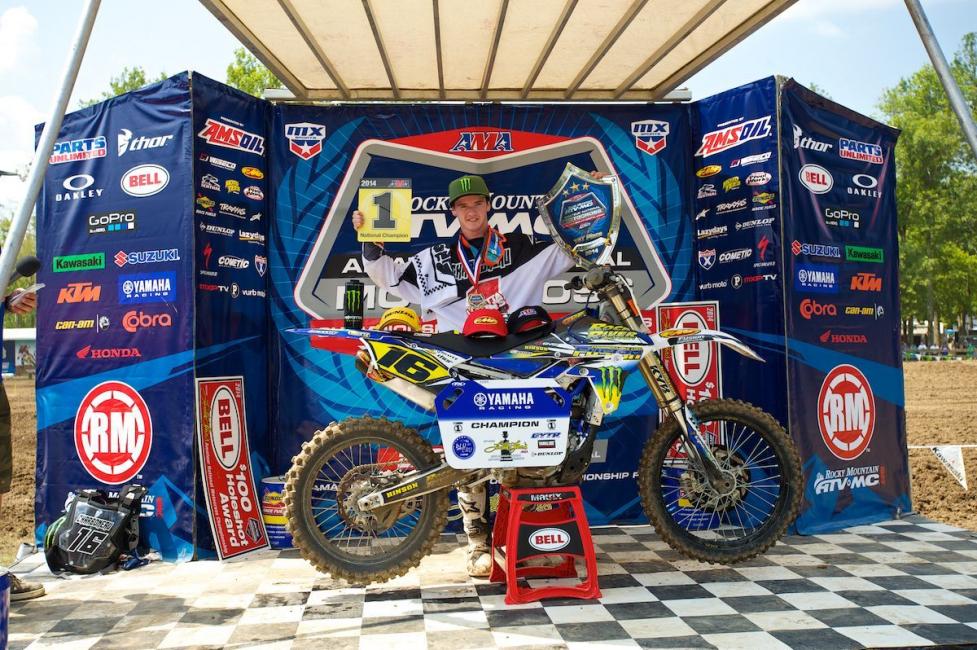 Every amateur national has its own mystique. What's it like to get a title at Loretta's against all this competition?
It feels great. I'm speechless.
What's next for you? You going to move up to the A Class? Do you have Monster Cup?
I'm going to head home for a little bit, regroup myself, come back, go back to Georgia Practice Facility, train in supercross for Monster Cup, race the A Class all year. Not sure if I'm going to race A or B at Mini Os, probably A. But coming through here next year, I'm in both A classes.
Talk about what it's like to train down at the Georgia Practice Facility. It's got a very good reputation.
Georgia Practice Facility—it's got to be one of the best places, one of the best training facilities out there. Cheapest for the best training. It's great. Josh Woods helps me out a lot, and it's awesome.