Loretta Lynn Ranch
Hurricane Mills

,

TN
Rocky Mountain ATV/MC AMA Amateur National Motocross Championship (Loretta Lynn's)
Amateur National Motocross Championship
The busiest person at the 33rd Rocky Mountain ATV/MC Amateur National Motocross Championship at Loretta Lynn's presented by AMSOIL may be Monster Energy/Team Green Kawasaki team manager Ryan Holliday. With eighteen riders under their tent, Holliday is tasked with juggling the many emotions, bikes, and parents of a very stressful week. We found Holliday during one of his brief moments of downtime and asked him about the week and what lies ahead for Team Green.

Racer X: Loretta's is obviously a big race for the team, as you have all your guys here. What is a typical day like for you?
Ryan Holliday: There are a lot of motos our guys are in, and it really depends on the schedule. Basically, the team tries to get all our bikes prepared and make sure our guys are ready. We try to keep the kids encouraged and positive, and try and keep them looking at things on the bright side if they are going bad. It's not just me; everybody on our team helps our guys get good results. Whether it's our mechanics making sure the bikes are good, or just talking to them and making sure they have what they need.
You have eighteen riders here, which means eighteen families of moms, dads, brothers, and sisters. How do you keep everyone happy?
I would say that's probably the hardest thing. Take our Super Mini Class for example. We have four kids that are all capable of winning, but obviously only one guy is going to win. So, you have one guy that's happy he won, and the other guys may not be happy it didn't go well. So, you're dealing with a wide range of emotions. You have to make sure you are giving everyone attention and talking with them and making sure they have what they need. That's probably the hardest part when you have multiple people in the same class and some are going to do better than others. That's the most challenging thing for me.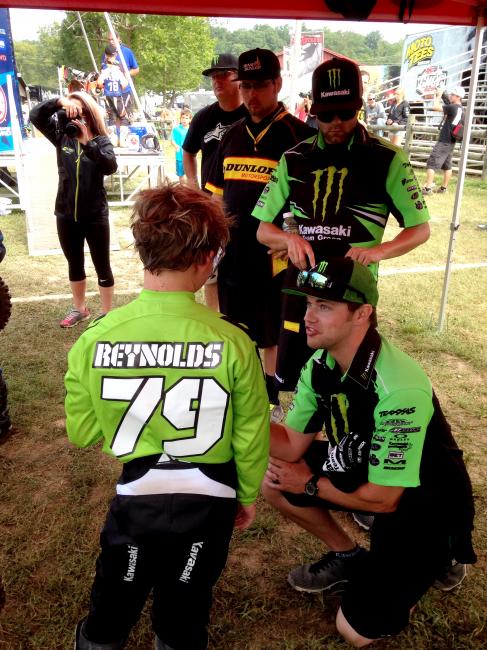 You spoke about the challenges of having multiple riders in a class, and you have a lot of talent in the Super Mini Class. You guys aren't stashing away riders to just get championships. You want the competition between your riders.
For sure. I never want our guys to ride a class that—I don't want to say weaker competition, because everyone that makes it here is good—but you want to race the best guys. For instance—our Schoolboy and B guys—we put them all in the same class together. They all wanted to know what class I wanted them to ride, and I said I don't care what class you ride; I just want you all to race together. If people want to dodge us, or hide in other classes, or whatever, that's their deal. We want to race everyone. That's how you see who the best guy is.
Do you use that to gauge who is moving up and who you will be keeping?
For sure. And that's how we look at other kids too—as far as where they stand against everybody. You want to have everyone race against each other. You have all the other major events throughout the year, and one might be more West Coast, while one might be more East Coast, but this one—as long as everybody is healthy—you get a pretty good showing with everyone matched up against each other. It's different. It's Anaheim 1 and Glen Helen all rolled into one. It's a lot of pressure on all the riders, and they put a lot of work in for just one event. But we evaluate them throughout the year at all races we go to. It's hard to base everything just off one race. That's why we are at all the other races to see whose doing what.
How much do you use this race to scout other riders, and not just your guys?
I would say a fair amount. Because, like I said, some races are more East Coast and some are more West and you don't get to see other guys as often as our own riders. For some kids, this may be the only opportunity they have to show someone, and that puts more pressure on them. So you have to take into consideration that someone may just have a bad week. He's not one of our guys, but Jordon Smith (Factory Connection/AMSOIL Honda) has not had a great week this week. But I know he's fast. I know he's talented. And I know what he's capable of. I don't look at him this week and say, "Well, that guy's no good." Because I know he's good. He's just had some bad luck—it's part of the deal.
Continuing with the A Class. Chris Alldredge is moving to the pro ranks after this week. Do you have someone penciled in to fill his role?
Chris coming on board this year was good for us. I've been a believer in him for a lot of years and tried to pick him up before, but couldn't make it happen. We had the opportunity this year to get it done and we did. It's been a lot of fun working with him. He's moving on to his pro deal, but we have our two B guys, Mitchell Harrison and Mark Worth, who are already under contract with us for 2015, and we are looking for those guys to fill the void in the A Class. After that, we will see where the chips fall and see who we bring to the gate.
Austin Forkner is moving to the big bike. What are you expecting from him, and when should we expect to see him on the big bike?
He'll leave here with his first practice bike. So, he'll be on the big bike real soon. Same thing for Sean Cantrell. He's leaving here and hopping on the big bike as well. They are two motos away from their big bike career. We are looking to have those guys in Schoolboy and B Class next year on 250Fs. I think they have established themselves as two main guys in the Super Mini Class and we are fortunate to have them and hopefully they can carry that onto the B Class. It's just a cycle. Worth and Harrison and those guys move onto A, and the Super Mini kids move to B and hopefully they'll have the same success.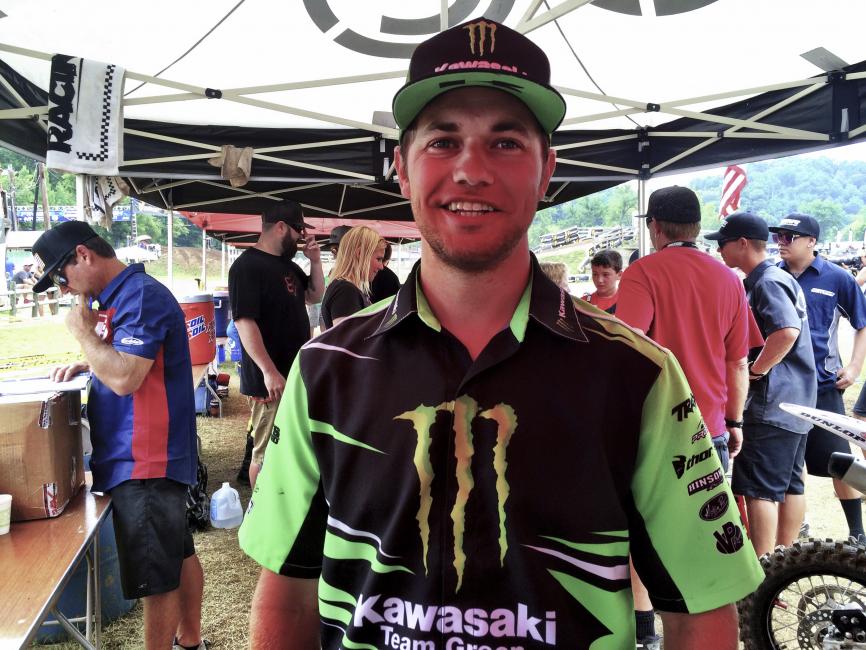 This is the biggest showcase event for amateurs, and Team Green has a long history of winning a lot. Does the pressure intensify for this week? Do you feel like we have to leave with this many wins or this many titles?
I think back in the day it was a big manufacturer competition on who won the most titles. But [back then] teams had more riders, and they picked certain kids to win certain classes. I'm not really into that. I want to see who the best guys are. If that means having four kids in the Super Mini Class … I'm just going to go after the best guys, because at the end of the day, I feel like it's my job to get them on the professional level and get rides and be successful there. Picking kids to win a specific class isn't really what I'm about. Sometimes we don't even have a kid in a certain class and people will say, "Oh, you need someone in that class." No, we don't need someone there; it's about who we believe in for long-term success. That's the object of the program—long-term success. I think we've proven that in recent years. We've had a lot of graduates—whether it was Cianciarulo, or Hill, or Covington moving on to his program in Europe, or Jason Anderson … yeah, he didn't stay with us, but he rode for us here and moved onto a lot of success. If we accomplish that, then we're accomplishing our goal.
I know Chris [Alldredge] wasn't here for long, but he is moving up to Mitch [Payton's] program next year. You have to feel some satisfaction in getting guys to Mitch's program?
Yeah, that's obviously the intent. We don't want to see guys go anywhere else, and that was the goal when you brought Chris on-board. When we sat down for the first time that was the objective—to have a good year and put in the results and show what he was capable of and earn a spot on that team. We've accomplished that goal. It's good that when you lay out a plan at the beginning of the year see it fulfilled. I'm proud of him for doing it.
What do you in-between here and the Monster Energy Cup and Mini Os?
We'll get back from this race … we've already been working on 2015 stuff—I'm always a year ahead. Come January 1, 2015, I'm already laying out 2016 and seeing what I have to work with and what our plans and objectives are. We'll try and get guys re-signed, and a lot of our kids are already wrapped up for 2015, so that's good to know. A couple of our existing guys we have to get done, so hopefully we can get that wrapped up soon and move onto Monster Cup. That's a big one for us [Monster Cup]. Personally, I really like that one. It's a great opportunity to be on a big stage and do well. We've had great success there—we've won the Super Mini class there every year—and we've won motos and overall in the big bike class, too. I expect to go there and win both classes, which is the goal. When we leave here, these kids will take some time off, and then it's time to get ready for that race.
With Chris and maybe Colt leaving, do you guys expect to bring anyone else on?
I don't know right now. I think the guys that we have right now are riding really well, so it's hard to say. There may be a few guys out there that we have our eye on, but we have to see what their plans are and see where the chips fall.