Washougal Motocross
Washougal

,

WA
Washougal
Lucas Oil AMA Pro Motocross Championship
Welcome to the busiest week of the motocross life. There's tomorrow's Washougal National, the ongoing Ponca City MX Championships in Oklahoma, and the roll-in for next week's 2014 Rocky Mountain ATV/MC AMA Amateur National Motocross Championship. Some industry folks are somehow doing all three of those races, which are spread across the country from Washington to Tennessee. Personally, I'm set up here at the ranch, helping work on the track, mow some grass (and there are lots and lots of fields of grass here), and continue work on the world's largest used-tear-off collection (since 1982).
But first, some long-awaited news: The USADA has released the results of the anti-doping testing that took place at the Thunder Valley National a few weeks back. All twelve of the riders tested—six in the 250 Class, six in the 450 Class—passed scrutiny. No penalties will be assessed based on the Thunder Valley tests.
You can watch all four motos of the MotoSport.com Washougal National live beginning at 4 p.m. ET on MAVTV and also streaming live on www.promotocross.com. The second motos are also live, beginning at 6 p.m. ET on NBC Sports. And if you're here at Loretta Lynn Ranch, by all means stop by the Red Bull area at the crossroads of the industry pit area—Mario will have all of the TVs up and blaring the live coverage! You can also watch some of the practices streaming live beginning at 1:30 p.m. (ET) and the Pre-Show hosted by Georgia Albertson starts at 3:15 p.m. ET. That's a full day of coverage for the Lucas Oil Pro Motocross Championship!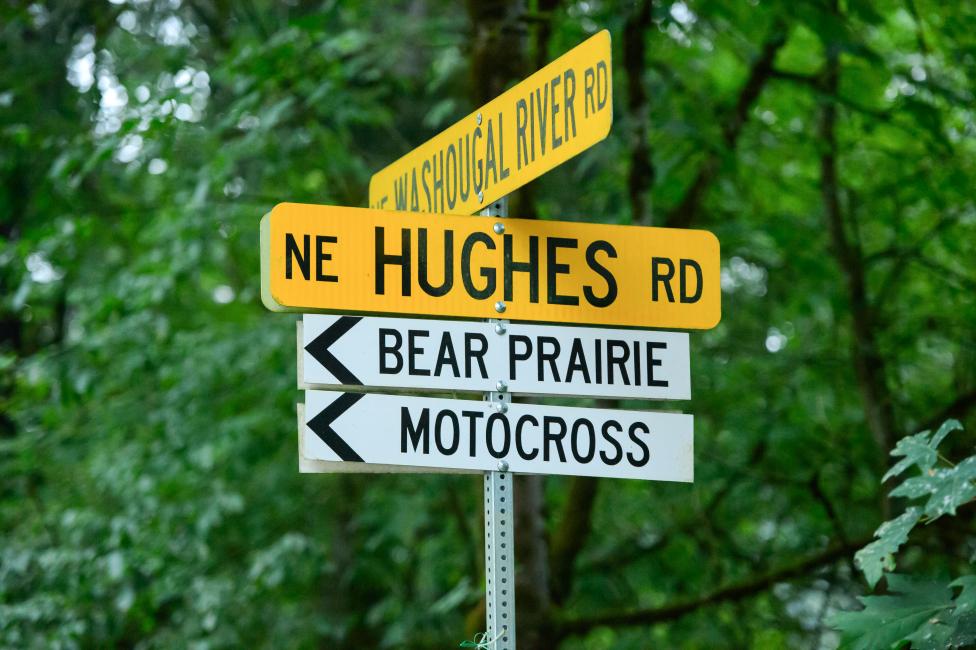 And then, starting next Tuesday at 12:30 p.m. (just after noon), you can see tomorrow's stars race live as we stream the motos every day from Loretta Lynn Ranch on www.racertv.com. The plan is to show motos throughout each afternoon, beginning at 11:30 a.m. ET. We will show as many classes as we can, as thirty-six different AMA Amateur National Motocross Champions are crowned. Here's that schedule.
I am missing Washougal, which has been hit hard by rain but now has clear skies. Tomorrow should be another epic day of racing as the Red Bull KTMs of Ken Roczen and Ryan Dungey try to get back in front of the very impressive GEICO Honda of Eli Tomac. Last week's race in Minnesota was an eye-opener for many, though I thought the battle looked familiar—it was Roczen vs. Tomac in the first moto of the 2013 Motocross of Nations in Germany, only this time Eli didn't crash out. It will be interesting to see how Kenny rebounds from what truly looked like his first off-day of the summer.
In the 250 Class, how could you not be happy for race winner Jeremy Martin, his top-ten brother Alex, their parents John and Greta, and all 26,750 of their neighbors who cheered the Martin brothers and Ryan Dungey on. But now he takes the red plate he's held since the first moto of the series to Washougal as the series heads into the home stretch. How he holds up will be interesting, though I have a feeling he won't crack even a little bit under the pressure—even if it's coming from his "frenemy" and teammate Cooper Webb!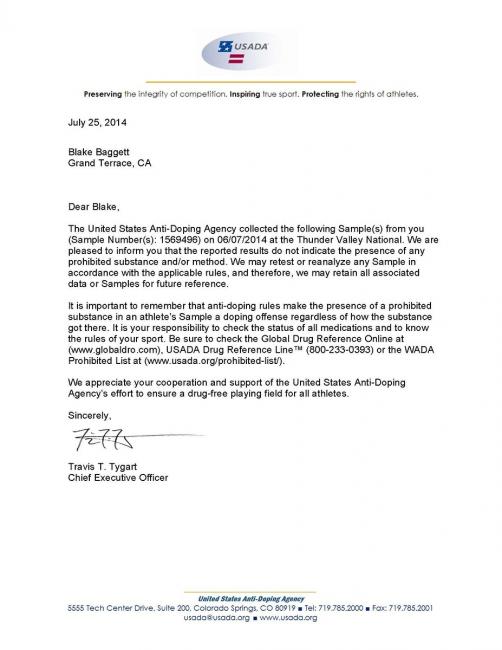 Wait, they are calling me on the radio. I really wasn't kidding when I said this is the busiest week of the motocross life—it certainly is the busiest in my life! So I will let the other guys riff on everything as I get back out on the infield to work on the track and get ready for my personal favorite week of all.
WHAT COULD HAVE BEEN (Jason Weigandt)
We now know we won't be seeing Jeffrey Herlings at Unadilla. Too bad. Marvin Musquin—who would have been his teammate for the day—was asked about Herlings' appearance after Millville.
"We'll see," said the two-time MX2 Champion. "Sometimes he wins the motos in the GPs with one minute leads, so we'll see what he's going to do here. I think the pace is really good here. I think the riders here are pretty fast! I mean, I hope so! I hope he's not going to win with a one-minute lead! If he does I'd be really, really surprised. I know he's a great rider and he's working really hard and he's really good in the sand, and now he's really good on hard pack, too. I'm sure he's going to be really good, at least on the podium, and it will be interesting to see."
Just cut and paste that for Unadilla 2015. And get well soon, Jeffrey—you have a lot of fans here in the U.S. who were hoping to see you. Same time next year?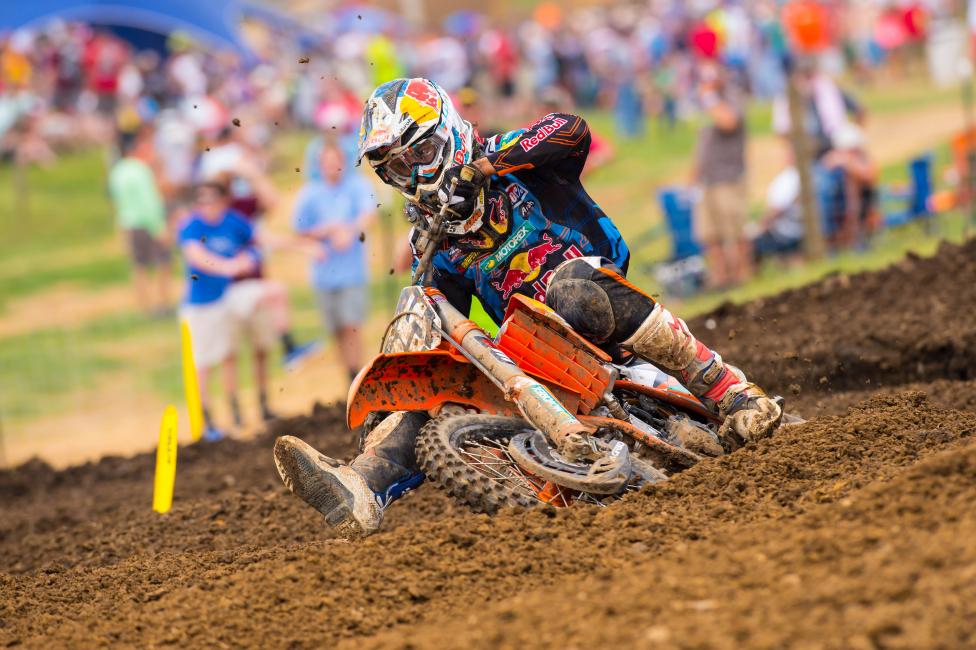 STRAIGHT FROM THE HIP (Chase Stallo)
"Those lappers … I don't know, some of them you could tell were from Minnesota." –Cooper Webb
In just his second professional season, Yamalube/Star Racing Yamaha's Cooper Webb has garnered attention not only for his results—second in points, three moto wins—but his podium speeches. Whether addressing his rivalry with teammate Jeremy Martin ("I wouldn't take him out to dinner, but I'll shake his hand") or Monster Energy/Pro Circuit Kawasaki's Blake Baggett ("There's no way I was going to let that joker by me again"), the North Carolina native is a straight-shooter.
Reminiscent of a young Rick Johnson or Bob Hannah, Webb is unequivocal in his podium speeches. "I like to talk from the heart. I think a lot of people are kind of scared to do that," he said at the Spring Creek post-race press conference.
In an era of riders seemingly reading from a list of sponsors pounded into their head (which is fine—sponsors pay the bills and often require the riders to throw the names out), Webb is refreshing.
"They try and plug their sponsors and stuff, which I do, [but] I try and just let people know what I think," he continued. "I don't want to be the guy that says what everyone is telling me to say. I like to express myself and say it the way it is."
I wrote about this topic earlier this month after Webb received criticism for misspeaking following an emotional win at Muddy Creek. "They were all cool, cool as crap," he said to NBC Sports' Georgia Lindsey about the Muddy Creek fans. I wrote then: "Right now, we have a dynamic young crop of riders that aren't afraid to speak their mind, that aren't afraid to be different. That aren't afraid … As of now. Once these young, charismatic riders transition to the 450 Class, salaries are heightened. Pressure is expanded. The spotlight is brighter and the criticism comes in stronger."
Will the trend continue? Time will tell.
Until then, enjoy these charismatic, straight-from-the-hip riders. It's refreshing.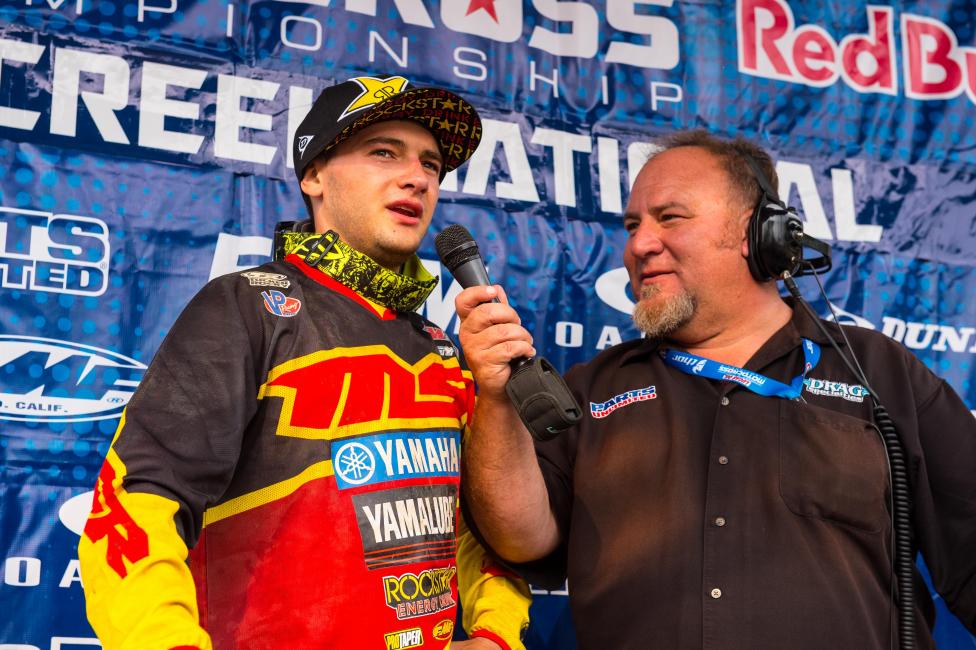 NOT WISHY WASHY ON WASHOUGAL (Steve Matthes)
Last week in my Observations column I said I thought Millville, with the addition of Mount Martin, became the best track on the series. I apologize to people who don't agree with me, but too bad. It's my opinion, bro. And although last week we saw what I consider the best track, there's no doubt that this weekend's race in Washougal is my favorite national to go to. I love the Pacific Northwest and all that it offers. Washougal itself isn't a great track and it's hard to see a lot of it, but the scenery around the place is awesome and it's always got great weather.
As the world heard earlier today, Yoshimura Suzuki's James Stewart won't be at the race this weekend. As I suggested in my column on Wednesday, it just might be time to regroup for JS7 and his team. Since the provisional suspension has been announced, his results have suffered and I think he's literally crashed in every single moto since going 1-1 at High Point.
Red Bull KTM's Ryan Dungey lost his first Washougal race in 2007, and he split the moto wins with Monster Kawasaki's Ryan Villopoto last year but came out second overall. In between those races Dungey won five Washougal Nationals in a row. So the point is, he's good at this track, so I'd look for "The Diesel" to win or be much closer than he's been in both motos lately.
I also think this could be a very good race for Valli Yamaha's Christophe Pourcel. Washougal doesn't reward the throttle-happy, balls-out type of riding we've been seeing from the front-runners in the 250 Class. Nope, this race is all about getting a good start (check for CP), it's hard to pass on (Pourcel checks this box also, as he's shown he's tough to get around—and he's not even from Minnesota). It helps to be easy on throttle (duh), and you don't have to be in killer shape, as the weather stays pretty cool. I know Jason Thomas thinks that Unadilla is going to be Pourcel's best chance for a win, but I disagree. If he doesn't pull one off this weekend in 'Shougal, he's not going to do it at any race.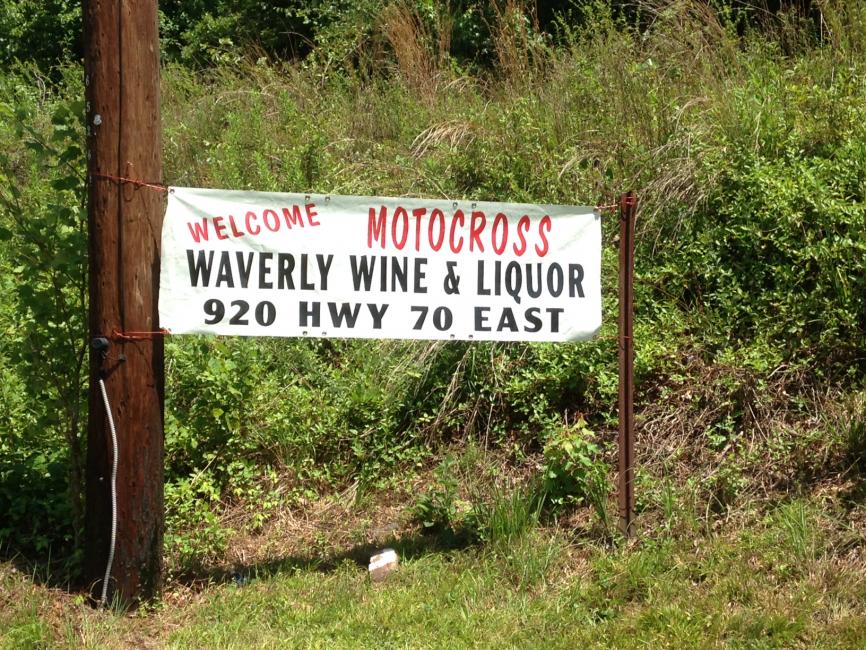 In speaking to Valli team manager Erik Kehoe last week, he didn't know if the team would be doing 2015 supercross or not. Chad Lanza, the team owner, owns Valli Construction, and he'd rather not have Valli on the side of the truck. If Lanza's at Anaheim with Kehoe next year, I'd bet the team is not called Valli Yamaha.
You think Fast Freddie Noren has been good so far on the factory Honda machine? Well, dig this: Noren's best finish in American motocross riding a privateer Honda for MX Heaven "team" came at Washougal when he finished eighth a few years back. With the way he's riding this summer, maybe Freddie can get into the top five? After all, Washougal is about as close as it gets to Sweden.
The Canadian MX series is winding down, with this weekend's race in Quebec on Sunday being the seventh of ten. KTM's Kaven Benoit and MotoConcepts' Vince Friese are in a big battle for the MX2 title, while GDR Honda's Colton Facciotti has a 28-point lead on MCR's Mike Alessi. Tune in on Twitter on Sunday after Washougal to @directmx and @guaranteedmx for updates.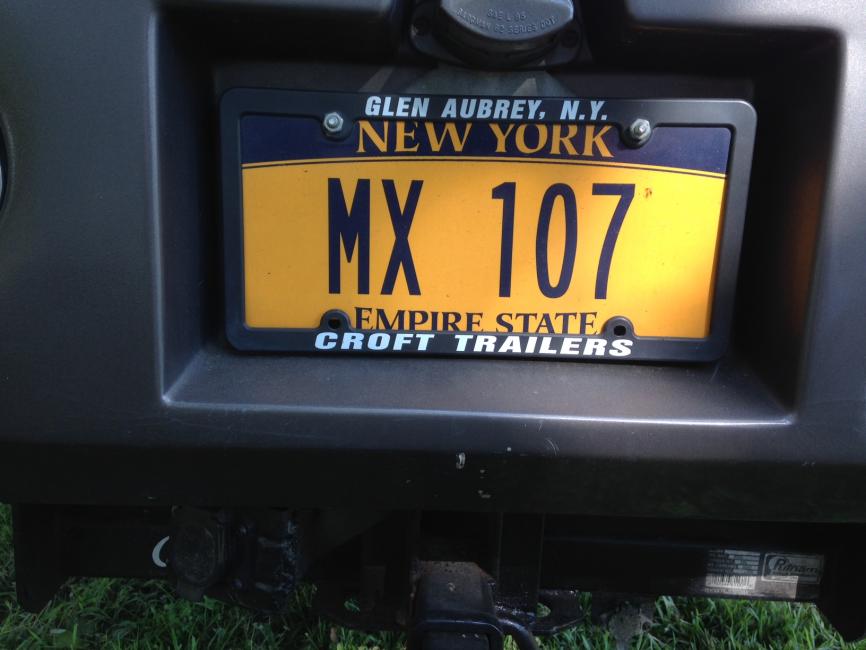 We've been doing this thing over on PulpMX where we run a privateer poll and the winner gets $500—half from us and half from a reader/listener who donates $250 for a signed jersey from one of their favorite riders. We've given out over 5K this year to riders like Ronnie Stewart, Chris Blose, and Fredrik Noren, all because of the generosity of riders like Jake Weimer, Wil Hahn, Nick Wey, and more for donating a jersey to the cause.
Well, this movement inspired '90 125 East Region SX Champion Denny Stephenson to put up three of his race-worn jerseys for bid. So far the first two have gotten us $700, and his #3 Arenacross Thor jersey is almost done. All money goes to a privateer and you can bid here.
PRO PERSPECTIVE – WHAT LIES AHEAD FOR HERLINGS (DAVID PINGREE AND JASON THOMAS):
PING: The Big One. Daddy Long Bone. F-Town. Those are all really stupid ways to describe the largest bone in the human body, the femur. You can watch America's Funniest Home Videos for hours and be astonished at how rugged the human body is, then scratch your head when you see a rider tip over in a corner and snap his femur in half. I was never great at physics, but I guess it's all about angles and leverage. Anyway, riding an 85cc motorcycle as an adult is apparently a good way to break your femur, and Jeff Herlings learned that the hard way this week. His trip to the States is off, and he won't make the Motocross of Nations, but by 2015 he'll be all better but for the scar.
I broke my femur at the San Diego Supercross in 1996, and after a surgery to jackhammer a rod through the center of my bone like they were pounding stakes into dry clay, I was up and walking. I mean I was literally out of my bed the following day walking around the hospital. Once the rod is placed, the bone is secure and all you're waiting for is the incision to heal before you start aggressive therapy. Jeff will walk with a limp for a while, but he'll be back on a bicycle and in a swimming pool very soon.
The big question/argument is whether or not to have the rod removed. Some doctors will tell you to keep the rod in until you're done racing dirt bikes and acting like an idiot because it strengthens the bone. Other will recommend taking it out as soon as possible because if you do apply enough force to bend the rod, you can shatter your bone and that is, obviously, very bad. If you wait too long, though, the rod and screw will become encrusted in calcium and it will be very difficult to remove at all. I haven't stopped acting like an idiot just yet, but I think my hardware is in to stay. Anyway, those are some of the neat decisions Herlings will be forced to make in the coming months.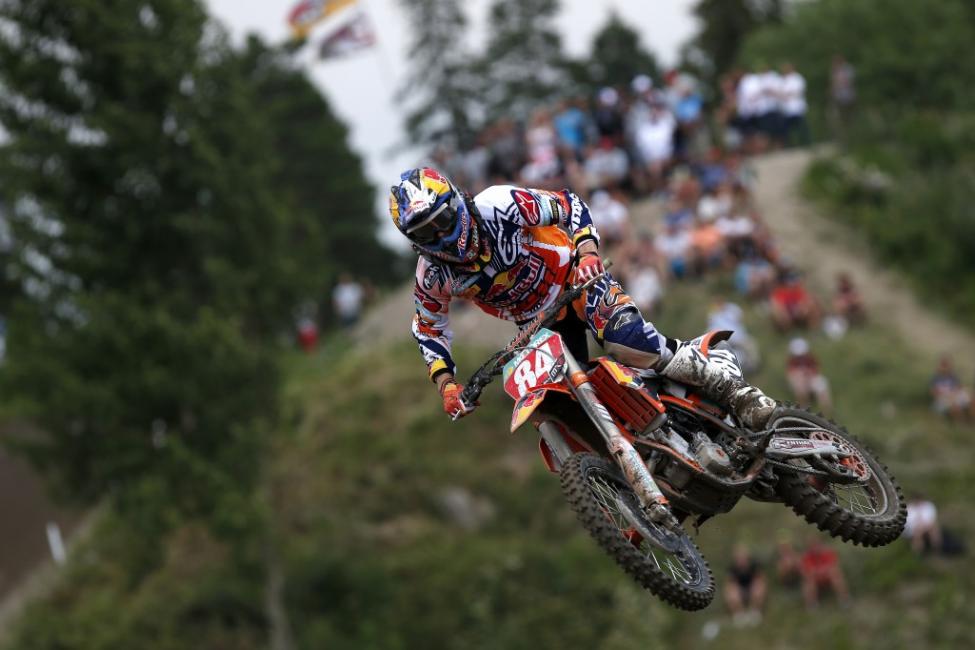 JT: Femur injuries are some of the most dreaded for motocross racers. I personally have never broken mine (knock on wood), but I have been around many people who have. In fact, my friend and former mechanic Dan Truman has broken his three times, so I have some experience with the issues that arise. The weird thing is, like Ping said, you are able to be up and around really soon after surgery. This is so different than an ACL injury or broken tib/fib, which will keep you off your feet for weeks if not months. The big hunk of titanium they insert into your bone does a great job of stabilizing the area and allowing you to mobilize. For Herlings, this injury came at a terrible time for his summer plans. He needed one more race to mathematically secure another world title, and he had his American debut in three weeks and the impending MXoN showdown in Latvia. While there is never a good time for an injury, this certainly was less than ideal.
The big question now is what will happen with Jordi Tixier and the MXGP points coming down the stretch. I have heard rumors that Herlings could try to race the last GP in Mexico if absolutely necessary (and if it even happens), but that seems like a bad idea. With no practice time and a partially healed bone, it just seems like a recipe for disaster. Let's not even bring up the medical care he would be banking on south of the border. It will be interesting to see how this plays out, though, as it's difficult to tell a young, motivated world champion that he has to sit on the couch and watch his season wash away. Regardless of what he does, hopefully he makes wiser decisions moving forward (like not racing an 85 in the middle of a world championship) and lets his femur heal fully. Herlings is a star, and it would be a shame for something like this to dampen his future.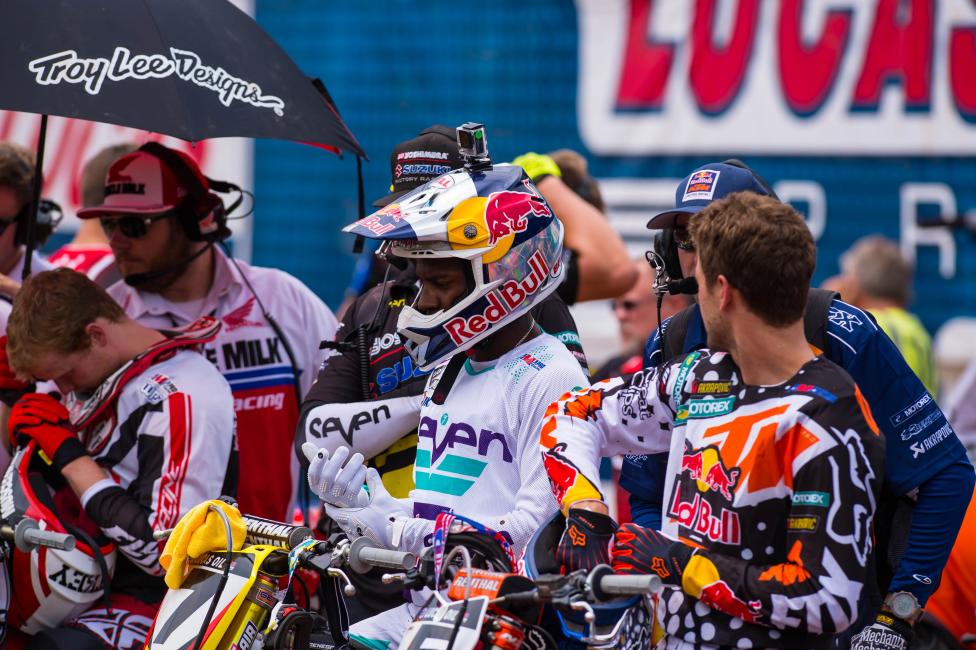 WIN A 2014 HONDA CRF450R (Andrew Fredrickson)
You've got the chance to go home with a brand new 2014 Honda CRF450R, courtesy of American Honda Motor Co, and help out Asterisk in the process. They've got a raffle going on HERE and it's pretty darn easy to enter. Select how many tickets you want (they're $10 each) and fill out the form, hit submit. It's that easy. But wait, there's more .. It's not only a bike that could win, it includes a Yoshimura Ti exhaust system, Team Honda/Muscle Milk Graphics kit, Honda Motorcycle Stand and full set of Fly Racing gear and helmet too. All the proceeds are going directly to the Asterisk Mobile Medical Unit, so you might as well buy a few tickets. The contest will end August 15 and the winner will be announced August 16 at the 2014 Indiana National. The winner does NOT need to be present to claim the prize.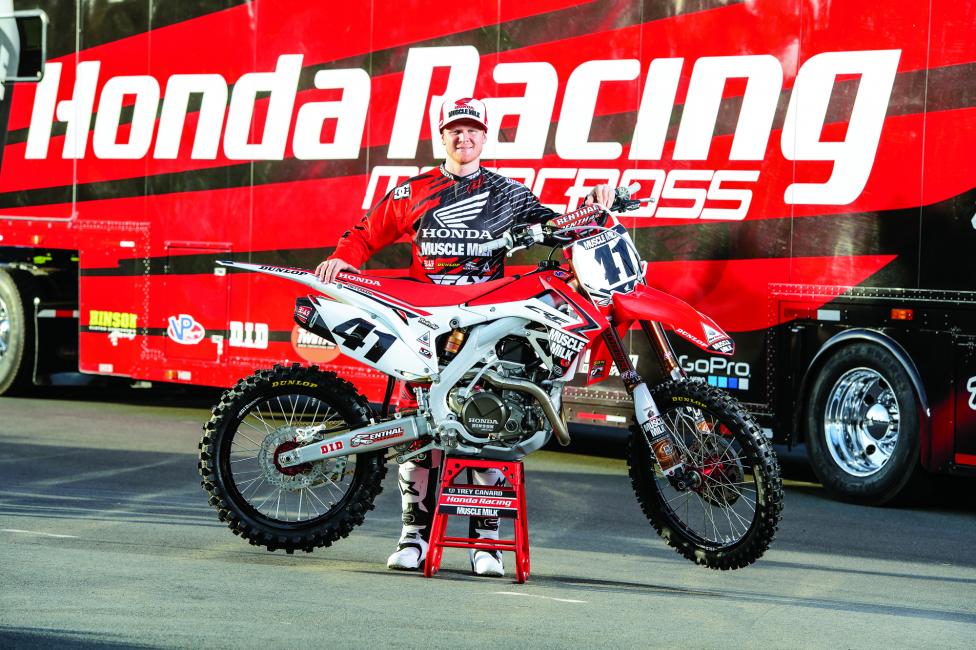 HEADLINES OF THE WEEK:
"Dammit, Justin Bieber, Stay The Hell Away From Kevin Durant" - Deadspin
"How Dungy Got It Wrong." - ESPN feature on former NFL coach Tony Dungy
RANDOM NOTES:
Are you going to Washougal this weekend? Stop by the Racer X booth to subscribe or renew and get 13 issues of Racer X plus a six-pack cooler sleeve for just $20!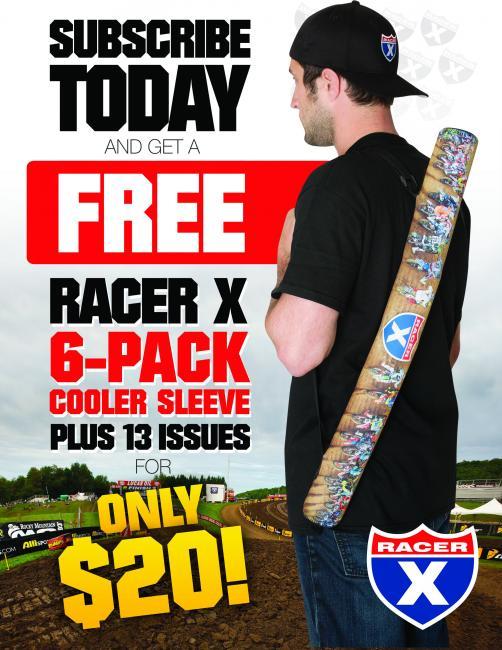 Pretty cool "The Best Motorcycle Moments in Music History" by Rolling Stone.
Weege and JT joined Matthes for the Fly Racing Moto:60 Show, where they dealt with Stewart's absence from the series and much more, here.
Jason Thomas says that Chad Reed's not done here.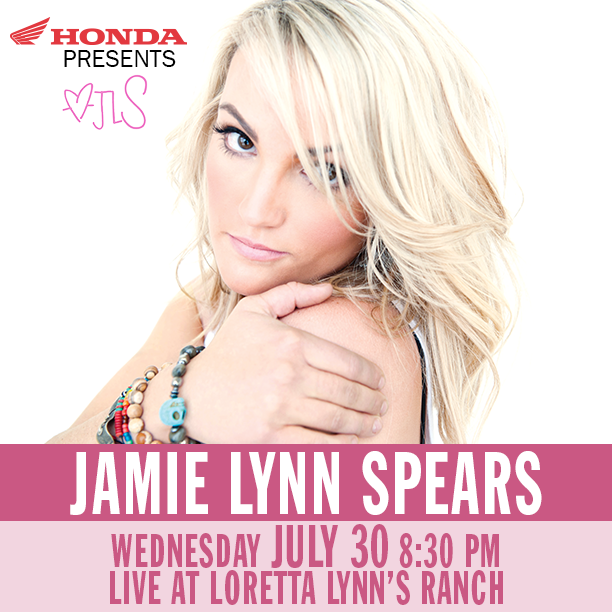 David Vuillemin can't understand why Marvin Musquin didn't get elected to the French MXDN team here.
Moser catches up with Jake Weimer on his bad comeback race here.
Swizcore compares James Stewart's career to the Beverly Hills Cop trilogy here.
For the latest from Canada, check out DMX Frid'Eh Update #31.
Okay, that's it for Racerhead. Thanks for reading, and see you at the races.