Washougal Motocross
Washougal

,

WA
Washougal
Lucas Oil AMA Pro Motocross Championship
Jeffrey Herlings broke his femur Monday, so now he's out for his expected stateside appearance at Unadilla and possibly this year's MX2 World Championship. Here's what our staff thinks; add your thoughts below.
Jason Thomas: The news of Jeffrey Herlings injuring himself was a major letdown. The news that he injured himself on an 85cc bike at a charity race being held by his boss, well, that's something else entirely. Whether or not you think it was a good idea for Jeffrey to put himself in that position is up for discussion and won't change the facts at this point. There are many ripple effects from this injury. First, he holds a 145-point lead with four rounds remaining in the series, leaving 200 possible points up for grabs. That gives Jordi Tixier a fighting chance to steal this title away if he can win and win often.
Also, all of the anticipation and hype leading up to the Unadilla showdown has vanished. The Lucas Oil Pro Motocross Championship has plenty of excitement to offer in its own right but the addition of the Dutch superstar would have been a series highlight. It is not to be, however, and that's a shame.
One of the biggest disappointments for me personally is that he will miss another Motocross of Nations appearance. The MXON is my favorite event of the year, and Herlings racing on European soil is something I really wanted to witness. He was injured for the 2013 version as well, and with his removal from the Dutch team, their chances are basically nil. It really is a blow to the event's star power, but nonetheless, I will be there rooting on our nation's best.
His injury isn't life threatening, but a broken leg certainly limits the amount of off-bike training that can be accomplished. Had it been a broken arm, he would be able to cycle and run quickly after surgery and thus maintain a decent physical condition. The leg injury will have him sitting squarely on a couch for weeks and months on end, so when he does get to train and ride, he will have a lot of work to do. All of this is only relevant if he does indeed try to race the final round in an attempt to salvage this championship. If Tixier cannot close the gap and Herlings is safely ahead in the standings, he will have months to recover his strength and form. To say that Herlings will have a close eye on Tixier's progress in conjunction with his own recovery is an understatement of the highest degree.
Steve Matthes: Well, this certainly lets the air out of Unadilla a bit, no? With the news that Herlings had broken his leg racing an 85 at Stefan Everts' charity race (yes, you read that correctly, and I would bet there are some very important people at Red Bull KTM not happy with letting their star rider jump on an minicycle), it's robbed us, the AMERICAN MOTOCROSS FANS (all-caps for emphasis, these colors don't run), of seeing the #84 over here in what surely would have been a great race at Unadilla.
You never want to see a rider get hurt, but it sounds like he'll recover fine, and he's young enough where he'll be able to have a long career ahead of him. In the meantime, I'm now very much reinvested into the Grand Prix series!
Let's face it; with a lack of riders on the gate, and two dominant riders in each class, the GPs have lost a lot of luster the last few years. It's almost like KTM and Youthstream are working together to just steamroll everyone else that shows up. Antonio Cairoli and Herlings are amazing riders, but Herlings' refusal to move up to MX1 (or Red Bull KTM's decision to keep him down—it all depends on who you talk to) has made the GPs pretty boring.
Have you ever wondered what American motocross would look like if James Stewart or Ricky Carmichael didn't have the desire to move up into the big bike class and challenge themselves? Well, wonder no more, because Herlings has been winning for four years (going on five as he's committed to the class for next year) and in my opinion, collecting a bunch of empty victories. When rules are made that force MX2 riders to advance out (the age-23 rule, but never mind the "win two world titles and you have to move out" rule, which was taken away conveniently before Jeffrey won his second title) and you have one rider young enough to dominate, then yes, it's set up for empty wins. Somewhere in Belgium, Joel Robert is disgusted.
But anyway, I'm back into the GPs now! Can Jordi Tixier get the needed points in the last few rounds to get a world title? Will Herlings come back at the last round to try and get the few points he needs to win this thing? Shades of Corrado Maddi in 1984 (Google it, kids)! There's no shortage of first-time winners coming up and some great racing. It's a shame an injury had to make this happen, but it did and now we're here. I'm excited!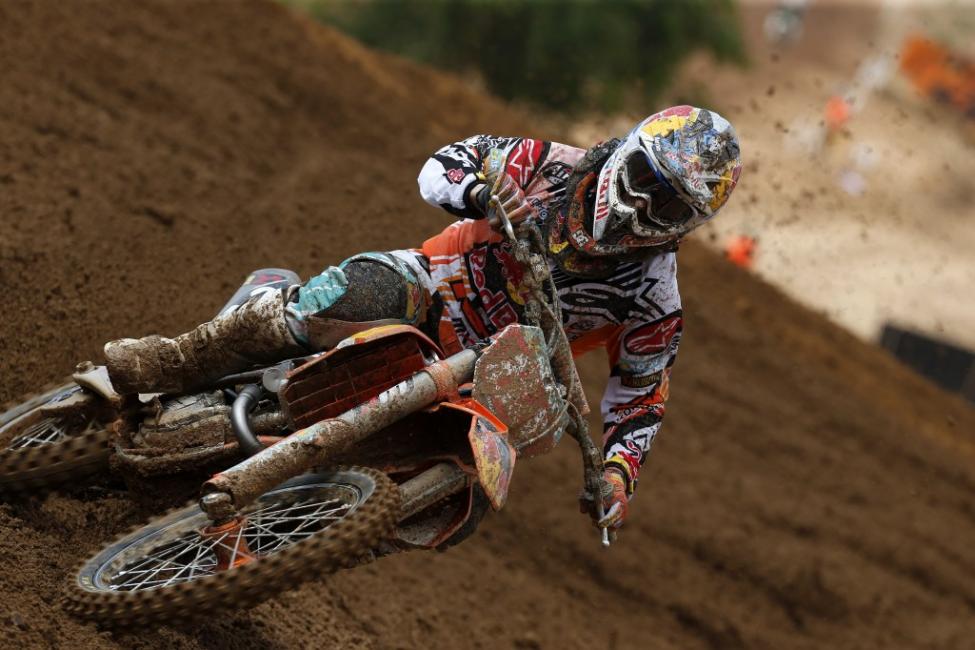 Chase Stallo: What this does is put a damper on what could have been the biggest European name to try a national stateside since Stefan Everts. (Oh, the irony.) There are only a handful of riders that really push the needle in motocross. Jeffrey Herlings is one of those riders.
Since his announcement that he would contest the Unadilla round of Lucas Oil Pro Motocross, message boards, comment sections, the media tent, and all those Internet radio shows and podcasts have been fixated on his appearance. "Gotta make plans for 'Dilla! I want to see him live," clamored one commenter on RacerXOnline. "Anything less than a podium will look really bad for the most dominant MX2 rider of all time and "World Champion," said another. Herlings fans the flames of the timeless (and mostly tiring) US versus GP debate. It's a shame we won't get to see it live in a few weeks time.
In regards to the GPs, Jordi Tixier (heard of him?) has a real chance to secure his first MX2 Championship. As David Vuillemin pointed out yesterday on Twitter, Tixier has scored 158 points over the last four GPs—he trails Herlings by 145. The pressure is on Tixier—and no one else. Win and become champion. Lose and Herlings captures his third title. The ball is in his court.
Davey Coombs: Not only were U.S. fans looking forward to seeing Jeffrey Herlings here, so were the European fans who like to see how their best riders stack up to ours—and not just at the Motocross of Nations. And I have a pretty good feeling that guys like Jeremy Martin, Cooper Webb, and Justin Bogle were chomping at the bit to see how they stack up against this multi-time MX2 World Champion. So were veterans like Dean Wilson and Blake Baggett, who have stumbled at recent MXoN races, as well as former world champs Marvin Musquin and Christophe Pourcel, who would no doubt like to remind their fans that they still have some of what Herlings obviously possesses—world-class speed. Unadilla is still going to happen, and it's going to be a fantastic race, but missing the chance of seeing the winningest rider in MX2 Grand Prix history here on our soil is a bummer.
I know that Stefan Everts will come under the gun for letting Jeffrey ride a minicycle at a charity race, but this could have happened practicing at home (Ricky Carmichael '03), doing a photo shoot (David Vuillemin '02), jumping in a freestyle contest (Travis Pastrana '01), learning how to back-flip (Josh Hill a few years back), or even water-skiing (Bob Hannah '79). Herlings was riding a motorcycle with friends, and he got hurt. Period. It just happened to be at Stefan's well-intended event.
One more thing: I had to look at the other guys' words here to find out who's even in contention over there to possibly win the title now that #84 is out. Herlings has so dominated the MX2 class in the last three years that it's hard to even name the rest. (Maybe they should rename this the MX84 class?) Sure, he's been the beneficiary of the American dreams of Ken Roczen and Marvin Musquin, both of whom vacated their MX2 world titles to come here and race, but he's also ridden a 250F as fast as anyone I've ever seen—and that includes James Stewart's one-time-only demolition of Glen Helen in 2004. If there's some kind of karmic justice here, no one catches Herlings and he still wins the title.
I hope Jeffrey comes back, better than ever, just as Kevin Windham did after he broke his femur back in practice at the Georgia Dome in 2002. See, it happens all the time.