Blake Baggett's bike broke early this season at Hangtown, but this most recent DNF at Millville was much more costly. At Hangtown in moto two, Baggett was running a lowly eleventh when his bike stopped running. At that point, he didn't look like the title contender we expected him to be, anyway, especially considering he'd now struggled at two of his best tracks.
By Millville, he was back to his old tricks, coming off an overall last weekend at Budds Creek. Yeah, he struggled with his first moto start at Millville—as per usual—but when he started strong in moto two and immediately raged into the lead, this win seemed like a foregone conclusion. For Baggett, the challenge is getting into the lead, not holding it. Besides Hangtown last year, when he was far from 100 percent due to his wrist injury, we can't think of a national where Baggett got into the lead and didn't win.
Well, maybe he was due to lose one. Baggett uncharacteristically stepped over a berm and crashed hard while leading, bending his bike something fierce in the process. He was set back to about twelfth, and then his engine let go, leaving him to walk back to the pits. His race was over.
The crash and mechanical served up a legitimate 25-point loss. It's a motocross axiom to claim all DNFs as a loss of 25 points, but not all moto wins are guaranteed. We'll go so far as to say when Baggett got to the front in moto two, this was as close to a lock as you can get—even though the Yamalube/Star RacingYamaha boys were flying, the chances of any 250F rider catching and passing Baggett late in a moto were pretty slim. We'll never know, though, because Baggett gave this one away.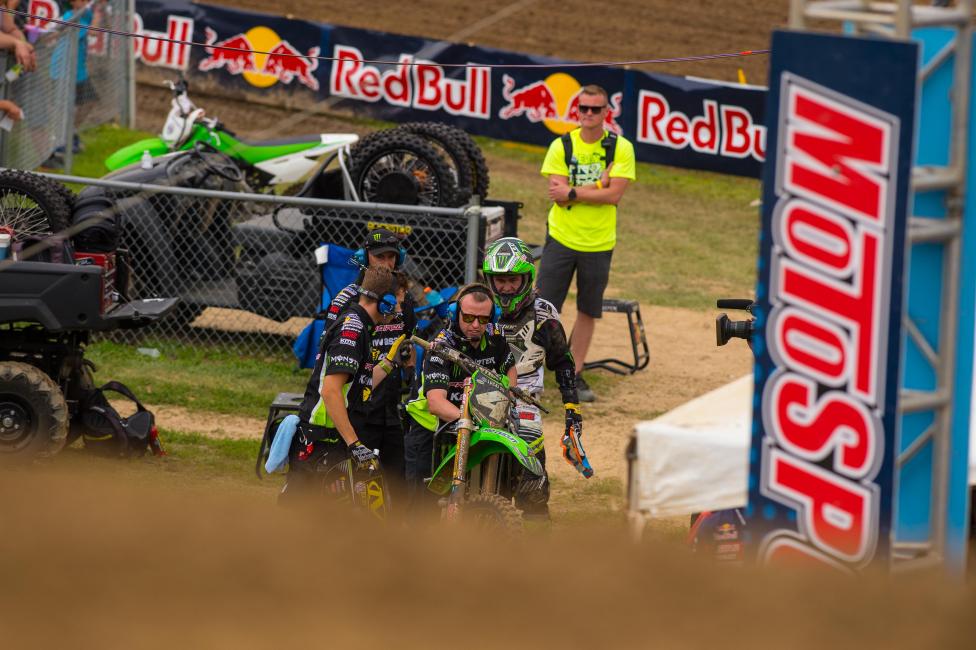 I saw Baggett hanging in the Monster Energy/Pro Circuit Kawasaki truck after the race, and he was somehow still smiling. Mitch Payton, honest as ever, even showed me the broken engine part that led to the DNF. This is racing. This is reality. And now all the work Baggett did to try to get back into this points race is gone—at 56 points down, he's further back than he was after Hangtown (he was off by 52 there).
"We're not going to give up, though," said Blake. "If I don't get the red plate until the very last moto of the season, I'm okay with it that way. And if we don't get it at least we tried."
When Baggett won this title in 2012, he made history by being the first to ever carry a red plate through an entire season (red plates only came to the Nationals in 2009, and until 2012 points leads had swapped in every championship). Now Jeremy Martin looks to do the same.
While Martin carried the day with Millville's overall win, his road to the title may have actually improved more greatly due to troubles for Baggett and teammate Cooper Webb (ninth in moto one due to a crash). Yeah, the stuff that happened to Baggett could have happened at any other race, but they seemed to loom much larger this weekend.