By Steve Matthes, Jason Weigandt and Aaron Hansel
Marvin Musquin, Red Bull KTM, 2-4 for second overall in 250
Congratulations on another solid second. I know you're disappointed with anything but a win, but solid day.
For sure. It feels good to get second again. My best result was at RedBud two weeks ago, and Budds Creek didn't go the way I wanted. I was not happy. But this weekend was really good. We rode press day and we had a good weekend—long weekend—and we had fun. I'm happy to have another weekend in second place. The first moto was my best moto of the year. I pushed really hard. I was pretty tired after the first moto. So I knew the second moto was going to be tough, but I did my best. A little bit bummed that I got a fourth. I had third and I was running third, and [Jason] Anderson was doing pretty good, and he got me at the end. But still happy; second overall feels good.
What happened on the start in that first moto? And also, you came from a long way back. Talk about making your passes.
Well, actually my first start was better than the second one. I thought it was not too bad because I was on the inside, and I was maybe close to the top five. I thought it was okay. It's been really tough to get a good start. I feel like all those bikes are doing pretty good out there and all those riders. It's hard. But I was charging pretty good and made some good passes. I was really pounding. Those guys are going for it. The competition is tough, but the first moto was great. Second moto I didn't get a good start. In the first, I would say three or four laps I was not so good. I was behind Jeremy Martin, and we got stuck behind [Joey] Savatgy. We couldn't pass him for a couple laps, and Cooper Webb passed me, [Jeremy] Martin, and Savatgy and all those guys really quick. I was stuck behind Jeremy and we had to work out way up. It's okay; obviously every week we're doing better.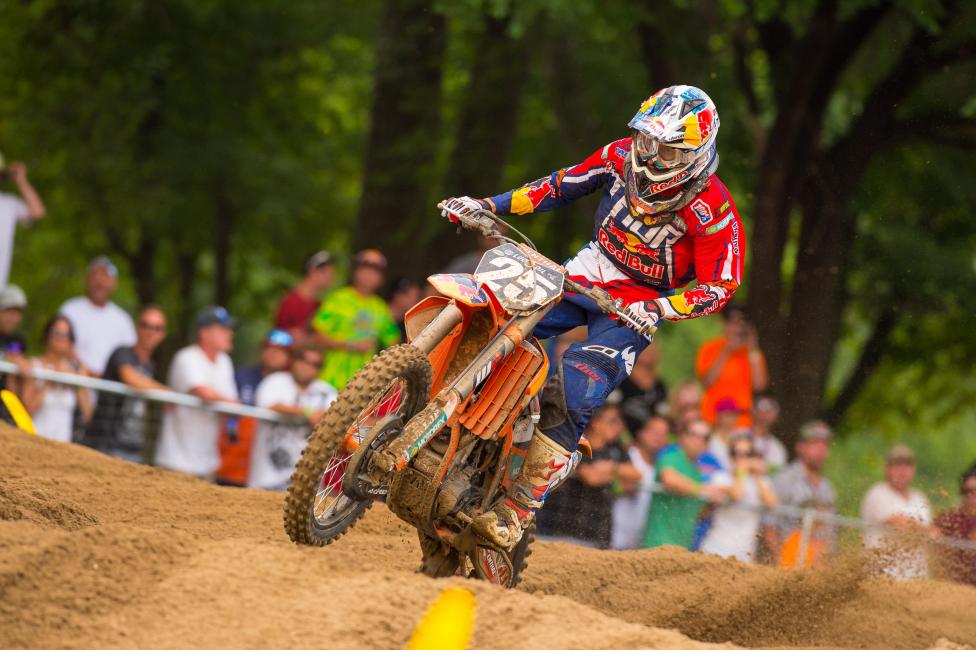 Cooper Webb, Yamalube/Star Racing Yamaha, 14-1 for third overall in 250
Moto one was not what you were hoping for. Talk to us about that for a bit.
Moto one wasn't very good for me. I was riding really well and coming down the hill and just ran in the back of [Justin] Bogle, just coming in way too hot. Unfortunately went down and kind of ripped my grip off. Just tried to do the best I could. Just kind of struggled after that to kind of get going and unfortunately got a ninth. Obviously lost some points on that but second moto was awesome.
You were pretty determined obviously in moto two. You didn't have a good start, and you were just blowing past dudes. You looked like you were on it.
Unfortunately, I haven't had a good start in a while. Trying to work on those. I worked on them a lot this week, but it's just one of those things where it's hard to… when you get to the race and the gate drops with forty other bikes, it's one of those things that you got to have it perfect, especially in the Lites class. I knew I had to be up front, and I felt like I could have won in the first moto if I would have got a better start. I just went out there and rode the best I could and picked dudes off. I knew I had to get to the front and try to win. – Jason Weigandt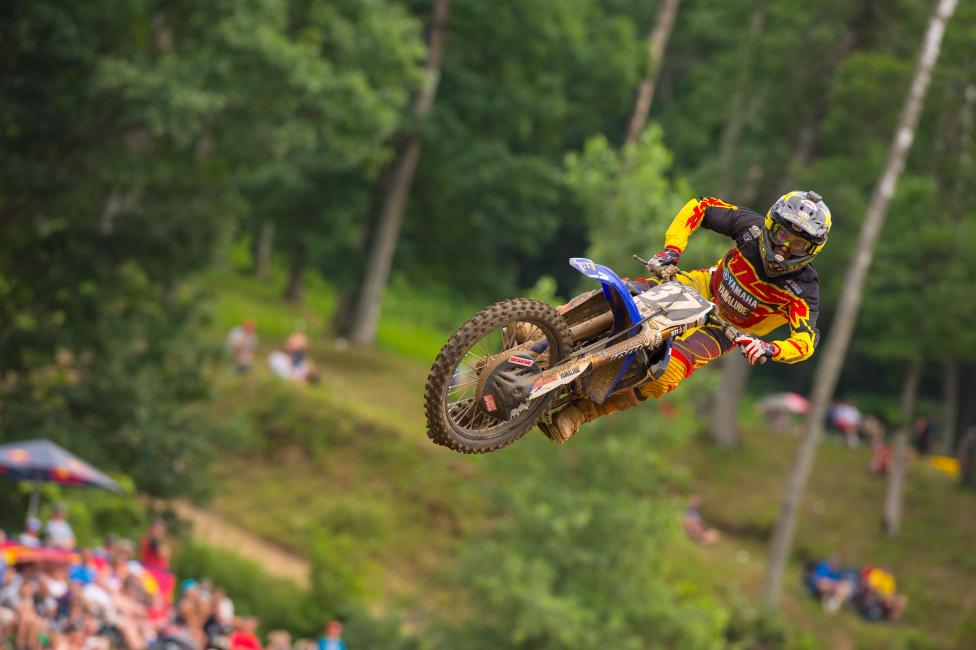 Dean Wilson, Monster Energy/Pro Circuit Kawasaki, 5-5 for fifth overall in 250
It was an okay day. We had some improvement, so I'm happy with that. I just want to keep improving every weekend; that's what's important to me. Jumping back in with these guys, they're going really fast. It's a fast pace, so to run up front for a little bit in the first moto and come through in the second moto was a pretty good step in the right direction. I just want to be on the podium and get some wins. I'm getting closer for sure, so I just need to make it happen here shortly.
Is fitness an issue after sitting out for a while?
Yeah, it's definitely a little bit of an issue. I was laid up for two weeks where I straight didn't do anything. Then I did rehab on my leg and all that, but there are no excuses with the leg—it's all healed up. I just need to keep doing these thirty-minute motos and keep racing with these guys. I need to get good starts as well. My second moto start wasn't good, but the first one was pretty good. If I keep getting those, I'll keep getting better every weekend.
Talk about that downhill section. Was it getting sketchy toward the end?
It probably looked crazy; we went way up there. Going up it wasn't my favorite because I'm a bit of a bigger guy, but going down it was fun. A lot of things could go wrong going down that, so it was a good thrill. They actually cleaned it up a little bit between motos. We were going really fast down that hill, and if something happened, it could have been really ugly. It got pretty rough, but the whole track got really rough and demanding with those rollers. Those were to my advantage with my long legs, and I really enjoyed those big rollers. It was a good weekend and I'm definitely looking for more. – Aaron Hansel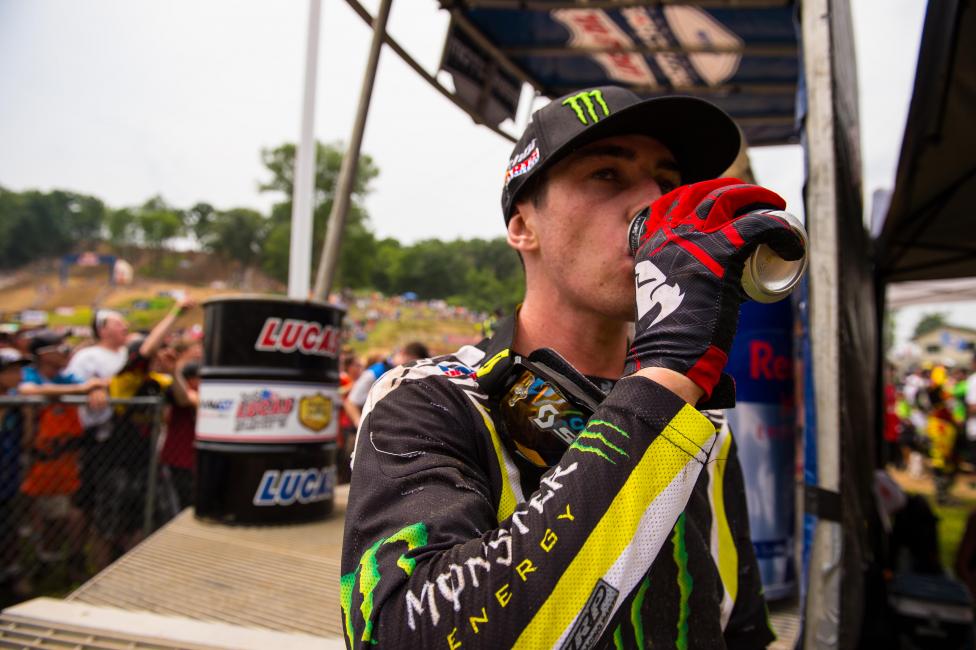 Jason Anderson, Rockstar Energy Racing KTM, 11-3 for sixth overall in 250
Down on the first turn, you lost your front brake. This track's got some hills; I don't know if you're aware of that. You got eleventh. Second moto also a great ride, but first moto, man, that was great. That was awesome.
The first moto was pretty good. Bummer I lost my front brake. If I hadn't got in the first-turn pileup, I think I could have got a podium again.
It was just amazing, dragging the rear brake.
It was, but I felt like I was just able to carry my momentum pretty good. Just kind of focus on rolling more than… Then the second moto I started around eleventh and then worked my way up to third, which was pretty solid for me. I was coming up on Martin, and he's good here. Webb was riding good. I just needed to start up there with them so I could just run with them from the beginning. – Steve Matthes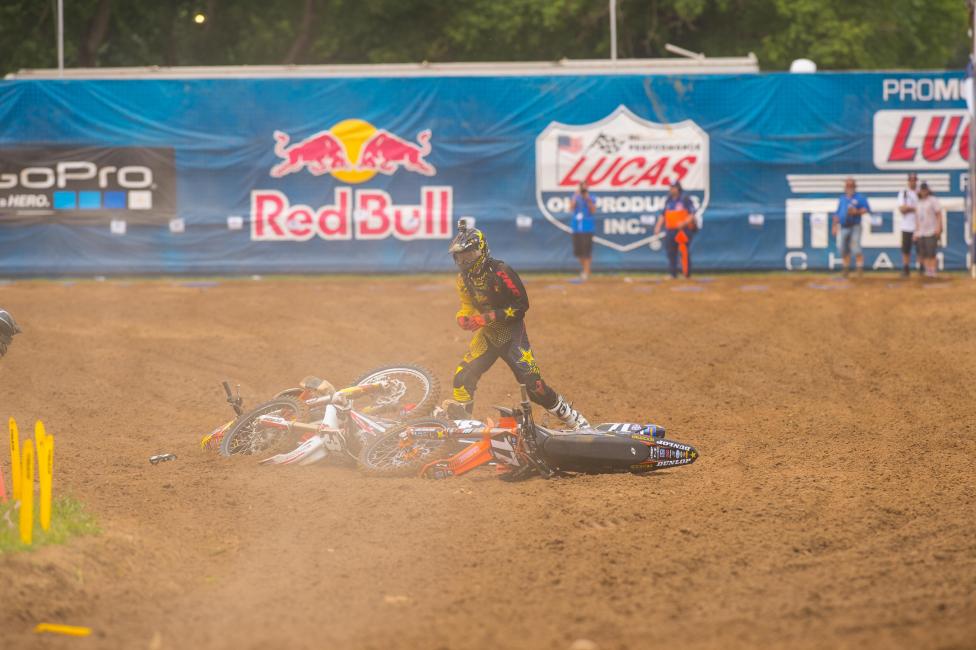 Cole Seely, Lucas Oil/Troy Lee Designs Honda, 7-13 for ninth overall in 250
Good first moto ride. You got to be pretty pumped about that. You were like fifteenth or sixteenth—somewhere around there. I think you got seventh or eighth.
I felt great first moto, especially coming out of practice. Didn't have that great of a practice again. Tried to get as warm as I could on a spin bike and go out there and do my best. But I just couldn't really hit my marks that well. First moto I was sitting fifteenth and kind of went into panic mode and started picking guys off and catching and catching guys. Me and Bogle kind of had a little battle there at the end for sixth, but he got the better of it and I ended up with seventh. —Matthes
Justin Hill, Monster Energy/Pro Circuit Kawasaki, DNF-DNS in 250
I felt pretty good in the first moto, but I had a little nagging injury from Tennessee, where I pulled some muscles and did some things with my arm. I came back and stretched it all out again, and today it got to the point where it wasn't even possible for me to ride anymore. That happened, and I had to pull off. I felt like I was really going to eat it out there, so I made the decision to pull off and not risk it. I'm going to go back and get an MRI and see if I can get it fixed.
No idea if you'll make Washougal?
I'm not sure at this point. I'll get it worked on, I'll get an MRI, and I'll find out. If it says that something is torn or something, then obviously not. If it's something in there they think we can work out, then definitely, I want to make it to that race. I want to do the best thing for me and be ready for next year and not have to nurse an injury continually. — Hansel