Welcome to Racerhead. It's the dead of summer, and racing is heating up both in the amateur and pro ranks. The eighth round of the 2014 Lucas Oil Pro Motocross Championship will be at John and Greta Martin's Spring Creek MX Park in Millville, Minnesota, and the amateur kids will soon be up and running at Ponca City, Oklahoma, followed by Loretta Lynn's in ten days. Needless to say, it's a busy time for everyone!
Busiest right now is probably Jeremy Martin, the red-plate-wearing points leader since Moto 1 of the 250 Class outdoors. The Yamalube/Star Racing Yamaha-backed Martin may be living out a lifelong dream tomorrow if he wins the national on the track he literally grew up on. Martin had a great race there last year, and he's coming off a good ride in Maryland. He's leading the points, and he's the heavy favorite to win on his home track, even if he's living most of the time in Tallahassee now. But former champ Blake Baggett is coming off a convincing win in the second moto at Budds Creek, claiming the overall for the third time—he's now got as many overall wins as Martin. Baggett is tough on every track.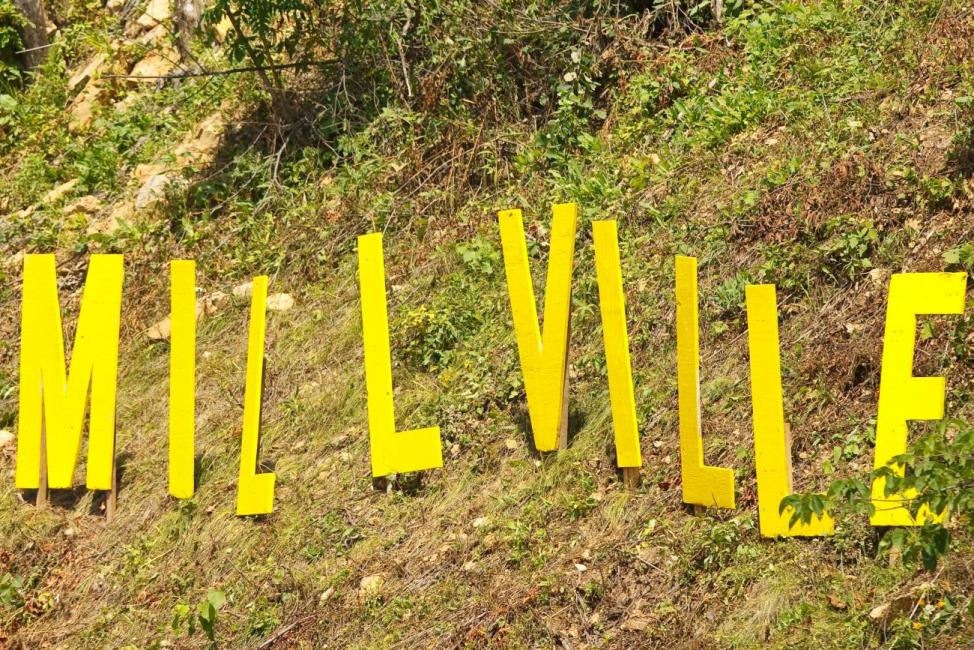 In the 450 Class, all eyes will be on Ryan Dungey, another home state rider, as he tries to reel in his Red Bull KTM teammate in the points. The boys will have more on these two farther down, but I have something that caught me off guard last Saturday: in talking to Dungey's boss Roger DeCoster about the upcoming Motocross of Nations in late September and asking who might be going for Team USA, The Man told me Dungey may have had a change of heart. With his wedding to longtime girlfriend Lindsey coming up this fall, RD5 let RD5-X (get it?) know that he may end up volunteering to go after all. As it stands, it seemed like the 450 riders might be Trey Canard and Eli Tomac, so this would be a big change for sure. The 250 rider? It's got to be between Martin and the more seasoned Baggett.
Of course there's also James Stewart, but given his recent difficulties with the FIM drug-test failure back at the Seattle SX and however that turns out, he is almost certainly not going to go. And speaking of James, again, no word from USADA on the Colorado drug testing that was conducted at the Lakewood National, which is understandable: in the event of any issues, the athlete is notified first and given the chance to appeal or explain any issues. The last people to know are the media and the series organizers—unless the athletes decide to discuss it.
Which brings me to the hot rumor of someone in the 250 Class having something foreign in his testing from Colorado. I have seen it online and had people ask me about it, but I have zero knowledge or information or even a name to attach to the rumor. My guess is we will know whether it happened or not soon enough.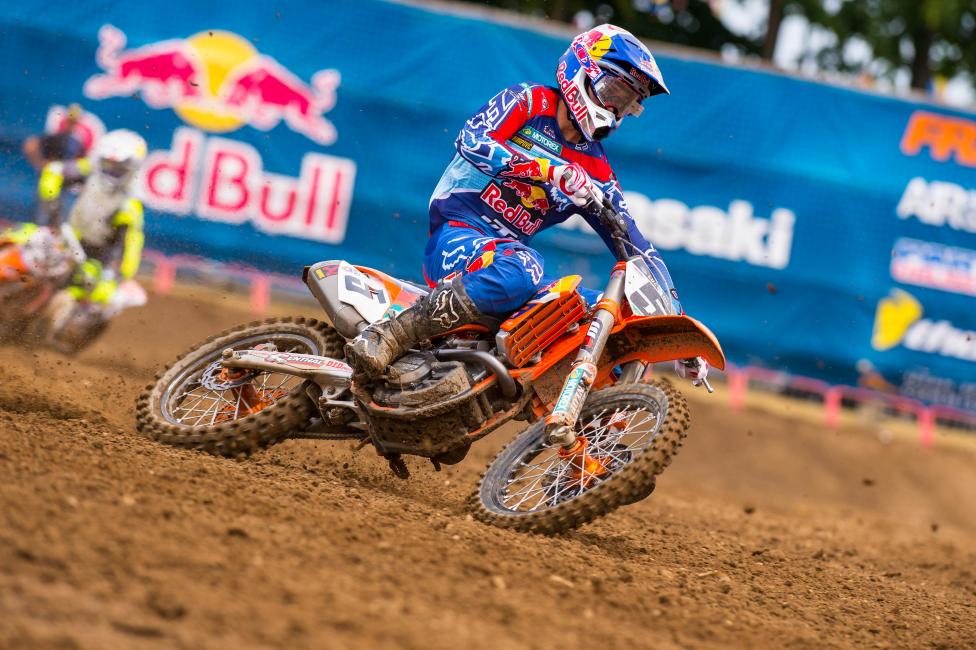 So why does testing take so long? We're talking about extremely thorough and sensitive matters here, and possibly the banning of an athlete from sport for up to two years—maybe more. No one wants to get this stuff wrong, and unlike, say, the Tour de France or the NFL, our sport is not big enough or experienced enough to expedite these practices. With so many things to look for, then retest, then litigate with any athlete or team in question, then go through the appeals process … it's not as easy as someone peeing in a cup, running a marijuana test, and saying, "You're busted." It hasn't been nearly as easy or efficient as anyone involved with the series would hope. But remember, it took nearly three months for the FIM to contact James Stewart about his issue, and it's still being processed while he's under "provisional suspension" from any FIM events.
I will say this: Stewart was coming off of his best outdoor races in years—1-1 at High Point—when the news leaked that he'd tested positive for a prohibited substance (widely thought to be Adderall). Since then he has struggled in pretty much every moto, and I'm sure it's under the heavy weight of the scrutiny and pressure and scandal that's surrounding him right now. I really hope he can let it all go away tomorrow for two motos and get out there and enjoy himself and show these guys what he can still do on a motorcycle. The sport is more fun to watch when he's at his best.
Here's Racerhead.
HISTORY ON HIS SIDE (Chase Stallo)
Through seven rounds of Lucas Oil Pro Motocross, Red Bull KTM's Ken Roczen holds a 26-point lead over teammate Ryan Dungey. With ten motos left in the season—including Dungey's home race this weekend—anything can happen. But if history is any indicator, the sensational Roczen could be staring down his first 450 Class title. Since 2004, only twice has the points leader after seven rounds not gone on to win the championship. It happened in 2007 when James Stewart, who led after seven rounds, got injured at Washougal and missed the last three rounds of the championship; Grant Langston edged Mike Alessi that season. More recently, in 2011, Ryan Villopoto overtook Chad Reed down the stretch. Remember though, it was at Round 7 in Millville when Reed had his infamous "Reed Catapult." He was never really the same after that. Below are the standings after seven rounds over the last ten years and as well as the final standings.
| | | | | |
| --- | --- | --- | --- | --- |
| Year | Rider | Points After 7 Rounds | Rider | Points After 12 Rounds |
| 2004 | Ricky Carmichael | 350 | Carmichael | 600 |
| | Chad Reed | 296 | Reed | 476 |
| | | | | |
| 2005 | Ricky Carmichael | 344 | Carmichael | 594 |
| | Kevin Windham | 267 | Windham | 485 |
| | | | | |
| 2006 | Ricky Carmichael | 342 | Carmichael | 539 |
| | Chad Reed | 273 | Windahm | 407 |
| | | | | |
| 2007 | James Stewart | 265 | Grant Langston | 439 |
| | Ricky Carmichael | 241 | Mike Alessi | 423 |
| | | | | |
| 2008 | James Stewart | 350 | Stewart | 600 |
| | Tim Ferry | 245 | Ferry | 414 |
| | | | | |
| 2009 | Chad Reed | 290 | Reed | 481 |
| | Andrew Short/Josh Grant | 236 | Short | 388 |
| | | | | |
| 2010 | Ryan Dungey | 318 | Dungey | 543 |
| | Andrew Short | 229 | Brett Metcalfe | 398 |
| | | | | |
| 2011 | Chad Reed | 300 | Ryan Villopoto | 526 |
| | Ryan Villopoto | 294 | Ryan Dungey | 514 |
| | | | | |
| 2012 | Ryan Dungey | 336 | | 580 |
| | Mike Alessi | 256 | | 453 |
| | | | | |
| 2013 | Ryan Villopoto | 333 | | 563 |
| | Ryan Dungey | 291 | | 507 |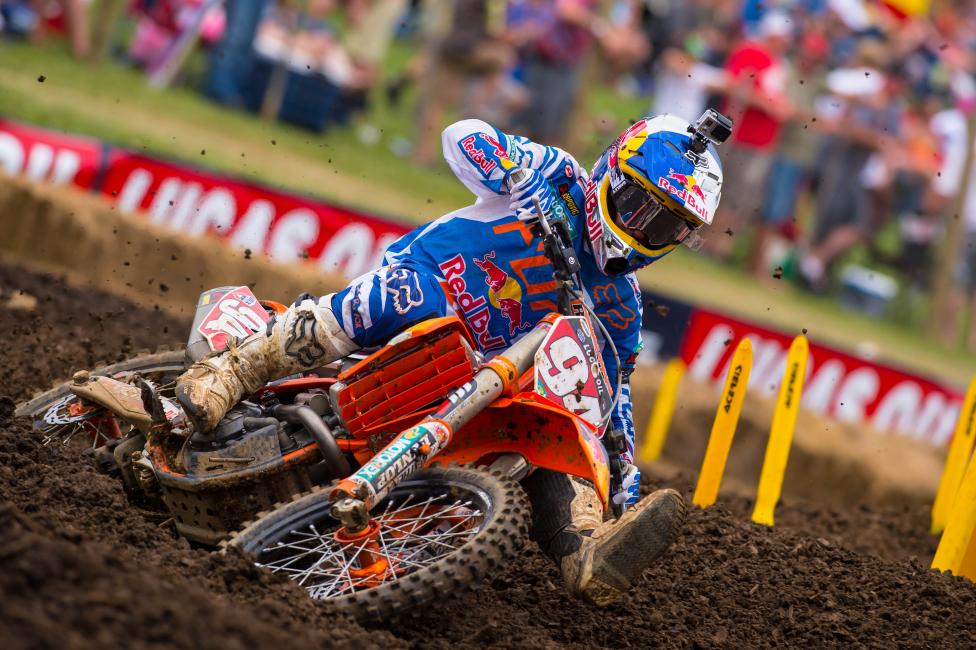 BLACKWATER PINBALL (DC)
JH Leale is over in Europe with old rivals-turned-great friends Ricky Carmichael and Stefan Everts for the Ricky Carmichael University. They will also be doing the Everts and Friends Charity Race in Belgium, which is the one race this year I can't believe I'm going to miss. But while in Sweden, Leale spotted this gem: a rare Blackwater 100 pinball machine by Bally! You don't see many of these, though I know where two are in Morgantown, West Virginia….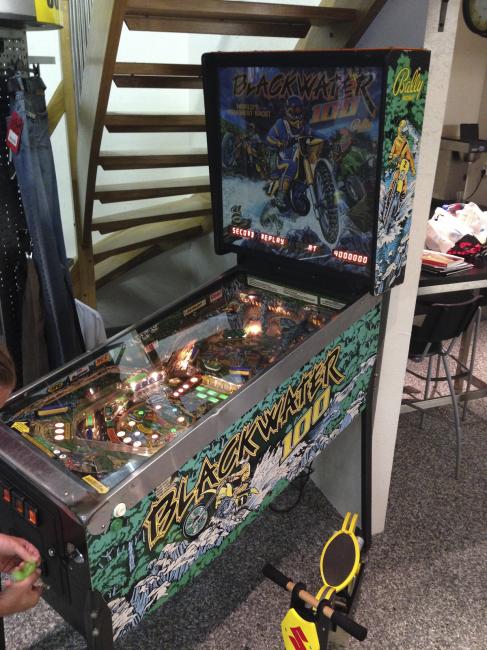 LOOKING CALIFORINA, FEELING MINNESOTA (Steve Matthes)
Millville, Minnesota, home of Round 8 of the Lucas Oil Pro Motocross Championship, is one of the cooler tracks/nationals on the circuit—and last year it literally was, as temps dropped into the 60s on race day. It was one of the weirdest days I've ever experienced at Spring Creek MX Park, and I think I've only missed one national there since 1988.
Of course we've been talking about last weekend's race at Budds Creek and victory for Jeremy Martin (in Moto 1) and Ryan Dungey, as we mentioned in our "3 on 3" article this week, on the race recap podcast, the Fly Racing Moto:60 Show, and so on and so on. We think the hometown boys (it's quite literally a homecoming race for 250 points leader Martin and his older brother Alex) will win this weekend, but it's not a sure thing. If Blake Baggett, Cooper Webb, or Kenny Roczen is able to win this weekend—and I mean a straight-up "I'm faster than you" kind of win—then one or both of these championships are thrown right up in the air.
The situation with home-track advantage is a tricky one, and it doesn't always play out the way we think it should, but sometimes it does exactly that. Case in point is John Dowd winning Southwick a few times, but Dowdy was just plain fast anyway. Maybe a better case should be locals like Pat Barton, Tony Lorusso, and Keith Johnson always stepping up in the sand. But because it's sand, maybe that doesn't apply either.
A ha! We found one example that fits the bill. In 1986 there was a national awarded to Lake Sugar Tree in Axton, Virginia, the home track of David Bailey. The Little Professor grew up riding that track, and while locked into a battle with teammate Rick Johnson for the '86 500 National title, Bailey swept the national with a 1-1 score and led Johnson to wonder in Motocross Action about applying for a national for his own backyard track. [Ed. note: Don't forget Jason McCormick's second-moto win at Washougal '99 in the 125 class.]
We've seen Dungey just dominate at Millville before, and last season Jeremy Martin's best race by far as a rookie came at his home track. With the way Yamalube/Star Racing's Martin has stepped up this year, it should be his race to lose. With Red Bull KTM's Dungey, the advantage is a little less. He didn't grow up on the track like Martin did, but he knows it well.
Either way, I'm predicting this weekend's race to be a key one in deciding both championships. I'm lucky I get to be there to witness this, and I'll be the dude in the sand whoops watching.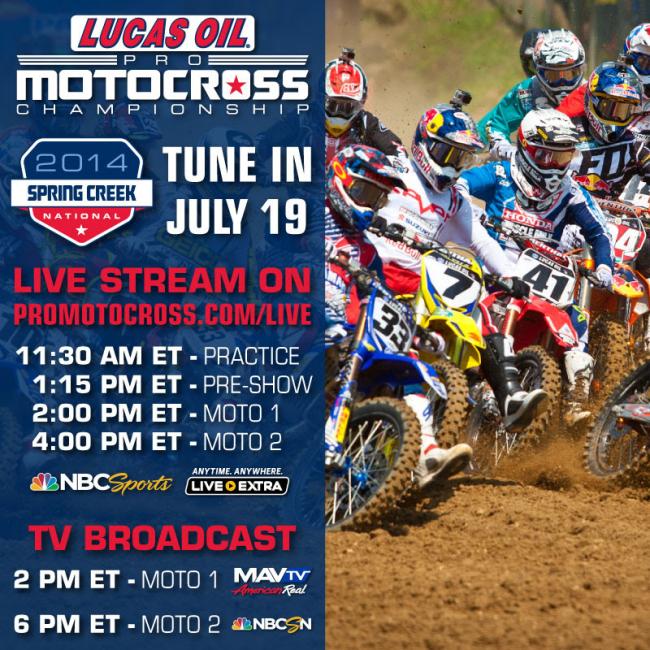 PRO PERSPECTIVE – HOMETOWN ADVANTAGE (Jason Thomas and David Pingree, with an assist from DC)
JT: Hometown races are always a highlight on the calendar. With so much travel involved at this level of racing, any chance to be close to home and race in front of friends and family is welcome. I always felt a boost for the home races in two ways: the adrenaline from knowing everyone in attendance and the familiarity in the soil.
For a hometown race like Millville, both Jeremy Martin and Ryan Dungey will have people screaming their support all the way around the facility. That energy does transfer and will spur them to push harder and longer than they would otherwise. Not wanting to let the home team down is big motivation as well. It is a team effort at the home race—everyone is pulling for the hometown boys.
The soil is an even bigger edge. I was a totally different rider on dirt I felt comfortable with. I knew how much traction was present in all conditions, I could predict when berms would blow out, and I knew where the secret lines would form late in the day. The importance of being so familiar with the dirt can't be understated. Riders are experts in how much traction and tack is available. Jeremy Martin and Ryan Dungey grew up playing in this exact composition of dirt and have more experience with how it breaks down and responds. Throttle aggression, apex points, and bike setup are all keys in that both of them will have a marked advantage. Despite the emotion, comforts of home, and motivation that can bring, the soil familiarity is the biggest advantage of all.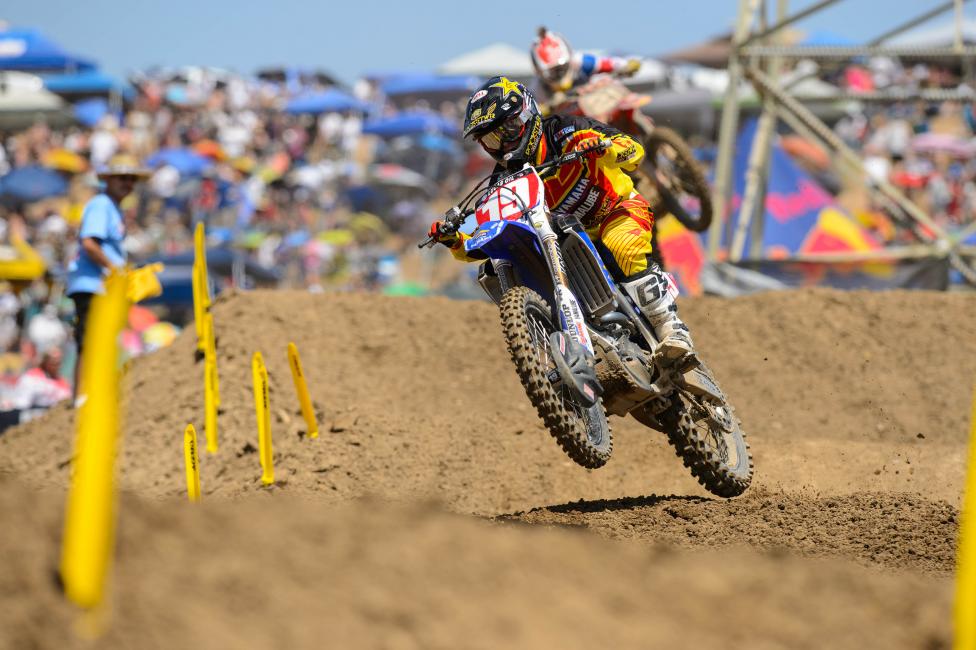 PING: Hometown advantage is a very real thing. Whether it's the roar of the crowd behind you at a football game or the familiarity with a course or venue, it helps. For the Millville locals this weekend, the many laps they've spent at this facility will serve them well. Knowing which gates provide the best angle on the first turn, where the soil gets hard and slick versus where it stays loamy, and, most importantly, where the good lines are as the day goes on all help these riders. Look for the Martins and Dungey to have a distinct advantage on Saturday.
DC: Having a hometown race is not as easy as it may seem. Yes, you know the track, the fans are pulling for you, and the pressure to win is immense. But there's also the constant pull of old friends and distant family wanting to hit you up for tickets, the promoters hope to use your local celebrity as much as possible to get press going and more fans to turn out, and it becomes a very long week in general—longer than most other races.
I remember Travis Pastrana's first visit to the High Point National as a pro in 2000 and his mom, Debbie, needing dozens of tickets for friends coming up from nearby Maryland (and I can't even imagine what it was like for Travis at Budds Creek, his real home track). It happens in supercross too—Feld Motor Sports' Todd Jendro and Dave Prater have told more horror stories about the ticket asks they've gotten over the years, especially at Anaheim, which is like a hometown race for half the pack in Monster Energy Supercross!
Of course it's great to have local heroes to tap into, and it's crazy how Spring Creek has two this time. But I can assure you that both Martin and Dungey will be relieved when it's time to head west to Washougal, where they will just be two of the rest of the guys trying to win the race.
WORLD'S FASTEST BOOKSTORE (DC)
While out west this week I took my friend Nick McCabe's advice and went searching for the "World's Fastest Bookstore" in Burbank, better known as Autobooks Aerobooks. He said it's all auto, airplane, and motorcycle books and magazines. Well, I found it, and it did not disappoint. As you might expect, they mostly had auto racing books, but they also had a sizable motorcycle collection, including all of the style books by the great Rin Tanaka. They had cool new (and rare) magazines like Iron & Air (check it out on Instagram: @ironandair) and Side Burn, and even a display for Gunnar Lindstrom's exceptional history of Husqvarna. The store is located at 2900 West Magnolia Blvd. in Burbank, California. By all means check it out! www.autobooks-aerobooks.com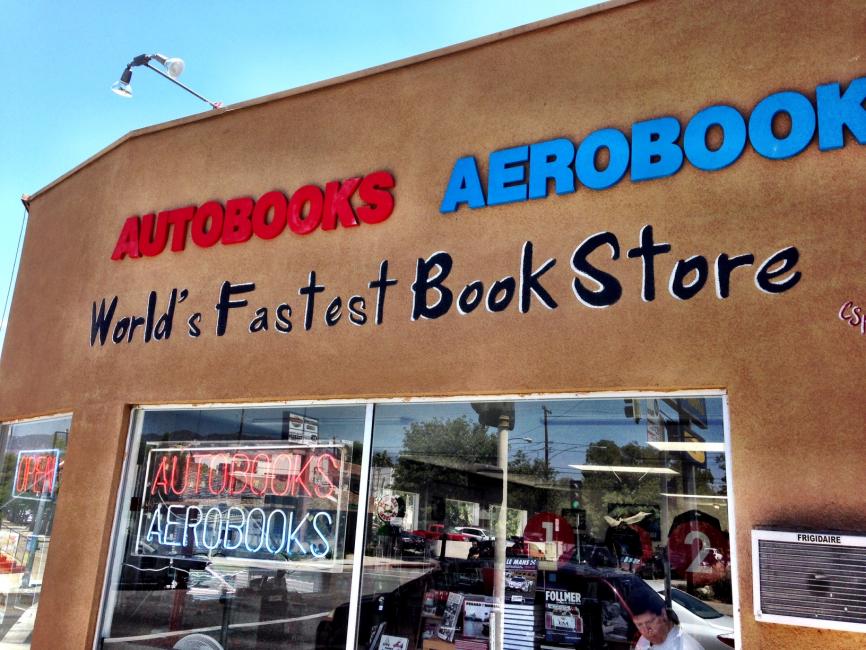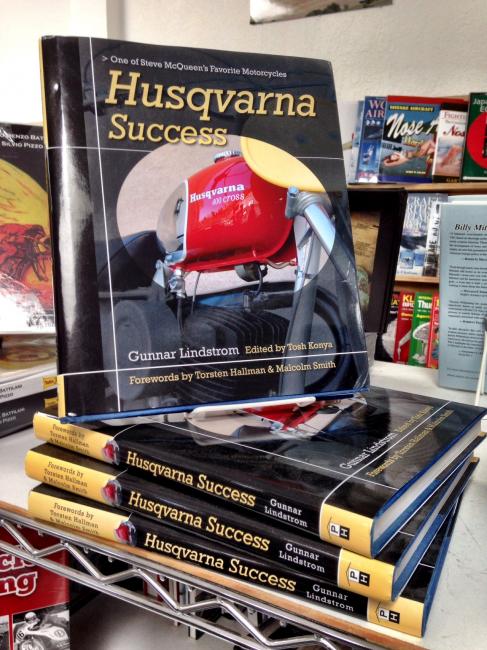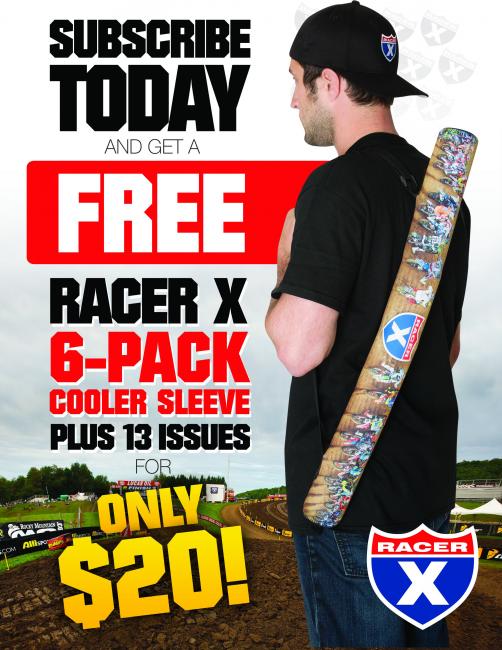 RANDOM NOTES
Are you going to Spring Creek this weekend? Stop by the Racer X booth to subscribe or renew and get 13 issues of Racer X plus a six-pack cooler sleeve for just $20! And don't forget stickers are always free at Racer X! Be sure to stop by and get your 2014 Spring Creek event sticker.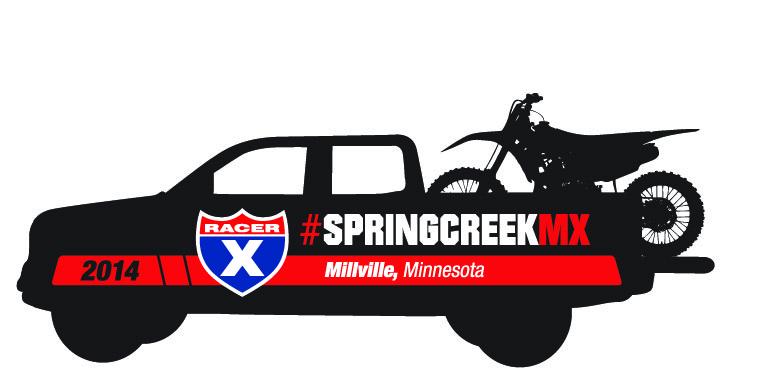 Our man Eric Johnson was the featured guest on the BTOSports.com Racer X Podcast. It's an excellent bench racing session.
David Vuillemin talks about Budds Creek in the way that only the Cobra can right here.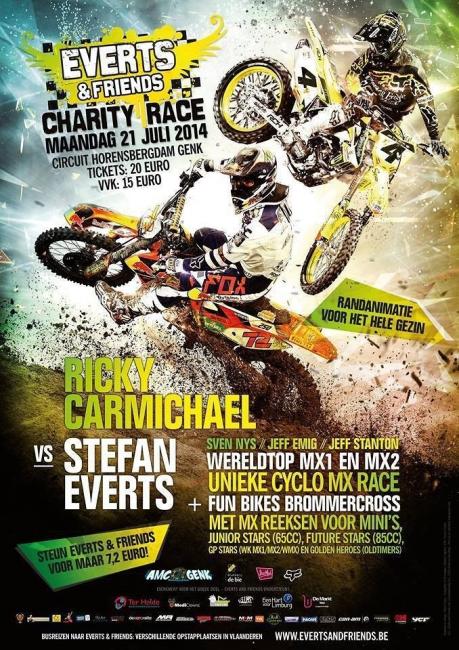 Our man Moser reached out to Fast Freddie Noren about his ride at Budds and more in this text interview (we're serious) here.
Jason Thomas looks at the rest of the tracks on the series and gives his podium predictions in the 250 Class here.
James Lissimore gives us a photo report from Gopher Dunes Canadian National here.
For the latest from Canada, check out Frid'Eh Update #30.
That's it for this week. Sorry it's a little short, but thanks for reading Racerhead. See you at the races!