Spring Creek Motocross
Millville

,

MN
Race Center: Spring Creek
Lucas Oil AMA Pro Motocross Championship
Hello, everyone, and welcome to the Rev Up. One of the most beautiful summers of professional motocross we've ever seen will continue this weekend at Spring Creek Motocross Park in Millville, Minnesota. I really can't think of a more fitting way to open this column. It's just been crazy beautiful from the weather, to the racing, to the entire flow of the 2014 Lucas Oil Pro Motocross Championship. We can't ask for anything more as fans, and as we get closer to Saturday the best event of the series may be on tap. I don't know, though; each round has been excellent. One of my favorite Jeff Emig (who broke his collarbone last week; get well soon Jeff!) quotes was in the very first Shift catalog. When asked if he had a favorite Led Zeppelin song, his zany reply was, "That's like asking me what is my favorite bite of a sandwich." Boom. I mean, try to pick a round this year that was better than any of the other. Glen Helen and Hangtown were awesome with surprise winners. Colorado and High Point had insane battles. Then Muddy Creek, RedBud, and Budds Creek were downright sensational. Now, we have Millville on tap, and with the forecast being another sunny, eighty-degree day, we already know it's going to be sweet. This is a very, very cool facility, and there isn't a rider on the starting gate that doesn't like the track.
Lots of cool history here. This was the venue Ricky Carmichael chose for his final race in his career, and also the one where he became the first man in the motocross history to lap second place. Yeah, it was a mud race, but I think that of all RC's countess resume listings that note raises my eyebrows the most. How the hell do you lap second place at a Pro National? You don't—only RC does. The track was also home to an American Motocross icon, the late, great Donny Schmit, and is actual home of current 250 Class points leader, Jeremy Martin. Millville is just a special place. We have new track changes to look forward to, and the championship focus will now begin to sharpen in both divisions as we get Revved Up for round eight! Let's get into it.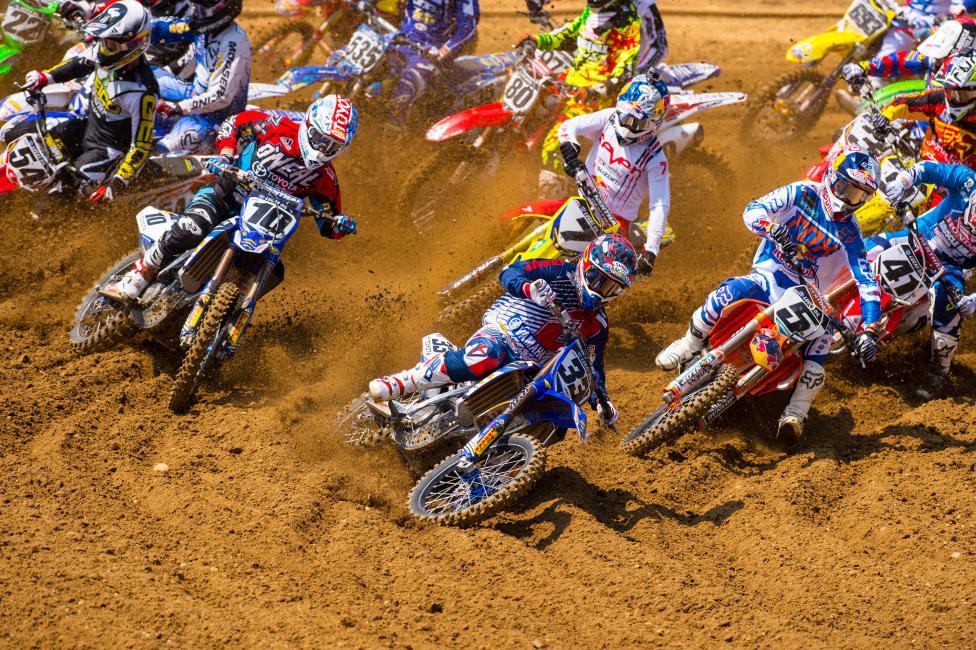 250
Predictions are cliché, but Jeremy Martin is going to win this one. It's a lock. Yes, Monster Energy Pro Circuit's Blake Baggett is on the war-path—and the man most likely to dash a hometown winner—but I strongly feel the rider on the red plated #19 Yamalube/Star Racing Yamaha mount has this one in the bag.
GEICO Honda's Justin Bogle has been looking for a breakout weekend, and as a guy who grew up riding on the loamy red dirt of Oklahoma, he will be the fastest he's been all year at Millville. This guy rides with some serious fire, and at times I might be close to saying he is dirty. Just a little, maybe. He really seems to wick it up and fight even harder when Jeremy Martin is behind him. Hey, I like it. It's motocross—not a buddy-building event.
Rockstar Energy Racing KTM's Jason Anderson finally parked one in the first moto last weekend, and I think we're going to see him on the podium for the rest of the summer. His riding style is so aggressive, and there isn't a rider on the track that has their weight over the rear wheel as much as he does. He is kind of a big kid, and he knows how to get every ounce of HP out of that KTM 250F.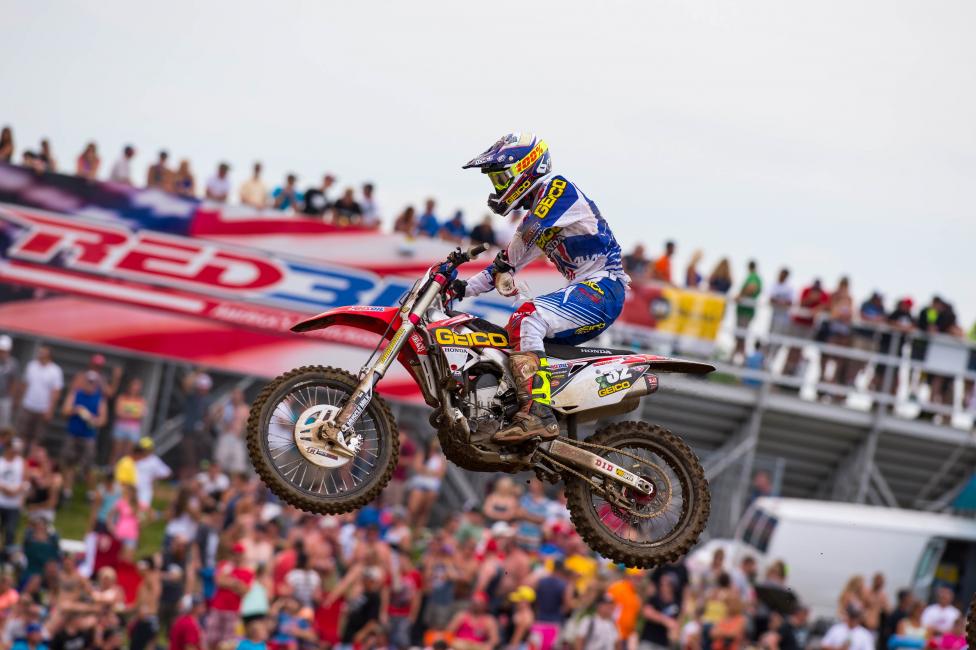 As far as surprise performances go, we haven't seen Justin Hill get too many good starts yet, but he can run if he does. Go ahead and throw Dean Wilson into the mix this weekend as well. He got Freddy Kruegered at Glen Helen, and he'll be back to the front soon.
450
While Red Bull KTM's Ryan Dungey didn't grow up at the track like the Martin Brothers, this is very, very much his home event. After taking it on the chin a few times from his younger teammate and current point leader Ken Roczen, the #5 smoked him last weekend. He was faster and stronger for the first time all series. He is 26 points out, and that can be made up in one moto if something weird happens to Kroc. That said, Roczen went 1-2 last weekend, didn't lose any points, and could very well spoil Dungey's homecoming.
The best moto of the year last season was between Yoshimura Suzuki's James Stewart and Team Honda Muscle Milk's Trey Canard at Millville. The two went to town on each other for the entire moto, and when Trey crossed the line he actually thought he had won the overall. Canard is riding salty, and it wouldn't surprise me if he pushes it through this weekend and really does win the O/A. Same story for Stewart. He has had a few off weekends, which typically, for him, means he is ready to come out and blast off a 1-1. You just never know with him.
Toyota/JGR Yamaha's Justin Brayton and Josh Grant should be at the front off the holeshots with their NASCAR engines (joking), and don't forget that Monster Energy Kawasaki's Brett Metcalfe won at Southwick a few years back. Millville isn't quite Southwick-sandy, but it's sandy/super loamy.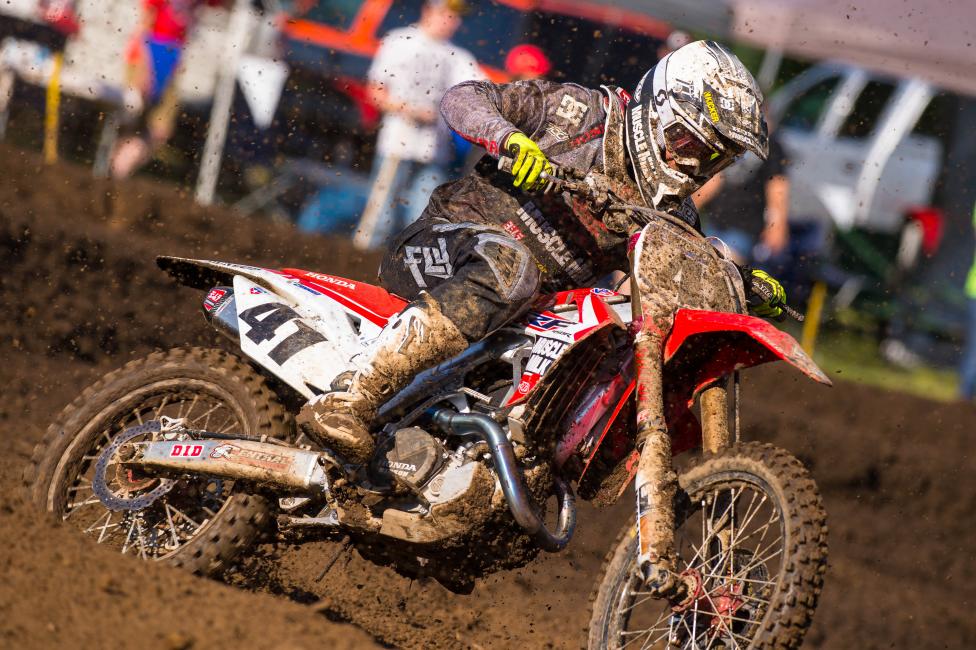 It's going to be just beautiful, folks. The perfect summer will continue, and we have an outstanding weekend of Pro Motocross heading our way. A ton of people from the Midwest makes the long drive up to Spring Creek, and we'll see another stout attendance number. Millville has a lot of history; what new chapters will be added to the book this Saturday afternoon? It's that time again.
Thanks for reading. See you next week.