Things are heating up this summer both on the track and in the rumor department. We set up Chase Stallo, Jason Thomas and Steve Matthes with three key questions. Be sure to share your thoughts below.
1. Can Roczen and Baggett upset the Minnesota boys at home?
Chase Stallo: Can they? Sure. Will they? Not likely. Aside from the advantage Blake Baggett has at Glen Helen, there is no bigger advantage in the sport than what Jeremy Martin and Ryan Dungey have at Millville. Martin literally rides his golf cart to the track on race days. You can't dismiss how comforting it is for riders to spend time at home. They are more relaxed on race day. They sleep better. They are calm. And when it so happens you can walk out your front door and down to the starting line, your comfort level only increases. While Dungey doesn't have quite the home track advantage Martin does, he has enjoyed great success at Millville. Since turning pro in 2006, Dungey has only lost there three times in his career—with one being his first professional race in 2006. With the crowd pushing them every step of the way, I foresee a clean sweep for the Minnesota boys this weekend.
Jason Thomas: I think they definitely can, but there are different reasons for that with each scenario. For Baggett, if he wants to beat Martin in his own backyard, he needs to be up front early. His early lap struggles will be too large of a handicap for him to overcome if he allows that to happen in Minnesota. Having Martin in sight at the end of the first lap is key.
For Roczen, the weather is going to help his chances. The forecasted temperature has risen a bit but is still looking to be reasonable. Dungey is strongest when conditions are at their harshest. If it turns out to be a mild summer day, Roczen stands his best chance at knocking off the Dunge at home.
Steve Matthes: Well, of course they can. Duh! But I like both Martin and Dungey to take wins this weekend. Both guys have been so fast on the track before and will be amped up, etc, etc. But you know that in this never-ending mind battle that two championship rivals have going on, both Kenny and Blake know that a resounding victory at Spring Creek for them will be huge. A straight up win by either guy probably puts the stake right into Dracula's heart, and who knows what can happen after that. We saw Roczen's big crash and DNF at Millville last year play a huge role in the races afterwards, as Eli Tomac walked to the title after both riders were pretty equal. Don't forget Jeremy McGrath's attempted double in 1996 that went wrong and allowed Jeff Emig to get back into the title chase that he would eventually win. The Whoop Monster isn't around anymore but there's still spooky things happening at Millville.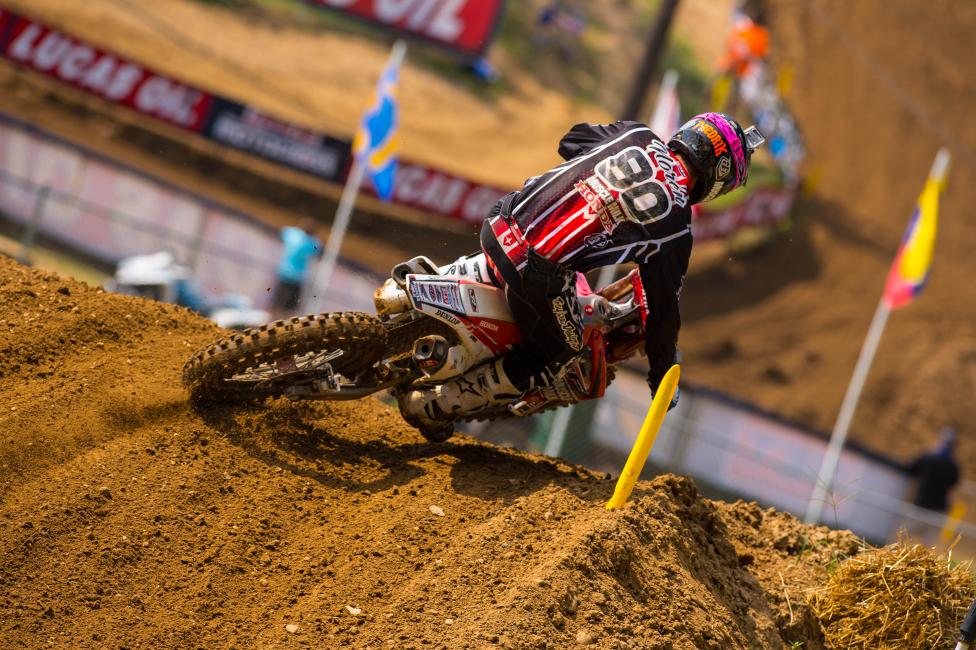 2. Have you been impressed with Fredrik Noren through two races? What does this do for his chances of getting a ride next season?
Stallo: When Honda announced their decision to bring on Noren for the remainder of Lucas Oil Pro Motocross, I told Steve Matthes on his The Fly Racing Moto: 60 Show that Noren would slide into the nine to twelve range. And that's exactly where he has been through four motos with the team. Impressed? Yes. Surprised? No.
In regards to next season, Noren has a giant hole in his resume—supercross. In today's age, one MUST have skills in supercross to land a deal. Noren competed in Monster Energy Supercross (250SX East Region) for the first time in his career in 2014, but struggled to adapt—he made zero mains. I don't see a scenario where he gets picked up for a full season. But, he could be call number one for a fill-in roll outdoors, or as a third member of a team looking for an extra punch in the summer. Either way, Noren will have more help next season than he did before the Honda deal this year, which was basically none.
Thomas: I have definitely been impressed with Noren. I thought he would be a bit better, perhaps getting better starts and having less stress on the weekends. He has exceeded my expectations, though, and was passing riders last weekend that I never thought possible. His fitness looks to be great, and his comfort level has to be growing each and every weekend on the new steed.
I don't think it will do too much for 2015 possibilities simply because he doesn't ride supercross. He is doing great this summer, and that is certainly nothing to discount, but when it comes time to hire riders, supercross is paramount. He is proving that he can be a suitable fill-in rider in the future. That is something in itself.
Matthes: I have been impressed with Fast Freddie. As I wrote in my column, this is going from an "Awww how cute, the Swedish dude got a factory bike" to "Holy crap, the dude is getting close to the top five" territory. There's no doubt Noren has been much improved on the works bike. Good for him and good for Honda. HOWEVER, and there's always a "however," I'm not sure if his improved results will get him anything for next year. Noren just raced supercross for the first time this past year in the 250 Class, and before he broke his wrist, it wasn't going great. And that's to be expected; he didn't grow up riding indoors. But we know how big supercross is to teams, and without having really any results, I'm not sure how Noren would get a top-notch ride with anyone. Outdoors, though, sure. I could see it.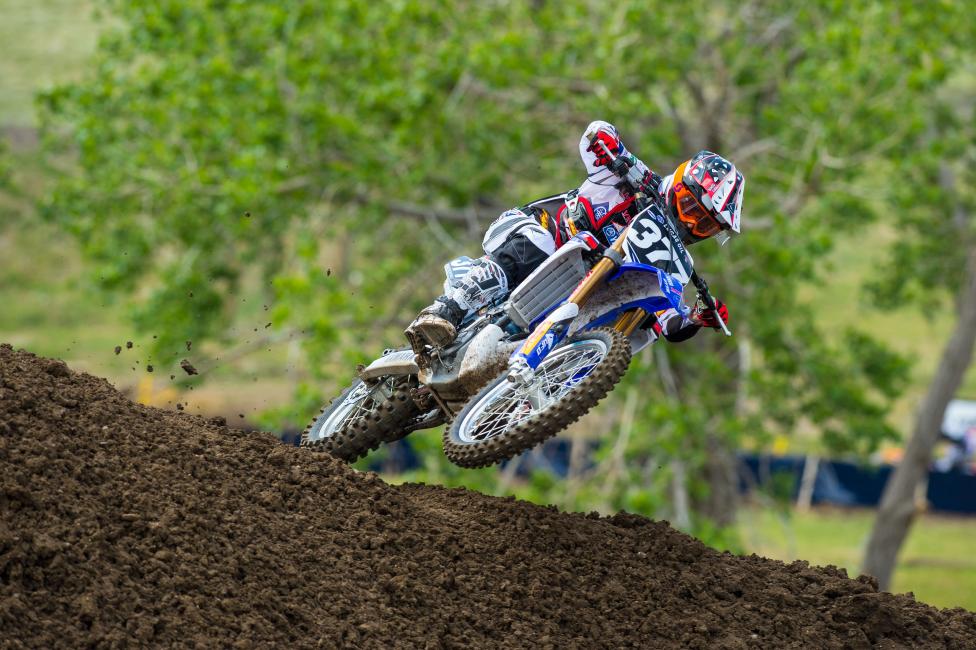 3. We are a little over half way through Pourcel's return to racing. What are your thoughts so far?
Stallo: I was never really on the whole "Pourcel will win a title" wagon. It's just too much to ask of someone who spent the last year not racing. But following a fifth at the opener, I thought he would have at least a moto win by now. If you are looking at his season as a whole, though, I think you have to deem it a success. He's showed up to compete every moto. He hasn't been a problem. He's battled for race wins. And he's currently fifth in points. I guess it depends on what your expectations were entering the season on how you judge him now. Mine were tempered, so it's been a home run in my opinion.
Thomas: I think it has been positive overall. I really did expect him to win a moto by now, and perhaps a few overalls. It goes to show how high the talent level is for these young kids. Pourcel is still improving, and if he keeps putting himself in good positions, he may still win one of these yet. It will be interesting to see Pourcel, Baggett, and Herlings go at it in Unadilla in a few weeks. I think all three of those guys will be highly motivated to prove a point to each other.
Matthes: He's been good. About what I expected, to be honest. Well, not totally. I can't say I expected him to get his expected-results in the manner he's been getting them. I figured he'd sniff the podium here and there, and be a top five guy. I didn't think he'd get over half the Oakley Bomb awards for fastest qualifying lap and get as many good starts as he's gotten. So, in a way, maybe it's been a bit of a disappointment because he's put himself into great positions almost every moto but doesn't seem to have the fitness or aggression to fight for the top spots. If he had a bit more fitness, he could be leading this series because there hasn't been any rider in that class up front as much as the 377. Seriously, he could be winning this thing. Either way, he took a year off racing, so we should be giving him some golf claps. But, oh what could have been.