Red Bull KTM again. And devastatingly so, as both Tony Cairoli and Jeffrey Herlings took major steps toward renewing their FIM Motocross World Championship titles after events at the Grand Prix of Finland and the thirteenth round of seventeen in the series. Put aside the fact that this was Cairoli's eighth MXGP success of the season, fifth double, and tenth podium. It was the manner of his departure from the depleted field in the premier class and extension of his advantage in the championship to 62 points (just 200 left to play for) that indicate a sixth crown on the bounce is firmly in his reach.
Herlings' influence is even more suffocating. He is unbeaten this year and was undeniable in Finland. Number 84 is still the undisputed best handler of sandy terrain. While Cairoli called Hyvinkää "one of the hardest tracks of the season," Herlings shrugged his shoulders and cited his Dutch parentage as one of the reasons why he bounced through the holes and across the ripples with the usual level of wild abandon.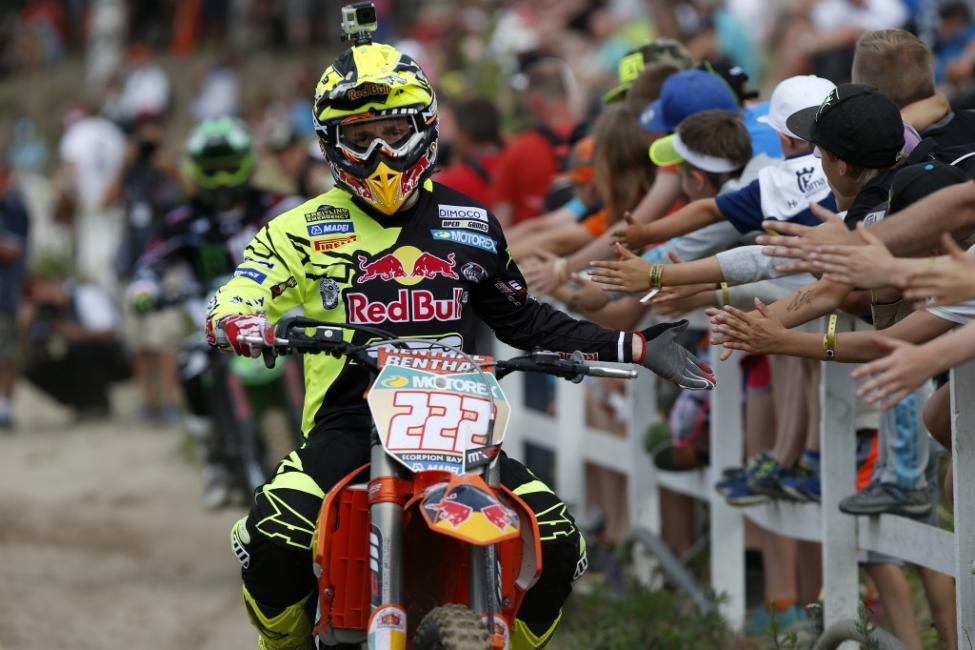 The Hyvinkää sand was not Lommel sand, perhaps not even Valkenswaard (Holland) sand. It had plenty of stones with shallow and deep sections of terrain and a hard base. It was slippery and unpredictable, and carved into such an array of bumps, edges, and knuckles that the relative ease of the layout nevertheless provided a bucking and bruising ride.
Two holeshots through the bizarre first turn (an outside bank pushed the faster riders back into those on the inside, and the first MX2 moto produced pile-up carnage that claimed Australian Champion Luke Styke with a shoulder injury) were again key ingredients to Cairoli's seventy-second career win. It was a carbon-copy dominance from the Grand Prix of Sweden the previous week.
While the Sicilian went about his job to bag the second GP to be run at Hyvinkää, his added bonus in terms of the championship picture came via an uncharacteristic second moto crash for Yamaha Racing's Jeremy van Horebeek. Remarkably, it was the first notable mistake by the Belgian this season. "I was settling for second again, and I don't know what happened next," he said. "I was not riding over my limit and was riding smoothly. I don't know how I crashed. I was up pretty quickly but I hit my head and the radiator was stopping me turning to the left."
Pitting to fix a bent shroud, van Horebeek returned from eighteenth to tenth and needed only two more positions to grasp his twelfth consecutive rostrum finish in a row, but it was not to be. His accident was part of a strange series of events in the second MXGP moto after a forgettable and static first race. Rockstar Energy Suzuki World MXGP's Kevin Strijbos complained of fatigue and the first signs of illness, but his rally from virtually last to fourth place was nothing short of superb. It deservedly gave him a fifth trophy of the season and Suzuki some solace after the absence of Clement Desalle due to pain from his hefty Swedish crash seven days previously.
Hitachi Construction Machinery KTM's Shaun Simpson was also excellent and made good on his Saturday speed to defend third place and post a season-best moto result. Fatigue bit the efforts of Honda World Motocross's Max Nagl, but did not hold back Red Bull IceOne Husqvarna Factory Racing's Dean Ferris who bucked and barrelled his way into podium contention in just his second ride on the works FC350 and in MXGP. The Australian could not have unveiled a more unexpected and vibrant performance only a week after illness ruined his debut in Sweden. A GP contract for 2015 just came a little closer.
Ultimately, it was Monster Energy Kawasaki's Steven Frossard who showed aggression and abandon to feel a cool champagne bottle for the first time since 2012, after the better part of two seasons in and out of physio rooms with injury. The Frenchman was second to Cairoli and is still searching for a 2015 deal, like a sizeable group of fast and capable racers currently in the paddock with seats in short supply.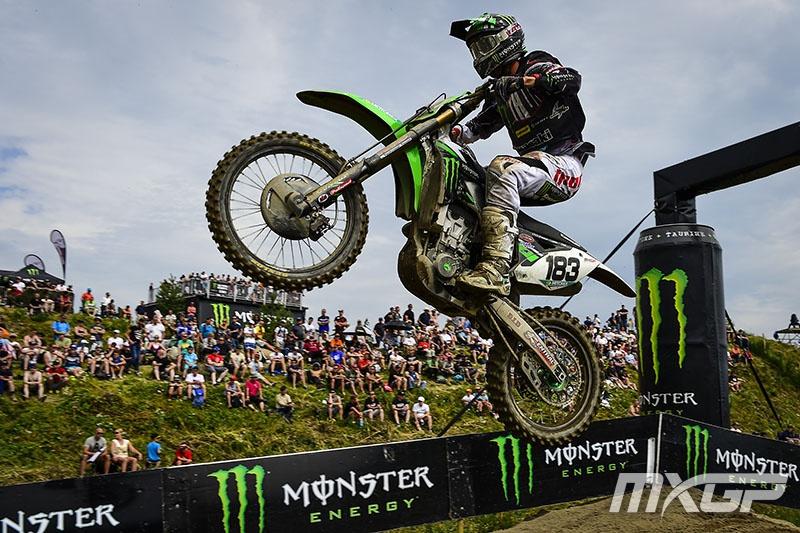 Jeffrey Herlings mixed things up for a while in MX2. His crash while leading the qualification heat on Saturday instigated the most exciting scenes in the category all year as he pummelled the ground in apparent scant regard for his safety to catch Valentin Guillod and then Dylan Ferrandis on the last lap. Another re-affirmation of his superiority, but it was refreshing to see him really work for the pole position on this occasion.
On Sunday there were no mistakes, and there was little doubt about the outcome, but the podium order of Tim Gajser (the HRC star weathering a hip injury but clearly among the second best again) and Jordi Tixier (sporting a black eye after a big Saturday get-off) was not without talking points. The first corner crash that claimed Styke, Petar Petrov, and Romain Febvre, among others, was under yellow flags as the leaders came back around to start the second lap. Herlings crossed the finish line jump and immediately shut the gas and even raised his hand. His gesture of pulling off line confused the closely following Jose Butron and Ferrandis, who believed the Dutchman to be stopping and they continued past. Understandably, both were penalised by ten positions due to overtaking 'under yellows' (dropping to twelfth and thirteenth), but had cause to protest their innocence because of Herlings' unusual actions. They made protests, but despite the grumbling, there had been a clear contravention of the rules, so the letter of the law was applied.
Ferrandis may feel robbed of a champagne spray, but he can take comfort in the knowledge that his pace was second to one. His demotion of Gajser on the last corner of the second moto for the runner-up slot was a vital moment of vindication and released some of that frustration.
So Herlings is on the brink. Just five more points over his teammate in the Czech Republic – coincidentally where he celebrated in 2013 – and the nineteen year old will have title number three in his pocket with three rounds to go. Then it is on to new challenges. According to Red Bull KTM staff, Herlings will travel with his own brakes, seat, and footpegs to Unadilla and will arrive Friday and leave Sunday. He will have to adjust to the different fuel and noise of the AMA-prepped 250SX-F as well as the secrets of Unadilla, but goes with the full backing of the factory, and clearly not intent to dub the exercise as a learning experience. Whatever happens to the soon-to-be three times world champion, he deserves credit for taking a sidestep from his (hefty) MX2 comfort zone.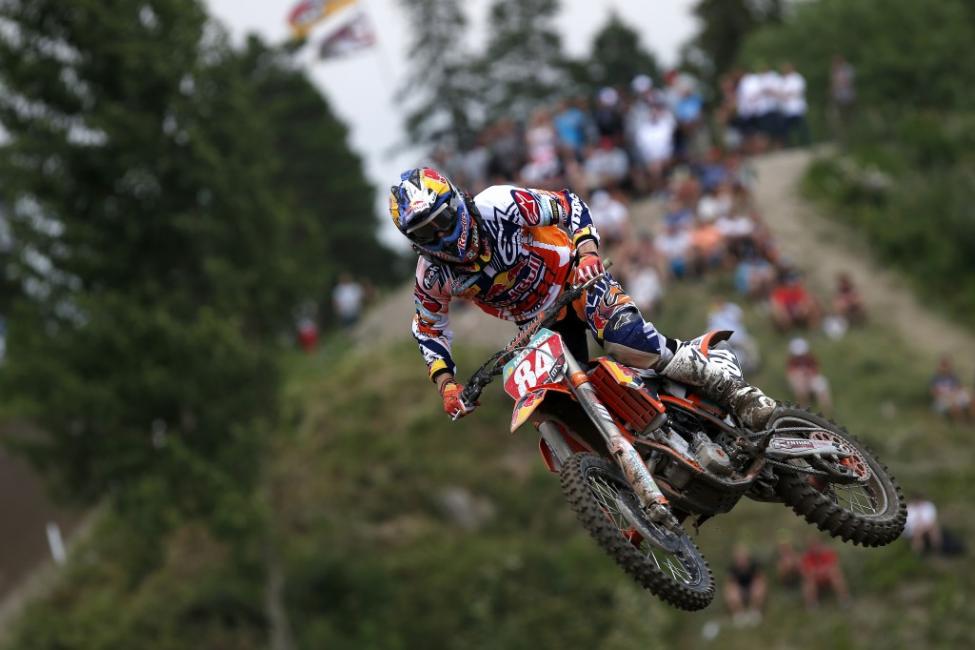 There was some other news aside from the 'will-he-won't-he' saga surrounding Ryan Villopoto in MXGP for 2015 this weekend (by way of an update Kawasaki staff were meeting in Irvine and around the American round of World Superbike this week to try and decide on a course of action based on the champion's wishes. It is likely a definitive path for Kawasaki will come soon, possibly in the next week). It came in the form of the Italians' surprise announcement of their 2014 Motocross of Nations team (Cairoli, Philippaerts, Guarneri) and the tactic of asking a receptive Cairoli to climb back on a 250 for the MX2 Class for the first time since 2008. The Sicilian talked about his willingness to try something 'new' for the Nations while Philippaerts commented that it was the strongest strategic move for the Italians to try and repeat their podium finish achieved in 2013 in Germany.
Taking their lead – but without the same fanfare – France will declare their trio on Facebook on Thursday, and perhaps for the first time for almost a decade, the line-up is not easy to deduce. Injuries, mediocrity, and personality clashes are factors that will go into the thought process for the French Federation. Principal star Gautier Paulin won the opening Grand Prix, but has been injured since April. Jordi Tixier, Christophe Charlier, and Romain Febvre are all in contention for the MX2 slot – Marvin Musquin also – but none have had particularly outstanding seasons. Musquin could be refused based on the snub of 2013, and Christophe Pourcel has a shout, but does not get along with Paulin, and has been passed over by the FFM before when it comes to their final selection, irrespective of form.
Thomas Covington continues on his educational trawl across the countries and tracks of the FIM series. The American was more upbeat and appeared more confident in Finland, but hitting the gate and then falling in Saturday's qualification heat was not part of the plan. On Sunday a pair of crashes and a broken throttle put the end to any meaningful results. Covington is working firmly towards 2015. His knowledge of Grand Prix and the idiosyncratic circuits, and the physical demands of MX2 across such courses, will be the bedrock for a serious crack in '15. In the meantime, the teenager still has the marbles of Loket and the sand of Lommel to come before the European phase of the calendar comes to an end.
Loket is up next. The Czech Republic taking MXGP to the end of July.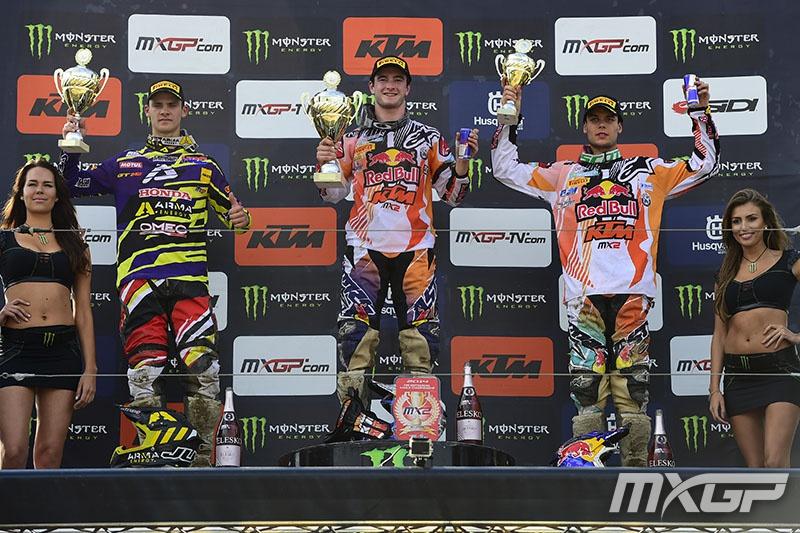 MXGP Moto1
1. Antonio Cairoli (ITA, KTM), 35:02.155;
2. Jeremy Van Horebeek (BEL, Yamaha), +0:07.878;
3. Steven Frossard (FRA, Kawasaki), +0:11.988;
4. Maximilian Nagl (GER, Honda), +0:19.692;
5. Kevin Strijbos (BEL, Suzuki), +0:24.144;
6. Tommy Searle (GBR, Kawasaki), +0:38.039;
7. Dean Ferris (AUS, Husqvarna), +0:40.980;
8. Filip Bengtsson (SWE, KTM), +1:00.359;
9. David Philippaerts (ITA, Yamaha), +1:09.083;
10. Matiss Karro (LAT, KTM), +1:10.032;
MXGP Moto2
1. Antonio Cairoli (ITA, KTM), 35:36.408;
2. Steven Frossard (FRA, Kawasaki), +0:22.277;
3. Shaun Simpson (GBR, KTM), +0:28.140;
4. Kevin Strijbos (BEL, Suzuki), +0:28.733;
5. Dean Ferris (AUS, Husqvarna), +0:31.066;
6. Rui Goncalves (POR, Yamaha), +0:31.718;
7. Maximilian Nagl (GER, Honda), +0:34.772;
8. Ken de Dycker (BEL, KTM), +0:50.435;
9. David Philippaerts (ITA, Yamaha), +0:52.472;
10. Jeremy Van Horebeek (BEL, Yamaha), +0:54.411;
MXGP Overall result
1. Antonio Cairoli (ITA, KTM), 50 points;
2. Steven Frossard (FRA, KAW), 42 p.;
3. Kevin Strijbos (BEL, SUZ), 34 p.;
4. Jeremy Van Horebeek (BEL, YAM), 33 p.;
5. Maximilian Nagl (GER, HON), 32 p.;
6. Dean Ferris (AUS, HUS), 30 p.;
7. Shaun Simpson (GBR, KTM), 29 p.;
8. David Philippaerts (ITA, YAM), 24 p.;
9. Rui Goncalves (POR, YAM), 23 p.;
10. Matiss Karro (LAT, KTM), 21 p.;
MXGP World championship standings after 13 of 17 rounds
1. Antonio Cairoli (ITA, KTM), 577 points;
2. Jeremy Van Horebeek (BEL, YAM), 515 p.;
3. Clement Desalle (BEL, SUZ), 470 p.;
4. Kevin Strijbos (BEL, SUZ), 424 p.;
5. Steven Frossard (FRA, KAW), 307 p.;
6. Shaun Simpson (GBR, KTM), 296 p.;
7. Maximilian Nagl (GER, HON), 269 p.;
8. David Philippaerts (ITA, YAM), 234 p.;
9. Davide Guarneri (ITA, TM), 218 p.;
10. Gautier Paulin (FRA, KAW), 205 p.;
MX2 Moto1
1. Jeffrey Herlings (NED, KTM), 34:23.599;
2. Jordi Tixier (FRA, KTM), +1:03.805;
3. Tim Gajser (SLO, Honda), +1:07.586;
4. Christophe Charlier (FRA, Yamaha), +1:16.455;
5. Romain Febvre (FRA, Husqvarna), +1:23.575;
6. Aleksandr Tonkov (RUS, Husqvarna), +1:25.424;
7. Julien Lieber (BEL, Suzuki), +1:27.328;
8. Jeremy Seewer (SUI, Suzuki), +1:28.451;
9. Valentin Guillod (SUI, KTM), +1:30.580;
10. Vsevolod Brylyakov (RUS, Honda), +1:35.460;
MX2 Moto2
1. Jeffrey Herlings (NED, KTM), 33:57.672;
2. Dylan Ferrandis (FRA, Kawasaki), +1:17.102;
3. Tim Gajser (SLO, Honda), +1:17.431;
4. Jordi Tixier (FRA, KTM), +1:28.590;
5. Jose Butron (ESP, KTM), +1:34.931;
6. Petar Petrov (BUL, Yamaha), +1:41.869;
7. Valentin Guillod (SUI, KTM), +1:46.747;
8. Julien Lieber (BEL, Suzuki), -1 lap(s);
9. Romain Febvre (FRA, Husqvarna), -1 lap(s);
10. Christophe Charlier (FRA, Yamaha), -1 lap(s);
MX2 Overall result
1. Jeffrey Herlings (NED, KTM), 50 points;
2. Tim Gajser (SLO, HON), 40 p.;
3. Jordi Tixier (FRA, KTM), 40 p.;
4. Dylan Ferrandis (FRA, KAW), 31 p.;
5. Christophe Charlier (FRA, YAM), 29 p.;
6. Romain Febvre (FRA, HUS), 28 p.;
7. Julien Lieber (BEL, SUZ), 27 p.;
8. Valentin Guillod (SUI, KTM), 26 p.;
9. Jose Butron (ESP, KTM), 24 p.;
10. Aleksandr Tonkov (RUS, HUS), 24 p.;
MX2 World championship standings after 13 of 17 rounds
1. Jeffrey Herlings (NED, KTM), 594 points;
2. Jordi Tixier (FRA, KTM), 449 p.;
3. Romain Febvre (FRA, HUS), 416 p.;
4. Dylan Ferrandis (FRA, KAW), 403 p.;
5. Tim Gajser (SLO, HON), 390 p.;
6. Arnaud Tonus (SUI, KAW), 389 p.;
7. Valentin Guillod (SUI, KTM), 314 p.;
8. Aleksandr Tonkov (RUS, HUS), 308 p.;
9. Jose Butron (ESP, KTM), 289 p.;
10. Jeremy Seewer (SUI, SUZ), 257 p.;