Budds Creek Motocross
Mechanicsville

,

MD
Race Center: Budds Creek
Lucas Oil AMA Pro Motocross Championship
By Jason Weigandt, Steve Matthes, and Chase Stallo
Eli Tomac, GEIGO Honda, 4-3 for third overall in 450MX
Eli, congratulations on another performance winning you a spot in the press conference. That means you had a pretty good day.
I enjoy being up here. Start of the day actually I wasn't feeling too good at all. I kind of was having a back issue, even yesterday. I don't know if something got tight on the plane ride over here or what, but honestly, I was able to only do one or two fast laps during both the practices because that's how much pain I was in. I ended up working through it. Going into the motos I guess the adrenaline took over and I was able to ride. First moto came around and it was just kind of a battle the whole time. Today was the first day I think everyone got tested with the heat and humidity. It was pretty hot; it wasn't crazy, crazy, hot but you could definitely feel it. So, I think that separated some guys. The first moto, obviously, Kenny [Roczen] and [Ryan] Dungey and Trey [Canard] rode awesome, so I just kind of settled for fourth in that one. Second moto came around, and tried a little bit of a different spot on the gate, little over farther outside and just spun. The pad was really dry. Something I didn't do good today was get off the line, and I was pretty buried. Just kind of had to claw my way back. I didn't really enjoy it, but I did get to third, so that was nice.
You saw Roczen late in the second moto; did you expect that you'd be catching him late in the race?
You never want to stop fighting. I did get close there towards the end. By that point I was battling with Trey for like, it felt like an hour. It probably was ten or fifteen minutes. We were back and forth. It was a tough track to pass on. A lot of the lines came together. It was one of the toughest ones I think I've ridden so far this year, just the way everything like gets stuck to the outside, so the outside safely works. You kind of wait for a mistake or maybe a lapper to get in the way to get past a guy.
What's it like battling like that for an extended period of time?
When you're battling you get a lot of roost. It's honestly something you don't want to be in because it's basically like dirty air. Sometimes time goes by faster; sometimes it goes by slower. Today it felt like it was going by slower because I was in third, couldn't really find a line to make a pass because we were so even everywhere. It was just one of those days.
What's it like to pass James Stewart?
I don't know;I try to treat them all like the same guy out there, but it does mean something. For a guy like me, I was watching these guys in Supercross when I was 12, 13 years old. When you get up to a guy like [Chad] Reed and a guy like [James] Stewart, I have tons of respect. I don't want to do anything kind of squirrelly or dumb, and still trying to race hard. I'm getting used to it. Getting comfortable racing with them but it does take some time.
Heading into Millville, Minnesota—obviously no stop in the action right now. You're probably the freshest of all the guys that have come. Do you think you have an overall win in you before the series wraps up?
I sure hope so. The way everyone's riding right now it takes a start and hard riding for thirty-five minutes. When we do that, one day we'll be there. –Jason Weigandt/Post race press conference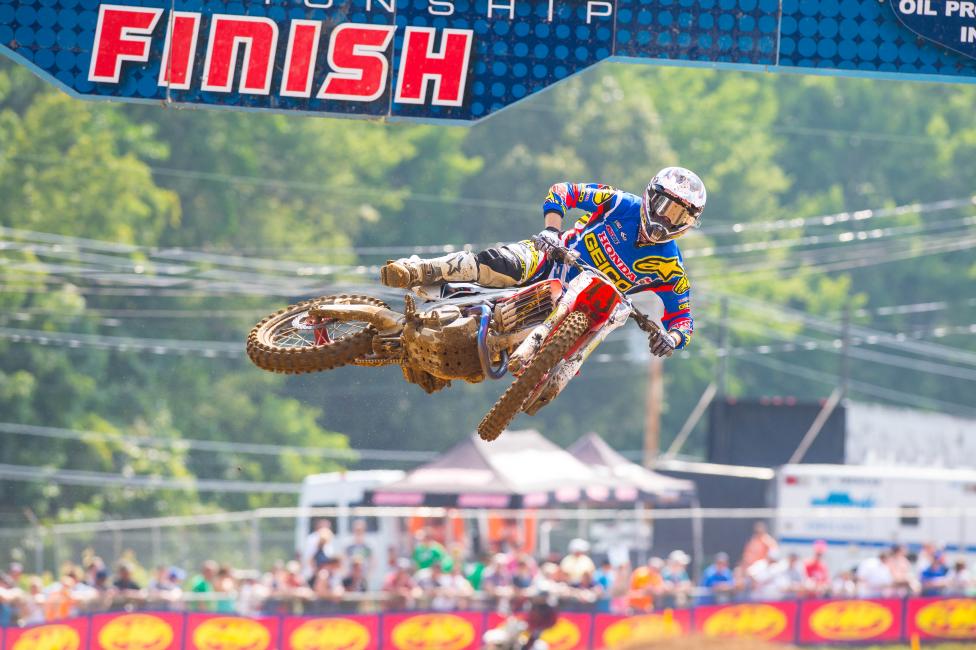 Ken Roczen, Red Bull KTM, 1-2 for second overall
Solid afternoon today, Ken. Give us your take on what the second moto was all about. First moto was kind of a textbook Ken Roczen quickly to the front. Second one didn't quite go the same way.
I guess not every moto can be awesome. I feel I have been going pretty consistent, and it's exactly what I'm trying. I think it was after the first lap I stomped my foot on the ground right there, and I hit right on the inside of the knee, and there's kind of like a funny bone. I don't know if I hit on the foot peg with my knee or something. It kind of took my breath a little bit away for a couple of laps. I had to settle down and allow Ryan [Dungey] to get quite a good gap. I struggled on some parts of the track. It took a lot of patience I think and riding smart. I feel like today I just wasn't the best, especially not in that second moto. Ryan obviously rode awesome, and Eli [Tomac] too, and got a little closer towards the end. I've just been trying to hang in there. Like I said, I don't think every single race can go 100 percent well, but if I can consider this one of the not-so-good races then I'm really happy.
This morning started off a little rough as well. What happened in that second practice session?
So, it kind of locked up on me on the takeoff on the finish line jump, which was kind of scary. As I landed it kind of free-wheeled and did it again, so I pulled off to the side, and I turned off the bike right away just because I didn't want to do any more damage to it. I thought that was it. Couldn't really do a lot of laps, so then Kelly took it over and he said there was something wrong with the rear brake but couldn't figure it out. And then I just had one slow lap in me and then that was it.
Can you talk about the heat? This is the first really hot race that we've had. Was that a factor at all today?
Not really, just because I've been in Florida it's honestly been in the nineties there every single day. I feel like I've dealt with hotter weather. I'm ready for that. I don't fear the heat. Definitely one of the warmer races I can say, but it definitely helps me out a lot to be able to be in Florida and got used to the heat by now.
Compare your fitness this year to last year.
My fitness I think is on point. I haven't really had a race where I felt awful. We're all pretty fit out there, so it's kind of little parts in the track that make a difference in the end. I feel great most of the time. Like I said, obviously not every weekend you're feeling the greatest, but other than that, it's good. In the GPs I was always on point, but it's just a different scenario over there. Coming over here, it kind of mixes things up a little bit. There was the heat. It just took me a while to know my body and I've learned a lot pretty quick. Obviously now going with Aldon [Baker] he knows where it's at and what's up, so I fully trust in his program.
I have a question about the Motocross of Nations. Have you been talking to the German officials about a team and racing for Germany?
I haven't really yet, but obviously the plan is to do that if they let me. I think it should be a good time.
Tomac got to you late in the second moto, and then you pulled back away. Did you know he was there?
I saw him coming and then about two or three laps to go he got really close. Obviously, I didn't want to give that spot up. I just had to dig a little deeper to be able to finish second.
We're going to Spring Creek in Millville. How do you feel about that track?
I love Millville. Usually a good track, and I've done good there in previous years. It should be a good time. I like the place. I can't wait for it. I'm looking forward… Actually, every weekend once the racing is done and most of the people are over it, but I'm actually really looking forward to the next weekend already. I think that's a good thing and we just got to keep doing what we're doing.
Knowing what the rumor mill has right now and knowing your past, what would be the chances of Ryan Villopoto being the world champion if he were to go over to take part in the GPs?
I think no matter what he does, no matter what he chooses to do, I would say he will be the guy we all have to beat. I think no matter what he does, he's going to be on point, so I guess we just have to wait and see what the final decision is. But no matter if he goes over here or if he keeps racing here, he's going to be good. – Weigandt/Post race press conference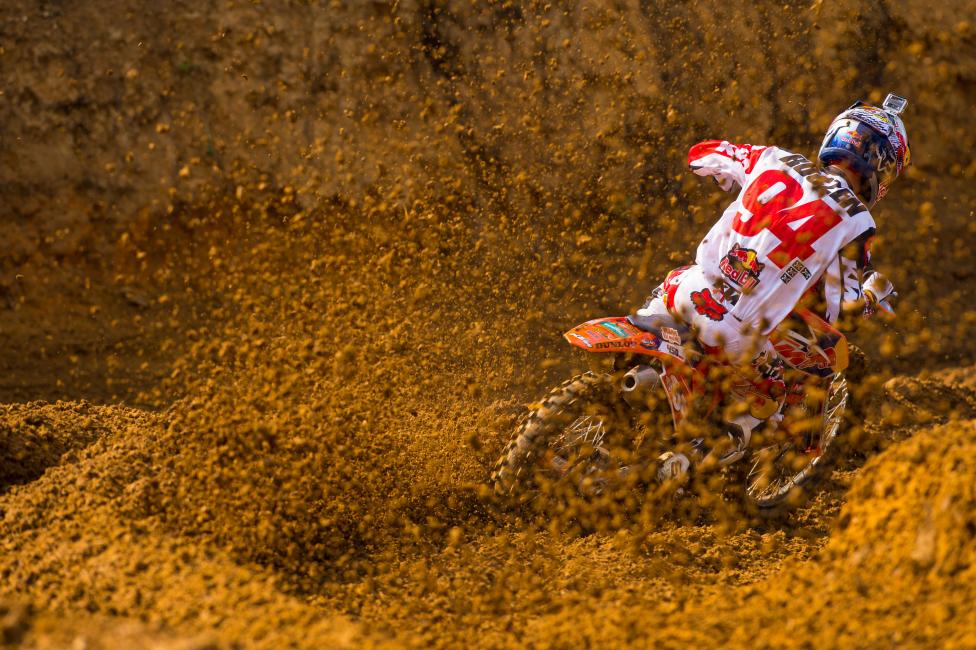 Fredrik Noren, Team Honda Muscle Milk, 10-16 for twelfth in 450MX
Great first moto. You were looking to get top ten again the second moto, but you must have failed, bummer.
Riding was feeling really good today. The extra times on the bike helped a lot. Riding was going good.
What'd you do? How'd you fall?
There's a triple on the backside, and there's a long rut coming up the takeoff. It turns left kind of, and I had the bike in the rut, and I started falling in, and then I fell in too much. When I took off, the bike came back on me and it landed on its side and did some roll around a little bit there in the dirt. The bike came over me, and I got stuck in the tire. It took forever to get up. Then I got going again, and I actually went down one more time. It's a little bit of a bummer. I had good riding going there for a little bit.
On the positive side, first moto was great. You had to be happy about that.
Yeah, a tenth is good. It's really good especially since I came from behind and worked myself up to tenth. That was really good. But I was still a little bummed out the second moto though. -Steve Matthes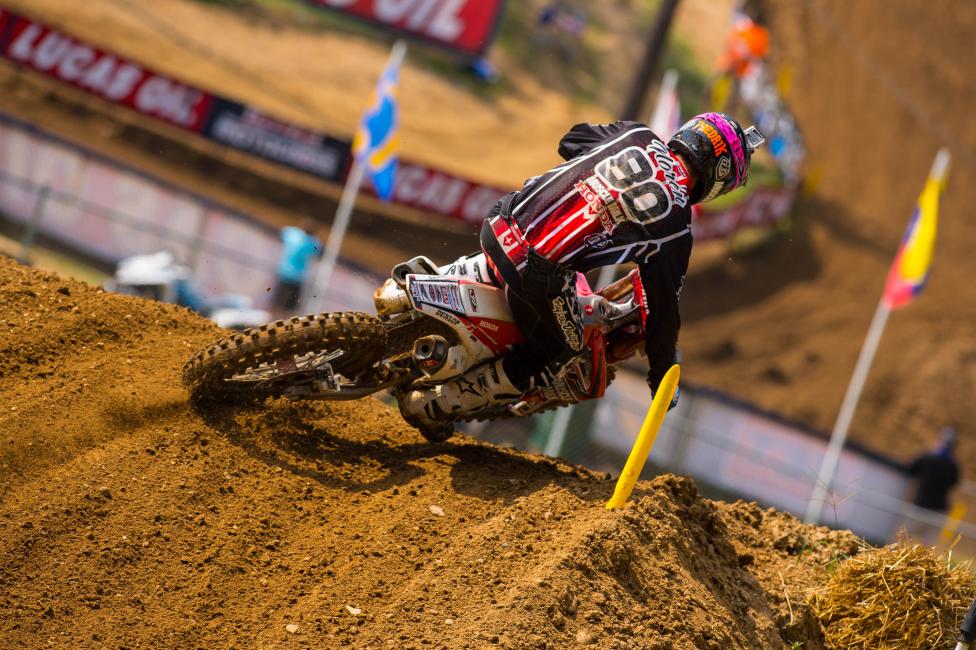 Andrew Short, BTOSports KTM, 8-7 for seventh overall in 450MX
Hot today, definitely a test of the fitness.
I don't know if the numbers were up there on the temperature, but the humidity and I think the heat index was definitely difficult. I was pretty happy with how my body responded in-between motos, for these old guys it's a quick turnaround. But good day. I liked the track, how it was a little wider coming down some of the downhills. Seems like the lines funneled in at the apex.
That's always been an issue here.
Yeah, exactly. But I think overall they did a decent job with the track. I enjoyed it. Tough track for me. It's not really my style. Although I have won a first moto like you.
Gothic just reminded me of that this morning. Definitely first moto kinds right here, you and I. Pretty good battle with you all day long kind of with the same guys a little bit. Brayton started up front, but you battled with him as he was kind of going backwards. Different guys coming and going, but kind of the same lead four or five guys.
Me and [Brett] Metcalfe, I think were, I think he was probably getting pissed off at me first moto because I was riding a wide bike. I didn't want him to get by me. But then second moto I passed him. So, I don't know if he had an issue or what. I like battling him because he works hard—hard charger, clean, aggressive racer. It was a fun day for battling with those guys. I got passed by Fredrik Noren. I was behind [Justin] Brayton. I couldn't believe it. I was impressed with his speed. He was a little bit on the edge; he made some big mistakes. You can tell he has a big heart. But that kind of pissed me off! - Matthes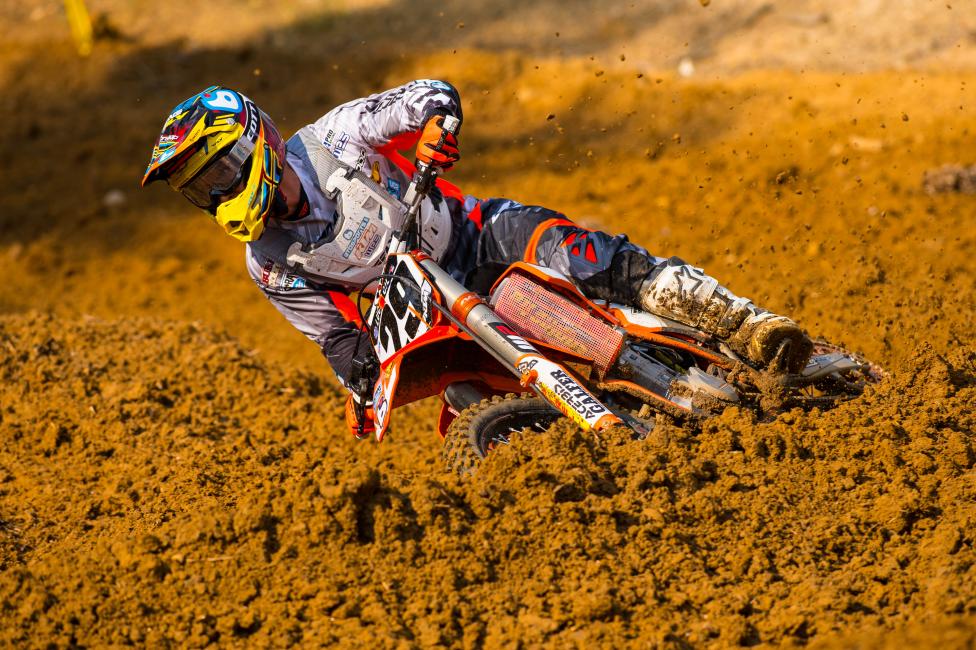 Justin Brayton, Toyota/JGR Yamaha, 14-9 for eleventh overall in 450MX
You were back in the lead. How was it?
It was awesome to have some clean air out front. I actually felt pretty good. I felt like my lines were good. When Kenny [Roczen] went by me on the second lap, he flung up a pretty big rock, and it hit me in the hand. It's pretty swelled up. I actually thought it was broken. So, I started to go backwards and I debated every lap whether to pull off or not because it was hurting pretty bad and my grip strength wasn't there, but I held onto it. I went to Asterisk in-between motos and it wasn't broken, which was awesome news. Then, right there you kind of get a sense of relief, like, okay, I'm just going to take the pain and hopefully my grip strength will be strong enough to get through the second moto. And it was. It was tough, but I ended up ninth. Not a great day. I love this track. I love coming here, but little bit of a struggle after that happened. I'm happy with my starts. I think there's some positives to take away from today for sure.
Did you see yourself getting back the front of this quickly?
For sure. I definitely don't think I can be up with the lead four right now, but I think I could be fifth on a good day. And then I want to keep building and getting my setup a little better to run with the top four. They're on another level than the rest of us, but I think we'll get there.
It was hot today for the first time all season. Did you notice it? Was it a glaring difference?
For sure, yeah. It was hot but the good thing is I'm staying on East Coast in Charlotte, and we have some humidity there. There's nothing like the race day, the first one kind of in the heat. But I felt pretty good in it. It didn't really affect me at all. I've heard a few people say that they struggled with it. -Chase Stallo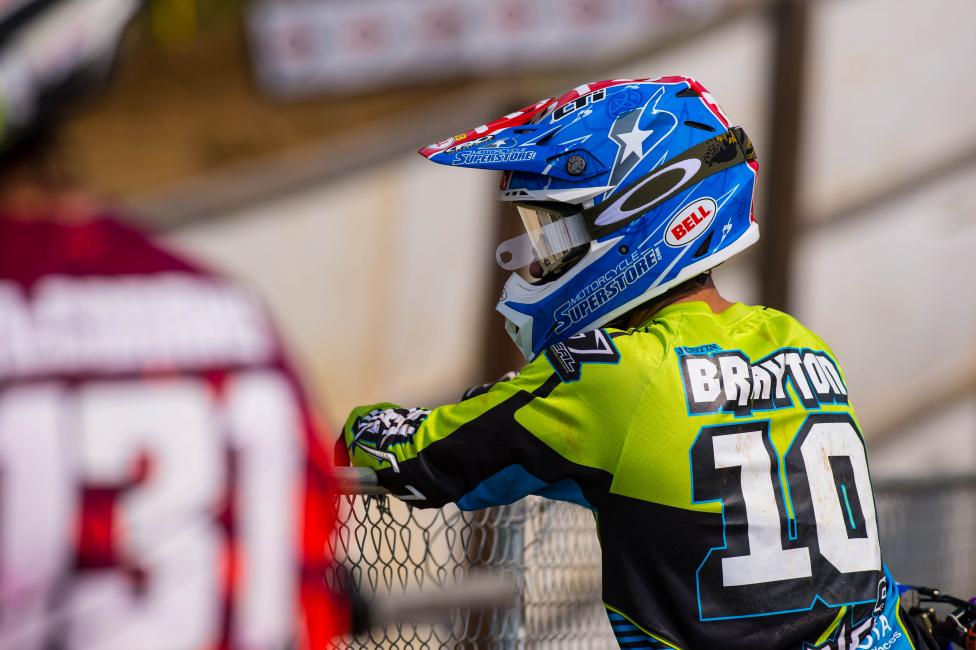 Matt Goerke, BTOSports KTM, 11-10 for tenth overall in 450MX
Take us through your race.
I felt like I rode good today. I got a bad start in the first moto and I worked my way up to eleventh. I had a whole group of guys right in front of me at the end. Caught them a little and felt good. Then second moto I got a start up front. I think I was like seventh or something. I slid out. I was pretty pissed. Then I had to come from behind again. I caught up to tenth. So tenth overall, not bad. I felt like I rode better than I even finished, so I still got a top ten.
They said they were going to do this track a little differently from the first six rounds. Did you notice that at all?
Not really. It was rough. I guess it wasn't quite as deep. Still, some of the ruts were deep.
So not really much difference at all?
It was still really rough.
Was the heat noticeable today?
Yeah, it was pretty hot. I felt good in it, but definitely felt hot.
With the heat today and the short turnaround between motos, is there anything you do differently? Is it just more rest and more fluids?
A lot of fluids all day, and then they made me get sprayed off between motos to cool down, which I don't normally do, but it worked good I think. - Stallo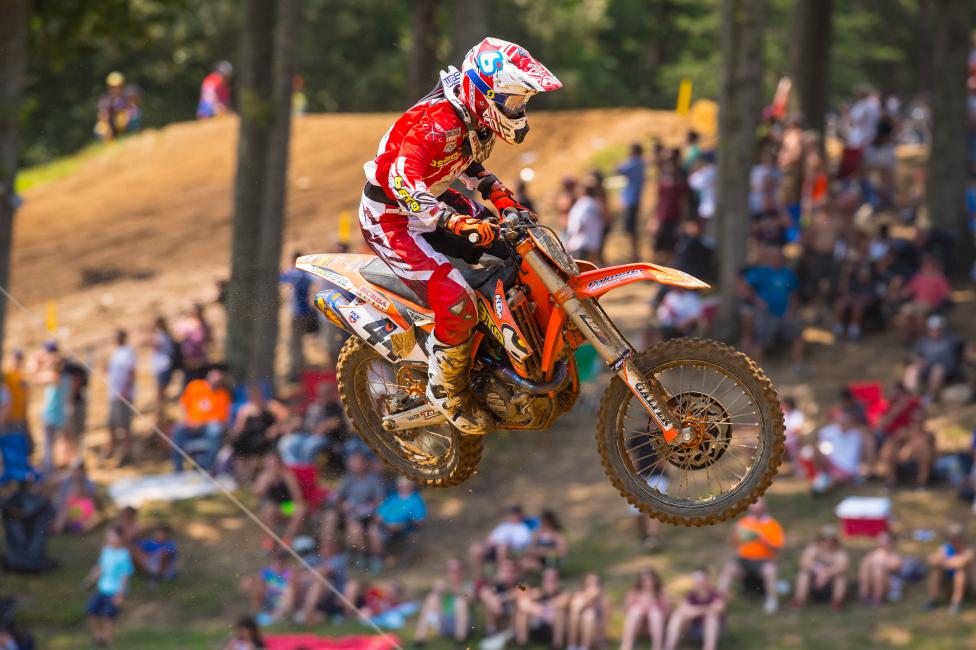 Phil Nicoletti, Toyota/JGR Yamaha, 12-8 for ninth overall in 450MX
Now that we are close to the end, how do you feel the pilot program went?
I know. We're winding down. It was good. The outdoor series has been going better. I got two top tens for the team. Could have been a few more top tens, had some issues here and there. Some really good motos. Muddy Creek went well. Could have had a sixth, but jacked that up. But today was awesome. First moto, three JGR guys up in 1, 2, 3 on the holeshot, which was awesome. Tipped over first lap. I came from, I don't know, mid twenties to twelfth. I felt okay. Second moto I felt good. Terrible start, ended up eighth. Tried to get Shorty and couldn't quite reel him in. 12-8 for ninth overall. Happy to kind of end a three-week break in the top ten, so that's good. Take the vacation, go hang out at Loretta's with the Club guys, and watch all the amateur guys do battle.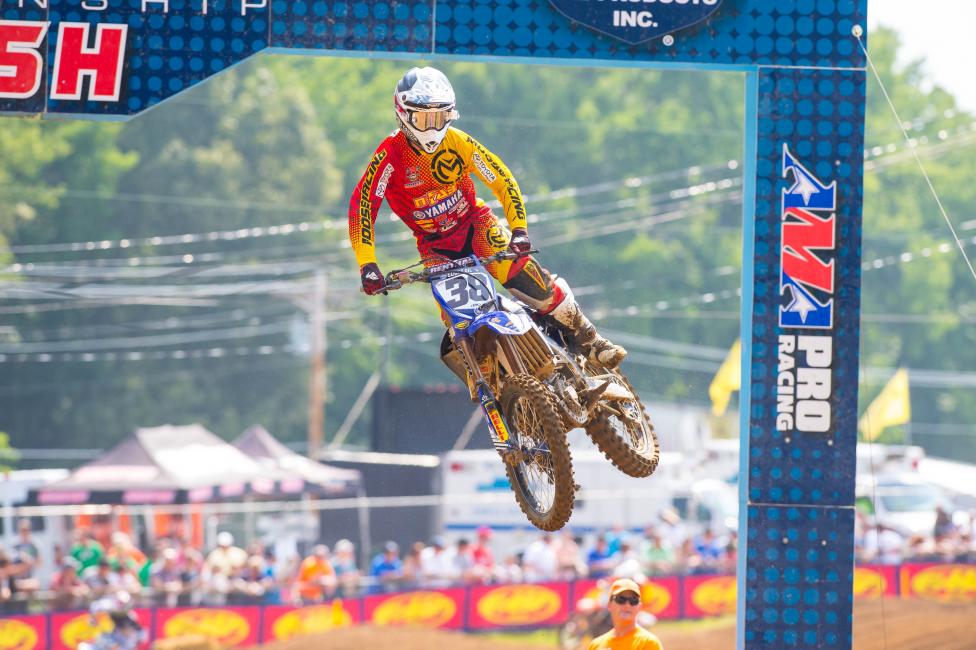 How did you come to the decision of doing Budds Creek and Unadilla?
It just comes to a workload, running three guys on the team and stuff. It is stressful. I understand that. A lot of things go into it but I don't want to be a hassle for anything. While I'm here I try to want to do the best I can. My mechanic, Spencer Bloomer, has been amazing. It's been an awesome ride. I would have liked to have done RedBud, just because obviously it's one of the legendary tracks in the world. But Budds Creek—I love this track too. I've always done pretty well here. And Unadilla, which I'm excited, go home and see all the crazy New York fans. We'll see. Obviously I like a few more, but it's just not realistic right now. I'll keep plugging away and we'll see what happens.
Would you do this again next year?
Yeah, I would actually. I really enjoy the guys. They're awesome. It's actually probably one of two teams that I've ever been on that's cool. You joke around and have a good time. It's laid back, but at the same time when it's time to get serious, they're serious. That's the goal, what any rider looks for to— have a good group of guys around him, and these guys, they're a really good group. So I would do it again, for sure. But we still got one more race to get it done, so we'll see. -Stallo