Budds Creek Motocross
Mechanicsville

,

MD
Race Center: Budds Creek
Lucas Oil AMA Pro Motocross Championship
By Jason Weigandt, Steve Matthes, and Chase Stallo
Jason Anderson, Rockstar Energy KTM, 1-7 for third overall
Two weeks in a row you've had a big ride, and you've got the monkey off your back. You got a moto win here to kick the day off.
Yeah, today was a good day. That first moto went really well. I kind of know I had that in me for a while, but honestly that second moto I was struggling. I stay in California and trained there, and it's more dry heat than anything, and the humidity at this track caught me off guard. Kind of cooked myself a little bit in the second moto.
Between motos did you know there was going to be a problem, or is it something that kicked in in the second moto?
For sure between motos, you kind of know what's going on. It's something that I need to try to figure out, I always struggle with humidity. It's something that I need to work on. But I was stoked today. It was a good day. Qualifying was good. My first moto was killer. I just wish I could have repeated that the second time.
What got into you in practice? Except Pourcel snuck in near the very end, you were pretty much leading all day, both sessions. You won the first moto. Was it the track? Did you just feel good? What was the deal?
No, I just had a couple of issues and I have been progressively getting better. The first few races I wasn't even able to ride during the week,. I feel like I'm kind of getting better in my groove, and I feel like hopefully I can keep getting better. But those guys up front are riding really good. The practice thing—I was kind of bummed because they pulled me down for an interview for the Oakley Bomb, and then Pourcel got it right at the end! – Jason Weigandt/Post race press conference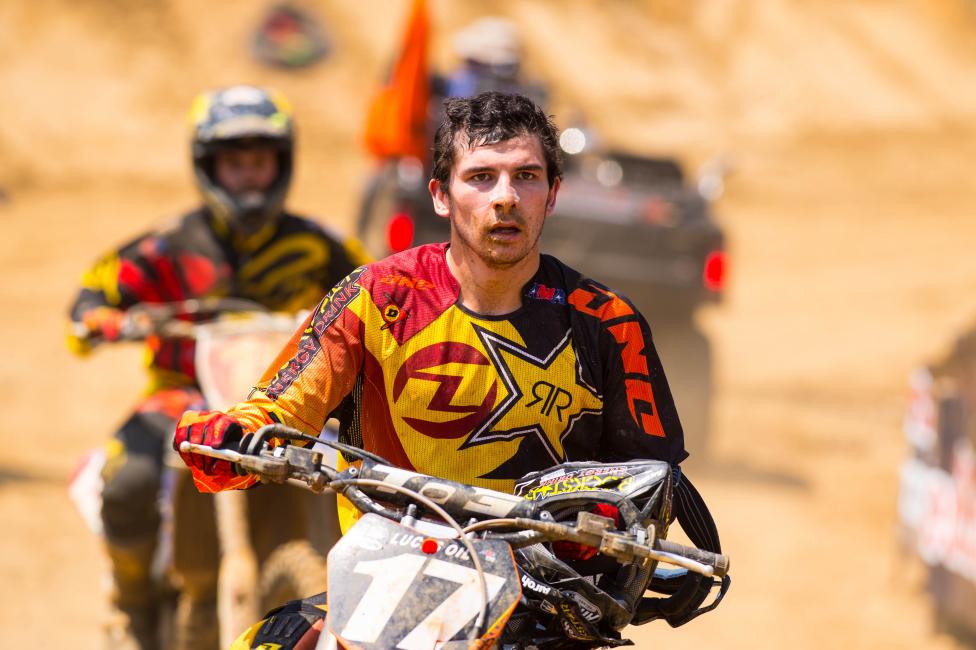 Jeremy Martin, Yamalube/Star Racing Yamaha, 2-2 for second overall

Pretty nice afternoon for you.
I think today was solid. [Blake] Baggett's always been really fast here in the past, I remember. I was watching footage through the week. [Eli] Tomac came on strong here last year, and he came out smoking in one moto.
Obviously, a lot of this year you've had to pass Christophe Pourcel. Is it kind of baffling? I'm watching you, and you look like you're going 800 miles an hour and the guy looks like he's trail riding. When you're behind him and you're thinking, how are you going that fast?
Christophe has a unique style. Take [Ken] Roczen for example; he's another smooth rider. You look at someone like Tomac—he just kind of bombs through stuff. I think Christophe—that's why they call him the crafty Frenchman. He's able to pull out that fast lap every weekend.
Talk a little bit more about the second moto. Does the fact that you have a big points lead play in your mind when you're in a battle like that?
No, Blake was riding really good. I got the holeshot and tried to run away and hide. I could kind of see that big number 4. We were about twenty minutes in, and we started to hit lappers. I think the one lap he chopped a huge gap out of my lead. He was coming strong. I kept trying to push and stuff like that, but he was riding good. He was on it today. My skid plate fell off with two laps to go, and it was all over my right leg and on my rear brake, so I just kind of cruised to the end.
We're past the halfway point. Did you think you'd be leading at the halfway point coming into the outdoor season?
No, I didn't. I knew I was going to have an overall win, and I'd be up there hopefully battling with everyone. But my supercross season wasn't very good. It's just fun. I appreciate this, and I'm having fun with it. It's better than being in the off-season not racing at all and just working your butt off and waiting. – Weigandt/post race press conference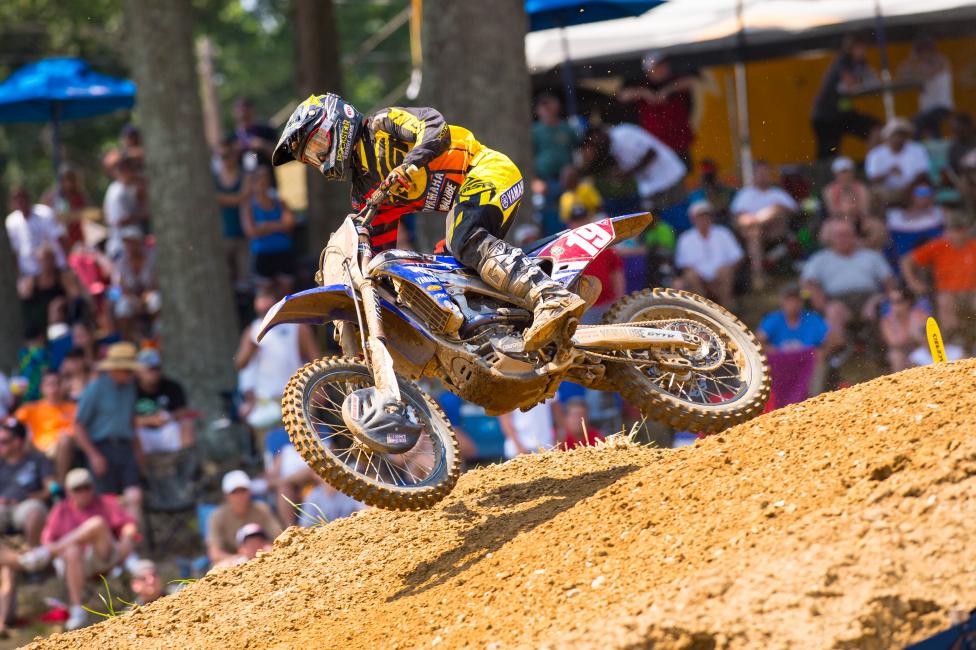 Cole Seely, Lucas Oil/Troy Lee Designs Honda, 10-9 for eighth overall in 250MX
Your starts were terrific today. Fantastic day off the gate. You worked all day long to get from the back.
The first one—completely my fault. That gate pick, I just got off the gate really bad. Then, going into the first turn, I tried to sneak up underneath everyone and didn't work at all.
What'd you qualify?
Fifteenth. I was a little under two and a half seconds off the lead, but I was fifteenth, so everyone was really tight.
Were you on the left side of the box?
Yeah. I could have had more inside if I wanted it but I've always been one to line up next to the box just to get out of the thick.
Trying to break down this gate selection on why you screwed it up.
It was really deep after the gate, and I just bogged down. My fault. Then second moto I actually had a really good jump. I should have had the holeshot but then Musquin hit someone on the inside, and he got ejected over right in front of me. I was like trying not to hit him, because obviously I don't want to run him over. Then I came to a complete stop, went around him. By the time I rounded the first turn I was thirty-something. But I fought hard.
I think the second moto was really good. It's hot. Guys were dropping. You were charging hard. You got to be happy with that moto.
Yeah, I'm happy with both motos, really. Just finding speed here and there. I feel like I'm riding really well; today was just a start thing. I just got to find a little bit more speed I think. Top 5 is definitely in sight. I just got to get good starts. – Steve Matthes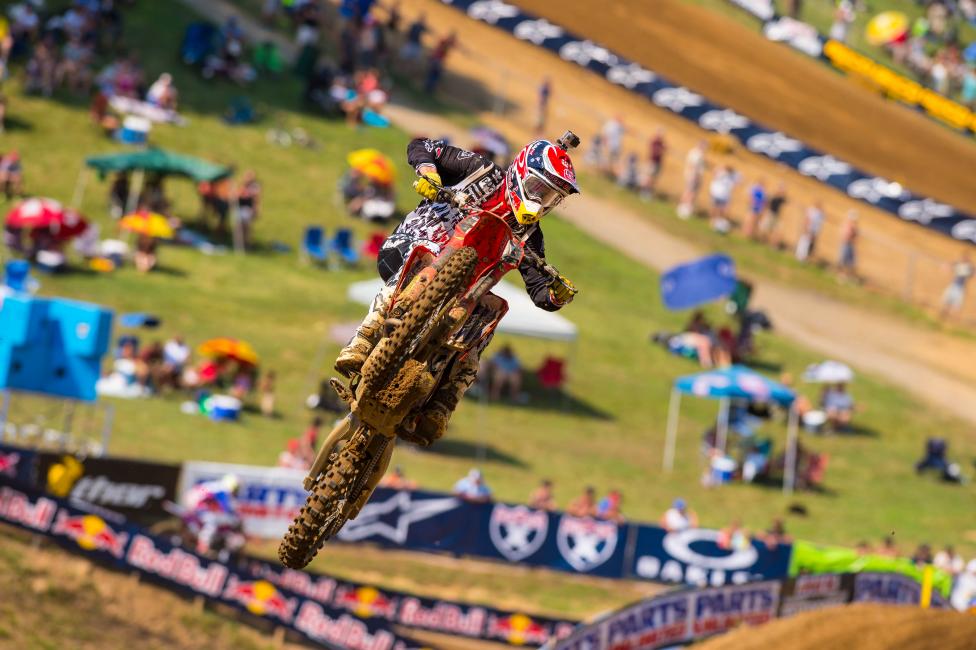 Marvin Musquin, Red Bull KTM, 8-14 for tenth overall
I was impressed with the second moto. You were two minutes back or whatever. Last thing I know you were like seventh. I don't know what you ended up when I walked away. But that was impressive. It sucked, but it showed something.
Yeah I wish I could get up faster on my bike.
You were limping pretty good.
I hurt my ankle. My whole leg was shaking. It was tough. But got back on the bike. Handlebar was twisted. But no choice. I got to get back and do my best. I came back but it's been a rough day. I've been doing good the last couple weeks training and stuff so I was working for another podium and another good battle with those guys. - Matthes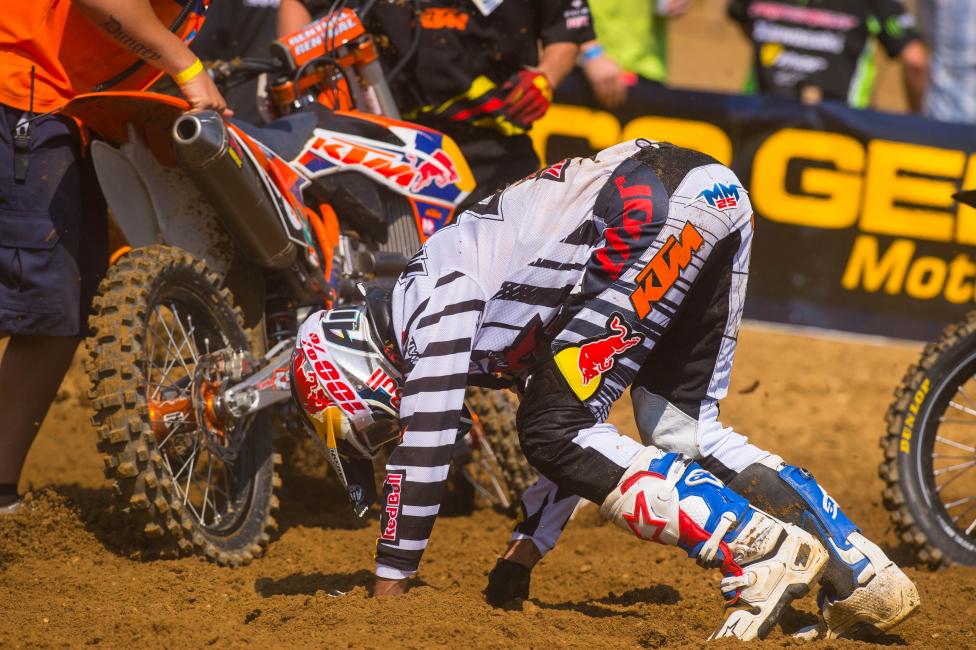 Justin Hill, Monster Energy/Pro Circuit Kawasaki, 13-6 for seventh overall
Really good second moto for you. You got to be pumped on that. That was a good ride.
Yeah, it wasn't great, but it was a lot better than the first one. I've just been struggling a little bit. I haven't been quite 100 percent, but we're getting there.
How was the wrist and hand injury from Muddy Creek?
Yeah, I've just been struggling with it a little bit—not quite all the strength back in it yet. I'm just kind of nursing it. The first motos I've just been kind of going easy, trying to make sure that it's all good. I've been kind of cutting loose a little bit the second motos, trying to make some stuff happen. But I was definitely more happy with that one than the first one. But it's frustrating when you're nipping at the heels of the podium and you're just not quite getting it.
Well, it doesn't take much at your level to not be 100 percent to feel it on the track.
Definitely. When I was really healthy and I was coming into the season, I actually got really sick right before Glen Helen, but I still was good, I should have had podiums locked up like all first three of the rounds. Just a couple things happened. So it's frustrating I still haven't got that first outdoor podium. But we're just at the halfway point. Still pretty early in the season, for me at least, just to get another few good finishes. Go home, do our homework, get some therapy, and try to come back strong for the rest of the season. –Matthes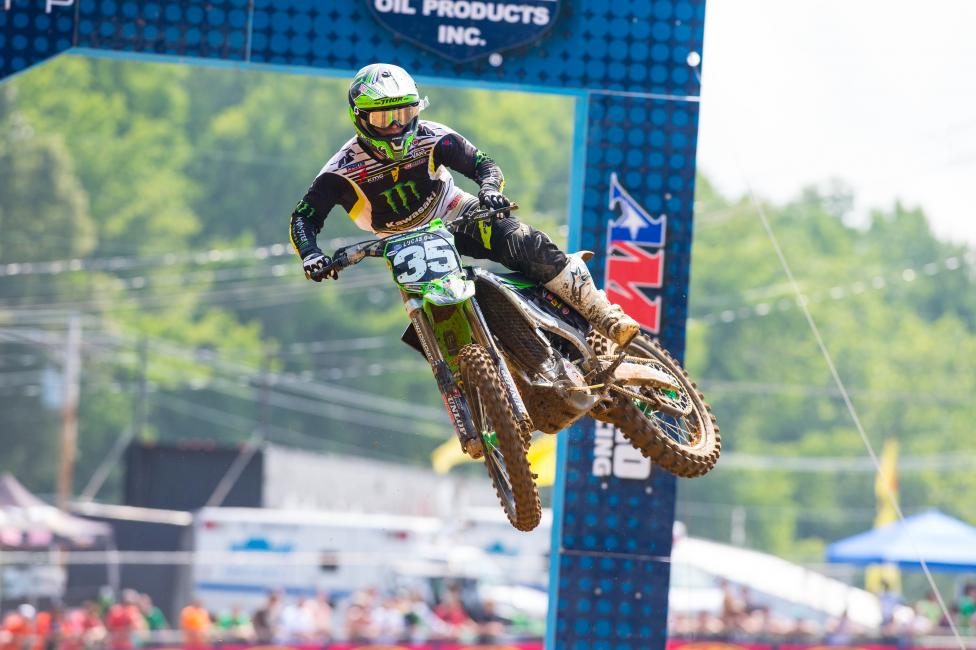 Justin Bogle, GEICO Honda, 4-5 for sixth overall in 250MX
I was talking to your dad. I think we both agreed. It's the light switch. It's all you need.
I do. Once it gets turned on, it's pretty good. It's tough to get to that point where you are on, but keep working. It's nothing I can do but keep plugging away and trying to get back up there and battling for moto wins and podiums every weekend, which I believe I'm capable of. It's tough; there's a lot of guys going fast. I feel like I got all the pieces; I just got to but the puzzle together.
Is it just repeat, repeat, repeat, and it finally just clicks, or what is it?
Yeah, like I said, I feel like I've got all the pieces. It's just one of these motos I got to put them all together, and then from there I think it'll be a lot better. I feel like I belong up there. Last couple weekends haven't went that great for me. I've been riding good, so my finishes I don't feel have really reflected how I've been riding. But it's all good. Keep learning and progressing every weekend and trying to apply it.
Was there a point in supercross where you felt that thing click? Do you have the confidence up front now?
Yeah, for sure. Supercross, coming in how I did it, took me a minute to gain my confidence. Once I got it things really started to turn around, and I started battling for wins on a regular basis. I'm not going, say, sit here and pretend like it'll be easy in the slightest. It's going to be the hardest thing I've ever had to do out here. Outdoors are tough. It's man stuff. You just got to be tough and keep grinding away. - Chase Stallo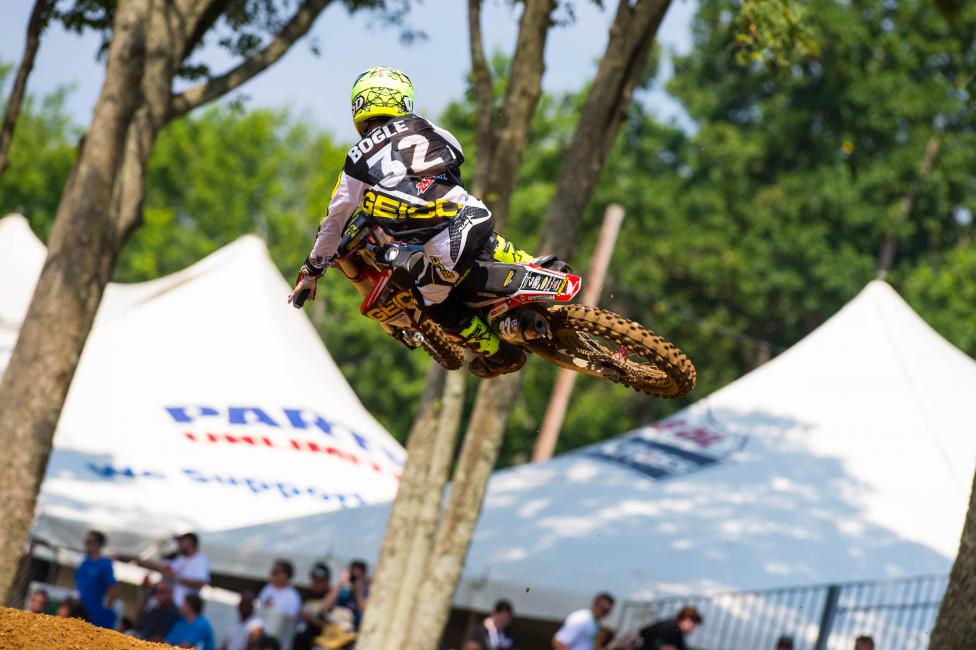 Kyle Peters, Gurrnaid Energy/ AG Motorsports/ Peters Auto Mall, 16-18 for nineteenth overall in 250MX
Take us through the first turn pileup in the second moto.
I jumped off the gate, finally figured out my holeshots, so got those back finally. Coming over, and I guess Musquin wasn't turning. Ended up slamming me pretty hard. I tried to stay up there for a little while and just ankle throbbing, it hurt pretty good. I had to settle for just kind of riding around that moto. Definitely looking forward to Millville and some more good starts and showing what I got. We're all so close and I know if I get up there and really push it, I can at least stay up there for one moto.
And you were up there for the first time in a while. Was it different? That speed is probably a little different coming from fifteenth to tenth, and five to ten.
Definitely. Those guys are hauling, and that's where I need to be. That's where I need to be if I'm going to get a ride. Get some more good starts and stay up there, hopefully.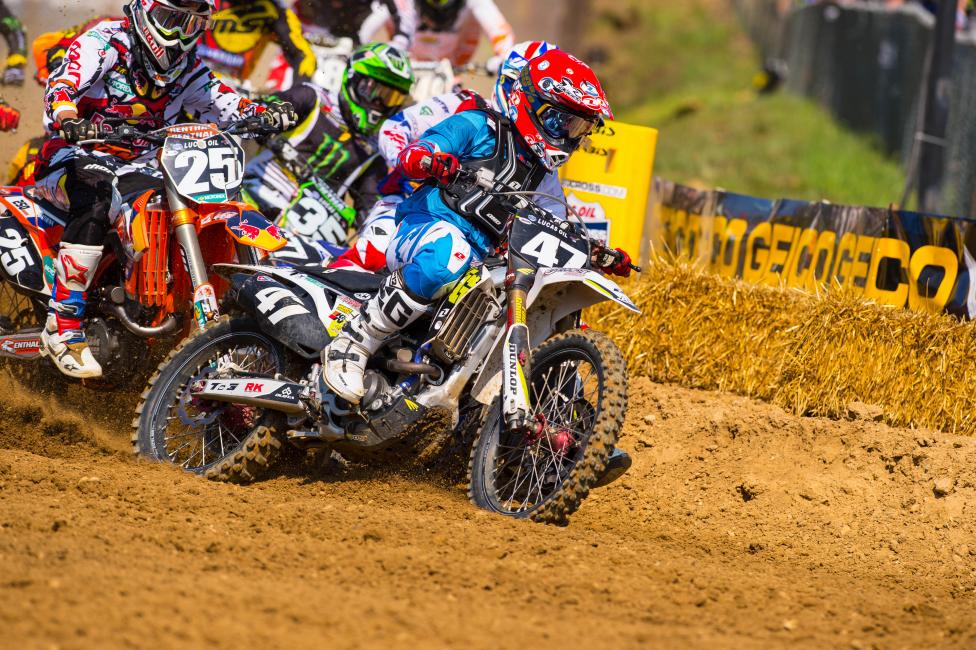 How do you think you get there?
This past week I knew I needed to work on my starts. I went through probably three or four clutches just on starts all week. Obviously, that paid off. Go back home and keep doing starts, keep doing motos, get my fitness a little better, and we'll be up there.
Riders talk about starts, starts, and more starts. Is that really what it comes down to in the end?
Definitely. The past few weekends I've been starting 20th-30th and having to work my way up, and that's really tough. If I start up there I can definitely put in a lot better finishes. - Stallo