Budds Creek Motocross
Mechanicsville

,

MD
Budds Creek
Lucas Oil AMA Pro Motocross Championship
Red Bull KTM's Ryan Dungey needed a win badly to swing momentum away from his teammate Ken Roczen, who was pulling away in the championship after back-to-back wins. Why was The Dunge better at Budds Creek than RedBud? We asked.
Racer X: Ryan Dungey, congratulations on an overall. Tell us, does it feel good to get one of those again?
Ryan Dungey: Yeah, it does. It feels really good. The first one at Glen Helen and now six races later, round 7. It was good. I got off to good starts today, bike felt really good. Had a good week riding. Been able to make a couple adjustments. Was kind of sick of making these little small changes, so I decided with suspension I was going to try to go extremely far both directions and just feel out where I'm at. I think that really helped coming into this week. I felt a little bit better here. And then we got even better going into the motos, so that was even better. It's nice. It's good to get a win—good to get out front and just lead every lap. Good starts were awesome. I got to keep doing that. I know with Ken got a little bit of a lead and we tied on points today. It's going to have to take more than that, but today was in a better direction, and we know where we've got to go and what we've got to do here on out.

Last week at RedBud, to me, might have been your worst race of the year. This was your best. How did you do that? Were you discouraged during the week? Did it fire you up? Is it a coincidence?
Last week was definitely a little bit of a struggle. It's kind of my fault. I left Florida with settings that I thought were better, just clicker changes. I thought that's where I was at. Then, when I raced the bike at RedBud I really kind of fought things a little bit. Then, going back home I realized I was kind of a little bit off with my bike, so that was at the focus. Just being more consistent with my bike setup and everything like that. RedBud was tough. It's a tough track. It was really deep. Everything felt good. I just had a little off day. If that's the worst one, then I'll take it, but this is more in the right direction. That first moto I wish we could have closed in. We were about five seconds down, were able to close the gap. It would have been nice to get that win and some points, but these moto wins are going to be important.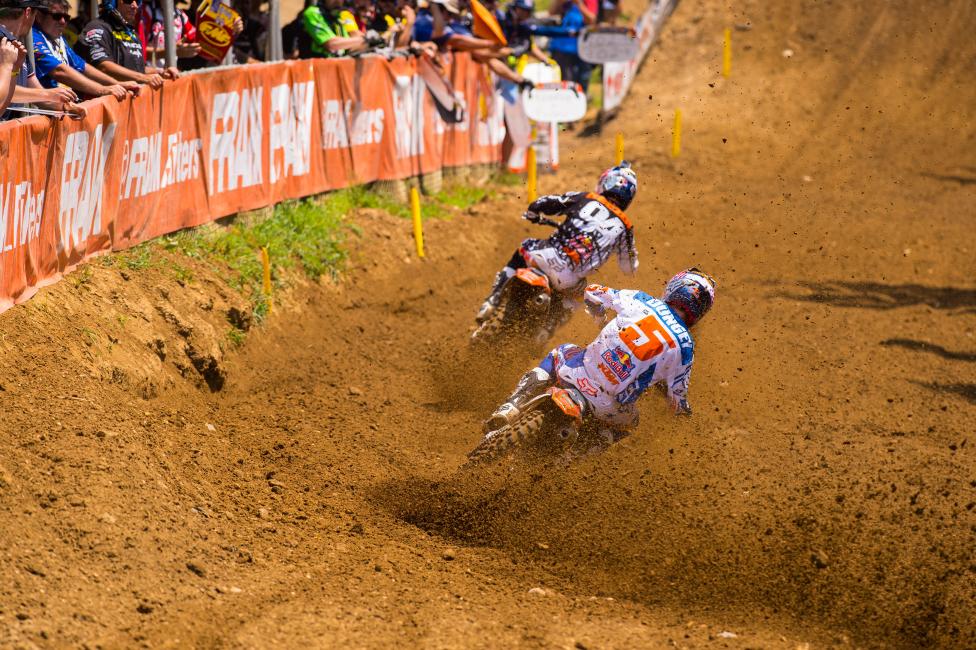 How encouraging was the final lap of moto one when you were closing the gap there? Was that encouraging, and was that confidence for moto two?
It helped. I liked where I was at. The bike felt good. Everything was in a good state. Going into the second moto, I felt really good as well. I was like, all right, this is my time and I need to take advantage of it. That start was where I needed to go, and I opened up a little bit of a gap. I saw Ken and I was just trying to slowly start racking off the times. Just kind of kept picking it up a little bit more, making time on him. But good thing, I felt like I had a little bit more in the tank if I needed to step it up. That's always good as well.
You've been winning at this track four times in the last five years. What is it that you like about this track?
I like this track. I try to go to every race and win; that's the goal. I've had other good track records at other places, too. It's just a good place. The dirt's good. It seems to come around and get good starts. Just try to do the best I can every time I'm out there. It just so happens I got four wins in five years, so it's even better. Just need to keep doing that at other tracks as well.
Win or lose, do you manage to feel the same way on Monday no matter what? Or is it actually affecting, during the week, everything you do? I know racers can be tough to hang around with sometimes, with the highs and lows. How do you react to all this?
A win feels good. You feel like your work's paid off and everything. You don't settle there, but a second or a third—it probably doesn't feel… I think you can carry that momentum with a win into the next race and start building off that stuff, and that's really good. But I've struggled with, maybe a little bit in the last couple, maybe three years, with how to feel. Now I feel like I know myself pretty good. I know what I need to do and my state of mind and what's good and what's not. Then you find what works for you. Life goes on. I've got a great fiancé, and you can't cut her short, or your family, or be rude. Sometimes they catch you and they call you out, and you're like, 'Man, sorry.' And the racing isn't going to last forever, either, so you've got to keep things in check. At the same time it's cool that my family and everybody understand why things are stressful. I think as racers a lot of us have that will to win and to do whatever it takes. It's a balance.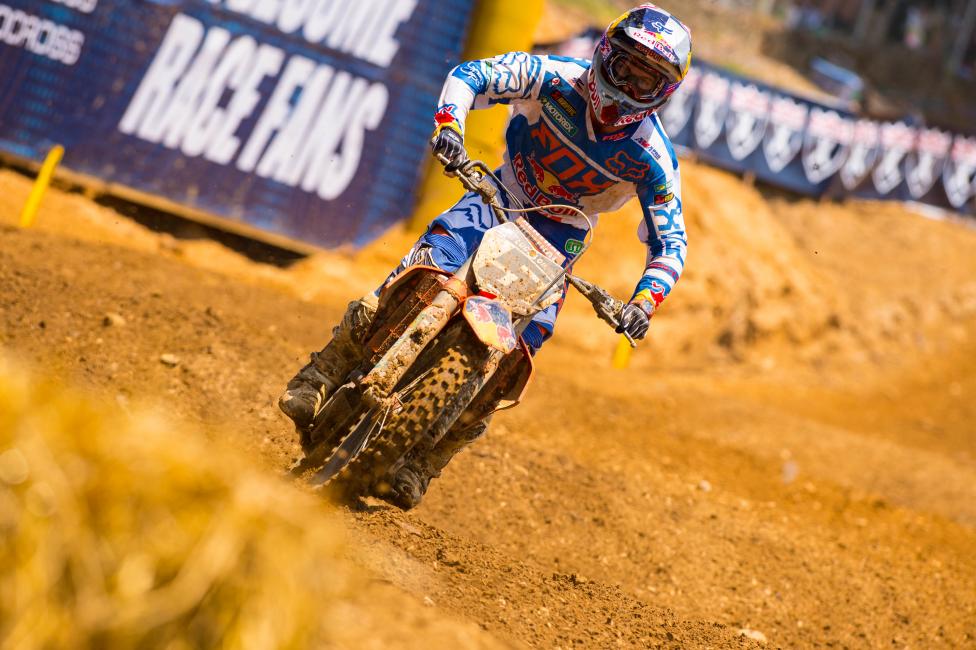 You became third all-time for combined National wins today. Only James Stewart and Ricky Carmichael are ahead of you. You're third all-time. I don't know if you know this. What's your reaction to finding this out?
I didn't know. I knew that today was I think the thirtieth win, which was I think in the 450 Class. That's cool. We work hard for that. I still want to keep racking them up. I think Stewart, Ricky—they're quite a ways out there. That's not the point. I mean, that's really cool. I think as a kid when you looked at that and you saying that now, it's quite an accomplishment. But at this point, you can't settle. You've got to keep going. It's really cool, though. We put a lot of work in to get to that point.
How do you feel about Millville? I want to know who has more ticket requests— your fiancé or your family—to come out to see The Dunge?
I think Lindsey's family [does]. It's kind of cool because in the beginning they were into it. You know when you get somebody kind of the first time out. Then they get hooked—that's kind of when the seed is laid. Her family, her friends. I saw her list [for Millville] I was like, 'We're going to have to tone that down a little bit. I don't think we're going to make that happen!'