Monster Energy/Pro Circuit Kawasaki's Blake Baggett reestablished himself in the Lucas Oil Pro Motocross Championship with a classic come-from-behind charge to snag the overall win at the GEICO Motorcycle Budds Creek National. He talked about it at the end of the day.
Racer X: Moto one you were coming, and you were chewing them up. What happened? Did you just run out of time?
Blake Baggett: Yeah, the motos were too short! Yeah, just ran out of time. Didn't use my time wisely in the beginning of the moto. I tried some lines and it just didn't work. I got stuck in traffic and just couldn't get up there in time to put up a big fight.
You've been in this class for a couple years. You have a national championship. How do you not get good starts? You just refuse to start in the top two!
We've been working on that for pretty much my whole career now. Got a good start at the first moto at RedBud, almost got the holie, pushed out a little too wide, though. We're plugging away, but maybe, one day, things will change and we'll get some holeshots.
Did you actually luck out the second moto? There was a first turn pile up. Did that actually help you? It looked like you snuck through there when those guys went down. Did you actually make passes off of that?
No, not really. Mitch said he could read my jersey going down the first turn and down the straight. I was buried.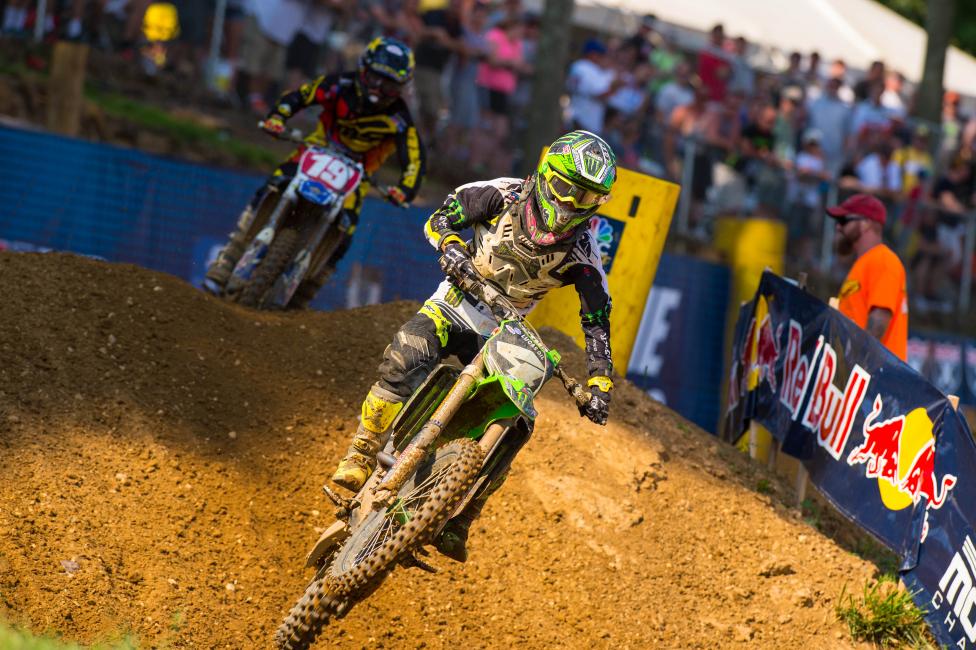 Reading the jersey is not good?
Reading the jersey is not good.
So the start was really bad in the second moto then?
Yeah, [Justin] Bogle was to the right of me, and he just jumped out and he was there. I had nowhere to go.
Does this do anything confidence-wise when you're really on it in that second moto? Did you kind of feel like this is how you were anyway, and you kind of expected this kind of thing?
The goal coming here every weekend is try to win every weekend. When it kind of happens, it happens, and we go back and see if we can improve, and when it doesn't happen, we just regroup a little bit. The goal is to be in the championship, and that's where we're one race past halfway, but we're just going to try to take it all the way down to Utah.
This is your third straight win here at Budds Creek. Is there a certain reason why you like this track?
Not really. In 2010 I hated this place and never wanted to come back when I broke my humerus before the finish line. Then, 2011, it was one of my worst races in the season, and then I got it '12, '13, and now '14 so I don't know. I'll just try to keep it on a roll.
Do you feel like the heat helped you today?
Yeah, it's nice outside. It's nice and sweaty. It makes for good racing I think. Definitely I don't mind the heat but it's hot for everybody.
In the Pro Circuit truck last week, I didn't notice all the parts scattered around. I think you guys have been doing testing during the week. How much progression has the bike made for you this season?
We pretty much went to work after Glen Helen. I wasn't ready; the team wasn't ready. We weren't all exactly on the same page and ready, so we did a full revamp before Hangtown, and then Hangtown we had some technical difficulties and did a full revamp again. I didn't touch my bike from before Colorado until this past week I changed to whole new fork settings, in both forks. Just off the wall, tried something and we thought it was better at home, so we came here with it, and we're going to back this next week and try some more stuff and try to get the front end of the bike a little bit smoother and make it easier on yourself to ride it.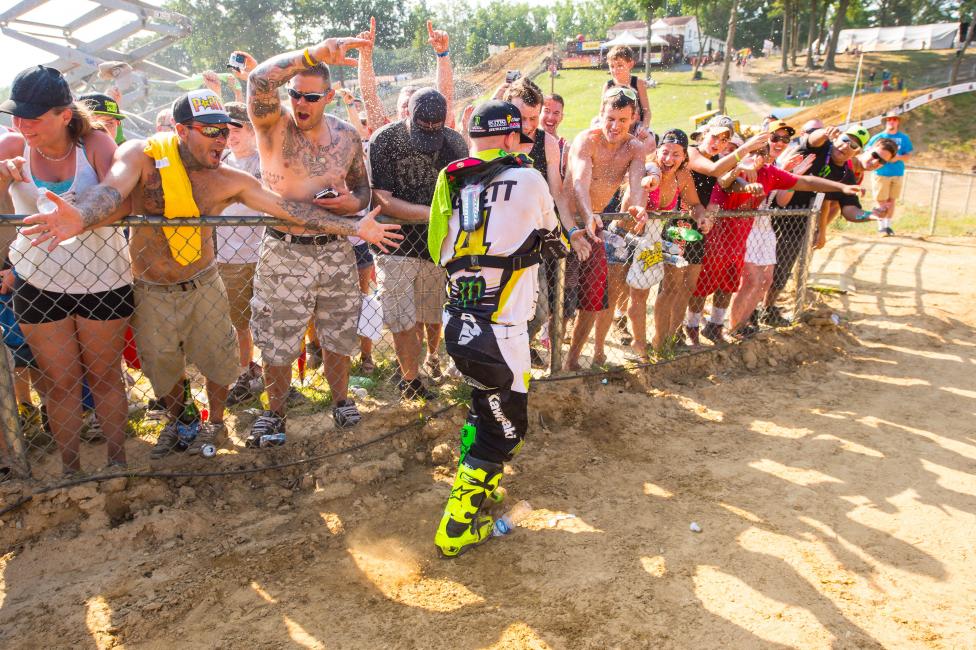 Why are you good in the humidity? Other riders in these press conferences from California or wherever—the humidity's tough on them. Why are you okay with that?
Dude, in San Bernardino, I'm in the ghetto. There's a lot of humidity coming from out of the ghetto! [Laughs]. I don't know, I don't mind it. Out in California, it's dry, it's hot. If you light a match, you could probably burn a couple million acres, so I don't know. I just like it and I've always been okay with it.
Did you say you had air forks this year, and that was one of the big changes? Didn't you have air forks last year? Are they different air forks? Is that the major difference?
Yeah, from 2011, '12, '13 and now we haven't ran the same forks one year. Even from supercross, to outdoors, we've been changing them because 2011. We went to a multi-function fork, so one was spring, one was dampening. And then we switched for supercross and ran them opposite from everybody else. We had one air fork, one non-air fork. Then last year we had air forks but still some springs and old inside there. This year we had basically all air and some dampening.
Early in the year you talked in the press conference, you mentioned the eye was virtually non-useful. Has it gotten better? I really don't want to see you get a cadaver eye. I don't want to hear about that ever again.
It really hasn't changed much. It's gotten a little bit better from the first round, probably first two or three rounds. It got a little bit better. But I keep going back every few weeks to the guy, and we keep checking it out and seeing if there's anything we can do, but really it's not great and it's not terrible. Just kind of run what I got for right now. When the season's over if there's something they can fix it, then we fix it. If not, then just keep going like I'm going.
We talked briefly about the points. You have a little bit to go, but you chipped away at it and slid your way into second place. Obviously we're heading to the points leader's biggest advantage in the whole thing. If you're able to do what you did here today, that would be a massive feather in your cap.
Yeah, definitely. Hopefully we can do it. It would be nice to win both motos there. But we'll just see what happens, and hopefully we're talking about it next weekend.
Are you aware that the points leader [Jeremy Martin] knows that track pretty well?
I've been told that. When he can drive there in a golf cart and check it out, it's pretty close. It's a little bit more fire underneath you to try to do it. If it happens, it happens. But he's fast, bottom line. I'm sure he's going to be really fast at his home track.
We thought Glen Helen was your home race, and he won that, so do you think he'll give you one?
He ain't giving me nothing! You've got to fight for it. Which is good. Keeping the 250 Class interesting and just making it good for the fans.
We're past the halfway point. I know that barring any type of mechanical situation, this thing's literally going to come down to the final moto at Salt Lake City, and as you mentioned—he did as well—there's nothing like a good fight. You guys are in a good one right now.
Yeah, definitely. I don't mind if it goes down to the last moto, last lap in Utah. As long as I have the red plate in the end, and that's the goal. Just got to keep plugging away, and I already had a DNF, so I had to make up some points. It either goes my way, or it will go his way. You never know. That's why we're racing. We have twenty-four motos total, so it's a gamble every weekend.