Budds Creek Motocross
Mechanicsville

,

MD
Race Center: Budds Creek
Lucas Oil AMA Pro Motocross Championship
Hello, everyone, and welcome to the Rev Up. Round seven of the 2014 Lucas Oil Pro Motocross Championship makes its way to one of the most popular tracks in the world at Budds Creek in Mechanicsville, Maryland. The second half of the series will obviously decide who is going to win the championships in both divisions, and while there was briefly a mild shake up in the battle for 250 Class supremacy, it has been all Ken Roczen in the big boy class. The Red Bull KTM rookie has simply been dominant and continues to improve with each passing round.Is "dominant" the right word to use with Roczen? Yes. I think so. The German has won four out of six rounds, and his most recent 1-1 performance at RedBud was particularly stout.
His talent has been obvious, and he has always possessed a riding style that seemed wise beyond his years, but stamina is the newest piece of his arsenal. They talk about "man strength" sometimes throughout the paddock, and that is a loose term in my opinion. You don't have to be twenty-eight years old to earn man strength. It's a cumulative result of several years of racing long motos. It doesn't matter how hard you train, or how many forty-minute motos you do at your practice track. Only time can offer a rider a chance to achieve man strength. Roczen has basically been racing these motos since he was sixteen years old. Roughly four years later, well, he's there. He seems to be getting smoother, faster, and smarter with each drop of the gate. Are we looking at the future? The future is now.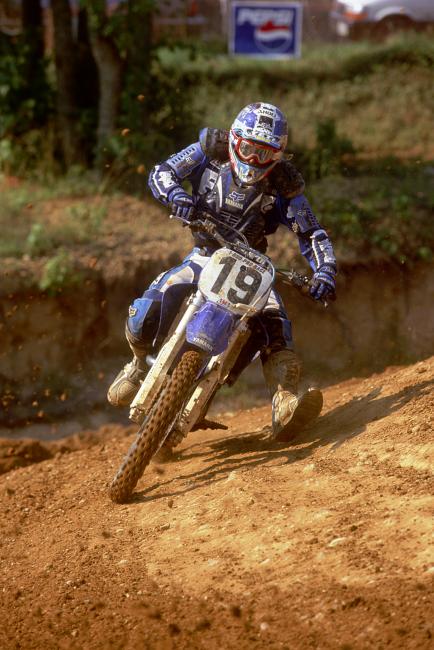 On to Budds Creek. The historic facility is a rider and fan favorite, and has hosted its share of poignant moments in recent motocross history. I never get too far into a Budds Creek Rev Up without taking off my hat and bowing my head in honor of Doug Henry's launch into orbit in 1995. There have been countless spectacular moments in the lifeline of the outdoor nationals, but what happened on "Henry Hill" that day set the high water mark of all things gnarly. That crash will be talked about around amateur day campfires for the rest of time. It was just one of those stories that becomes the stuff of urban legend, because no matter how high or how far the person telling the story says he flew Henry flew further. Then, he came back again, and again, and again to become national champion. What's stopping you?
The summer is flying by quickly, but there is still a lot of racing to go!
250
A lot of folks expected Yamalube/Star Racing Yamaha's Jeremy Martin to rebound last weekend, and he delivered. A trend that hasn't faded since the first drop of the gate at Glen Helen has been the blue streak at the front of the pack on every holeshot. Christophe Pourcel has been the most consistent starter in the division, and lap time-wise the fastest rider. There have been a lot of surprises, but the veteran Frenchman has been the biggest one to me. You have to remember, he has been out for a long time. He is a long ways from "man strength" status, but you cannot mask talent and speed. #377 has a titanic amount of both, and I would like to see him win one of these things.
Fellow Yamaha ace Cooper Webb has been stronger than garlic bubble gum as well. His inter-team rivalry with Martin kind of reminds me of the Mike Kiedrowski/Mike LaRocco battles of yesteryear. The two hard-nosed, low-key speedsters are feeding off their rivalry and using the synergy to abuse the rest of the pack.
Will we see some paint traded between these two before the summer is over? Probably!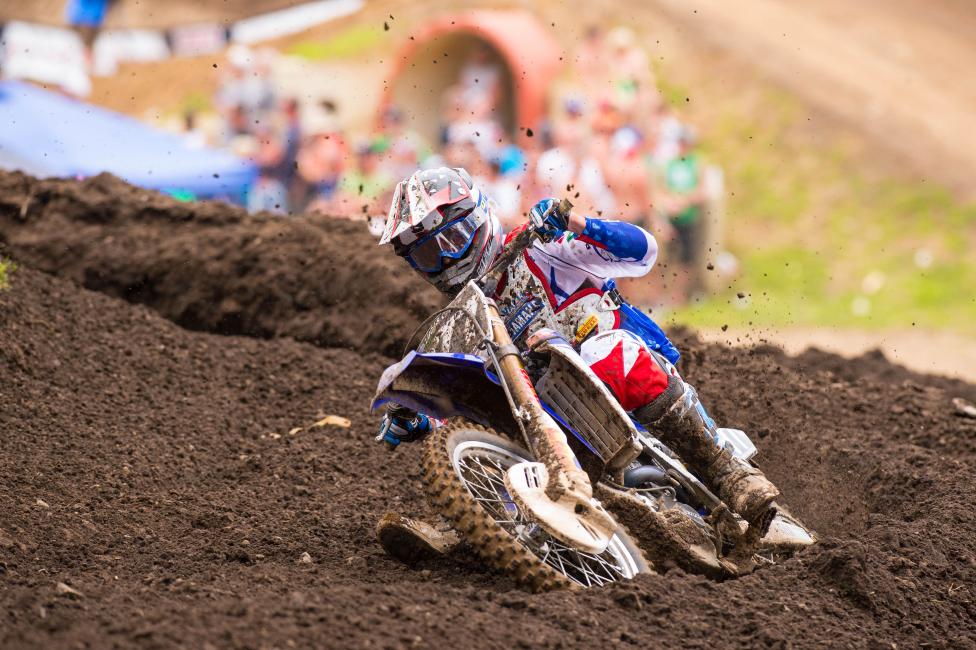 Monster Energy/Pro Circuit Kawasaki's Blake Baggett is always fast at Budds Creek, and if he wants a shot at the title he just has to go out and win. GEICO Honda's Justin Bogle hasn't pushed it up and over the top yet, but has been in the hunt every moto.
I love this class this year.
450
They called this place "Bubba Creek" for a few years after we saw him go from a first turn pile up to win a moto in the old 125cc Class. I really thought the Lucas Oil Pro Motocross Championship would see James Stewart make it happen, but instead it's been a lot like his supercross series. He can go out and win at any time, or he can get bad starts, crash, and finish top ten. We don't know which Stewart will show up this weekend, but I think he is due for a good one.
However, like I mentioned at the top of the column, Ken Roczen is just "the guy" right now, through and through. Ryan Dungey is 26 points behind him and well within striking distance if Roczen has a really bad moto. He just wasn't on his game at RedBud, and it will be interesting to see if he steps up his speed to challenge his teammate. You can't count him out. He'll be there.
I thought we would see a little more of Discount Tire/TwoTwo Motorsports Chad Reed in the past couple weeks, although you can't be surprised if he gets a good start and runs up front. There is enough time left in the summer for him to get his stuff back.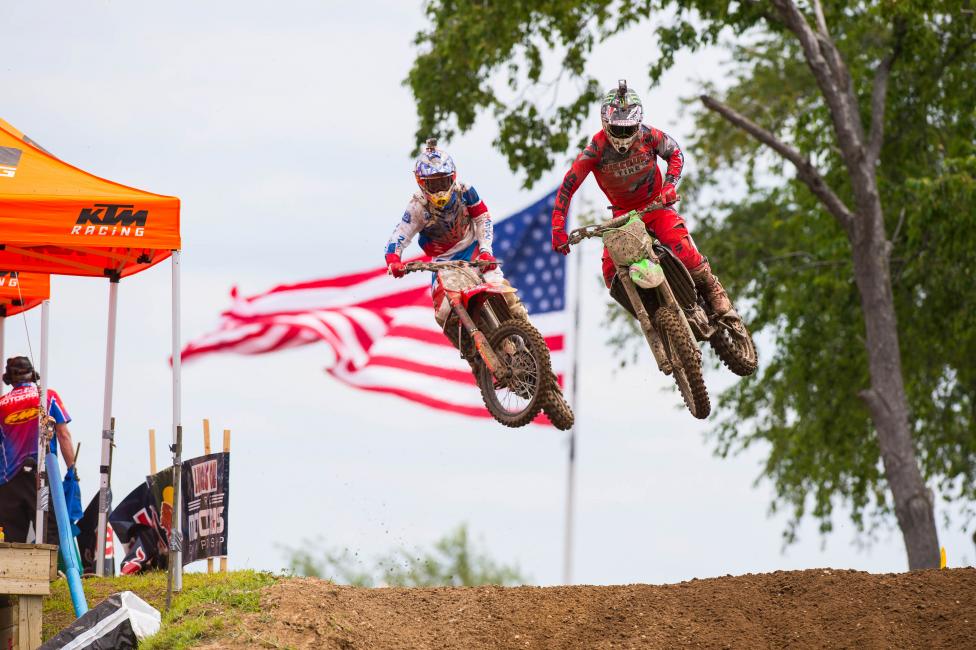 Be that as it may, Honda Muscle Milk's Trey Canard has been a fighter the last couple weeks! The first fifteen minutes of the second moto last weekend was just awesome. I can't put a finger on what's making the difference between he and the KTM riders, but it just seems like he can hold them off for half the moto, then that is it. Does the forgiveness of the steel frames on the orange bikes take less energy from Kroc and Dunge? The scoreboard rarely lies, and with Antonio Cairoli and Jeffrey Herlings dominating MX1 and MX2, and #94 and #5 almost 30 points up on the competition here in the states, the orange brigade MAY be on to something.
Hey, man, it's just going to be another awesome weekend of warm sunshine and exciting motocross racing. Big crowds, live television, and bar to bar racing action. It's a great time to be a motocross fan, folks! Saturday can't get here fast enough. Time for Budd's Creek!
Thanks for reading, see you next week.