RedBud has become a centerpiece event on the Lucas Oil Pro Motocross Championship calendar. Every race counts the same, but this is a special celebration on the biggest summer holiday weekend there is, at a place that probably packs the most fans as well as the most popular obstacle. I don't believe any one race during the season quite fits the standout Daytona or Indy 500 bill, but if any one race did, RedBud might get that nod.
At the very least, nobody dare leave RedBud off the list of "favorite places to race," especially not anyone who has taken a trip to the podium and heard the deafening cheers of all of those people. I remember doing the podium interviews there for a few years (the cheap way of getting on the podium) and almost being scared of all the chaos. Those fans are crazy, and it's almost like they're going to topple that fence and swallow their favorite riders whole. Seriously, if they had gotten at Kevin Windham for a few minutes, there might not have been much left of him besides a pair of tattered riding pants. This would have to be what it's like to be a rock star, although, I like to make that point that nowadays rock stars aren't actually the biggest stars because rock music isn't the most popular form of music anymore, so the real rock stars are the artists that actually aren't rock stars…
Where was I? Yes, RedBud is something special, and what's interesting is the sport changes so quickly year-to-year. In many ways, this event is always the same, as far as the track, the fans, LaRocco's Leap, and the rest, but the storyline coming in is in a constant state of flux. To follow the rock star analogy, this would be like the same concert on the same weekend packing in rabid fans every year, but with a totally different band each time. Hmm, maybe it's more like one of those big music festivals, in that respect?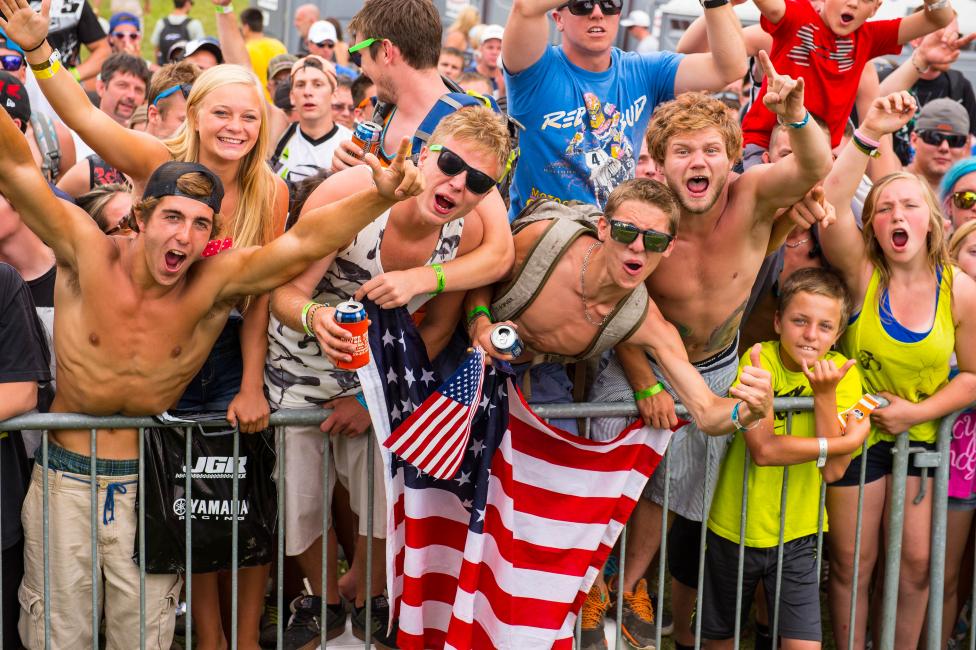 There was actually a time when RedBud had its own local favorites to cheer for—remember that LaRocco's Leap is named after a native. Jeff Stanton was once king of the sport, the race, and the Michigan Mafia, too. Jeff Emig had a special mojo at this track. RedBud was huge when Ricky Carmichael was winning there. He retired, but it didn't get any less huge. James Stewart had a few rough moments there, but he was heralded when he won in 2008 on the way to his perfect season. Stewart was gone the next year, racing supercross only, but Chad Reed, Josh Grant, and others provided the 450 action. In a vacuum, if you only had RedBud 2008 as a preview, that would make no sense. Reed wasn't even racing outdoors in 2008, and Grant was a 250 rider. Grant won that year, and while it wasn't RC or Stew, the fans lit up, anyway.
The next year was a similar sea change, with Ryan Dungey now the 450 dominator—merely a 250 rider the year before, but now the leader of the big bike pack. Ben Townley and Reed challenged him in one of the best motos you'll ever see, but eventually Dungey got them, scored the win, and got the same crazy cheers.
The 2011 season was amazing, with Reed back to challenge Dungey along with Ryan Villopoto finally making his way through a season of 450. Reed won the overall to continue his feel good story of the summer, and those people ate it up. Then came 2012, with both Reed and RV out again, and Dungey rolling as the savior. Last year, finally, Villopoto emerged with a RedBud win. Now? It's Ken Roczen, like Grant or Dungey before, coming straight from the 250s to be the man and win the race everyone wants. Roczen might be new to the 450 scene, with the general "he's the guy to beat" status. He might be a German winning on America's birthday weekend, but it doesn't matter, because on that podium he was the damned king. Heck, Jeremy Martin was an underdog up until recently. He wasn't even two years into his pro career, he hadn't ever won a national until two months ago, and his supercross season was a washout. But on that podium, fans unleashed a "JMart! JMart!" chant (I kid you not) that would have been fit for a hall of famer. Martin said one fan screaming his name was red as a lobster due to a shirtless day (I'd surmise that makes him an actual red bud. Get it?). The pain of frying didn't deter him one bit. These people are knowledgeable, passionate, and, yes, crazy.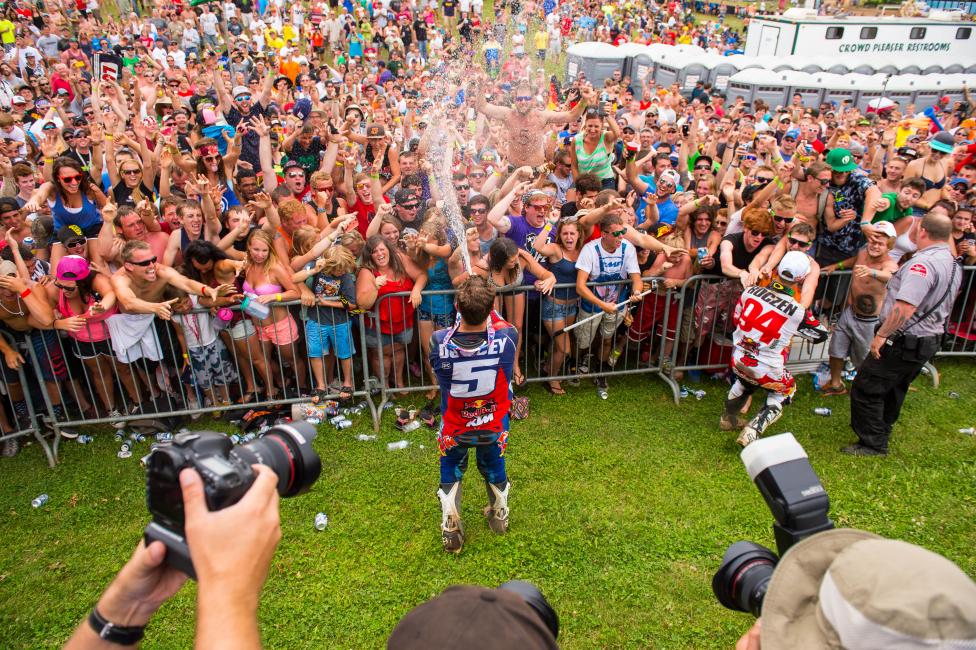 RedBud, then, becomes a celebration of the sport as a whole, not any one rider or team. Doesn't matter if the winner is local or foreign, established or a noob, the fans support it all. When you consider the myriad of options for fun on Independence Day weekend, there's a real sacrifice to be made to go to this race. On a random weekend, the motocross or supercross race might be the best show in town. But everyone has fun options on this weekend, and surely people are blowing off family cookouts on the deck, or time on the boat, the beach, or the lake to make it to this race. The last time I've really been "home" on July 4th weekend was the darned 1990s, and back then I was in college. My adult life has always centered on RedBud for the Fourth, and I've gone there, like many fans, through hell or high water. One year I separated my shoulder the week before the race, got surgery (which I was told "wouldn't be so bad." Note to everyone: there's no such thing as surgery that doesn't hurt.), hopped in the Racer X green van, and ate pain pills all the way. Didn't even need a drink to party that time! Another year, I broke my wrist right before it (yes, both of these were riding incidents—happy summer!) but took the ride to RedBud in a fresh cast. We even stopped at the popular Cedar Point amusement park on the way back home so I could nail everyone in the face with my cast while trying to put my hands up on the roller coasters. Nobody cared.
This year's event hit all the high notes, as it not only offered up four great motos, but the weather turned out just about perfect, saving everyone from the annual assault of heat and humidity. That probably only made those fans cheer louder and the racers ride harder. You know, normally they have to worry about dehydration.
If you're going to RedBud, there's nothing else to care about besides RedBud. Other people are having fun somewhere else, including all the riders who cycle out of the series, the race, and the podium. But for those that are there, all that other stuff isn't motocross racing, and none of it matters.