Budds Creek Motocross
Mechanicsville

,

MD
Budds Creek
Lucas Oil AMA Pro Motocross Championship
In 1934, shortly after they coined the slogan "The Breakfast of Champions," Wheaties first featured an athlete on their cereal box. Then New York Yankees slugger Lou Gehrig was the first athlete, paving the way for future sportspersons. Since that time, stars from Michael Jordan, to Barry Sanders, to Babe Ruth, to Muhammad Ali have graced the covers.
Now, for the first time in history, motocross has a chance to land the iconic cover. Red Bull KTM's Ryan Dungey will compete with four other athletes, from various disciplines, for the prestigious honor.
We caught up with Dungey earlier this week to ask him what it would mean to be on the cover of Wheaties.

(For more information on how to register, click here)
Racer X: How did you get involved in the Wheaties Next campaign?
Ryan Dungey: We signed with Wheaties back in May of 2013, and they came to us with the Wheaties challenge, as well as to four other athletes, and it seemed pretty cool. It was also an opportunity to get on the cover of the Wheaties box, which is a dream come true for any athlete. It's a challenge set up through MapMyFitness.com, so fans can log on, compete, and vote. We really couldn't wait for it to get started, and now we are in the middle of it all.
Who are the other athletes you are competing against, and what are their respective disciplines?
I will be going up against Christen Press (soccer), Blake Leeper (runner), Anthony Pettis (MMA), and Rob Pannell (lacrosse).
What would it mean for the sport of motocross to receive this kind of coverage?
It would be huge. I think to be able to be on the cover, and not really for myself, but for the sport, it would be great exposure and a great opportunity and a good way to get our name out there even more. The sport is growing tremendously year-by-year, but I believe this would be another big step.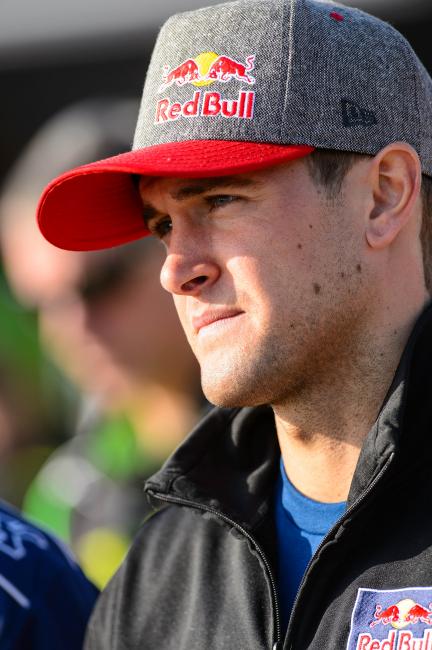 Wheaties has had many famous athletes on the box—from basketball to the Olympics. What would it mean to you from a personal standpoint to receive this acknowledgement?
To me, it would be dream come true. I think as a kid growing up you eat Wheaties and have always wondered what it would be like to be on the cover. And to be added to that list of amazing athletes—from Olympic medalists, to Michael Jordan, to Shaun White—would be huge. If it happens, I would be really excited. We are all trying our best to make things happen and pull it off.
Over the years you've been quite the outside sponsor magnet. You are currently sponsored by Target and Skullcandy, and we all remember your Nike deal. What's the key to making these relationships work?
Coming in as a professional, I've always tried to surround myself with good people and good sponsors. I've always wanted to reach out to the outside industry. I've been able to partner with Target and Nike and Wheaties and Sony now. I have been very fortunate with the opportunity to bring in those sponsors. A big part of it for me is I always wanted to leave the sport better than we I came in. It seems like a far outreach, but for me, it's given me a life and a great career. If I can give back, that's all I've wanted to do. I've been fortunate to partner with great, non-endemic sponsors and I guess I've been lucky in that aspect. It's great to have sponsors like that, that support you during your career and one day you can look back and say, 'That was pretty cool.' Having the Nike boot was special, and with this Wheaties challenge, it's just one more thing that is very special and means a lot to me.
It's no coincidence that a rider known for fitness, like you, is in line for a Wheaties box. You seem like a guy who genuinely enjoys training. Would you train and workout if you didn't have to for a living?
I think for me, fitness and working out is something I would do even if I didn't race motocross. I would have a full-time job, but on the side I would probably be doing triathlete stuff. I just really enjoy it. For motocross, it's a special routine. There is a lot of preparation and hours that go into it. If you're not training you're resting, and if you're not resting you're training. It's consistently on the dirt bike or the gym or running or swimming and trying to cover all your areas. A lot of it is routine, but I really enjoy it. It makes me confident and mentally stronger. With the Wheaties challenge I think it gives people an idea of all the hours and preparation that it takes. It's exciting to share everything I do to prepare for racing.
Talk about the challenges of training and dieting for a long season, and how you stay fresh and avoid burnout and illness throughout the year.
Special nutrition is important to being healthy and being able to sustain that level of energy all year long. I feel like you have to have a good diet and follow it everyday. Of course you have your cheat meals here and there, but nutrition is a big part of recovery, staying strong through your exercises and post workout recovery. We race thirty plus times a year and practice during the week, so a lot of my week is very high intensity training and very draining and wears you out, so it is very important to stay on top of the hydration and nutrition part. As for staying away from burnout, all of us need a break. You can't go 24/7 nonstop. You have to give your body a rest, whether it's a week or four or five days or a day. If you did it constantly your body would end up shutting down, or you would get pretty dang tired. So you have to [give] yourself those breaks and rest. As you go through the years you learn what works for you and what doesn't, and you can keep yourself away from a burnout stage, because once you get there it is hard to dig yourself out.
I'm sure a lot of people doing this contest will be getting back into fitness or maybe just starting. Any advice for someone that is looking to just get off the couch and get active again?
I think first and foremost, anything is better than nothing. At the same time … I hate to bring it up again, but I think the Wheaties challenge can really help motivate someone. You can do anything from as hard as full effort running or biking, to as simple as taking your dog for a walk. It's something that can get you going, get you motivated, and you log your workouts in. Then you get to keep track of all that you're doing. Lets say you log ten hours this week and then you can try and shoot for that goal the following week. It's easy to keep yourself motivated and going. I think a lot of people think you have to do a certain thing every single day, but you don't. I think the best thing to have is variety. Soon or later if you do something long enough you want change. So, you can go biking or swimming ... there is all kinds of stuff you can do. The sky is the limit on things you can do. My suggestion would be to switch it up every day and do something different.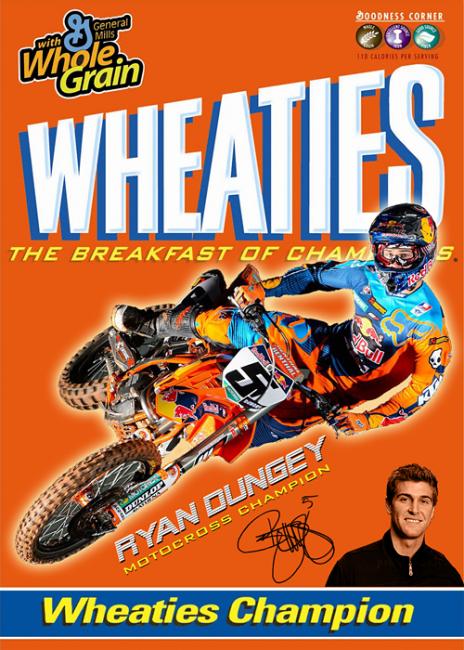 I also read where you will be logging your workouts. If they dare, can participants try and compete with you on workouts?
Oh, yeah. I haven't checked to see if anyone is following me, but they would be out here in Florida doing forty-minute motos. [Laughs] I have been logging my workouts from everything to on my dirt bike, to in the gym, to my intervals on my bicycle trainer, and my long rides as well. So it gives everyone an idea of what I do. Maybe there is a kid or someone who loves to race as a hobby—young or old—they can try and simulate my program. I don't want to give them too many secrets, though. I don't want some young buck on the line next to me taking over [Laughs].
Wheaties has partnered with MapMyFitness this year, the world's largest digital fitness community. Where can people connect with MapMyFitness? Also, can you elaborate on how the contest with MapMyFitness works?
MapMyFitness is a website where you can log all your training and hours you has nutrition as well. To get started, you can go to MapMyFitness.com and enter a log-in and a password, sign up for the Wheaties challenge, and from there it is all about logging your workouts. For every thirty minutes you work out you get to cast a vote. You get to do that up to two times a day. I will be doing it with everyone, so I will be able to keep up on their progress as well. People can win prizes [Ed Note: Entries have chance to win one of five motocross jerseys signed by Dungey] and other cool gifts from my sponsors. It's a lot of fun stuff involved. So it can be a good time and not just all work, no play. You can get your friends involved and compete against one another. It's pretty cool. It started on July 1 and ends August 31.
Participants also have a chance to help raise money for St. Jude Children's Hospital, a long time charity you have supported. How important is St. Jude Children's Hospital to you?
St. Jude is something close to my heart. I had a grandmother pass away from cancer. I was able to get involved with St. Jude a couple years ago and with MyFitnessApp is a great way to help raise money and work out for the children at St. Jude Children's Hospital. You're not only working out, but you're doing it for a great cause as well, which is even better, I feel. The more people we can get to support, the more awareness we can get in turn helps with the more money we can raise for St Jude. [Ed Note: There is a charity prize pool for all five athletes and their charities to compete in, and the pool will be distributed on a percentage basis based on votes. If Dungey gets 30 percent of the total votes, St. Jude Children's Hospital gets 30 percent of the pool. If he gets 50 percent, St. Jude gets 50 percent.]
We also have a question from a fan on Twitter. @Danielleizzy117 asks: Why did you stop wearing a neck brace?
Well, everyone has their own opinion as far as neck braces, but for myself I wasn't sure if would help or not. I decided that I was going to make a decision, and one that I would stick with, and that is what I decided. It wasn't for any particular reason. I just decided that was the choice I was going to make.
Thanks, Ryan. Anything else you would like to address?
I think we covered it all. Thanks for the interview.