RedBud Track 'n Trail
Buchanan

,

MI
RedBud
Lucas Oil AMA Pro Motocross Championship
We all need to thank Trey Canard. He hooked this sport up big time at RedBud. See, every year three motos of the Lucas Oil Pro Motocross Championship air live on NBC, which guarantees a massive ratings spike. Unfortunately, those motos often end up being duds. A few years ago at RedBud, we saw an epic first moto with Ryan Dungey, Ben Townely, and Chad Reed battling down to the last lap. But the second moto, on NBC, was a Dungey walk off.
The next year, Reed and Dungey scrapped through the entire first moto, while Ryan Villopoto charged from the back of the pack with parts shredding off of his bike. In moto two, though, RV just rolled 'em. That keeps happening, and after RedBud 2014 featured two solid first motos (Ken Roczen from way back in 450 moto one, and Martin vs. Baggett to the wire in the 250s), I was really worried it would get away again.
Then, Roczen headed to the first turn with the holeshot in check. Uh oh.
Credit Canard. He pushed hard and when Roczen made a bobble leaving turn two, he shot his Honda Muscle Milk machine into the lead. Roczen was in second, and while his speed display from moto one may have made a pass and moto win inevitable, Canard was having none of it. He fought with all he had.
"I've got to fight, especially Kenny," Trey explained. "He's kind of established himself as 'the guy.' I think it's very important to not let those guys just go around you. I fought. I tried my best."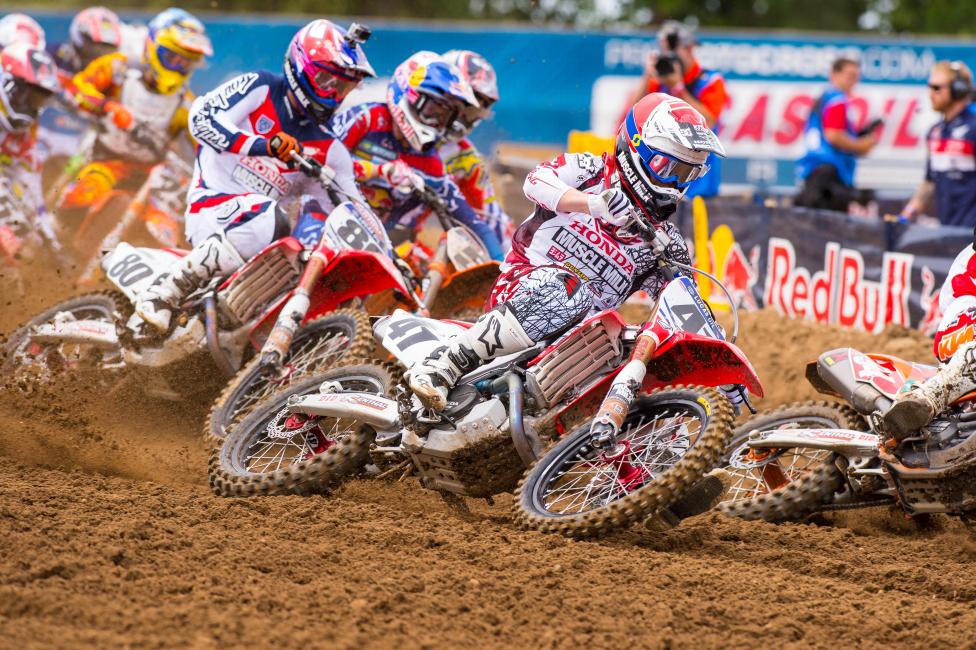 Canard turned that one quick pass into a lead for twelve minutes of the first moto, fighting off each Roczen advance. At one point, Roczen pulled the trigger and got around, and Canard launched a counter-attack and re-passed him on the inside before LaRocco's Leap … and still cleared the big jump for good measure!
Two laps later, Roczen went on offense again, and they scrapped for a full lap before he finally made it stick. The uninitiated fans that tuned in had been treated to a knock-down, drag-out fight, complete with side-by-side scrubs and whips, near misses, mistakes, big air, and amazing action. It would be impossible to watch the first twelve minutes of that moto without saying "This is awesome!"
Canard has bigger goals than just twelve minutes in the lead. He wants to get a win and at least land on the podium, but a tip-over dropped him to fourth.
"I was bummed that I tipped over," he said. "Felt like maybe I had at least a second in me [in moto two]. It's hard. I think we're going pretty fast, so if you make a mistake, you're going to lose a lot of time."
Worse, Canard's 2-4 scores left him off the podium for the day.
"First moto was good. I felt actually better the second moto," he said. "I felt more comfortable with the bike. I was really down going into the first moto. I didn't have a good practice. I got into with [Chad] Reed a little bit and just struggled, just didn't feel comfortable. Last week was a real big confidence killer. Through the moto I actually kind of got better and better. The bike was better too. Second moto I felt pretty good about things, just washed out and didn't really get it together quick enough. By the last lap, I kind of did better but just wasn't good enough."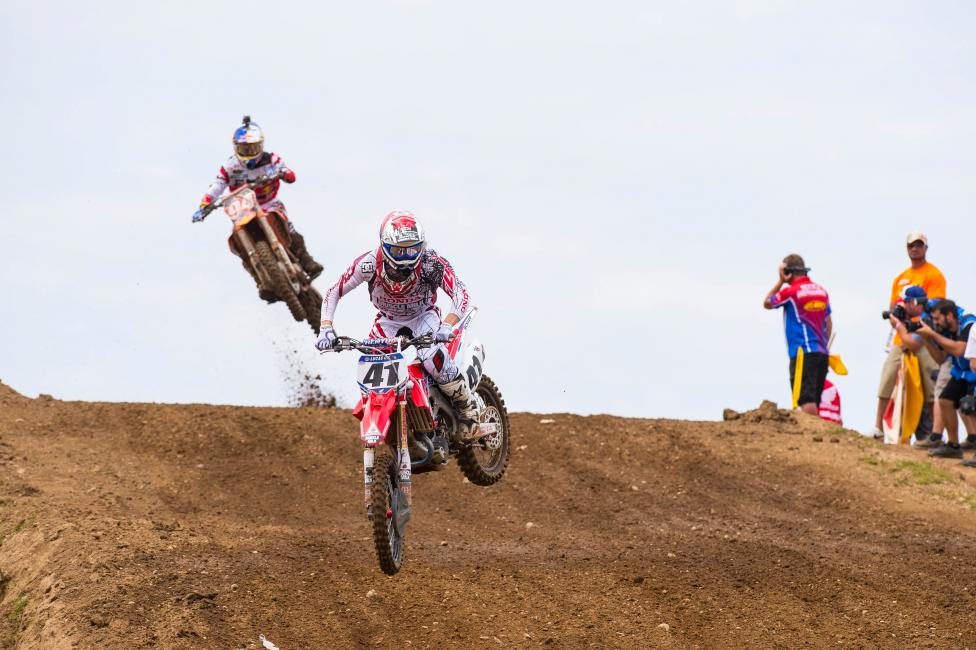 Still, it was fun to watch and a whole lot better than a week ago at Muddy Creek, where Canard was off the leader's pace. RedBud was much closer to his performance at High Point, where he held Roczen and Dungey at bay for most of the day.
"I think High Point really did a lot of things that our bike did good, and Muddy Creek really brought out a lot of things that our bike did really bad," said Canard. "So it highlighted a lot of our weaknesses. We made a lot of improvements this week with the motorcycle. So hopefully we'll continue to do that."
Throughout the season, we've probably heard more talk about setup than any before—Canard and James Stewart, for example, cycling in and out of the battle depending on the day. Canard has a theory that setup matters more than ever now.
"For sure. I think in Ricky's [Carmichael's] day it was him and maybe a couple other guys were fit enough, but mostly him. Now I feel like we're all really fit. We've all got a pretty good program, our minds are wrapped around a lot of things. I think a lot of it is just bike setup a lot of time."
Canard and company will keep chasing the Roczen rabbit and try to finally lock down a win. For him, only a victory will feel like a victory—but those early laps at RedBud marked a win for the sport.