RedBud Track 'n Trail
Buchanan

,

MI
Race Center: RedBud
Lucas Oil AMA Pro Motocross Championship
By Jason Weigandt, Steve Matthes, and Chase Stallo
Eli Tomac, GEICO Honda, 4-2 for second overall in 450MX
You had a good return to racing last week, but this week seemed to be maybe a little bit more substantial for you.
Yeah, a little bit. Definitely ate a lot of roost today. The track, at least for the 450s, if you're behind a guy you're pulling tear-offs once or twice a lap. Actually in the first moto I ended up running out of tear-offs. Threw 21 on for the second moto and had clear vision.
When you look at a track that's this big and this diverse, what's your favorite part and maybe your least favorite part?
This is the first year I was able to launch the leap, so that was always good fun. The whole thing has a pretty good flow. It always gets super deep and rutty so it separates guys. Like Kenny said, I'm not a huge fan of how they took out the other couple corners but maybe because that shortened up the lap times. But you could still race fine. It's all good.

Did you blow off any fireworks this weekend?
No. I had to throw on my noise cancelling headphones like on an airplane because they were so loud even at my hotel. Finally they stopped around 11 o'clock! – Jason Weigandt/Post Race Press Conference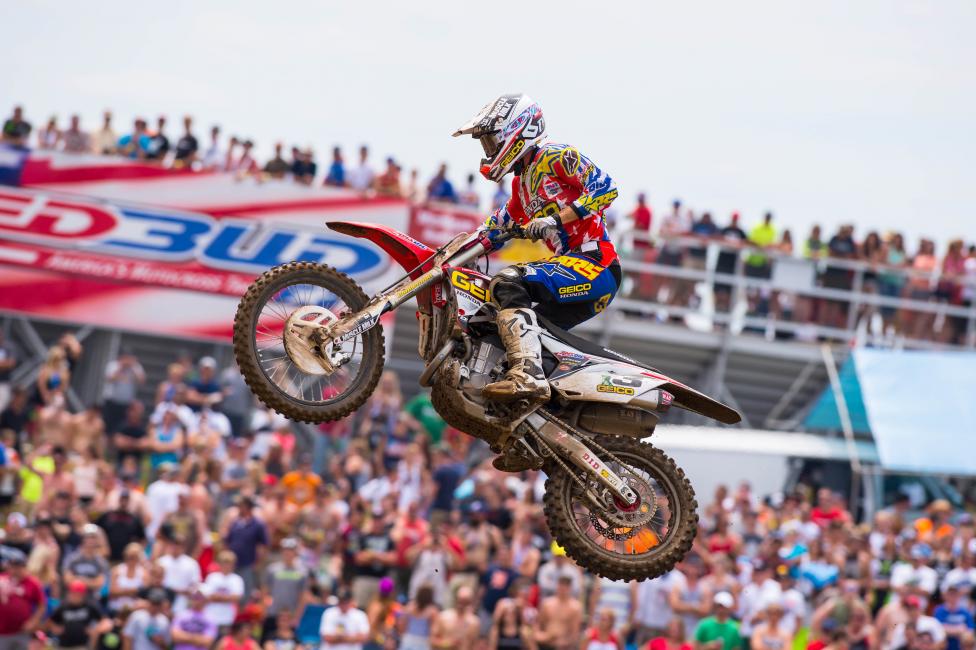 Ryan Dungey, Red Bull KTM, 3-3 for third overall in 450MX
Another consistent afternoon, but I'm sure you wanted a bit more. What do you think you could have done? Now, what's in hindsight that might have changed the day around a bit?
I got good starts, which was good. Just kind of little things here and there. Mainly, just when you're behind somebody it's just hard to make a pass. It's always been a weak area of mine but today especially was tough. The ruts were deep. There were a couple main choice lines. I think they took that out switchback area over there, and that was always a good area to make some extra passes, and make some time as well. But we gave it a good push and gave it all, so it just came up short. But overall we're moving forward. Just a little bit of an off day. – Jason Weigandt/Post Race Press Conference
Brett Metcalfe, Monster Energy Kawasaki, 7-8 for eighth overall in 450MX
Dammit, you fell. I think you probably would have got fifth or sixth overall if not for that fall in there.
Fifth. Did I let you down this week on fantasy?
No, I didn't pick you for top five, sorry. I didn't know about your back; I'd heard in a Tweet or an Instagram about your back.
Last week was rough. Then, I didn't ride this week, and then it affected me a little bit in the first moto, but the second moto was good. Today was solid, better. But just one mistake. All day there in one section, I wasn't good there, and I was struggling.
It was after the double, after the downhill ski jump, you double, and then that right-hander?
Going into that right-hander is where I kind of lost control. But I could hear Shorty was doubling that thing. And I could hear he would pull a little bit on me every time. I felt like I was good the rest of the track and in a good rhythm. I thought if I could maybe just pick up a 10th quicker in that section I'd be perfect, and putting him away. Tucked the front end in a rut and just lost control. Anyway it was a good day of riding. – Steve Matthes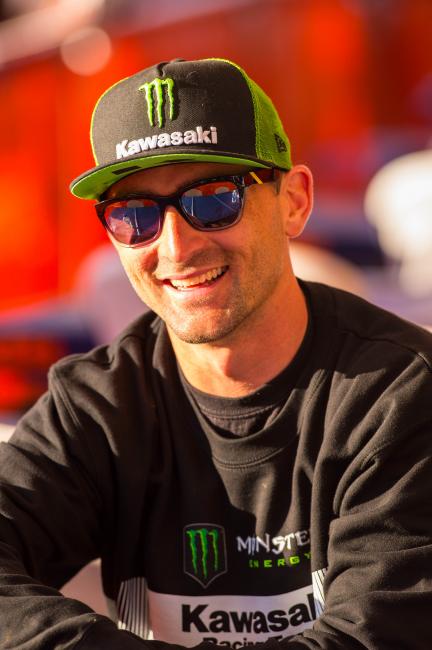 Chad Reed, Discount Tire TwoTwo Motorsports Kawasaki, 8-7 for seventh overall in 450MX
You finished seventh overall on a track you like and had a better day than what we've been seeing from you lately, so you have to be a little encouraged.
I'm at a point where any improvements are something that you got to kind of hold onto. I felt better. We changed the bike a little this week, and immediately, I felt pretty comfortable. I had a better feel for it. Track was gnarly. It was rough and it was deep, muddy all day long.
That section after the double, you go ski jump, make a left, and double. The ruts were so deep. That right-hander, no thanks. I don't want any part of that.
It was pretty gnarly. For me it was just a decent day because I actually passed people, and that was a nice thing for me to do. I've been getting passed a lot this year, but I haven't really been passing people. Crazy. I'm kind of a little bit lost on my starts. I go holeshot, holeshot, and then I go pathetic, pathetic, pathetic, pathetic. I need to find that again. But a good start, I think, now [would be better] because I'm in better shape. My fitness is coming around. Both motos today I battled and actually felt fine where there's been a lot of drop off for me. Right around the 20 minute mark, I've just been pretty toast. I've been working hard. It may not show a whole lot but we've been doing work and trying to get there. Got to give credit where credit's due: JG is riding well, Shorty I think is probably riding some of the best riding I've ever seen him do. It's fun. It's a challenge. Not where I want to be but we know where we want to be and we're striving. We're kind of shooting big and definitely want to be on the podium before the year's out. – Steve Matthes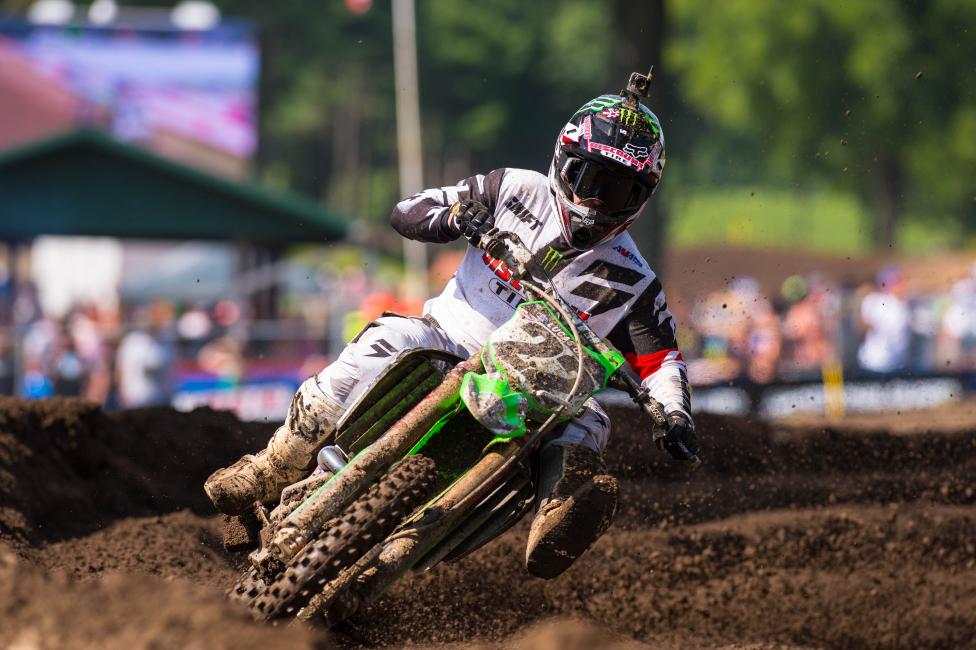 Fredrik Noren, Honda Muscle Milk, 17-10 for eleventh overall in 450MX
Second day on the bike. How was it?
It was good. I'm really enjoying it. The people and team was awesome. The bike feels really good. Like you said, this is my second time on the bike. I haven't really rode it much. I'm really happy. It works really good. We got some stuff we need to work on and just ride the bike a lot. Getting used to that is the biggest thing right now to work on.
I heard no starts this week before today.
Yeah, second moto did a really good start and I came out fourth or so. I was running up there for a few laps and I felt really comfortable, but I'm not really used to their guys' pace. I've never been up there before. Kind of got tired a little too quick. Just had to pace myself. And then got passed by a few guys and just rode a solid moto to finish tenth. So I'm happy with that.
And the plan now is to go back to California and start testing?
Yeah, I fly out to California tomorrow and then start doing some testing with the team and riding the bike next week. – Chase Stallo

Nick Wey, MotoMafia, 16-17 for eighteenth overall in 450MX
RedBud, in front of your home faithful. Your return to the Nationals how was it? It looked like you spent a good part of the day eating rocks and roost.
I knew that's kind of how it was going to go, but it's pretty tough to simulate a National condition, and obviously I've had limited time to prepare, but I did a lot of riding and training leading up to this. Obviously, in supercross I had a really strong fitness base, so that kind of got me through today. But I had a lot of close calls. Shane Sewell, his bike blew up on the takeoff of a lip of this tabletop on the first lap or second lap. I had to do a gnarly scrub to just miss his body, and then his bike was flipping and almost hit me. Then, I came up on Malcolm Stewart a couple laps to go, and he flipped and his bike and almost hit me. So it was an eventful day back there battling. All in all, I was hoping for two top tens, but I've been feeling really well riding. Like I said, it's tough to simulate the races and even tougher to come in when people are in mid-series form, I guess. But I think I'll build and improve on how I did this weekend next weekend. I had a good time, and got a lot of support from all these RedBud rowdies, so it was cool. – Steve Matthes