RedBud Track 'n Trail
Buchanan

,

MI
Race Center: RedBud
Lucas Oil AMA Pro Motocross Championship
By Jason Weigandt and Steve Matthes
It's official: Red Bull KTM's Ken Roczen is the man to beat right now in the 450 class of Lucas Oil Pro Motocross. He's been in the points lead for most of the season, and has been in the thick of it for the win in most of the motos this year, but now with a two-race win streak and dominant 1-1 moto scores at the Red Bull RedBud National, all questions have been answered.
Here's what Kenny said at the post-race press conference, and our Steve Matthes grabbed him later in the pits.
Racer X: You earned fifty points on the afternoon and got a 1-1. What was it about this afternoon that made it look like you were on a whole different plane today?
Ken Roczen: I don't know. I actually struggled a little bit in the first practice. I think the track might have been a little weird. It was kind of wet. It made it slippery because underneath it was quite hard. I made a little change to the bike that made it somewhat easy on me. It was definitely a step in the right direction. I guess it just clicked. I didn't have the best start in the first moto, so I had to fight my way through again. But then in the second moto, I was confident with starting because I had a good line and just ran it in deep. I actually caught my foot on the inside a little bit and messed up the second corner so Trey went by. I had a good fight with him but ended up passing him and basically just riding my race. I felt really good out there. I can't complain about today.
You talked about the track. They added some new sections. Thumbs up or thumbs down on the new big 130-footer in the back?
In practice I felt thumbs down, just because they took a little of the flow away. The turns were tight there. But it hardened up a little bit in the races and we had some good ruts. I think that made it much better. Overall I really liked the track in the races. It was much better than in practice, so it was good.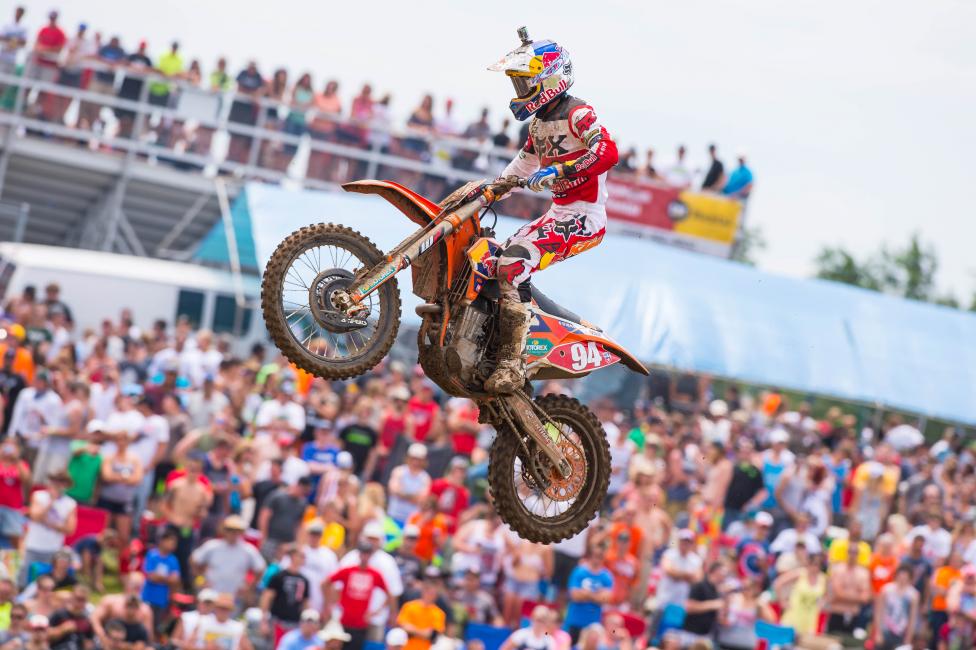 Talk a little more about the second moto and the battle with Trey Canard. You passed him and then he passed you back, then he stayed with you for quite a while.
I got off to a good start and I was like, "Yes, I got the holeshot!" I was up front and had a clear… Every time I go to the start or every time I come back from the sighting lap I'm like, man, if I get the holeshot I found some good lines. I could be gone. So I got it for the first time this year. I went a little too wide in that second corner and he blew by and I was like "Dang it!" It's never easy when somebody throws dirt on you the whole time, and especially with the ruts. Everybody always took the inside and you couldn't really go outside, it was soft and deep. It's kind of hard [figuring out what to do]. I checked out that inside rut before the leap in the sight lap and it looked really good but I was like, "I don't know if I'm going to make it [the jump] from the inside." So I kept taking the outside. After I passed him I knew it was a little bit of a gamble but I went outside. He could have gone for it on the inside and not even jumped it and he still would have passed me back. He got me there and I ended up behind him again and struggled a little bit to get by. Once I went by I just kind of got a good rhythm and rode my own race and opened up a little bit of a gap and felt good.
You said after practice you made a change to the bike. What did you do?
I just lowered the rear a little bit. It rode a little bit like a stinkbug [low in the front] so I made it a little lower in the rear and it made it much better.
Obviously you get to this point in the series, when it's round six, things are starting to get a little bit crazy. We're going to Budds Creek. We'll go from Budds Creek up to Millville, then to Washougal. What's your take on the rest of this little streak here that we've got?
I like all the tracks we're going to, so no worries from my side. I actually really like going to Budds Creek. I just think it's a cool track. I'm happy to go. The weather has been so good on us. It hasn't been hot at all, so it makes it much easier when you're coming from Florida, and it's really hot and humid there. It's a good thing to not feel the heat anymore. Overall, though, I'm excited to come to the races we're going to. I just want to keep everything up, keep everything the same as I'm doing right now and things will go good.

You've had a unique opportunity. You've been a world champion, and you've had a chance to literally race around the world. Is there any track in the world that has fans like Red
It's tough. I think Red Bud from the US for the National is one of the loudest races I would say. I feel like the GPs are almost every race is like that. They're real crazy. They have chainsaws on the side of the track. It gives me a little bit of a home feeling. It's good.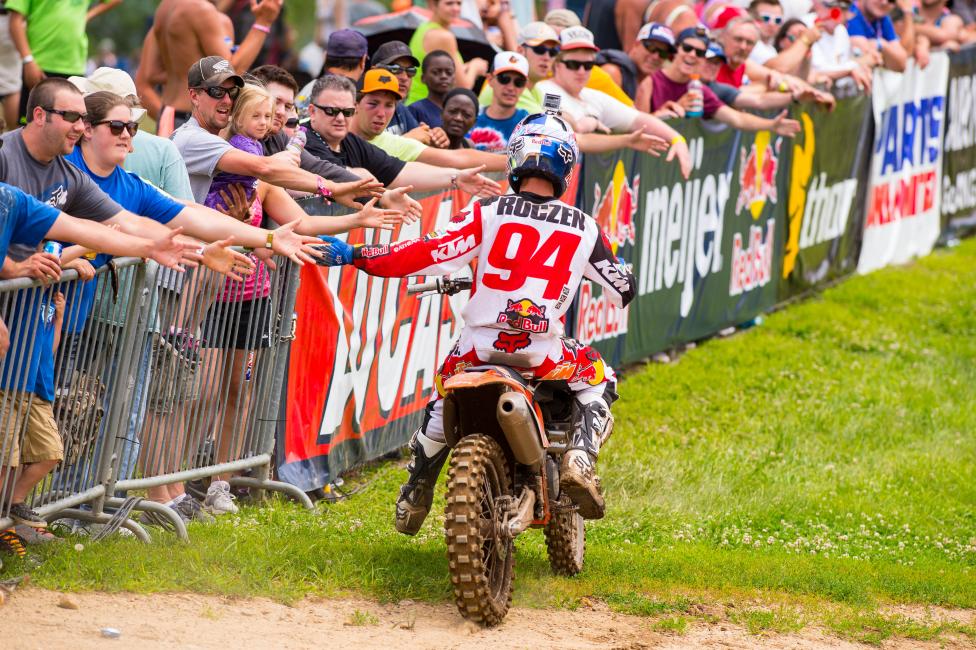 Our Steve Matthes caught up to Kenny later.
I knew you'd be good—I didn't think you'd be this good, though.
You can't believe how good it feels—to just go and do good. It's like the more you do good, the more you want to keep doing it. Like, right now I can't wait to just go to dinner with the mechanics and just goof around. It feels so good. I'm not putting in all of that work to not be winning. I'm just happy I'm pulling it off, I'm strong, I feel insanely strong right now, and I feel like I have always have something in my back pocket. I think that's what you need to win this championship. I already can't wait for next weekend. It's just a good feeling to go to the track and feel like you're the guy.
Hey, is it too soon to even look at points?
I mean, I do look at the points, and yes, I had a good day. But as good as I made it now, it could easily be the other way. I try not to worry about it. There were a lot of other races where I was like "Man I could have made good points," but you've got to take the good with the bad.

Hey, how bad were the lappers? I talked to another guy who said it was tough because the track funneled into one line.
It was. It's kind of scary, you know, you have a 5-6 second lead. If you don't pass a lapper good and they do, the gap can be closed instantly. If you follow that guy, and he tips over—and I almost had that happen, I barely took a different line—if he tips over, you're literally stuck, because the ruts are so deep. It's crazy. I try to be aggressive with them, and try to be smart, and try to get around them. I think it's one of my strong points, to be honest. I know Dunge, he gets caught up on other people, on other riders, where I'm able to make it happen.