What a rebound for Yamalube Star Racing Yamaha's Jeremy Martin, who came back from two sub-par weekends [well, sub-par compared to winning the first five motos of the season] to snag the Red Bull RedBud National via 1-2 scores. Jeremy's a pretty funny guy, and he shared some thoughts after the race.
Racer X: Welcome back to the press conference. We missed you. Where have you been?
Jeremy Martin: [Laughs] I had an off-weekend and I was sleeping. Took a little nap. But now I'm back here talking to you guys and glad to be here.
You've had the red plate since the opening moto of the year. Did it make you a little nervous there when it looked like things were, bad starts and caught up in the first turn a week ago and not finishing on the podium?
I'm not even worried about the championship. I said it earlier. The biggest thing is just enjoying the weekend racing, taking it one moto at a time. Last weekend it sucked. It's not fun. You get that taste of winning and then you go out and you get in a first turn pileup and it's like, all right, let's see what we can do. It's nice to get out front. The track was really good today. My parents have been helping out the Richie family [RedBud owners] for a while. My dad wasn't able to make it today but my mom's here so it was really nice to have her there supporting me.
The first moto was obviously a great battle between yourself and Blake Baggett. The second moto you were really in a big battle with Bogle and all of a sudden your teammate was able to capitalize on the fact that you two were really racing each other.
Baggett was right on me that first moto. He was doing a double in the back over there that I wasn't doing and he was soaking me up huge. I could hear it. I was like, "Man, where is he getting me?" And then the team was able to tell me where I needed to be a little better. We made a suspension adjustment; it was better for the second moto. I got a better start. I had one heck of a battle with Bogle. And then Cooper was right there too. Bogle was determined at all costs to stay in front of me. He did everything he could and unfortunately I think Red Bud got the best of him and he took a soil sample.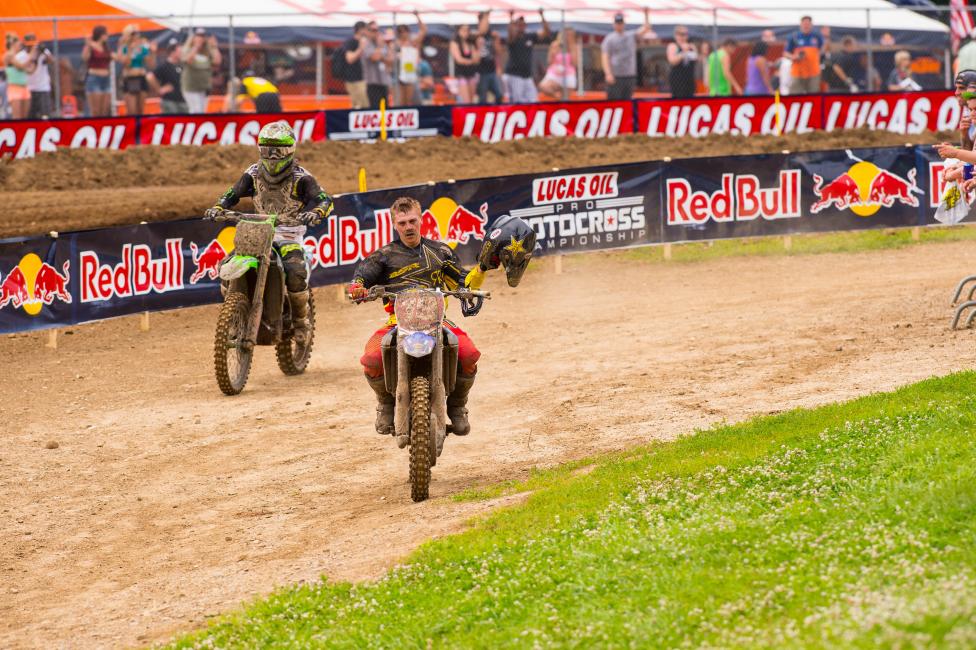 You said in that first moto that your team told you where Baggett was catching you. You did what you needed to do to that double.
I knew I needed to do it so second lap I just went out and as Bobby [Regan, team owner] would say I just "sended" it. That's Bobby's term. You just got to go and jump it.
Can you just talk about getting a win here in front of the RedBud fans?
Getting a win here is awesome. I remember racing as an amateur here back in the day and getting down over there [on the amateur track] with those guys. That's something else down there. They got the night race and they got a pit bike race. It's just a great place. Those fans, you're out there riding and the air horns are going, cheering wide open.
Today I was on the podium and I saw one guy, he was just screaming my name. And I was like, "All right!" So I looked at him and he was red as a lobster! The poor guy, when he wakes up in the morning he's going to be hurting. But he was in the moment, he was having a good old time today. It's just cool to see.
You're the points leader. What's it been like having the attention and focus on you this year?
It's definitely different. I'm a guy that kind of likes to do my own thing. I'm not really one for the limelight but I handle it pretty well. It's a little different but it's fine. It's good. I like it.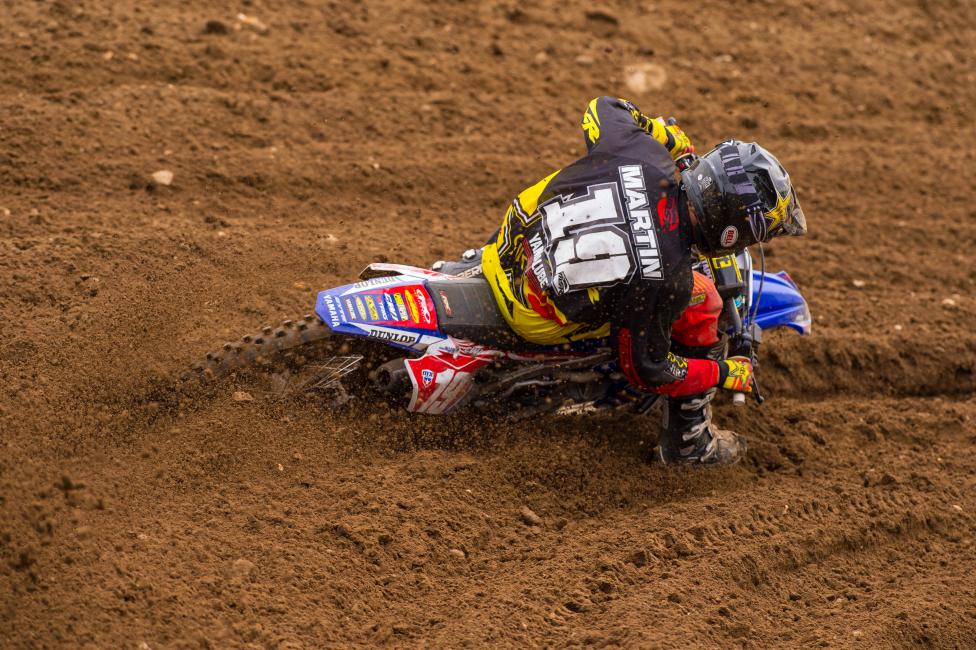 The second moto, your teammate had a bad first moto, you were in second place. Were you thinking about the overall at all? He got a little gap. But then it seemed like the last couple laps you went back after him.
Cooper got around me. I knew he was behind me and I knew he was going good. As soon as he got around me he was taking some of my lines and some of them were pretty good. I got behind him and I was like, "You know what, we'll just sit behind for a little bit and see what he's got." I just kind of kept watching him, watching him. I was like, "All right, I'm going to try to put it down." The last two or three laps I was able to get right back on him. Tried to make a move but Cooper was really riding hard. He was trying to make up for what he did in the first moto. I knew he was going to be tough to pass and if I did get him he was definitely going to be right there to try to get me back. I put in a charge the last two and came really close to getting him a couple times, but it was good for the team.
I don't know if you had problems but it seemed like all day guys were running out of tear-offs and wiping their goggles with their forearm. Is the roost exceptionally bad here or something?
No, I just think the dirt's, the track's good. We got a lot of tear-offs and you're getting roosted quite a bit, because you're following each other. The ruts are so deep that there's only a couple good ones and you got to be smart and take those ones. A lot of times the guy that's in front of you is taking that because he's trying to either hold you off or it's the fast line. I did a lot of turning my head to duck the roost, like I was checking out the crowd as I was riding by, but it was good. Goggles were good.
What's the plan of attack now for this next little stint of the Nationals? Is it consistency? You mentioned you're not even thinking about the championship, but it's just race by race. Are you going to try to play it safe? What's the plan?
There's really no plan. Just going out and riding my dirt bike and trying to get good starts. It feels good to win. I'm excited. There's going to be some good tracks coming up. We've got Budds Creek next weekend and then everyone knows Millville's going to be a good one for me. The track's pretty decent. My mom's here today. My dad actually wasn't able to make it because he's busy working on the facility and he's making a track change that should hopefully get people excited and give it a good show. It's going to be pretty cool to see what people think of the change.