RedBud Track 'n Trail
Buchanan

,

MI
RedBud
Lucas Oil AMA Pro Motocross Championship
Welcome to Racerhead and Happy Birthday, America. It's July Fourth, which means we're at RedBud for the centerpiece race of the Lucas Oil Pro Motocross Championship. It's not only the halfway point, but it's the biggest event on the calendar, and we've got some great weather and a huge crowd here already. There has been some scattered showers here and there, but the Tim Ritchie-built track once again looks superb, with a few new wrinkles here and there—including the Hammer of Thor triple. It's going to be rough and fast, wide and exciting, so there's something for everyone, and you can watch it all on MAVTV, NBC (second 450 moto) and NBC Sports, as well www.promotocross.com
Besides Ken Roczen-versus-Ryan Dungey in the 450 Class, and the constant battles in the 250 Class between Yamalube/Star Racing teammates Jeremy Martin and Cooper Webb, former champ Blake Baggett, and the fast-starting Christophe Pourcel, plus all of the other fast guys out there, and there's a lot to talk about. But the question that is still hovering above the paddock concerns James Stewart. What is happening with his provisional suspension by the FIM? I know an appeal has been filed and the conversation must be ongoing between the Stewart camp and the FIM, but he is on his way here as we speak and plans on lining up again—and hopefully getting out of the first turn better than he did at Muddy Creek last weekend. There are no other developments that I know of to report at this time.
There's also a lot of buzz about the surprise (and popular) move by the Honda Muscle Milk team to invite privateer Fredrik Noren under the tent to race the injured Justin Barcia's CRF450R. Noren is well-liked and respected in the pits and it should be interesting to see how he does. I don't think he's going to suddenly pop up on the podium, but it is pretty cool that he gets this shot. Good things happen to nice (and fast) guys.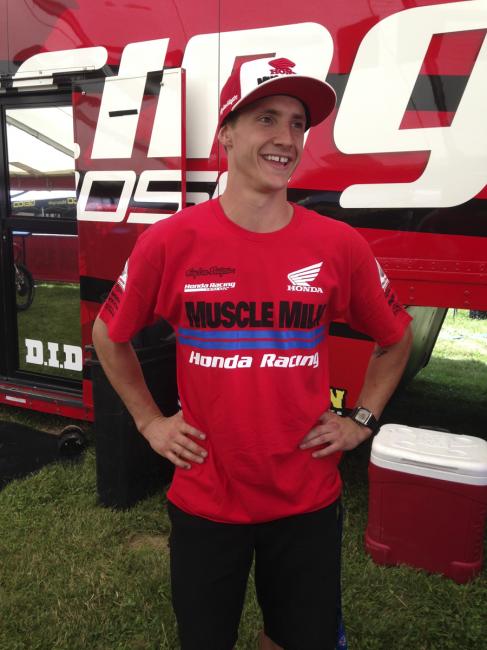 Before we get too much into all of the RedBud stuff, here's a tip of the visor to Mike LaRocco, who will be inducted into the AMA Motorcycle Hall of Fame in Orlando come October. One of the most respected and durable athletes in SX/MX history, LaRocco grew up in Indiana but he's as RedBud as it gets. He won two AMA Motocross Championships and was a solid performer for Team USA whenever duty called, like in Manjimup, Australia in 1992! Of course Mike is now team manager for GEICO Honda and still comes to work at the races prepared to put in the time and effort to get his riders up front. Congratulations to Mike LaRocco and his whole family, and all of his fans and supporters over his legendary career.
And while I am thinking about it, I have to say the Class of 2014 for the AMA Motorcycle Hall of Fame is shaping up as a very solid one, with OG 1974 AMA Supercross Champion Pierre Karsmakers, lifetime enthusiast/ambassador/business leader Tom White, renowned collector and racetrack builder George Barber, off-road champion Scott Summers and now LaRocco all entering the hall.
Finally, a get-well-soon to two longtime friends dealing with health issues, Big Rick Carmichael and Rick "Ziggy" Zielfelder. See you guys at the races again soon.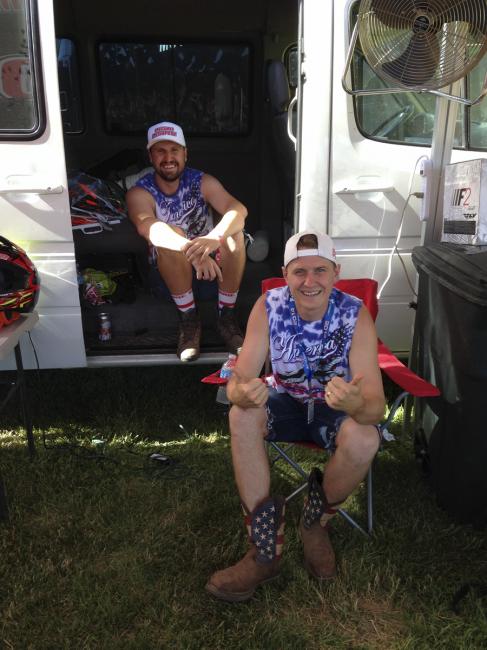 THE NUMBER: 2 (Andras Hegyi)
This summer Yamaha is continuously passing milestones. The most recent is the fact that 2014 is only the second time in AMA Motocross history that Yamaha has had two different winners in the small-bore category. Before Jeremy Martin's and Cooper Webb's wins it happened way back in 1977 that Yamaha had two different winners. Thirty-seven years ago (hey, that's Cooper Webb's number!) Yamaha men Bob Hannah and Broc Glover both won in the same season on YZ125s (and yellow ones at that). That year Yamaha went to win also the 125 Championship, thanks to Glover. So that's a hopeful sign for the brand of the three diapasons.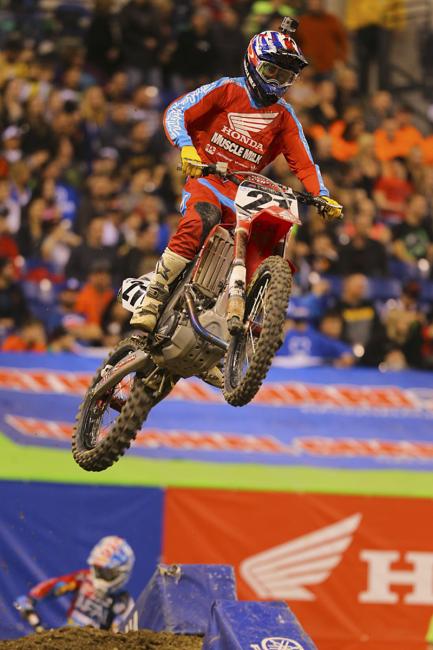 COLE SEELY (DC)
With a nod towards Fredrik Noren's new gig as a replacement rider for Team Honda Muscle Milk we posted yesterday's List about recent replacement riders. It was a collective from the staff about guys ranging from Brett Metcalfe to Mike Treadwell. Somewhere in the shuffle one of the names that should have been near the top of the list got overlooked. Troy Lee Designs/Lucas Oil Honda rider Cole Seely has stepped in to help out the Honda factory team a couple of times, including a third-place finish at Indianapolis. Cole did his moonlighting when the series moved East and he was locked in a duel with Jason Anderson for the West Region 250 SX Championship. He also stepped in to help out in 2012 and performed incredible well in his first time around in four races there, leading for nearly half the main event in his debut at Atlanta's Georgia Dome. Our bad for leaving #21 off the List, he deserved to be up there—twice!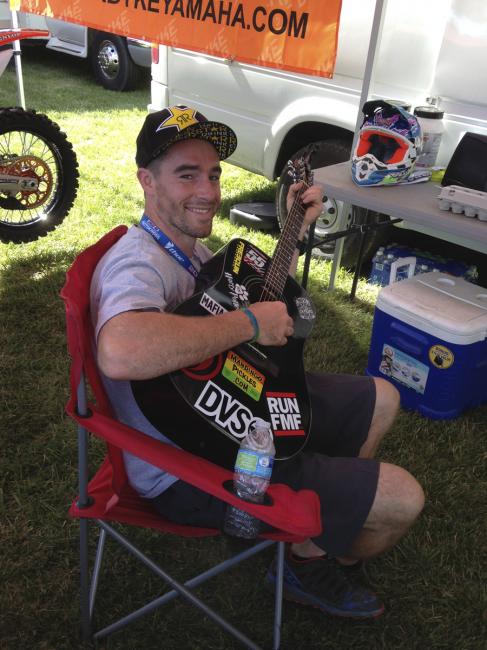 IF I EVER GET TO REDBUD… (Steve Matthes)
My Racerhead contribution is coming to you guys from the Cell Phone Parking lot in Chicago and from inside my rental car. I'm waiting on Jason Thomas to arrive here and we'll make the drive over to South Bend, Indiana, for RedBud. Can't wait to hit the July 4th traffic and construction that seems to be an annual thing here in the Windy City.
I think this weekend is a very big one for the Yamalube/ Star Racing's Jeremy Martin. He's got to get back to establishing himself as the man in the 250 Class, just like he did at the first two rounds. Since starting out 5-for-5 in moto wins he's had a couple of so-so races with crashes in two of the motos and his huge points lead has now dwindled down to just eight over his teammate Cooper Webb. And then there is Monster Energy/Pro Circuit's Blake Baggett, who has won four out of the last five motos and the former national champion should just put "I'm Baaaaacccck!" on the back of his pants. The new #4's on fire right now.
And you know what? I think Martin does indeed make a statement this weekend. RedBud is similar to Millville, which we know he loves, and I have a feeling he's going to rebound and take some points away from his title threats. I have no real proof about this (although he did do well last year at RedBud, better than both Webb and Baggett) but call it a gut feeling, bro.
Nick Wey and Christian Craig are making their motocross season debuts this weekend. Wey's in for the next two races and Craig's in for three or four total. It should be interesting to see how the two guys can do. I think the depth of the 450 Class isn't there like in past years and we're seeing a big disparity between the top ten and everyone else in the class. Looking at the points there's 12 riders racing this weekend that have hogged the top ten spots in every moto this year. We haven't seen a lot of strangers get inside there, and out in the motos you can see the gap.
In case you're wondering, Kyle Chisholm is back again this weekend with another week off for the Canadian Nationals. He's making the VERY long drive up from Florida. That's commitment, man! And congrats to Fast Freddie Noren on the factory ride. No pressure, right?
It's not often that a rider switches bike brands in the middle of the season and it ends up being anything but grasping at straws but there's no doubt that Jimmy Albertson looked better on his KTM last week than he has at any of the nationals this when he rode Hondas. He almost scored himself a top ten in a moto and really likes the way the KTM handles. His motor was basically stock so I would think after a week of Jim Lewis from Merge Racing getting in there the #77 KTM should be even better this week. Nice move by Top Jimmy!
I spoke to Rick Johnson and Jeff Ward on a conference call this week. And I happened to record it and called it a podcast. Some interesting thoughts from a couple of guys that spent years trying to kill each other on the track. Look for this next week right here on this very website.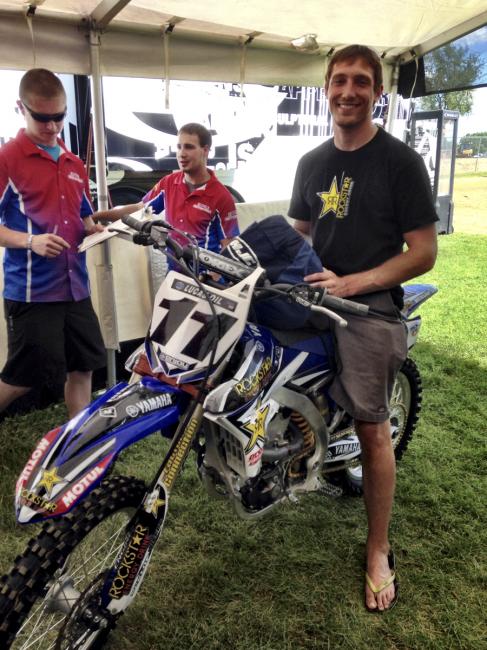 PRO PERSPECTIVE – MID-SEASON REPORT (David Pingree and Jason Thomas)
Ping: I made a pre-season prediction that Ken Roczen would be strong early but would slump at the halfway mark, allowing Ryan Dungey to take control of the series with his consistent, always-there style. Well, we are at the halfway mark and the pressure is on. At this point in the series you can go one of two ways: you are either in a good rhythm and enjoying going to the races or the grind of traveling, sweating all week and racing all weekend is wearing on you. Kenny has had troubles in the past of keeping his head in the game for an entire series; it happened again this year in supercross. So, as we hit the middle of summer how will Roczen respond? If he can be the same guy he's been for the first six rounds for another three weeks I think this title is all his. If, however, he lets his guard down and relaxes, Dungey is going to run him down. The next few rounds are critical.
The 250 Class has a similar storyline. Either Martin, Webb or Baggett are likely to win this championship and the guy who rises above between now and Washougal will be looking good to keep the points lead. The difference here is a little more depth in the class. A bad start or a crash for one of these guys could cost more points than in the 450 chase where Ken and Ryan are likely going to be on the podium every moto no matter what. In this class we could see Musquin, Bogle, Pourcel, Anderson, Seely, Nelson or Wilson have a good weekend and bump those guys off the podium. The second half starts tomorrow … Who is ready to have a good time at RedBud?!!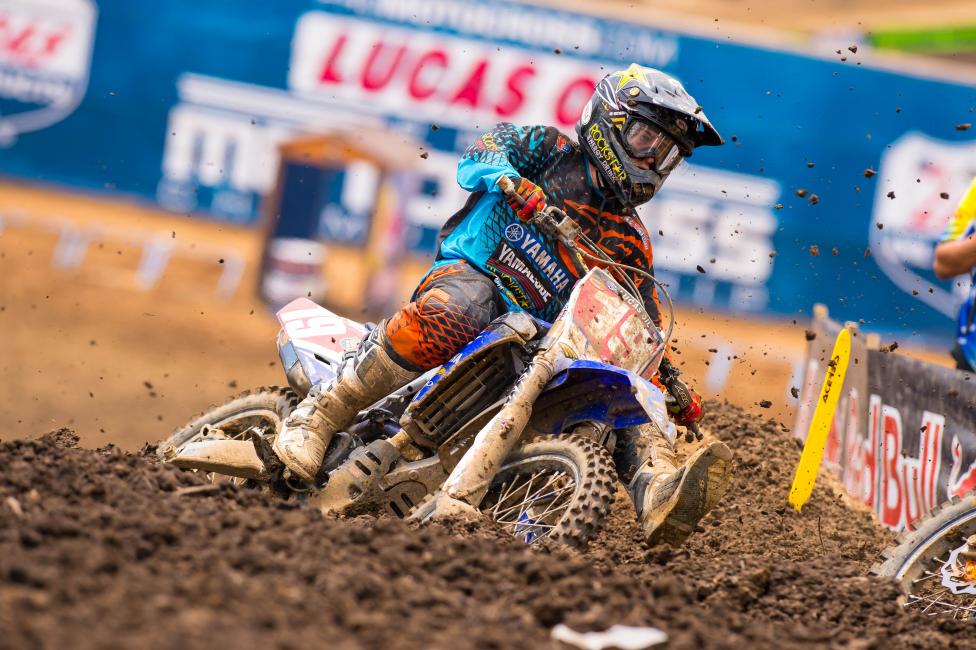 JT: As Ping said, these are vital rounds of the series. The initial excitement of the opening rounds has passed for the riders and we have now entered a make-or-break time for title contenders. These next three rounds are crucial but not in the way you might think. I believe that mentally, this championship will be decided by the time we leave Millville. These next three rounds, ending with Dungey's home race at Millville, are a "series within the series." Call it the KTM triple crown, if you wish, because that's who it will come down to, regardless. If Roczen can maintain or extend his points lead by the time we leave Millville, I really believe he will have won this title in the minds of his competitors. The mental side of this sport is vastly underrated and in a sport as brutal as outdoor motocross, it is easy to back off that killer mentality and accept one's fate, whether it be a 2nd place or 20th place. Ending these next three rounds at Dungey's home track is what I am looking at as a deciding factor. If we leave his most comfortable environment and Dungey is facing a 20+ point deficit, things will look very bleak for him reeling K-Roc back in.
My reasoning is this: Much like Pingree said, the two KTM boys are establishing their prowess. It will be extremely tough, as the pack settles into their role more and more, to make any large gains in points. If we drive out of Millville and find Dungey down 20 points, gaining 3 points in a moto that Dungey happens to win down the stretch is simply not enough. My advice for Ryan Dungey is to win and win now (shocking, I know). Cut the deficit between now and your home race in Minnesota, letting Roczen know that this will come down to that final moto in Utah. Put the pressure back on the 450 rookie and bring the ball back into your court.
As a fan of this sport above all else, I am really hoping that this happens and we have a battle for the ages. Either way, war has been declared in southern Michigan and another skirmish is only 24 hours away.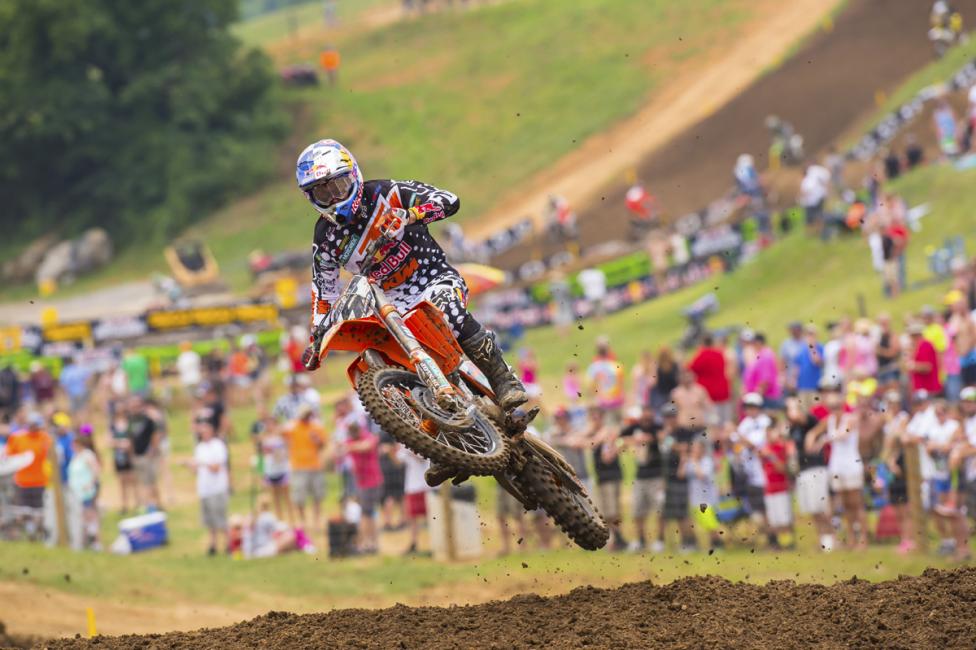 RedBuuuddd (Jordan Roberts)
Having grown up in RedBud's neighboring town of Niles, Michigan, I decided to head up to this race early to spend a little time with family and also see the latest developments that have been rolled out by the Ritchie family. They're always looking for ways to improve their facility and program from year to year, so there's always something to look for.
This year, Tim Ritchie decided to make a few revisions to sections in the valley, most notably being the straight holding that uphill booter of a double. Riders will now encounter a sand section that leads into a flatland double, which is then followed by what used to be the step-up double. That double has since been turned into a triple big enough to be coined as the "Hammer of Thor." The RCH Suzuki guys and a handful of privateers were enjoying the new feature on Thursday's press day, but probably not as much as CycleTrader.com/Rock River Yamaha's Alex Martin. The elder Martin brother really knows how to put a 250 upside down.
Speaking of press day, there were a couple riders officially back on the circuit as of this Thursday. Following a first moto crash at High Point, Ivan Tedesco sat out the second moto and then the Tennessee National at Muddy Creek. He may not be quite 100 percent yet, but his cornering and whips over the Hammer of Thor looked to be on point.
Nick Wey is also back following a tweaked knee at the New Jersey SX. Wey recently got back from a MotoSport trip to Australia just in time to make his home race. The Michigan Mafia rider plans on racing RedBud and Budds Creek with the help of Traders, but he may take some time off after those two rounds to get his knee further evaluated.
Not only do you get to see the Moto Mafia Crew boss do his thing each year at RedBud's press day, but RCH bosses Ricky Carmichael and Carey Hart have also thrown on some gear to do some laps in the past couple of years, which is somewhat exclusive to this event. I don't think it's a tradition anyone will be bummed about. Carmichael also held his second-straight Ricky Carmichael University here at RedBud on Wednesday. The 80 participants in attendance had the pleasure of learning the ropes from legends such as the GOAT himself, Michigan native Jeff "Six-Time" Stanton, Jeff Emig, and Grant Langston before RCU heads to Europe to join up with GP legend Stefan Everts.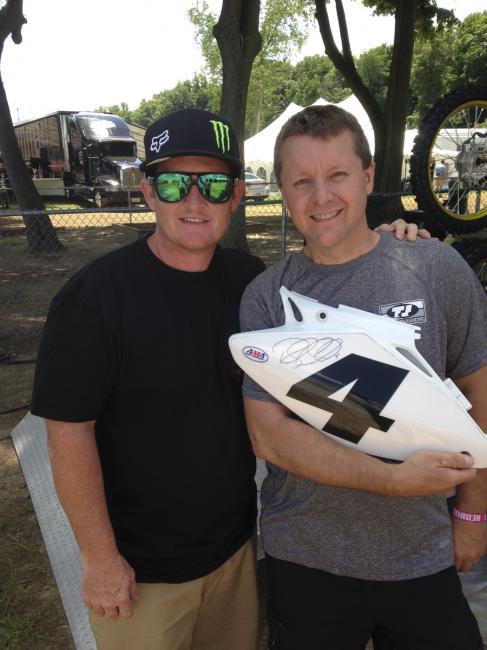 ROCZEN THE ROOKIE (Andras Hegyi)
Ken Roczen is in some very well-respected company in his rookie season in the premier class. He is the third rookie in history to get five podiums in the first five rounds of motocross, repeated the first seasons of Jeff Ward and Jean-Michel Bayle. He is also the second rookie to get at least three wins during the first five races, which Jeff Ward did in 1985—actually, Wardy got four wins in the first five races. Wardy went on to win that title, which is a good sign for Roczen.
Bayle was also sensational as a rookie in the big-bike class, though it was more complex. He won the first 250 National on 1989 at Gainesville, Florida, then went back to Europe to win the 250cc FIM World Championship. He returned in the fall when the 500cc Nationals were up and running, and he landed on the podium all five times, including a win in the finale at Unadilla. Then he rode the 125 class in 1990.
No matter, if you're Ken Roczen, you have to be stoked to be in the company of Jeff Ward and Jean-Michel Bayle!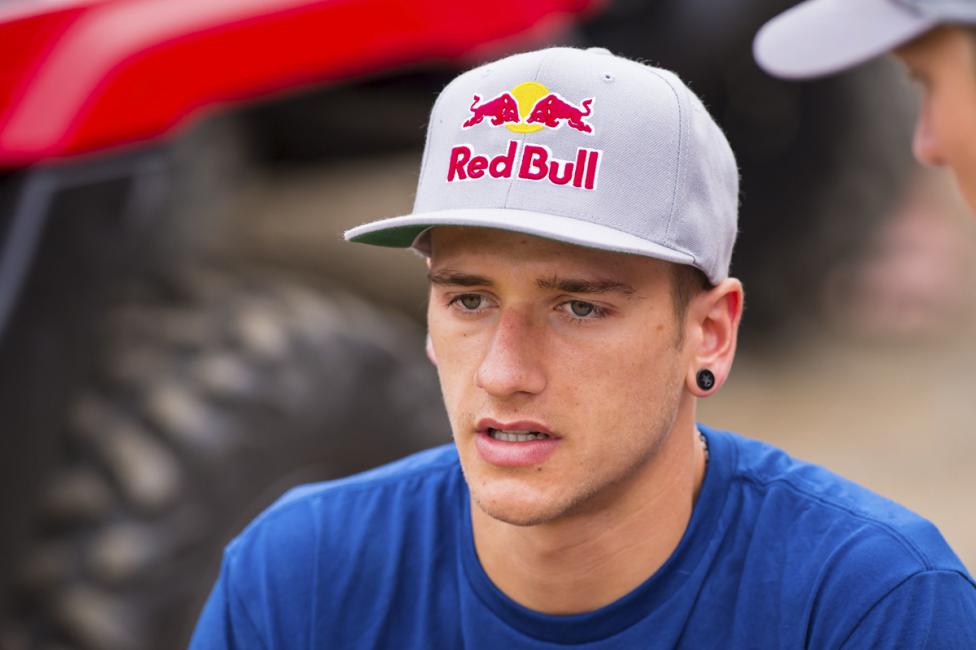 RANDOM NOTES
Good luck to Brent Presnall and his family, which will likely have expanded to four people by the morning. Brent's pregnant wife informed him this morning that her water broke, and he was out of here quicker than his rider Trey Canard off the starting gate! Team Honda Muscle Milk will have Jason Thomas (no, not our JT) wrenching for Trey tomorrow while Brent's home waiting on the arrival of a little girl.
No word yet on Team USA, or even who might be under consideration. That talk will probably start heating up at the upcoming rounds.
"Filthy" Phil NIcoletti opens up about his season, being a replacement rider for JGR and his love of Alex Martin in this week's "Short Comings."
For everything Canada, check out DMX Frid'Eh Update #28.
David Vuillemin looks at Muddy Creek and answers the burning questions from the race HERE.
Tony Blazier looks at the evolution of the magazine shootout and profiles how the magazines looked at the 1990 250 machines HERE.
That's it for Racerhead, thanks for reading and Happy Birthday, USA. See you at the races.