True Grit: The Tim Gajser Story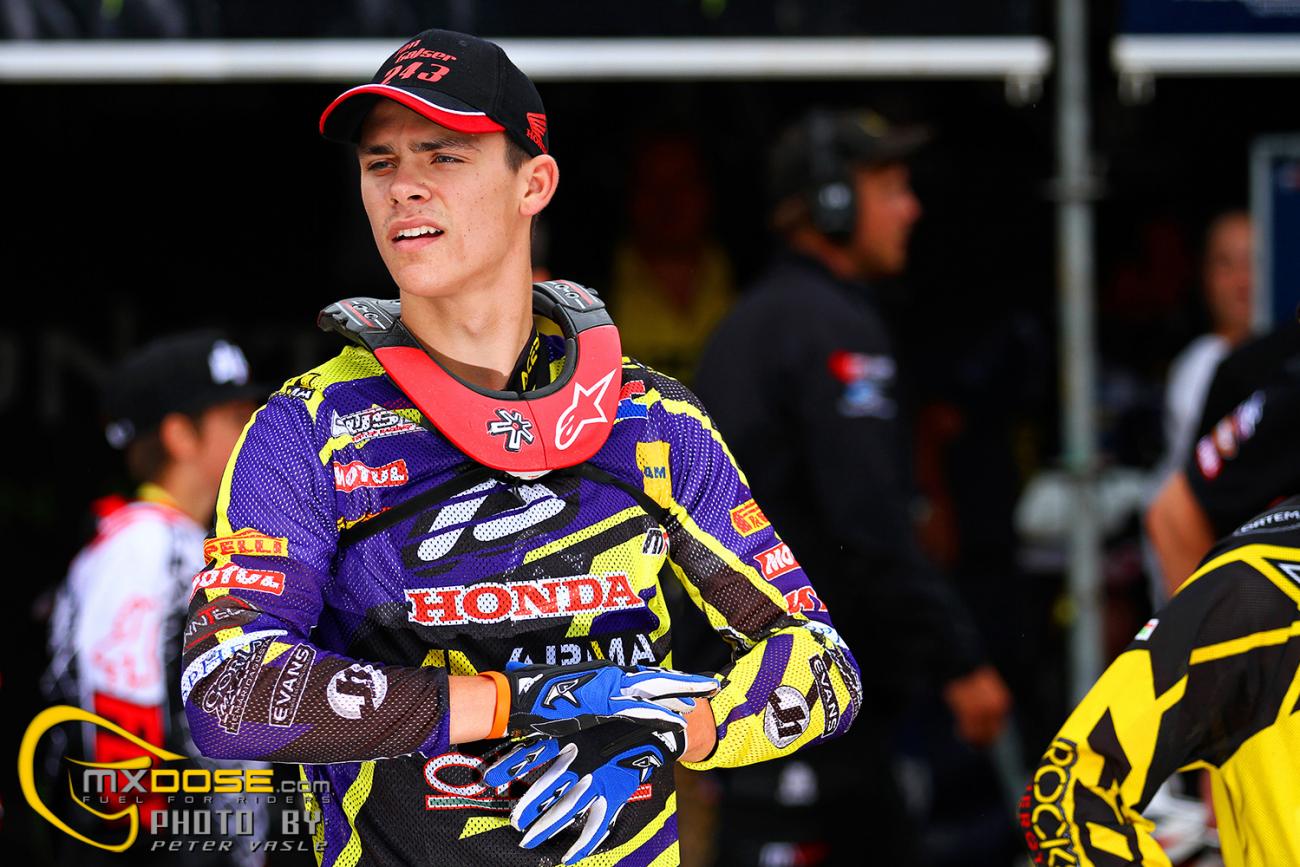 By Tinus Nel
Humankind is hard-wired to revere excellence and achievement. Whether it be in business, on a music stage (where excellence if often a relative concept) or in the sports arena, those that excel garner most heaps of attention and adulation. The nature of the heroes game has remained the same throughout the ages, as well. You have the established stars, those that need no introduction, and then you have the newcomers, the young pretenders. They often enter stage left; make a major impact, often from an underdog position, and suddenly the world takes notice.
Tim Gajser certainly fits the bill. The quiet, unassuming Slovenian charged into the limelight at the GPs of England and Germany with overall podium finishes, and there can no be no doubt that the truly has the wherewithal to mix it with the great and the good at top level motocross. Many labelled him an overnight success, for the young star is but 17 years old, but this is an overnight success that was some time in the brewing in the Gajser Cauldron.
The youngster made a first blip on my radar screen in 2007, when he swept all before him in the 65cc European Championships. Sensing something special, I made the journey down the road to Lierop to first see the young man in action in one of his first European championship races on an 85cc machine.
The first meeting revealed a soft-spoken youngster that came across as affable and polite. It was clear that the family was racing on the proverbial shoestring budget (brother Nejc was also in attendance). The clothing was not the newest, and his bike was certainly nowhere near comparable to the gleaming rockets of some of the semi-professional opposition. There is no dishonour in that, of course, for honour is found in how you conduct yourself on the track, win or lose.
Spool the clock forward, and the young man delivered more and more on the early promise. By 2009 he had grown into the 85 cc bike, and he claimed the European title in rampant fashion. In time, the move to the bigger 125cc machine came, and again he left his calling card, claiming both the world, and European, 125cc titles in 2012. There was never any doubt that he was eventually headed for Grand Prix motocross, and he handled his rookie year in 2013 with aplomb, finishing 20th in the championship series. This despite him missing six Grands Prix and dealing with the heartache of several bike-related DNF's. He was also crowned rookie of the year.
He made the switch to the Gariboldi Honda team, and his undeniable promise had captured the attention of the factory top brass as well, so the days of racing on a rickety machine held together by the proverbial wire and a prayer were well and truly over.
Racer X: Tim, congratulations with your fine performances in your season so far. What were your expectations going into the 2014 season?
Tim Gajser: Thank you. My expectation was always to be into the top 10 coming into the season. We had some bad luck in Thailand and I had one zero score, but in Brazil I had my first moto podium, and that felt great. I had a good start in the race, and Dylan (Ferrandis) crashed. [Glenn] Coldenhoff was leading, and later in the race [Arnaud] Tonus passed me, but I kept riding smart to keep safe in third place.
My next race podium was in Arco (Italy). We had been testing and developing the bike extensively during this period, and the team really managed to improve the bike greatly. I've also been working hard at improving my own riding, and now my expectations of myself are higher. I am aiming at getting top five finishes in every race as far as possible.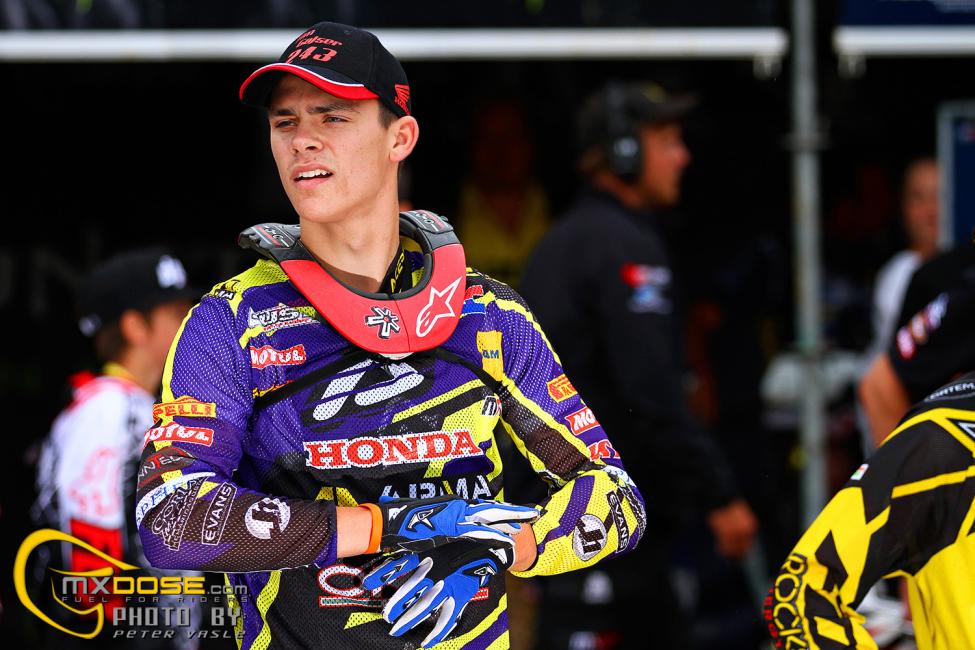 After a few more race podiums, you finally scored your first overall podium at Matterley Basin. Describe your feeling as you realized that you are about to achieve this landmark.
In the first race I had a solid start, but not great. I was in around tenth place. I rode well, and formed some new lines during the race. I managed to work my way up to fourth. In the second race I had a similar start. I had already moved up to fourth of fifth place, and then Dylan stalled bis bike just in front of me. I crashed into him, and Febvre and Tixier passed me again. I managed to repass them, and finished third in that race, and that felt absolutely great. It was a great weekend for me that I will never forget.
What are your highlights of your racing career in your view?
The two race podiums in the MX2 GP class are definitely highlights. This is the highest level of competition you can participate in up to the 23 year age limit. For me it was a big step to come into the MX2 GP class, and to already have scored some podiums in this competitive environment really made me happy. Of course my Junior world title of 2012 was also a highlight for me. I would really like to claim the MX2 world title as well. I know that I need to work hard if I am to achieve this goal. We are also working hard with the team at getting the bike as good as it can be. We are making improvements all the time.
Speaking of podiums in the plural, a few weeks after you got onto the podium at Matterly Basin, you went one better, finishing second overall at the German GP. How did this feel in comparison to the first podium finish?
It felt easier. I did not have to ride so much on the limit either. I had better starts, slotting into the top three off the start in both motos. In the first heat I passed Tixier, and controlled my pace from there. In the second moto I passed Butron early on in the race and built a gap of about ten seconds. It felt almost effortless, compared to the tough battles at Matterley Basin.
We know that you didn't always have it easy and had to struggle to find budget and equipment to pursue your racing career in early days. Tell us a bit about your experiences in this regard:
Yes earlier in my career I was sometimes riding a two- or three year old bike in competition. In 2006, for instance, I was riding a 2004 model bike. It was tough at the time, but we were working hard, and always tried to get the best possible results, but now I think all the sacrifices that my family made throughout the years are paying off.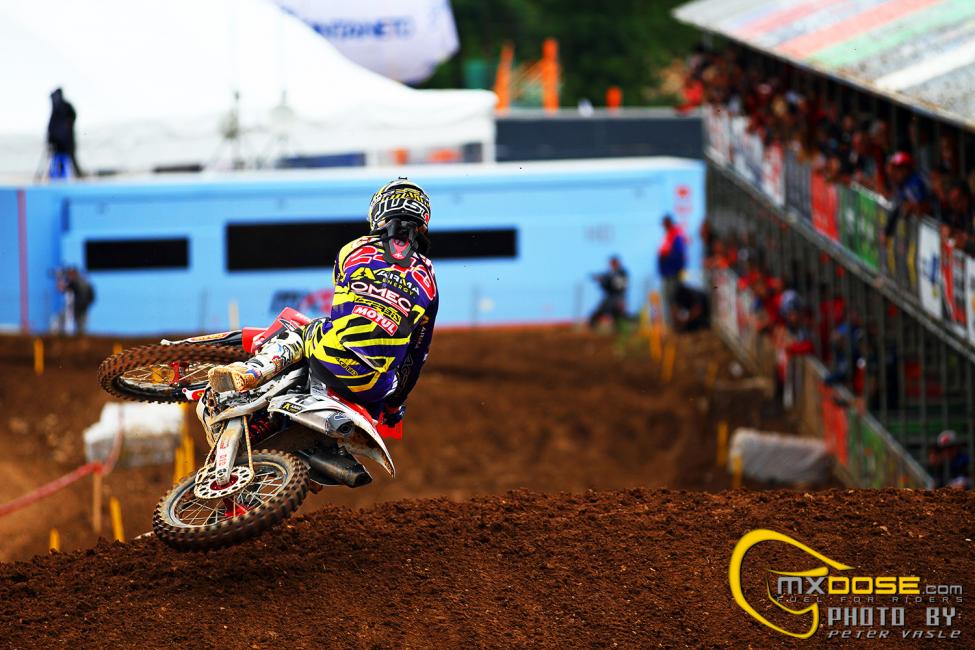 You joined the Gariboldi Honda team this year and we know the team gets great support. Describe your experience with the team.
It has been an absolute pleasure to work with the team. They are very professional and work very hard. If I mention a problem they immediately work on getting it fixed. They also have support form HRC and it is great to be in such a professional environment.
The one rider standing in the way of anyone who aspires to a GP win or a world title is of course Jeffrey Herlings. How do you view this?
You have to know that Herlings is an exceptionally good rider with great technique. He also has good bikes and this is a powerful combination. I still have a lot of work to do to get to this level, but I think he is beatable.
You have now had a number of top results in motocross racing at the very highest level. Has the general news media in Slovenia picked up on this, and are they giving you any exposure?
It's getting better and better. Motocross is still not a top sport in Slovenia, but now when I have some overall podiums, we get some exposure. I hope this will improve even more in future.
It is a dream of many European-based riders to finally make it to the 'States – what are your thoughts about this?
Yes for sure. I would like to try my hand at supercross as well. My dad built a very nice supercross track at our house. I love training supercross, and it would be a dream for me to race in front of 100 000 people in a stadium.