Ken Roczen is only twenty years old. He's in his first year racing a 450. He's going through the twenty-nine races in nine months grind for the first time ever. That said, no one expects him to simply crash this title away. Someone else could grab it, but Roczen is not a fad, a flash in the pan. He's not winning because he's ballsier than his competition or hanging it out more. His success is eminently repeatable, because unlike most riders his age, Kenny doesn't win through aggression or craziness. He wins through his race craf
I learned this a few years ago, when Roczen's first "coming to America" foray as a pro was scheduled for the 2010 Motocross of Nations in Colorado. At the time, Roczen was drawing comparisons to young American Justin Barcia, since the young German whipping and scrubbing all over the place, and then greeting the fans with enthusiasm wrapped in blonde hair in highlight vids.
A deeper dive indicated there was much more to Roczen than just whipping and scrubbing. He really impressed veteran GP watchers with his line choice, his patience, his smoothness, and his veteran-style approach. Now that he's in the U.S. and racing 450s, those traits have only grown stronger.
"I've always liked the bigger bikes more than the smaller bike, just because I don't rev the bike too much, and that's what kind of the problem is for some riders that come up from the 250s," Kenny explained after his Muddy Creek victory. "They keep that style, revving it. I would say I'm a kind of rider that uses the torque of the bike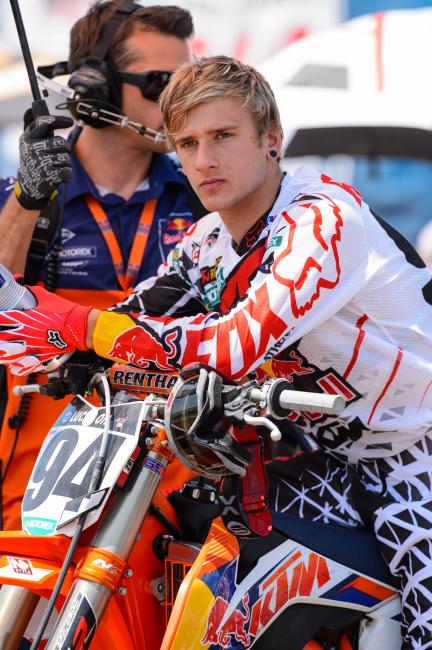 Consistency, not speed and crash, have led to Roczen's success.Roczen and Red Bull KTM teammate Ryan Dungey have different styles run different setups. Roczen uses smoother flowing arcs around the track, and finds the smoothest line more often than not. Due to that, he gets to run a softer setup. While Dungey isn't known as a hammerhead, even he has to stiffen his bike up compared to Kenny. Some at the KTM team believe it's part of Roczen's European upbringing—and from what his trainer Aldon Baker has seen, that's true.
"I think it stems from the European way—to me the conditions are more adverse," says Baker. "It's wet and slippery, and it's hard to really attack the tracks over there. So overall, the way they're brought, up they have to be smooth. They come over here and they're like 'Jeez the speed is crazy! They're hammering it right out of the gate!'"
Many making the transition have struggled to find that extra aggression, but Roczen's considerable talent trumps any of that. He has enough natural speed and adapts too quickly to struggle in the sprint portion of the game—evidenced best by supercross, where he showed speed right from the get-go. Three years ago, Roczen, who admits to not having raced many indoor events while growing up, made his supercross debut at Anaheim 1. On the very first timed lap in his very first practice session ever, his number flashed to the top of the timing board.
It hasn't been all gravy for Roczen. While his riding style made him effective enough, and his talent filled in most of the gap that remained, he is only 95 percent of the way there. Riders born, raised and trained here could still overcome him, albeit not by much—Kenny's never been a mid-pack rider over here, ever.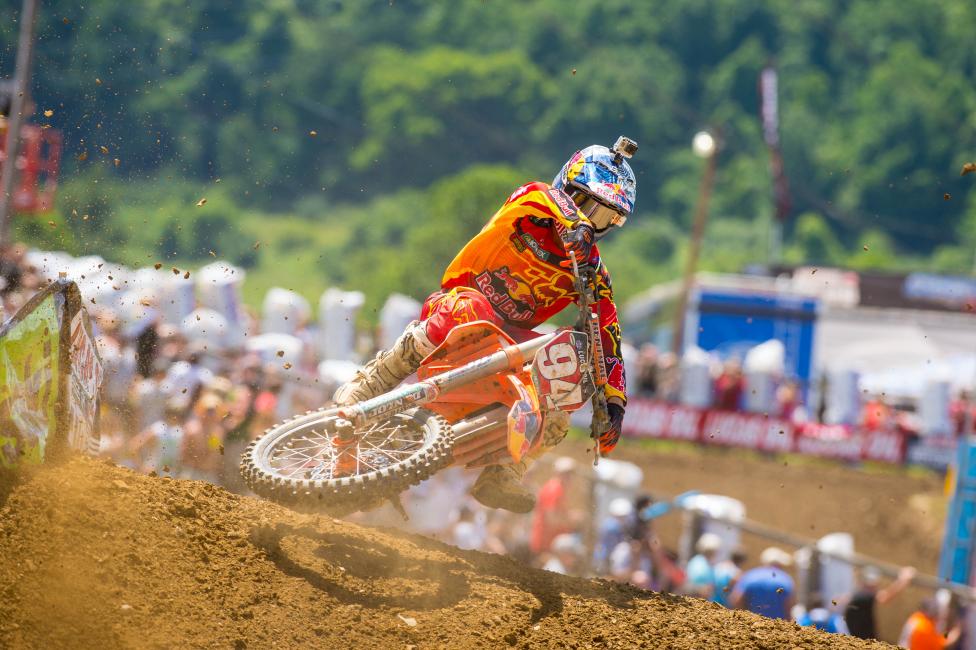 The hammer-down mentality for the American riders includes much more than just style on the race track. The fastest teens over here spend every minute racing, training, riding, and thinking about motocross. They're pulled out of school and live year-round in custom made training facilities, pushing harder, harder, and harder each day. The best get deals with pro teams before they're even pros, and by the time they're racing in the big show, their eat/sleep/breathe mentality is on auto pilot. Everything is a bit less hectic over in Europe. The amateur schedule is less pressing and pressuring. The pro race weekends and practice sessions are more stretched out. In the U.S., riders are flying coast-to-coast on Fridays and racing immediately the next day, with only 30 minutes of total practice time before they sprint for all the marbles, and then do it again—pack up, fly, rinse, wash, and repeat.
The whole aura keeps everyone driving toward driving harder. You hear it in every interview: "Work hard, work hard." But there are different ways to work. Off the bike, the effort helps. On it, though, simply pushing harder is not always the answer. On the bike, Roczen has avoided the temptation to hammer more, and instead has refined his old process. Coupled with the Aldon Baker program, Roczen is now in better shape than most, but above that, he's also riding more energy efficiently.
"If you can learn to adapt to the style here, that aggression and sprinting, but still keep that economy of energy, you're going to do well," says Baker "The reason he's made the transition [to the 450] so well is because he's not bulldogging that thing. He doesn't ride it like RV does, but I remember even Ryan, compared to when I first started, he rides that thing way more economical, using the gears and all that. I think it's something the guys learn, especially us in Florida, you can't just ride these conditions like an animal. You'll definitely beat yourself up too much. It's hot and we have sandier rougher conditions, it almost forces you to ride more economically."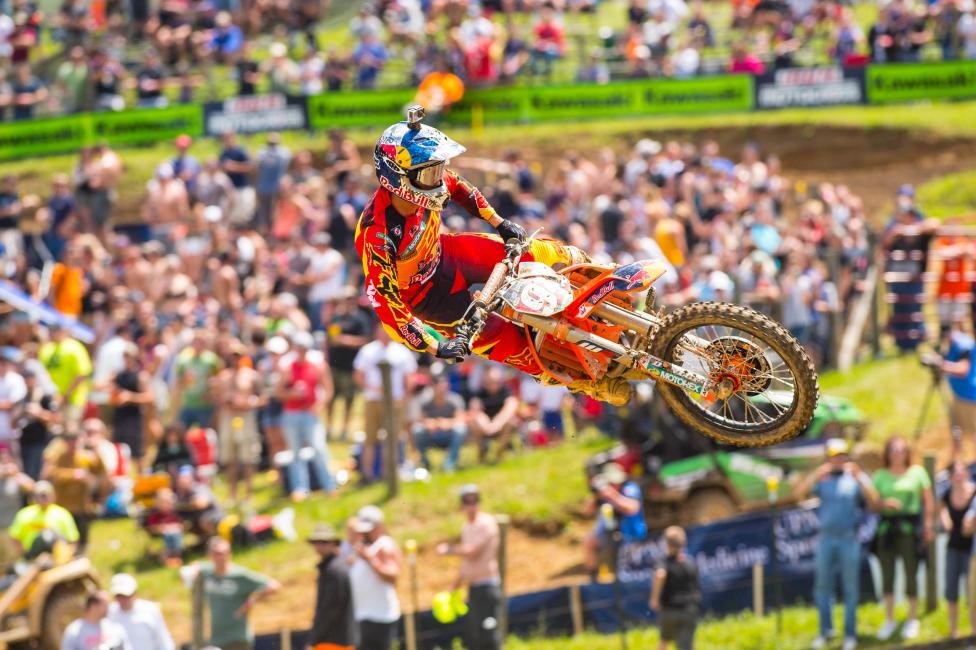 The Florida question was a big one for Roczen a few months ago. Last season, he won races while eating In-N-Out burgers and funnel cakes. When he signed on for Baker's boot camp, many wondered if the fun-loving German was up for such serious work.
"He's been good. We've had to pull in him line a few times, but it's a big lifestyle change and he's young," says Baker. "I think we're coming along good, and for me it was a transition with a new younger crew, myself. These guys like to have fun and that's fine; you have to do that for the longevity factor. I'm fine with it. I can have fun with them but you can't lose that respect factor—there are times when we're in the trenches and maybe they hate me!"
It's the price of striving for greatness. While Roczen might not seem too serious, underneath lies a ferocious competitor. On the track, he practices smoothness and economy, with just the right dose of aggression. Off of it, he does the work while adding in some fun. He's fully subscribed to the American program, while still utilizing the strengths learned back home. He's gotten the mixture just right.